Dining Design: Restaurant Arras
Paul Smith pinstripes, neon perspex and graffiti art meet in this fine dining restaurant without the pretension. In my new series about restaurant and bar interiors, I took a closer look at Arras in Sydney's CBD, which manages not to take itself too seriously.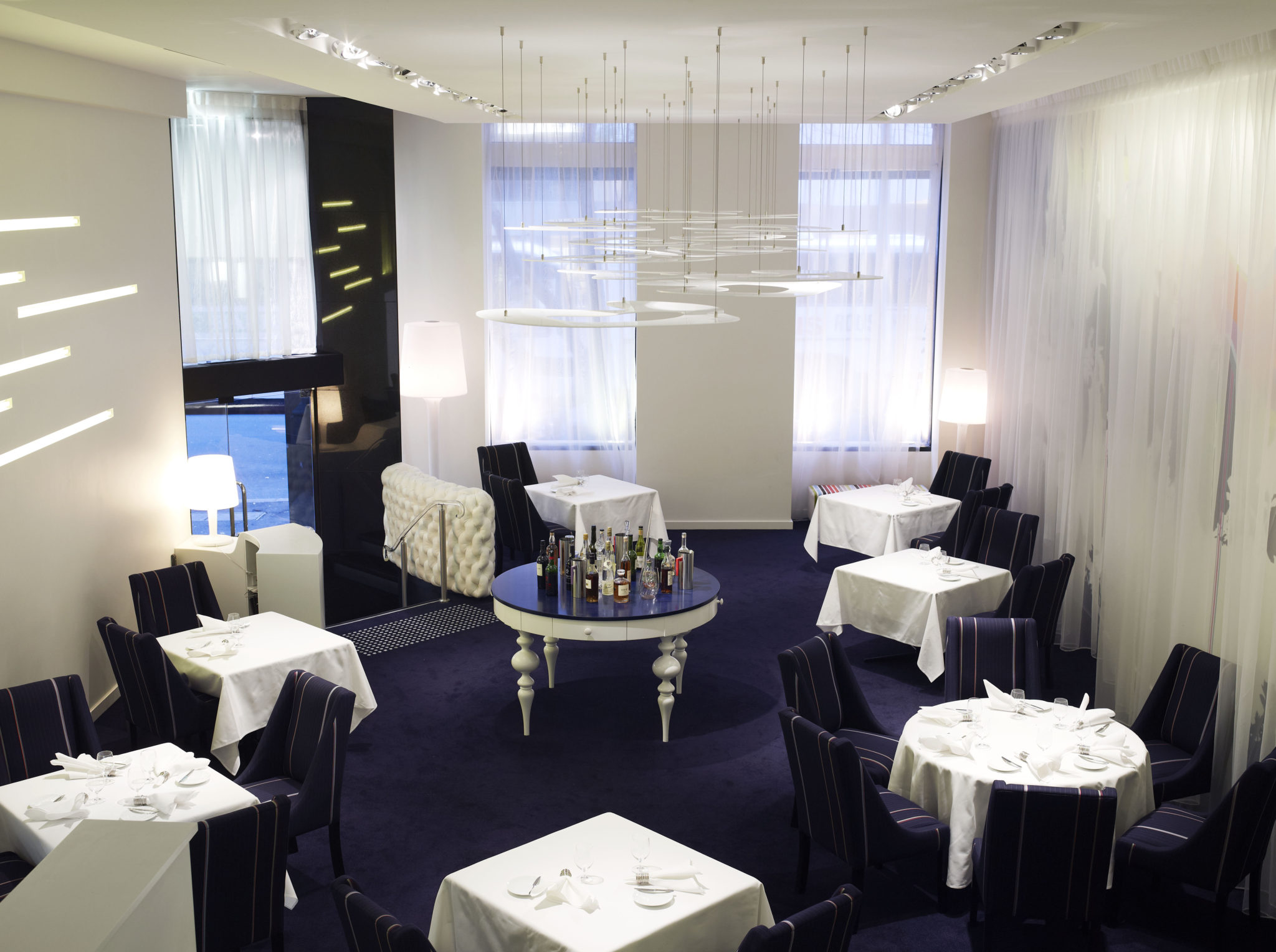 I sat down for a fantastic lunch with Liz Boyd of Colourmark Design, the designer behind the space, which used to house Justin North's Becasse. A year after moving from its tricky Walsh Bay location (where it had a loyal but underground following) to prime CBD real estate, business has never been better and Arras' design was just this month highly commended in the Eat-Drink-Design Awards.
British owners and chefs (and also husband and wife) Adam and Lovaine Humphrey went against the grain with the one-hat Arras. No dark and moody neutrals for them; they wanted a white and open restaurant with surprise slashes of colour. And, as Liz tells me, they were involved with and interested in every detail of its design. The building had its challenges, namely a very wobbly back wall (not that you'd know it now) which was cleverly disguised (at the same becoming a feature) with rainbow coloured art by graffiti artist Az One and a floaty curtain. The luxurious deep navy carpet, lots of white, high ceilings and a complete lack of timber set a very clean yet comfortable tone.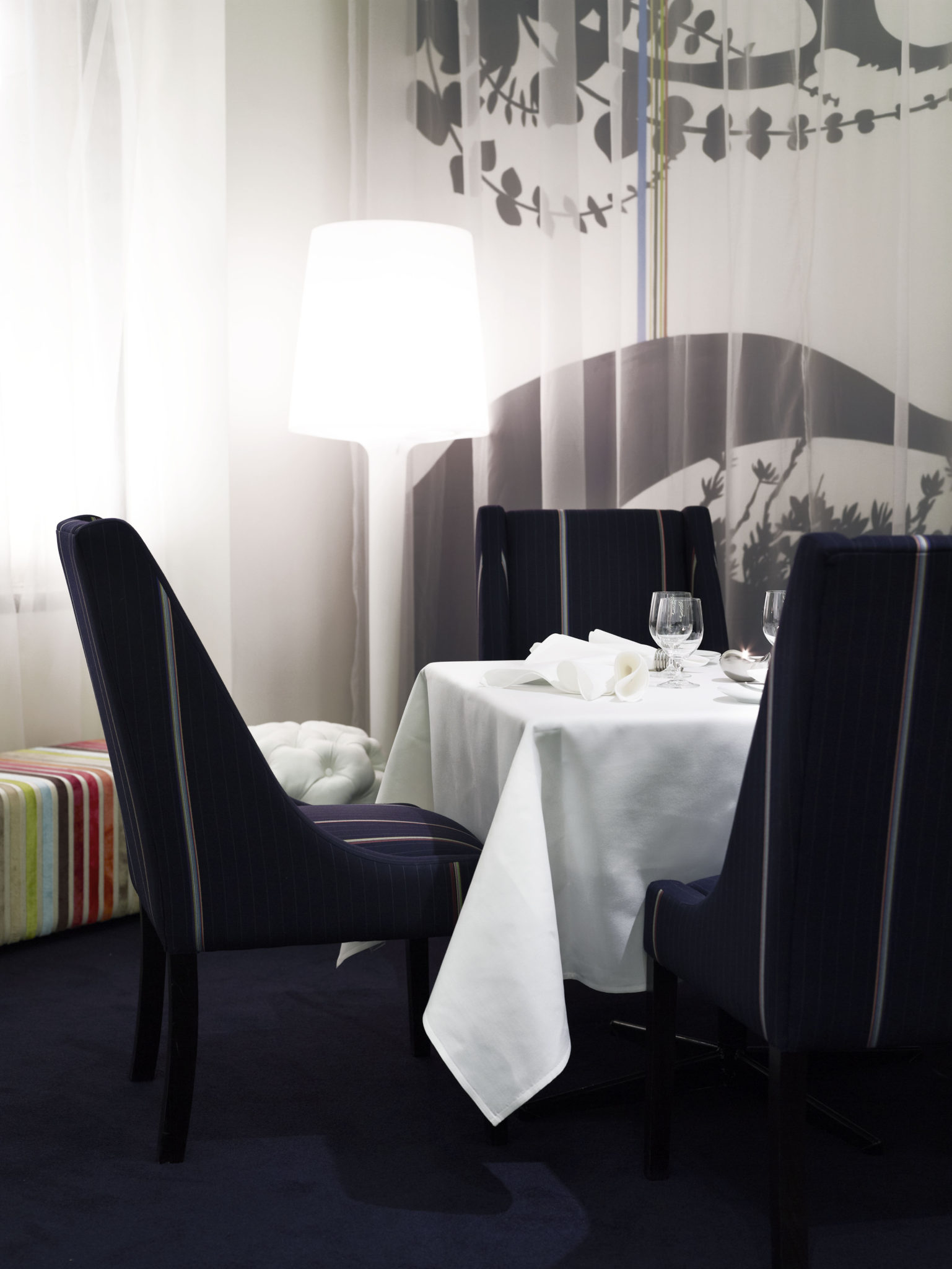 The chairs covered in Paul Smith suit fabric (with pops of colour in the pinstripe) pay homage to the restaurant's CBD location and are designed to keep you sitting comfortably long enough to enjoy their signature petits fours at the end of your meal. These come out on neon coloured perspex (the manufacturers were very bemused by that job) and you can help yourself to handmade treats like peanut brittle, coconut ice, strawberry and pepper jellies, marshmallows, mini chocolate bars and more. They were Lovaine's (ex- Heston Blumenthal's Fat Duck at Bray) idea. It's so much fun and very Willy Wonka. Liz says it reminds her of a fantasy lolly shop.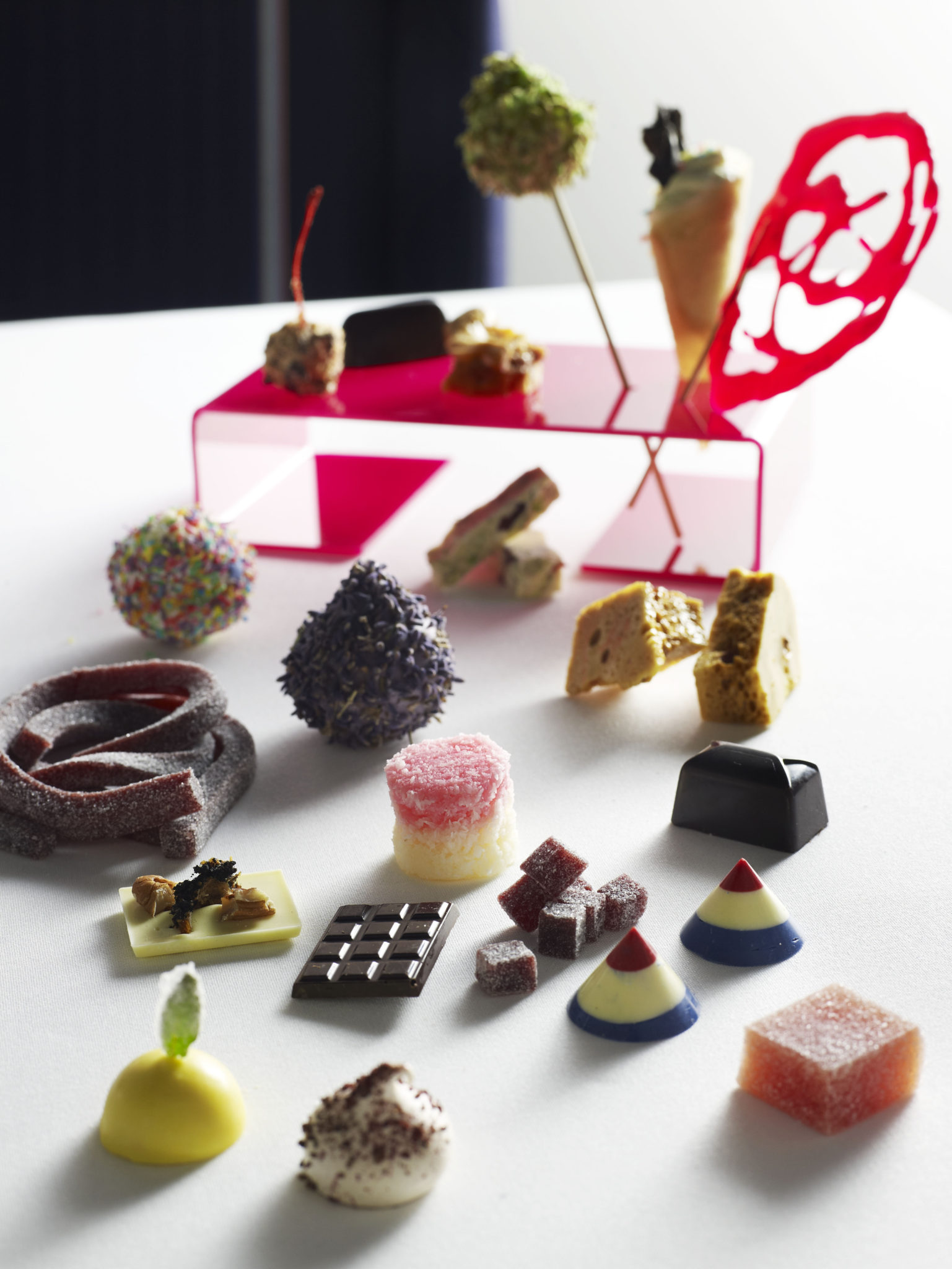 The sommelier's table is deliberately in the middle of the restaurant (with oversized plant pots rather than steel ice buckets) and with a wine list like theirs and a respected sommelier like Alon Sharman (ex Quay), why wouldn't you? Floating above, the cloud-like custom lighting (all LEDs and possibly the only restaurant in Sydney which can claim this) adds to the fun and fantasy feel of this restaurant and highlights the double-height ceiling. Dining is on two levels and upstairs, with a lower ceiling, has a cosy feel and offers, in my opinion, a better view of the light feature and the overall restaurant.
While Arras feels clean and understated (while somehow also colourful and comfortable), there are many little details to look at: perspex handrails, mind blowing curved white upholstery and Ralph Lauren shirt fabric as wallpaper, to name but a few. Even the toilets (with frighteningly expensive doors, according to Liz) are full of clever design elements. Personally I am always upset by beautiful restaurants which feel as if the budget ran out before they got around to the disappointing bathrooms.
And the food? Well, AMAZING. And as a complete lolly fiend and terrible decision-maker, I found the petits fours a great dessert choice. The service was faultless and I'm already planning a return visit. Meeting fellow Pom Adam in his kitchen afterwards, it was clear he is genuinely excited and enthused by his restaurant, its food and (perhaps equally) its design. It makes for a great combination.
Restaurant Arras | 204 Clarence Street | Sydney 2000 | 02 9283 1922