I absolutely LOVE Colin & Justin and I'm really excited the TV stars and interior designers recently landed in Australia! They've shared these top design tips exclusively with Interiors Addict.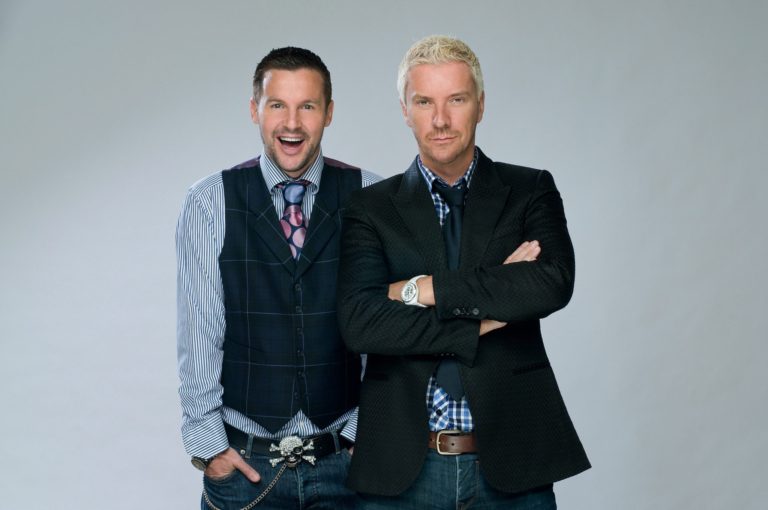 To increase the feeling of space, use cool colours and paint all aspects of the room – including skirting boards etc — the same shade. Painting a low ceiling two or three shades lighter than the walls will increase the feeling of height while dark flooring and light walls will have a dramatic effect on the feeling of floor space.
If the proportions of your room feel like a corridor then you can 'square' things off by painting the two end walls in a slightly darker shade. Doing this will make them appear to come forward and will help balance the overall perspective.
Choice of colour is an extremely personal thing so look at shades you're already attracted to in clothing, for example, or in your car etc. before making those all important decisions.
Before you splash out on all your paint requirements, buy some testers and use the whole pot to paint a sizeable section of card that you can move about the room to mimic how the wall colour would look close to and away from natural light sources. Basing your decisions around a patch the size of a postage stamp never works. Look at the colour and carefully consider it at all times of day when lighting is different. If you are still undecided and want to try out several shades, avoid striping the walls by painting onto sections of lining paper and tacking them around your room.
To increase space and light you must allow natural light to flood through windows without obstruction. As such, it's goodbye to clusters of windowsill ornaments and heavy curtains and hello to clear surfaces with smart blinds or simple drapes. Use mirrors to reflect and intensify the amount of natural daylight and place them opposite windows for maximum effect.
Transform a dark dingy room into a bright and fresh space by keeping conflicting patterns to a minimum. If you just have to have patterned elements then try sticking to one style – stripes for example — and use them sparingly on perhaps one wall or an accent area. Easier still (and far simpler to change at a later date) use pattern on window dressings, cushions, rugs and throws.
Lighting should be used to create atmosphere so opt for something more versatile than a single pendent hanging from the centre of the ceiling. A spread of spotlights can add a modern touch to the dowdiest of rooms and should be installed with a dimmer switch to alter the mood from flood lit to cosy cool. Lighting can also be used to highlight architectural features, paintings and furniture to dramatic effect.
If you're a dedicated follower of home fashion but balk at the thought of ripping out and starting again every time you change your mind, then choose larger elements, such as flooring or sofas, in a neutral colour. Changing the mood further down the line will be far easier and will involve minimum fuss and expenditure: all you'll need to do to ring the changes is alter the colour of walls and accessories as and when your mood dictates.
Finishing touches make all the difference so splash out on uniform door handles throughout and attractive electrical switches. Like gold buttons on a Chanel suit, quality additions add an understated air of elegance and individuality.
Any works carried out to your home must conducted to a high standard or else they're simply not worth doing. Botched DIY jobs create irritation rather than appreciation and could even damage the value of your property. Remember that while it's good to have an eye on profit for a later date, the biggest return you can get from your home should be on a daily basis.
Colin and Justin will shortly be appearing on two episodes of Ten's The Living Room.
The popular pair will be appearing at Life Instyle and Reed Gift Fairs in Sydney this month and are the MCs at this year's Life Instyle GALA Awards. Purchase tickets to the GALA awards (I was a judge!) online.