Nothing beats curling up in front of a flickering fireplace to escape the winter chill but for many of us, a traditional wood burner is either architecturally impossible or a little bit too much in the upkeep stakes. That's where the modern gas log fireplace fits in, filling the gap beautifully for those who want the flame effect, without the need for a chimney (or any actual log collecting!)
Modern gas log fireplaces offer the heating benefits of your traditional gas heater with the aesthetics of either a stand alone or built in fireplace.  While the wide variety of sizes and styles mean a good fit for almost any home or living arrangement, there are a number of points to consider before choosing a gas log fireplace as your primary heating source. We've rounded up the 6 most important points to consider below.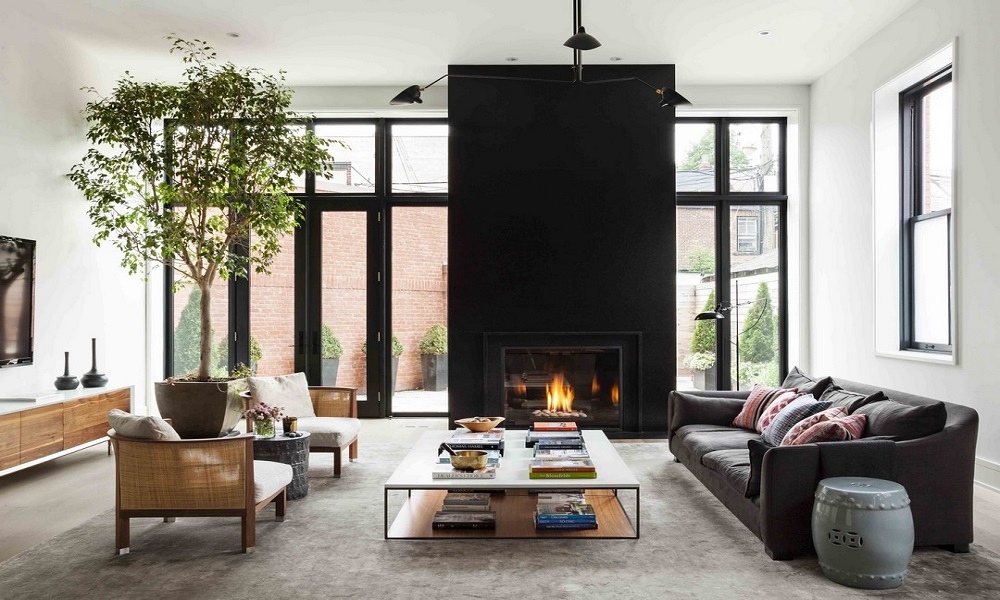 Image source: House Of Home
6 things to consider when choosing a gas log fireplace
1. Be clear on the primary purpose – Heating or aesthetics? Different gas log fireplaces will have different capabilities and knowing whether you want a unit that can provide efficient heating without the need for any secondary devices or a unit that looks the part, can help narrow down your choices.
2. Vented or unvented – When choosing a gas log fireplace, you'll need to consider your current house set up and whether or not you'll need a vented or unvented unit. Vented gas log fireplace are vented through a pipe directly out the wall or existing chimney of the home, removing all fumes from the house. Ventless fireplaces do not need require a vent or chimney and instead use a system similar to a gas stove, releasing all their heat directly while keeping carbon monoxide levels down. You can find out more about venting and flueing on the ELGAS website
3. What's your fuel source? If you've got natural gas connected already, you'll be well set up to install a fire run by natural gas. If not, you may need to consider an alternate fuel source like LPG.
4. What style of fireplace floats your boat? Inbuilt, freestanding or built into an existing fireplace? There are a range of different models of gas log fireplace available and choosing one can be tricky. Knowing what style is going to suit your home best will help you narrow down the choices.
5. How big is the space you need to heat? A smaller, contained room is going to require a much smaller heater than a larger, open plan area. It's important to measure up before hitting the shops so that you find a unit to best suit your heating needs.
6. What features would you like? Gas log fireplaces range from the very simple to the extremely advanced. Timers, bluetooth connectivity, remote functionality and a range of aesthetic choices abound. Try and sort out what features are going to be most useful and the design that will fit best with your home (ceramic 'traditional' logs versus hot stones versus bare flames) before making your final choice.