When a homewares and furniture company owner and an architect get married, you can bet their future home is going to be pretty impressive! Welcome to the beautiful Burleigh Heads house of Boyd Blue's Shelley Boyd and her husband Ion.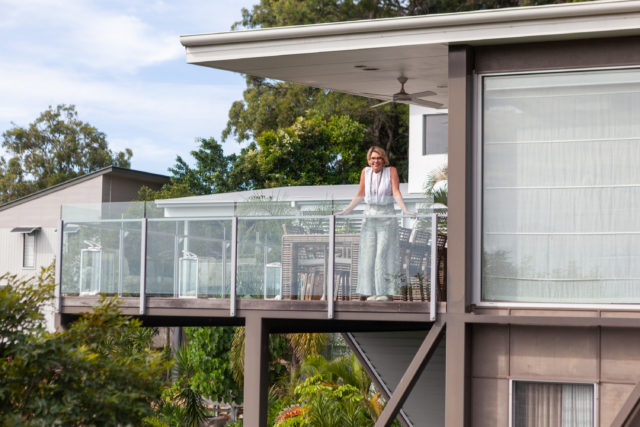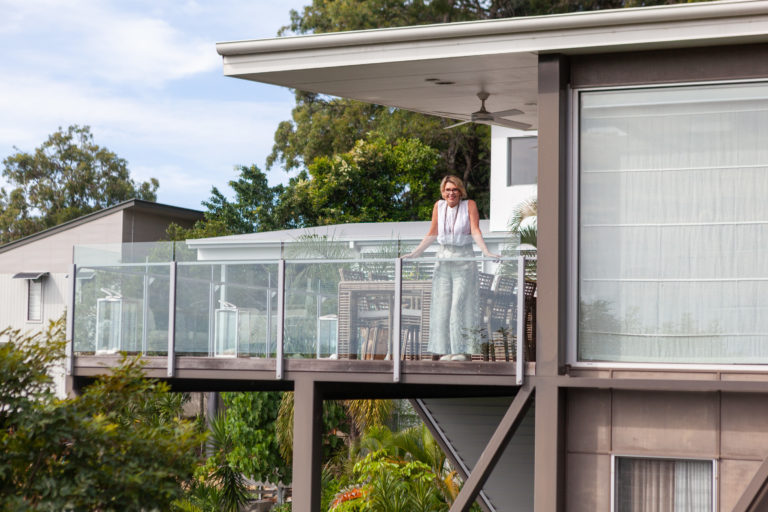 They built the contemporary cantilever pole house 14 years ago. It took nine months and saw Ion carefully design a ''glass bowl'' on the cliff face of the Burleigh National Park. "Our home is our sanctuary and we love spending time on our balcony admiring the view," says Shelley, who has been selling furniture and homewares to interior designers and stylists for over 20 years.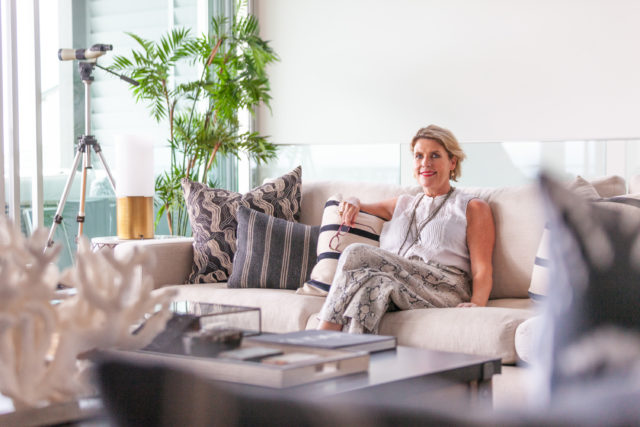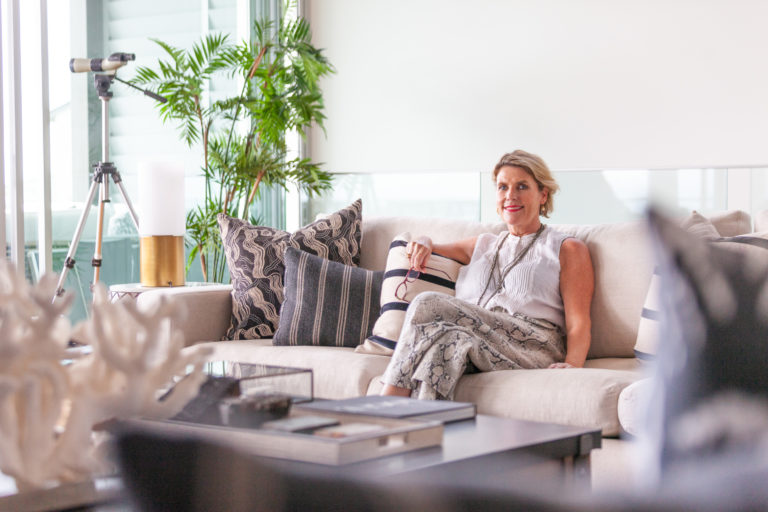 "My interior style is very layered, textured, eclectic and comfortable, filled with natural materials and textures," she says. "I like to layer it up with rich fabrics and rugs, rattan furniture, grass weave wallpapers, beautiful linen curtains, simple luxurious large scale sofas, classic hand-knotted mohair rugs, brass and bronze accents and unique finishes like raffia lamination and faux shagreen."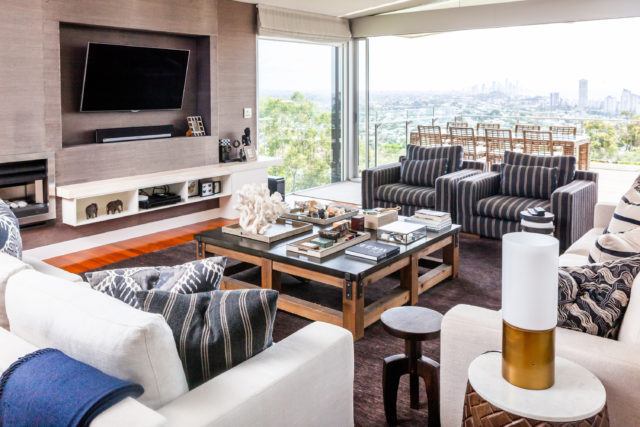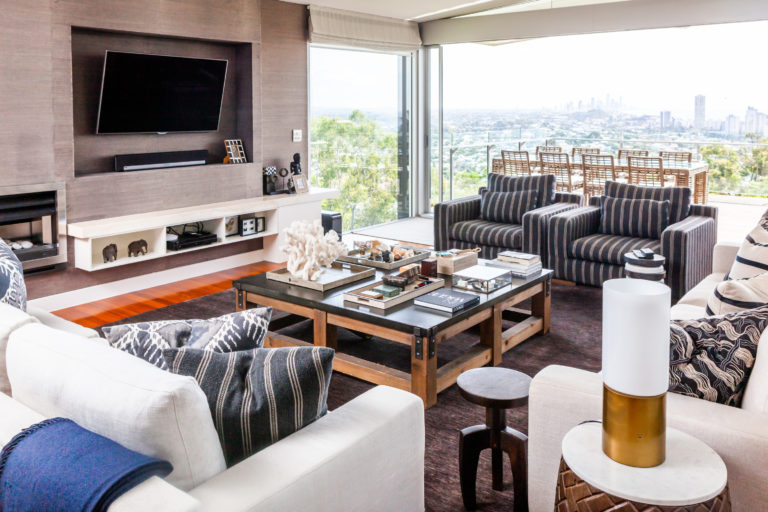 With a largely monochromatic scheme, Shelley also loves incorporating jewel colours into each room.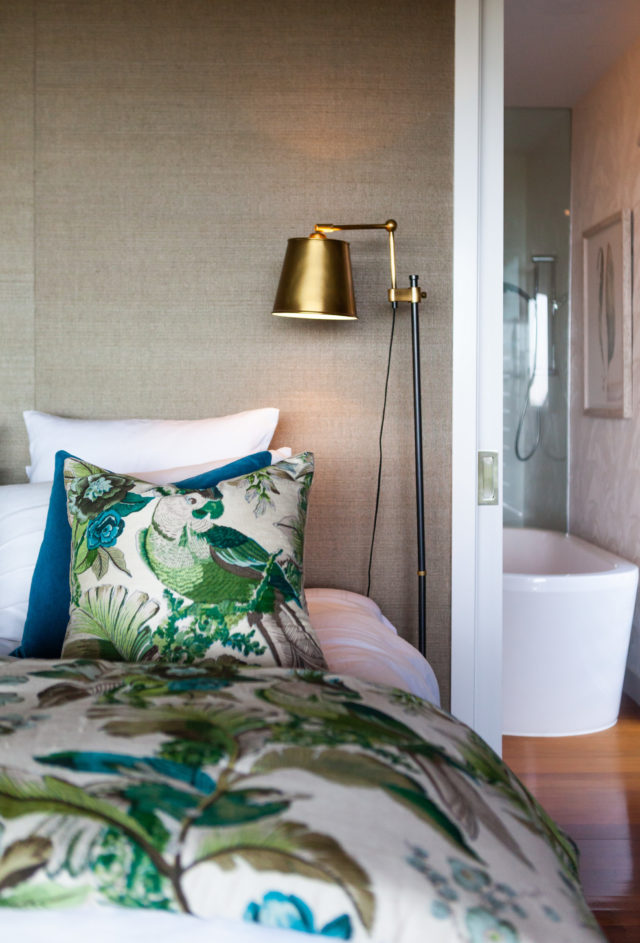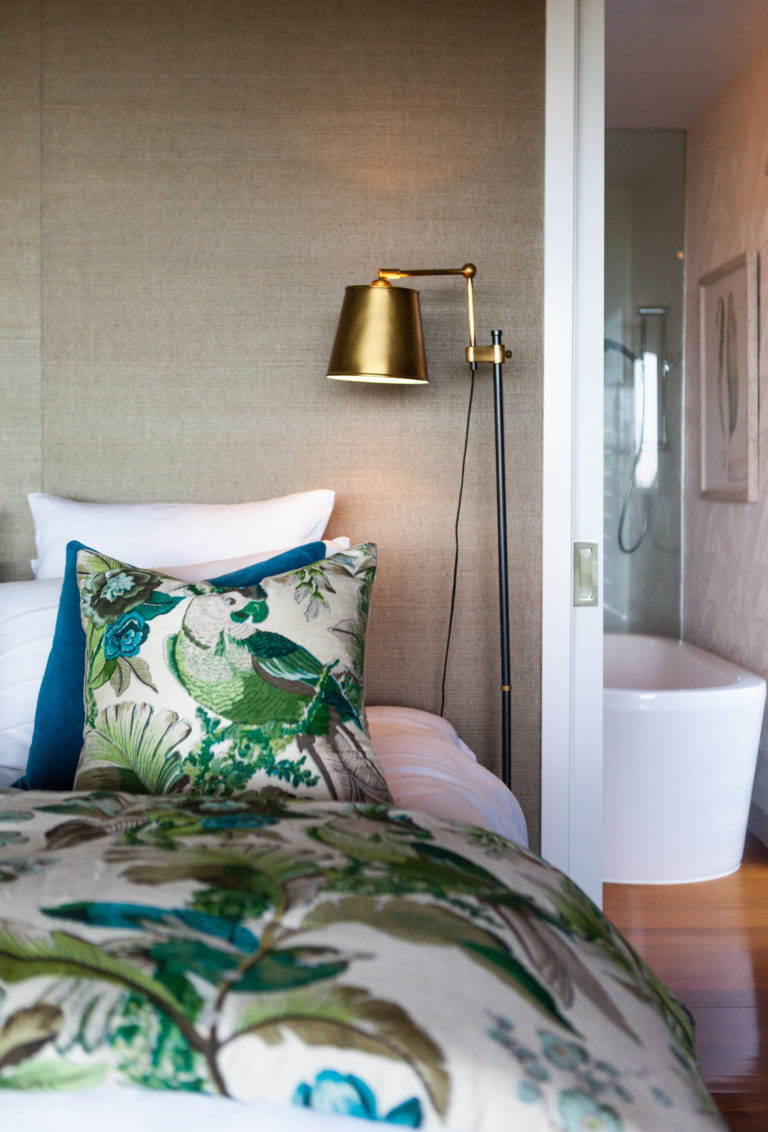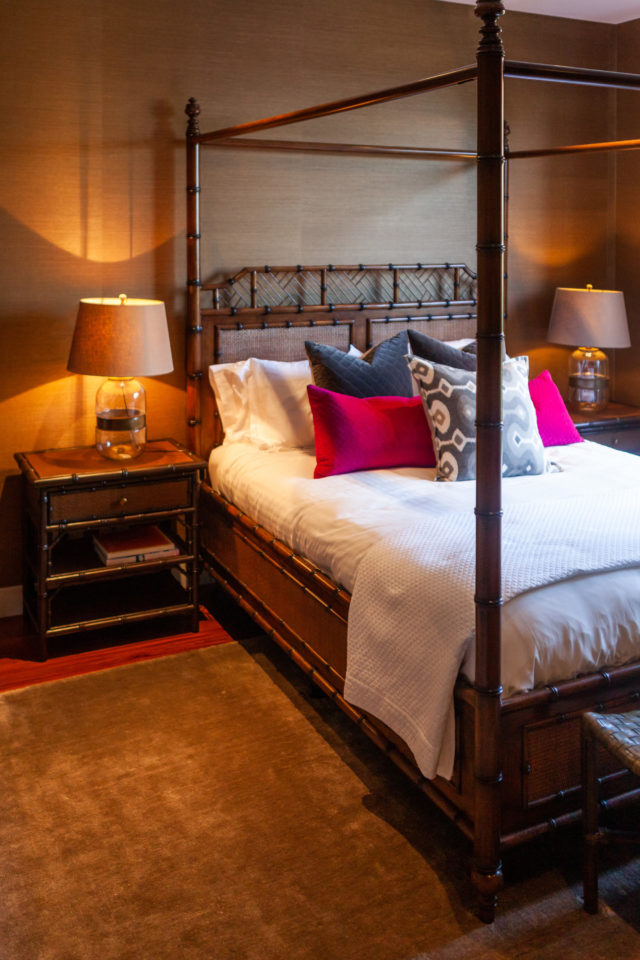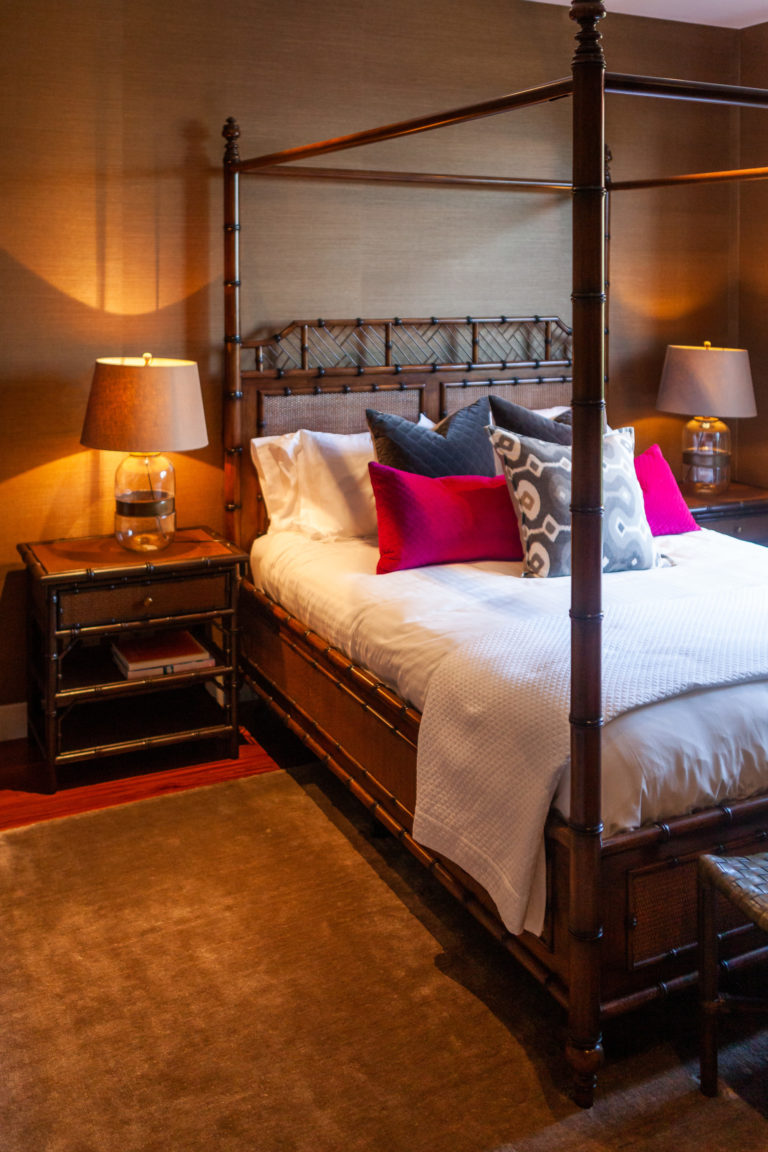 You'd worry that being surrounded by furniture and homewares every day for work would mean constantly being tempted by something new and on trend, but it's quite the opposite. "I have always had the same taste! It has become a little more refined over the years, more pared back, however still layered. I am more considered about what I bring into my home; pieces that I really love, timeless pieces that I will have for a lifetime."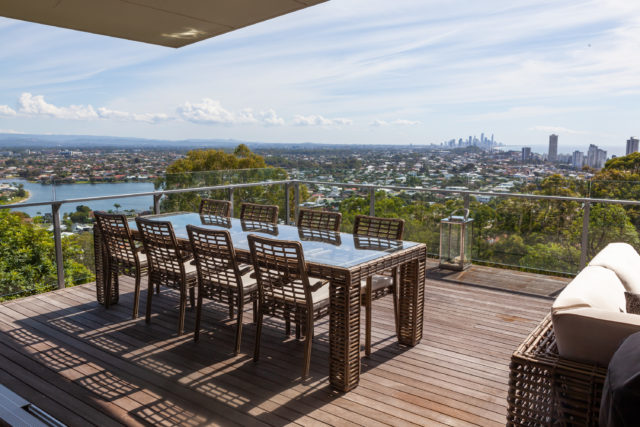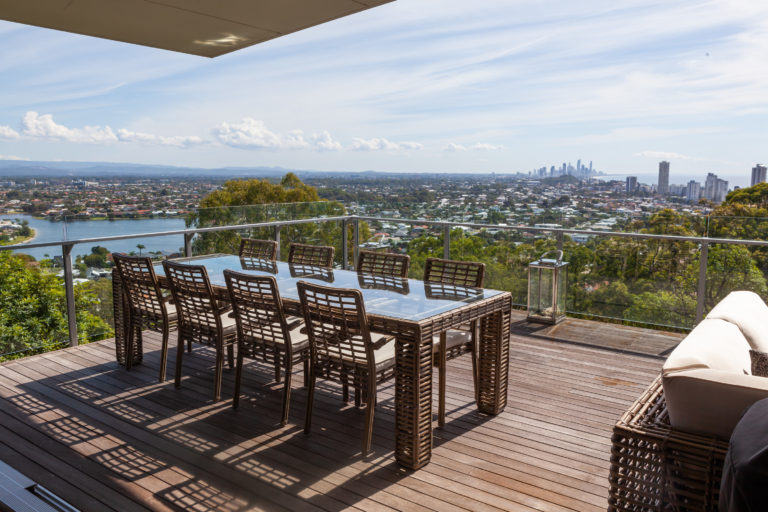 Shelley started selling fabric to designers out of the boot of her car in 1999. From these humble beginnings, she has built Boyd Blue into a Brisbane-based, nationwide industry leader, servicing the interior design market with an exclusive range of fabrics, furniture, lightings, rugs and mirrors.
With a focus on nature, scale, texture and finish, Shelley loves incorporating luxe natural materials like linen, cashmere, mohair, alpaca, stone and bronze into her collections. In a world of mass-produced goods, she has remaining firmly committed to her passion for craftsmanship.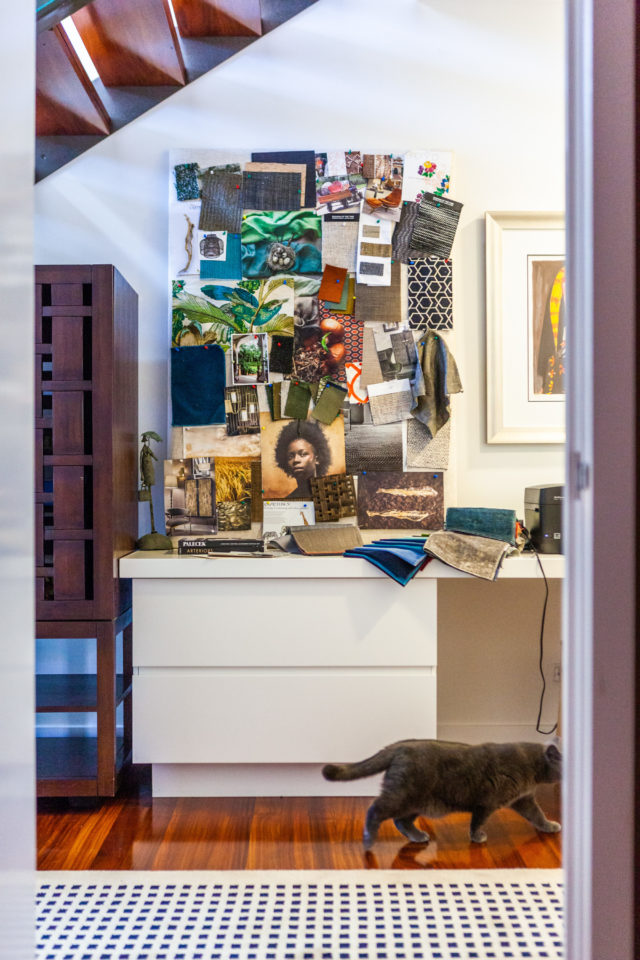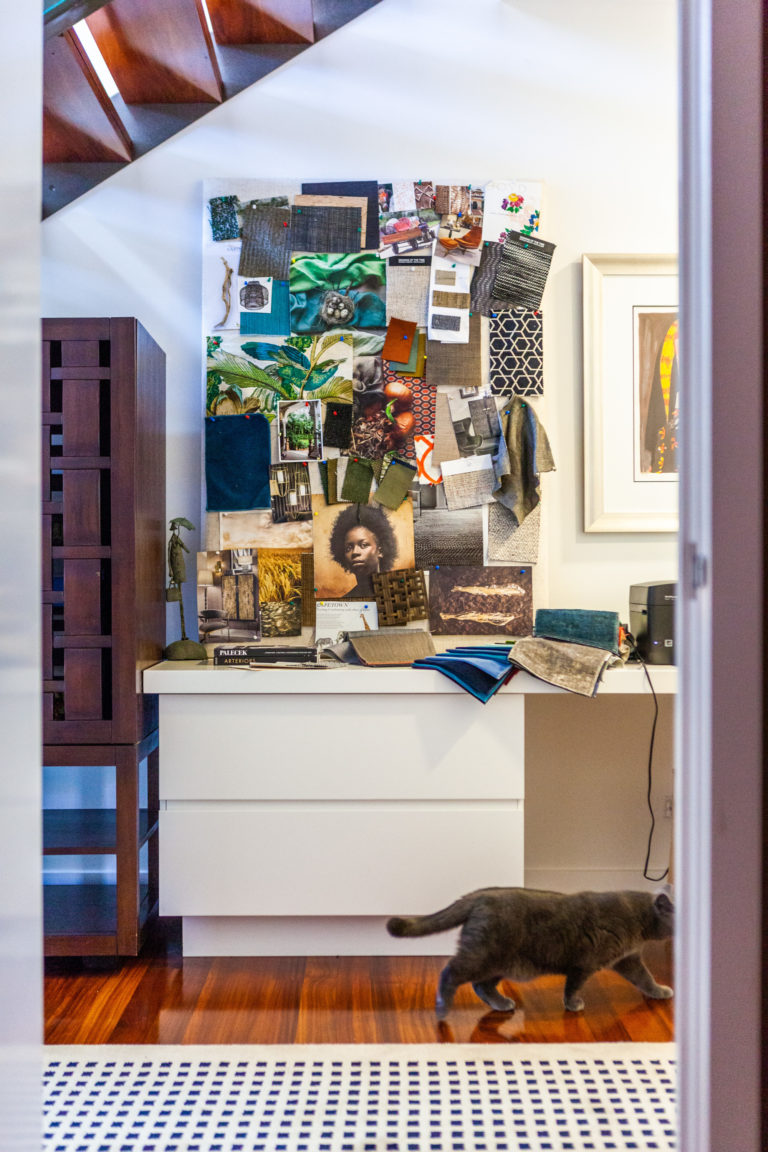 And rather than being an extension of her showrooms, Shelley loves mixing Boyd Blue pieces with antique and interesting treasures she has collected from her overseas travels. "I don't change things too much. I love every piece in my home and I would rather be surrounded by meaningful pieces I love."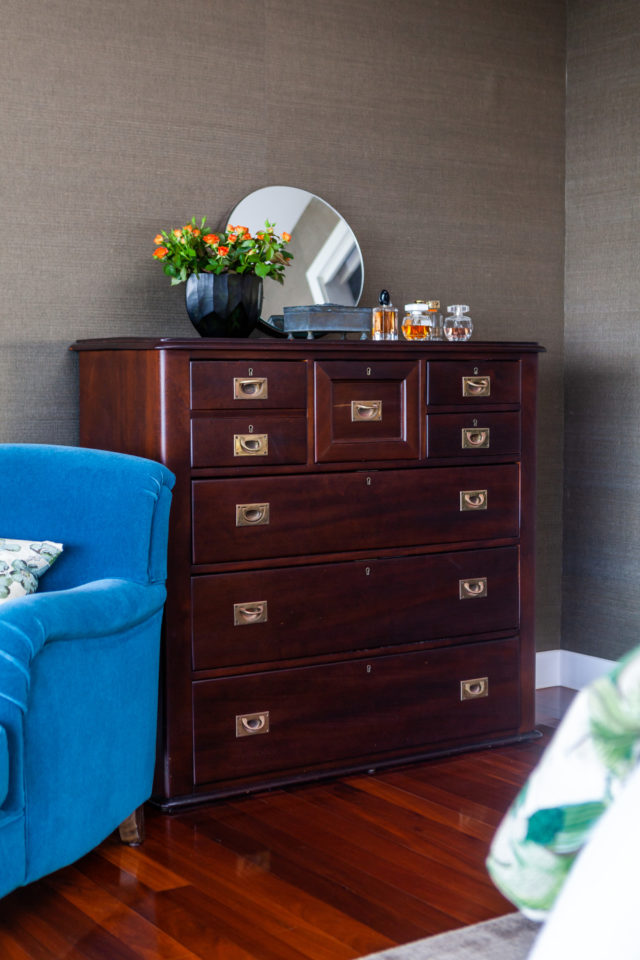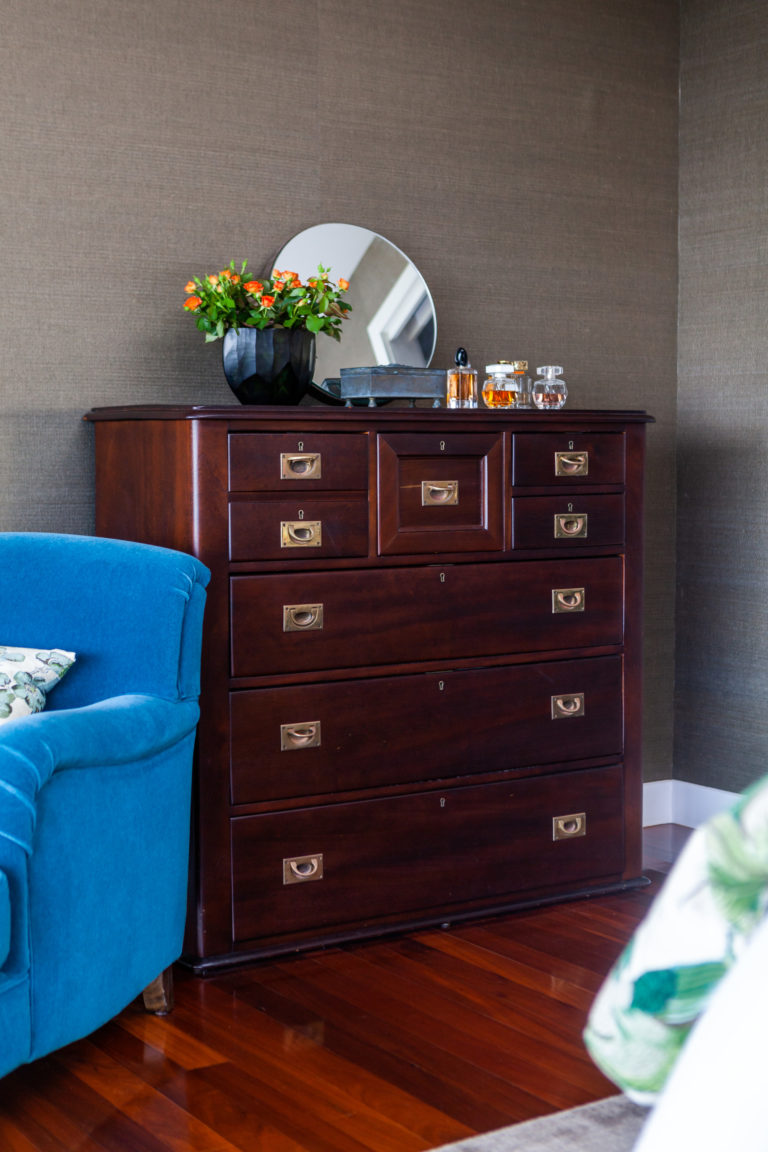 Artwork is something Shelley gets particularly sentimental about: "I have some pieces I love by Charles Blackman, Melissa Egan and Marilyn Reeman. I also have a set of beautiful Brazilian framed Agates."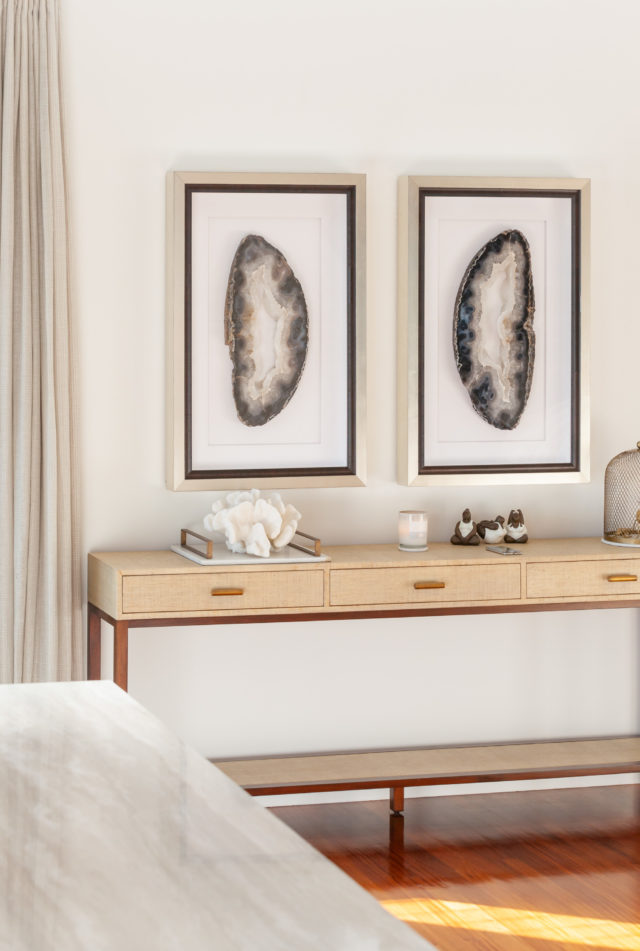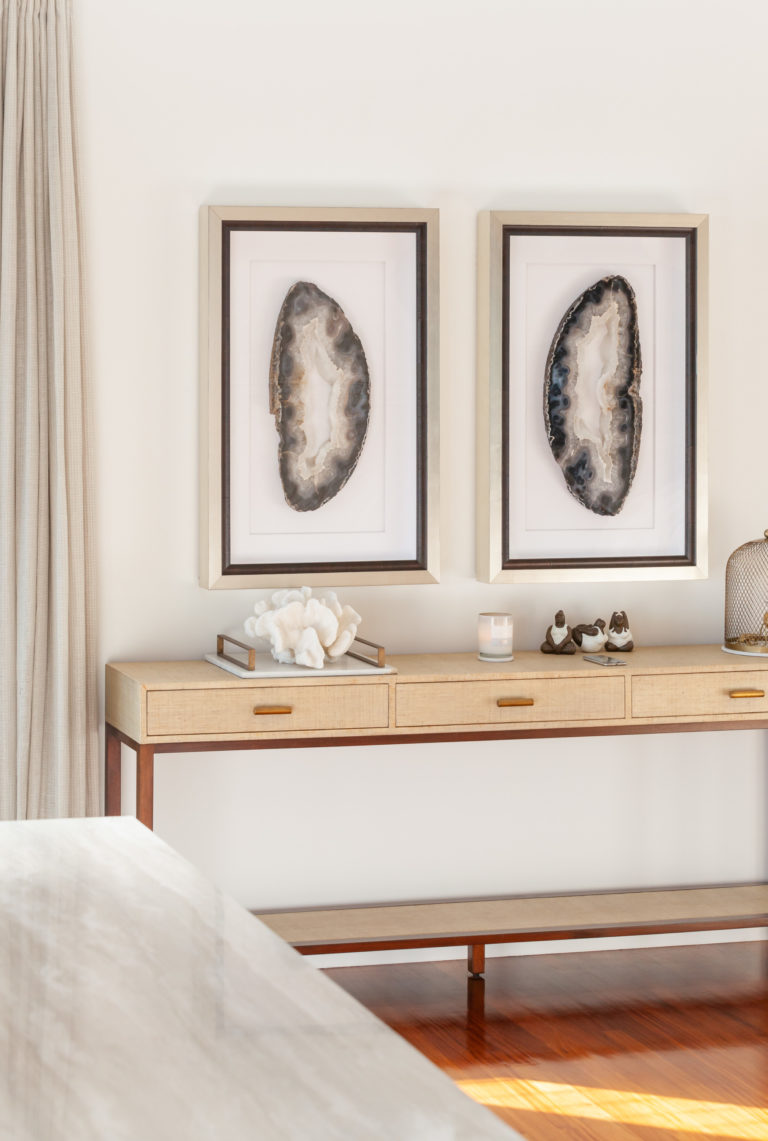 But her favourite pieces in the home are actually two oversized linen sofas. In fact, she loves them so much they have been re-upholstered more than once!
Shelley loves styling her coffee table and shares her tips for doing so: "I love scaled up coffee tables, breaking these up with trays in various materials and finishes. Being the heart of the living space, you spend a lot of your time around the coffee table. Place pieces that you have collected over the years that have meaning with sculptural objets. Greenery is always a lovely addition too."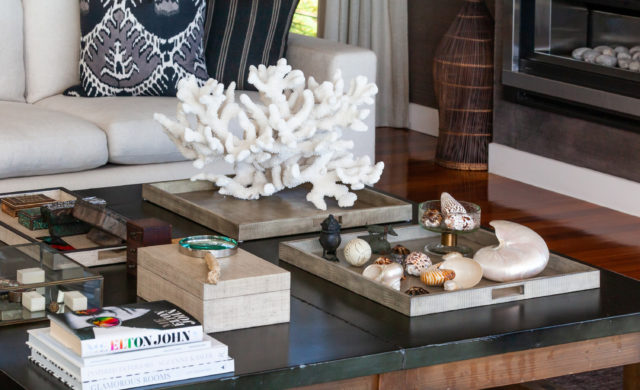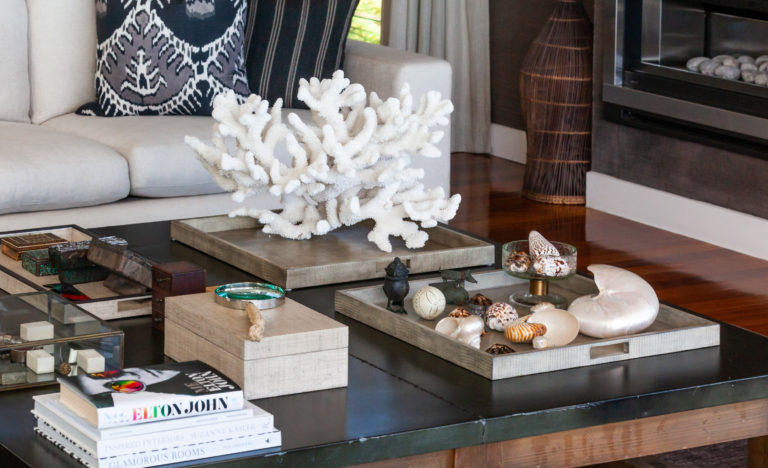 It's clear she avoids following trends, preferring instead to have an eclectic mix of timeless pieces, with no particular theme or style.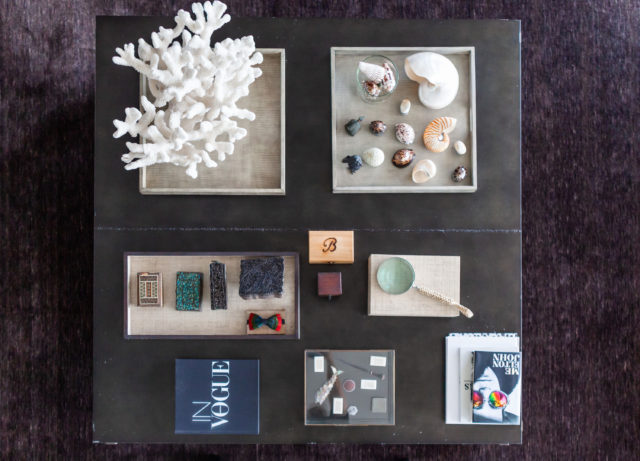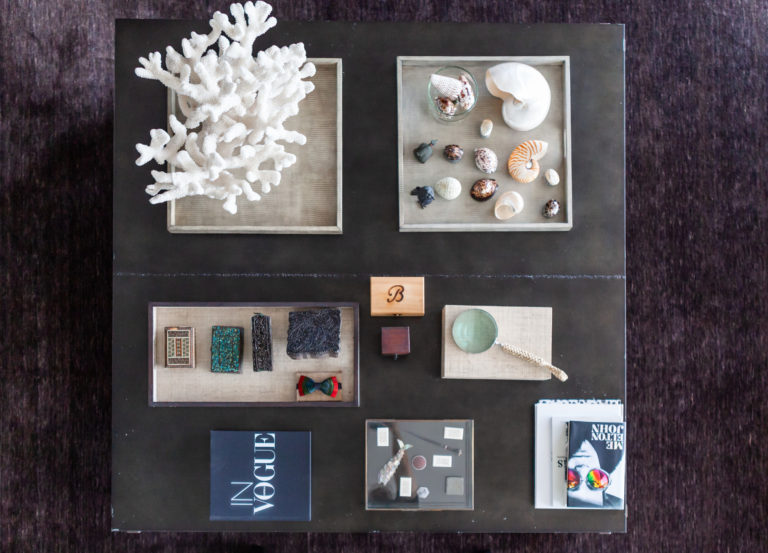 "Curves and arches are very on trend however," she says. "Also oversized art and the colour burgundy. We are still seeing a Scandinavian Mid Century feel in interiors as well as a very natural coastal boho look which is big on the Gold Coast and Byron Bay.
"I see curtains are making a big comeback, which I love: voluminous linen curtains really frame a window and give a sense of luxury to a room."
For more on Boyd Blue, which last year started selling direct to the public online too.
Photos: Dale Napier