Hooray! We're back to Block room reveals on Sunday nights, my favourite! Last night didn't disappoint with a mixed bag of finished rooms and as much disappointment as there was praise from the judges. I'm pleased to say my favourite room, Julia and Sasha's, won. Let's recap on what the judges said and who scored what…
WILL & KARLIE
With its mix of rose gold and black finishes (personally I'd prefer one or the other but the judges didn't seem to have a problem with the inconsistency, so what do I know?!), they were impressed overall. Neale said the pair had raised the bar from the previous week's pod challenge and Shaynna said that for a young couple, they'd shown maturity and a great understanding of the sense of luxury required. Neale liked the nod to deco in the black blinds while Shaynna said the vanity was all wrong and took away from a lot of the good points. The lighting too, although pretty, was totally impractical.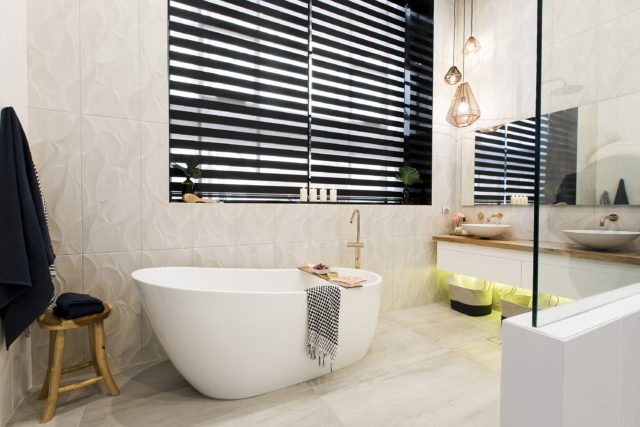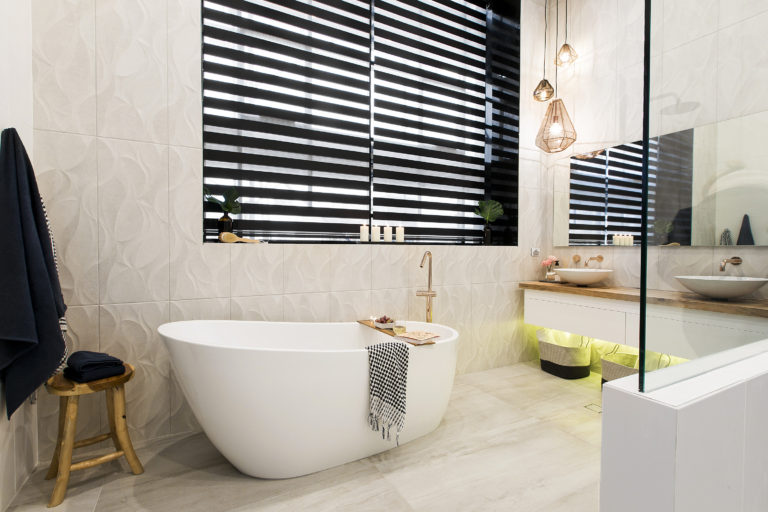 Overall though, feedback was good. Neale said the bathroom would help sell the apartment, Shaynna loved the styling and Darren said the couple had proven they knew what they were doing.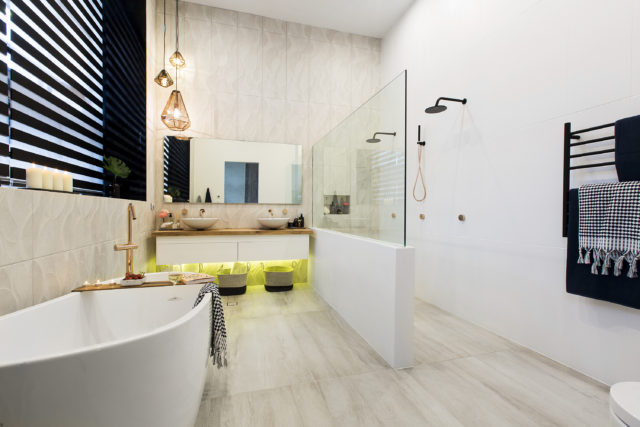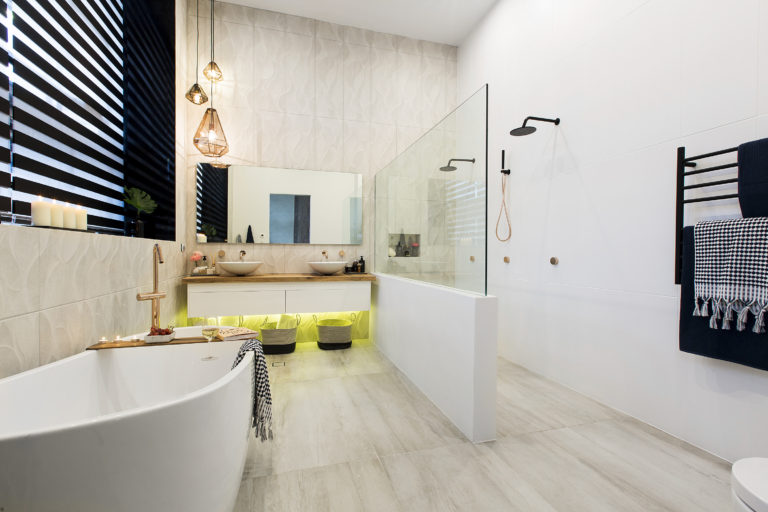 The couple ended up coming second place with 25 points.
DAN & CARLEEN
On first glance, I absolutely loved what this couple had tried to do, although on closer inspection, a few things did fall apart. I'm still mad for their subway tiles, gold tapware and black tub though! They made brave choices, even if some of them didn't quite come off. And their look was certainly more Art Deco than anyone else's. Perhaps a little too much.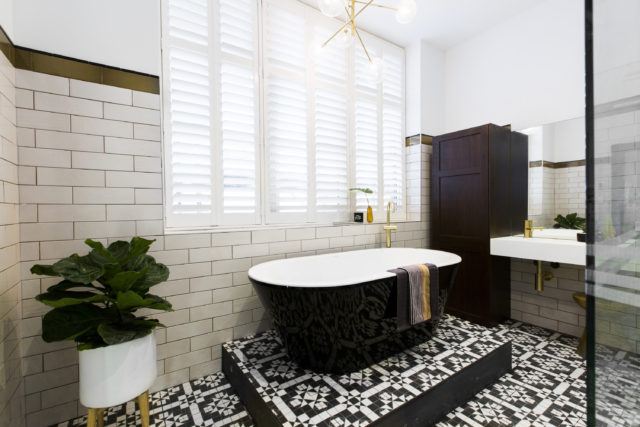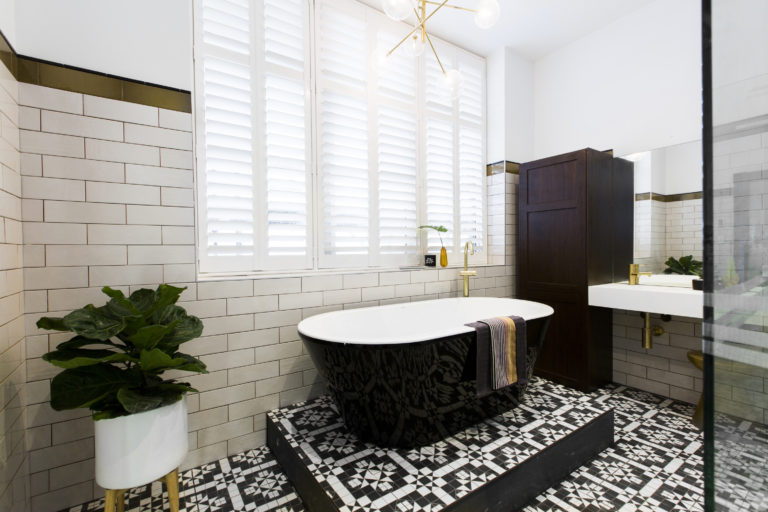 Neale's first impression was "wow" too. He said it ticked a lot of boxes. Shaynna agreed they had certainly taken on the whole deco look and loved the distressed subways and the patterned floor tiles. "The direction of the style is brilliant." It was all going so well. Then…Darren! "I hate it!" While he couldn't get past the unfinished floor tiles he also hated the raised bath and said it was a trip hazard and all wrong. The placement of the towels was also really awkward for anyone getting out of the shower.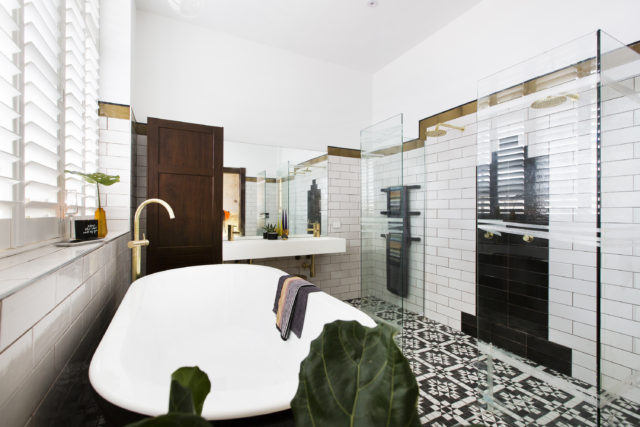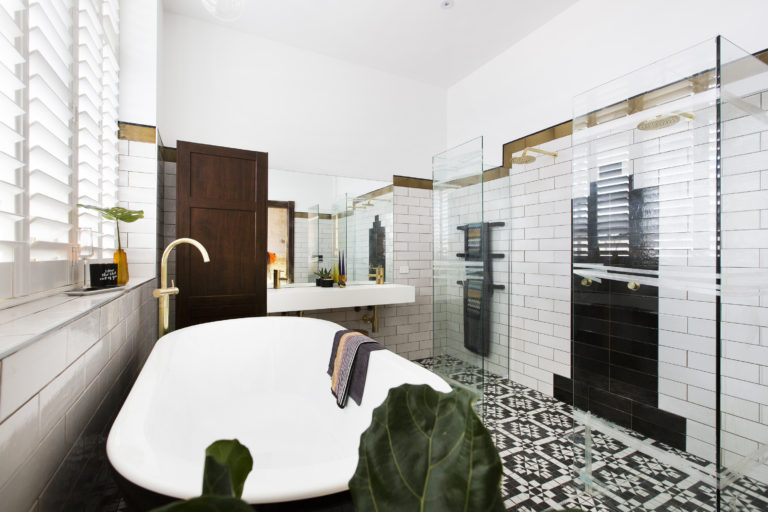 None of the judges rated Dan and Carleen's styling. The 'I love the shit out of you' candle was an odd choice in anyone's book and I agreed with Shaynna that the Missoni towels, although high end, didn't go at all. Sadly, the couple didn't take the feedback well at all and found it all very personal. Hopefully they'll get a little more used to being on a reality TV show as the weeks go on!
This couple came last with 17 points.
ANDY & BEN
All I want to say about this pair is "Oh bless!" I mean really, who uses Radox shower gel, disposable razors and toothbrushes as the finishing touches in a high end bathroom?! But these young beginners are so genuine and have such great attitudes you can't help but love them! And while their bathroom wasn't a showstopper, their call to change the floorplan and keep part of it as an extra bedroom was, as Darren said, a master stroke.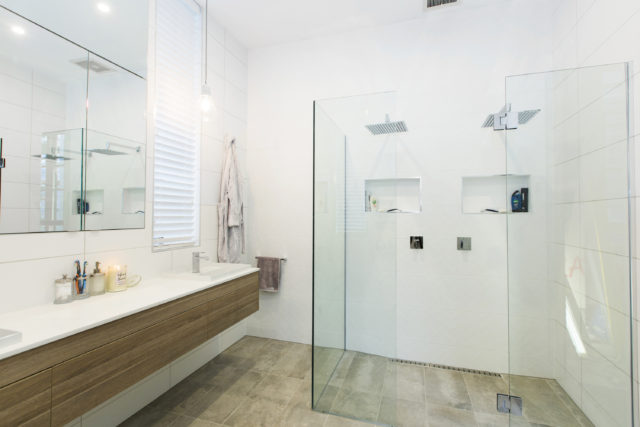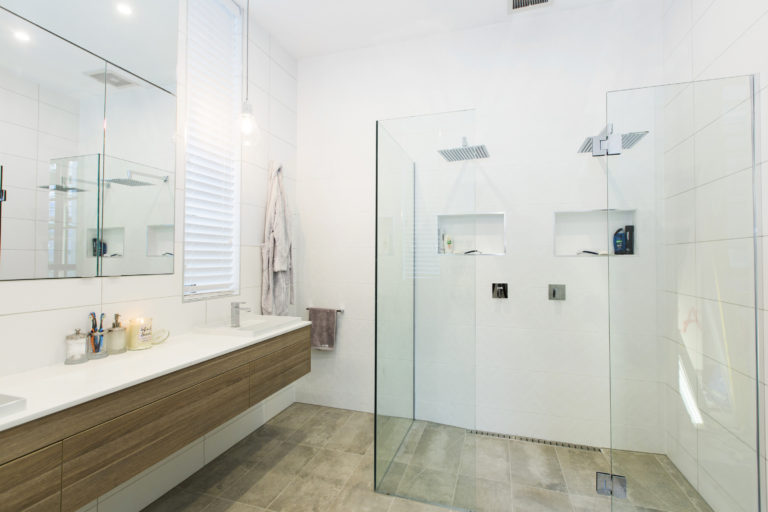 Sadly though, Neale said it all felt a little bit cheap and Shaynna said it was everything she didn't want to see (apart from the aforementioned Radox and razors, also basic chrome tapware, a Scandi vanity and concrete look tiles). Neale said they'd created  a bachelor pad feel and Darren noted that even if you know nothing about Art Deco, there's nothing to stop you googling and finding out some pointers!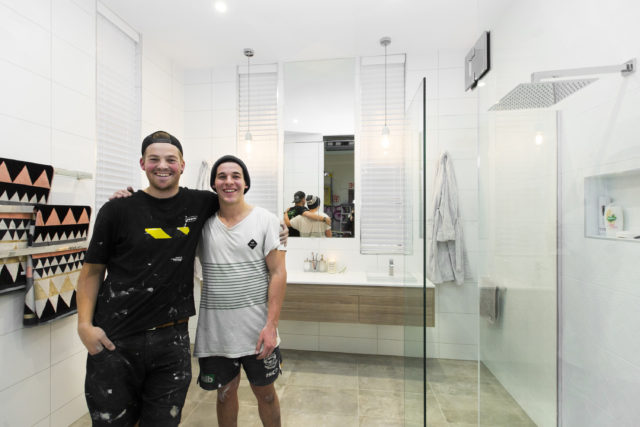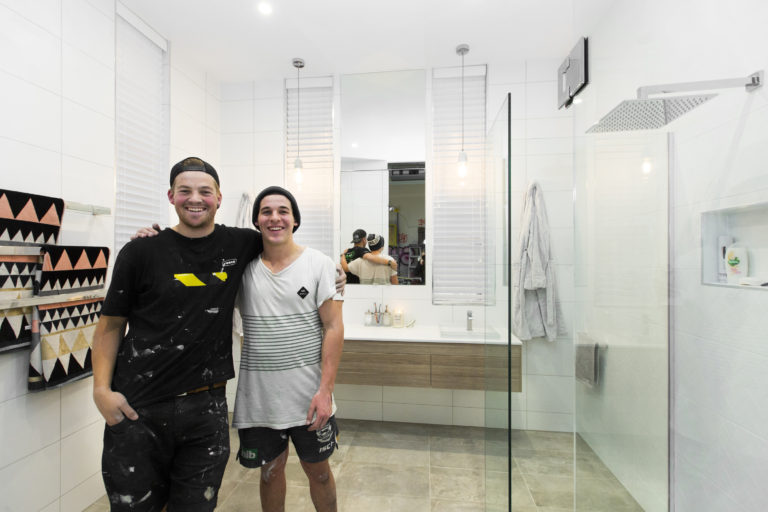 This likeable pair still managed to come third with 21.5 points. Again, bless!
JULIA & SASHA
This was my absolute favourite so I'm pleased the girls won with 26.5 points. Oh my, that gold tapware! I just love gold tapware but reluctantly decided it wasn't the right choice for my own bathroom reno (starting today incidentally, so watch this space). So this bathroom left me feeling a tad jealous! The judges were also impressed with Darren declaring it "the business"; the perfect blend of contemporary and sophisticated with classic, bygone era.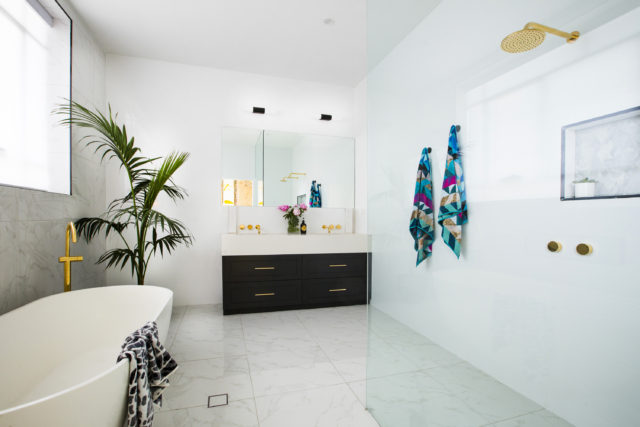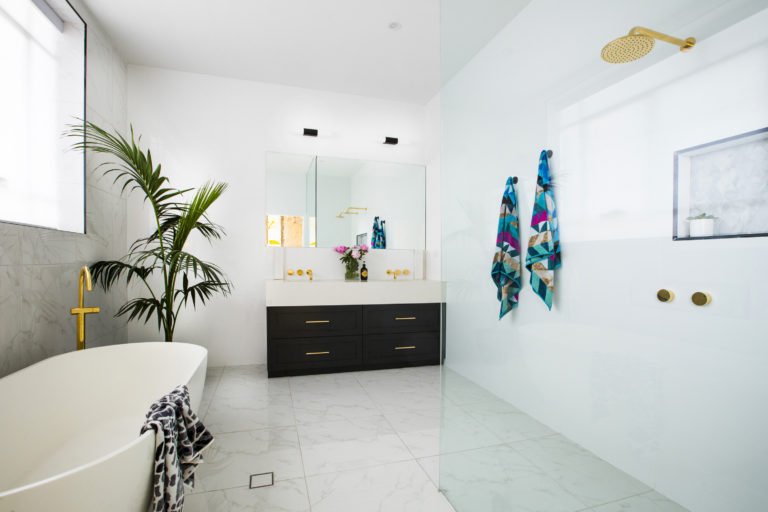 Shaynna thought the cabinetry was perfection (agreed, so classy!) and Neale said it was very sophisticated and luxe.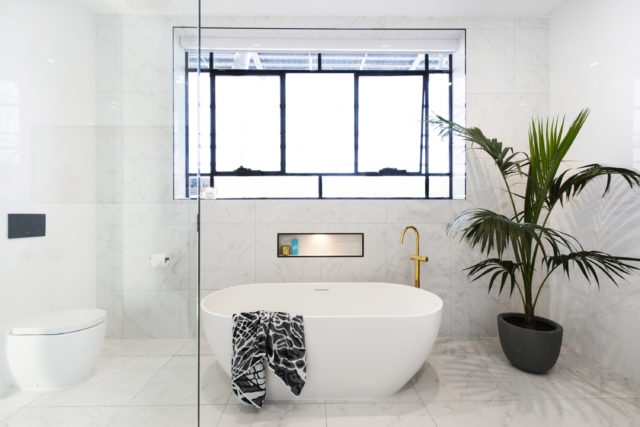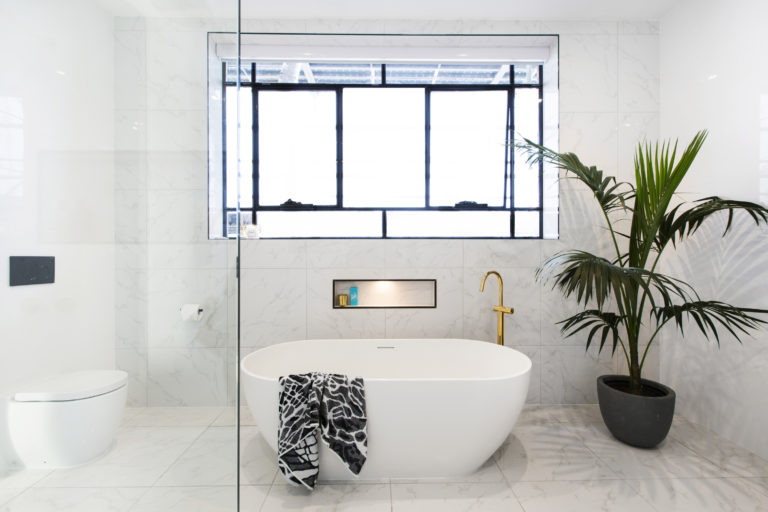 While there were a few unfinished bits and the basin taps were too low, Darren still said the room was "spectacularly beautiful".
A well deserved first place!
KIM & CHRIS
Oh dear. I hate to add insult to injury when these guys got such a bashing from the judges, but my eyes! I really was not a fan, but I was so impressed with the way the Newcastle couple took the feedback on the chin and vowed to learn from it. Brilliant attitudes and I really hope they go on to better things!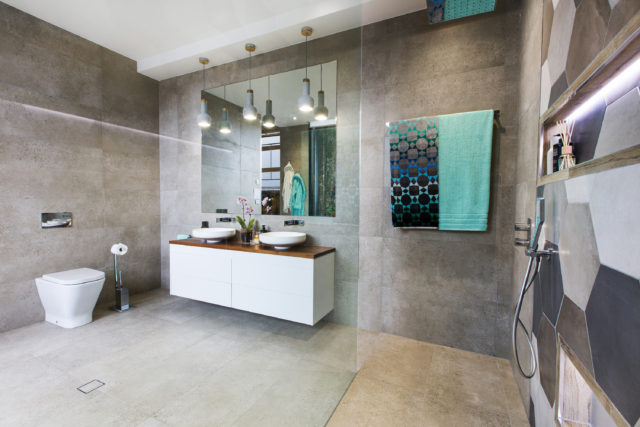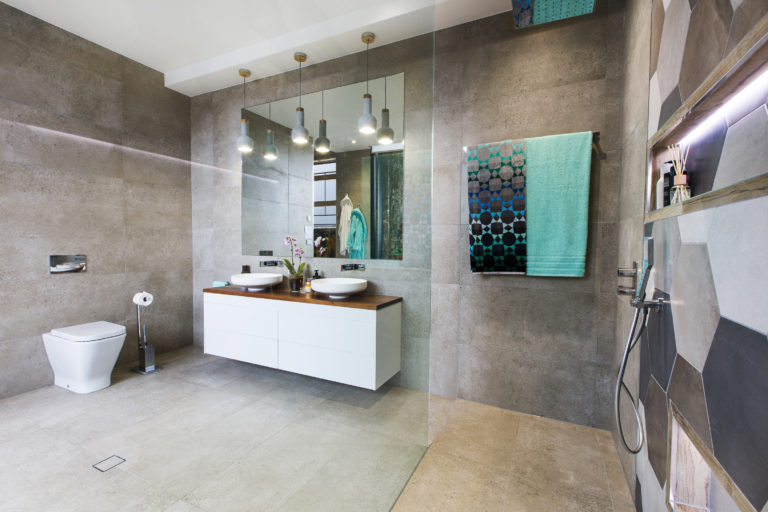 It did not start well with the judges with Shaynna asking 'where are we?' and Neale replying 'in a time machine going backwards'! He added that it was completely soulless and off brief. Harsh but true. Shaynna said the shower tiles were ugly and just awful but thought the lighting and tapware were good choices (can't say I agreed on the lighting). Where she was definitely right, and fair, was in saying that the quality of their work and time management were incredible.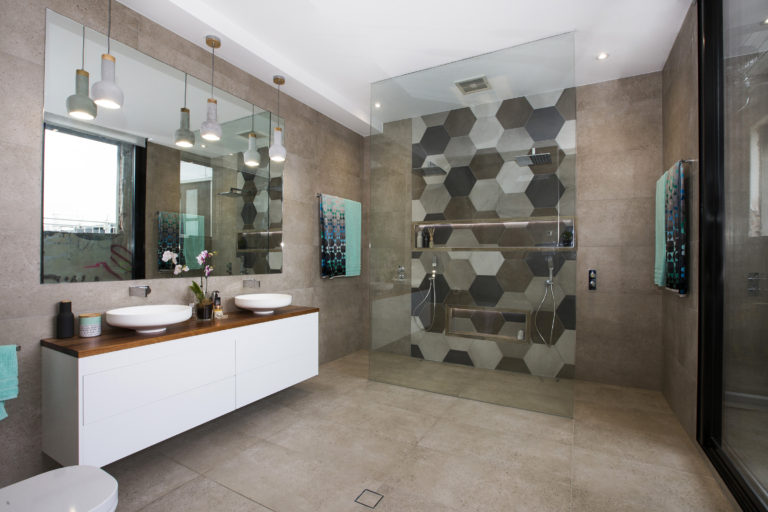 They came in second from last with 19.5 points.
This season, The Block Shop has partnered with Matterport and Phoria to offer its customers a world first online retail experience. As of last night, you can now take yourself on a 3D tour of The Block and buy what you see from the comfort of your lounge room.
"We're absolutely thrilled to be rolling out this technology to our customers," said Julian Cress, co-creator and executive producer. "Online shopping is quickly becoming more and more sophisticated and to be able to take our fans behind the walls of The Block and let them get up close and personal with what the couples have created is really exciting."
Trent Clews-de Castella, co-founder and CEO at Phoria (formerly Scann3d) said: "We're working closely with The Block Shop to create a never seen before online retail experience. Each week, fans of the show can jump online and explore each room reveal directly from The Block Shop site. More importantly, using Matterport's new Mattertag integration we can give users the ability to select products they like and click through to purchase within seconds. We're excited by this new implementation, as we're now witnessing these 3D tours evolve into intelligent environments that connect with rich media, all in the one holistic experience."