So many Blockheads got my back up with their antics this week! I won't even go there! So let's just concentrate on what the judges, who were oblivious to the drama, had to say!
Jason and Sarah: Third place with 27/30
First impressions were good. It looked big. Shaynna loved outdoor kitchen saying the BBQ felt like an extension of the kitchen.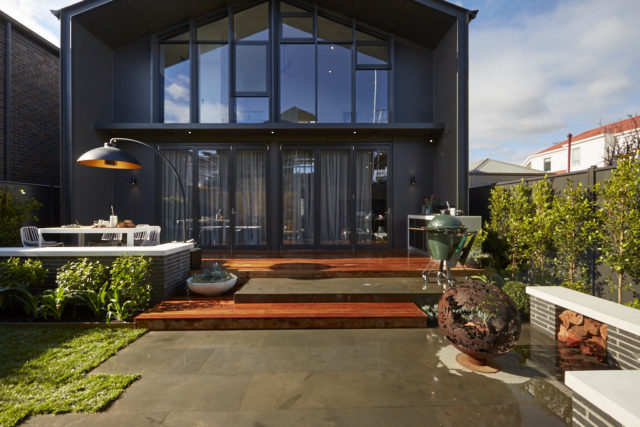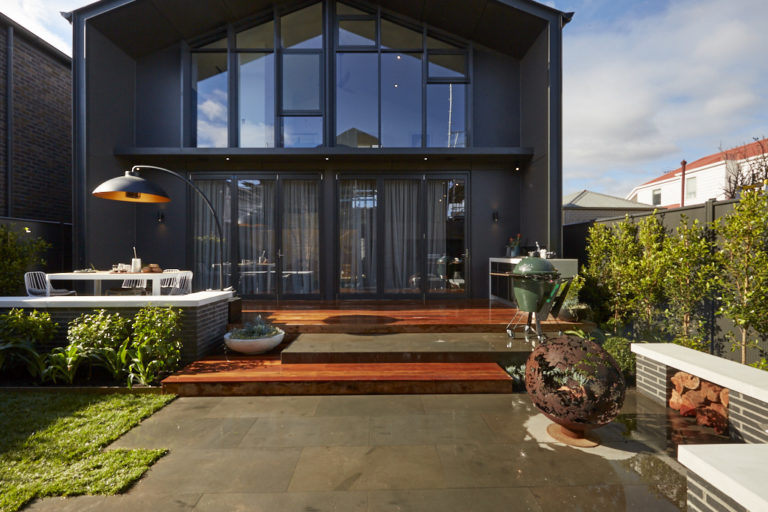 Neale said it was luxury in terms of both the fixtures and the space.
Darren said the outdoor heater was the most beautiful he'd ever seen and that it felt like it had everything an Australian backyard needs.
Shaynna liked the built in bench but not the colour of the wall panels. And they all liked the firepit.
Shaynna said they'd created really simplistic and successful zones and a low maintenance space. It had been successfully planned and executed.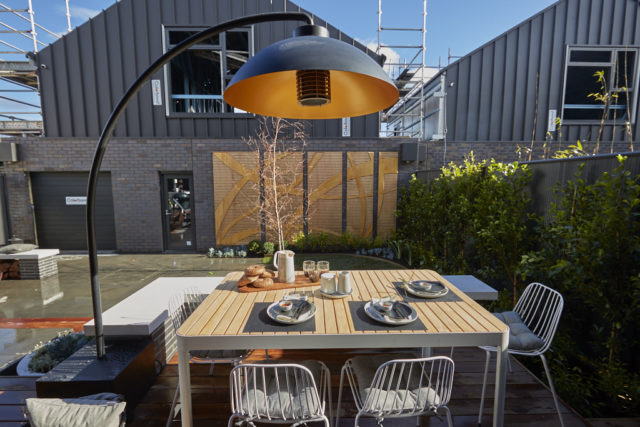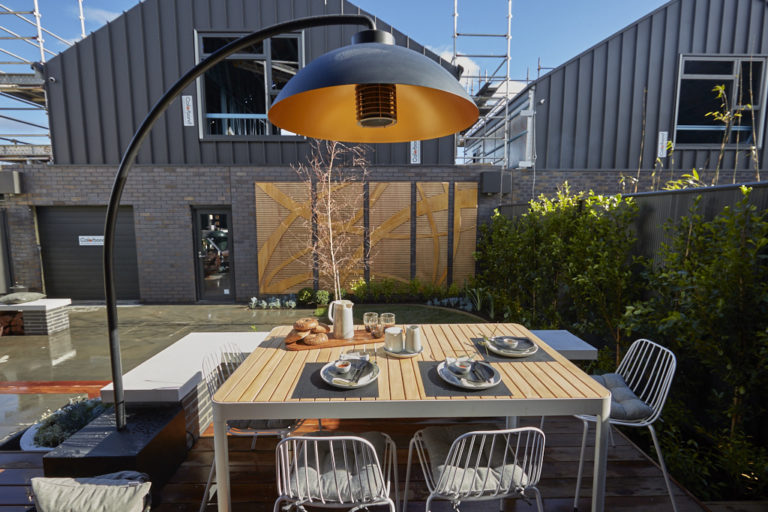 The only thing missing was the cubby house, which the couple said they left out because they thought it was ugly. They lost a point here for breaking the rules. Not that it would have made them place higher as it turned out.
Our picks to buy: Big Green Egg barbecue, Heatsail Dome electric outdoor heater.
Hannah and Clint: last place with 22/30
Again, the judges thought it felt huge with the large deck and outdoor kitchen.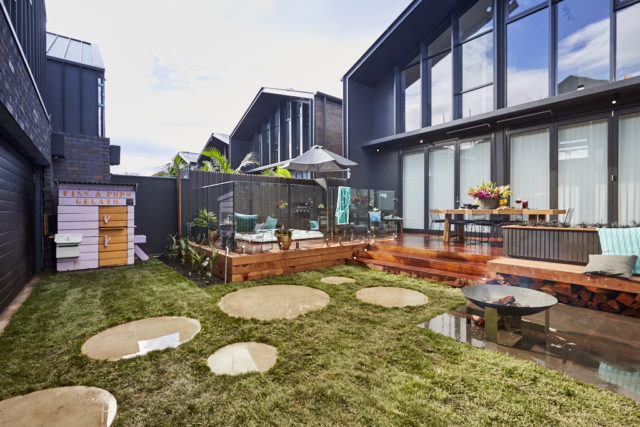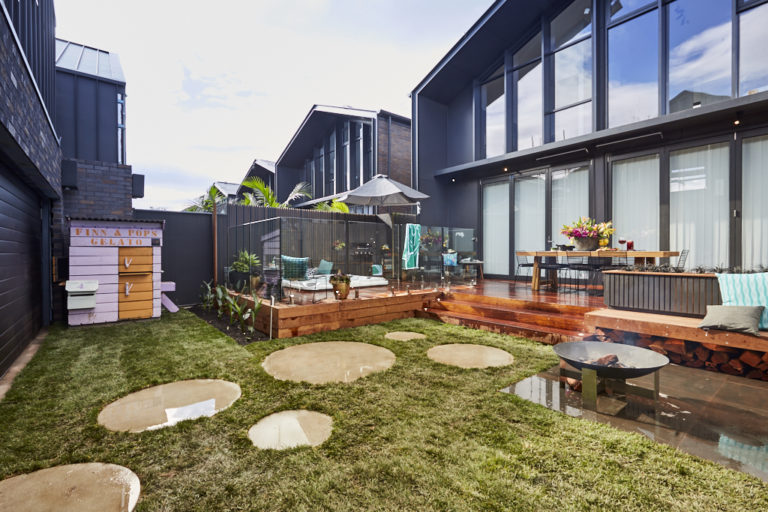 Neale felt something was wrong with the proportions and the dining table was squashed in. He also hated "the sad corner," saying nobody would want to sit there.
Shaynna hated the spa, saying it was 20 years ago and not worth the money.  Darren agreed it was tacky with its disco lights and speakers and belonged in a bachelor pad or the back of a hummer!
Neale and Darren agreed the firepit worked really well and was beautiful. But Shaynna said the yard needed taller greenery for screening and softness rather than the short plants in pots. Their zones didn't work as well as Jason and Sarah's.
Neale said the couple's lack of experience showed but commended them for having a good crack at it.
Our picks to buy: Sahara fire pit, Thermastrip outdoor heater.
Ronnie and Georgia: fourth place with 25.5/30
After all that drama with getting the pool in, I'm sure the confident and experienced couple expected to do better than fourth place.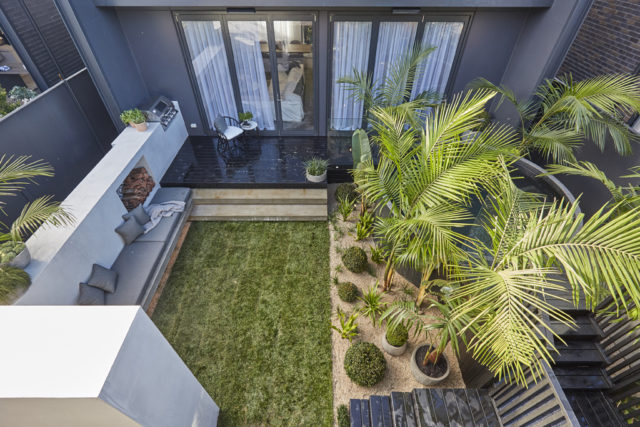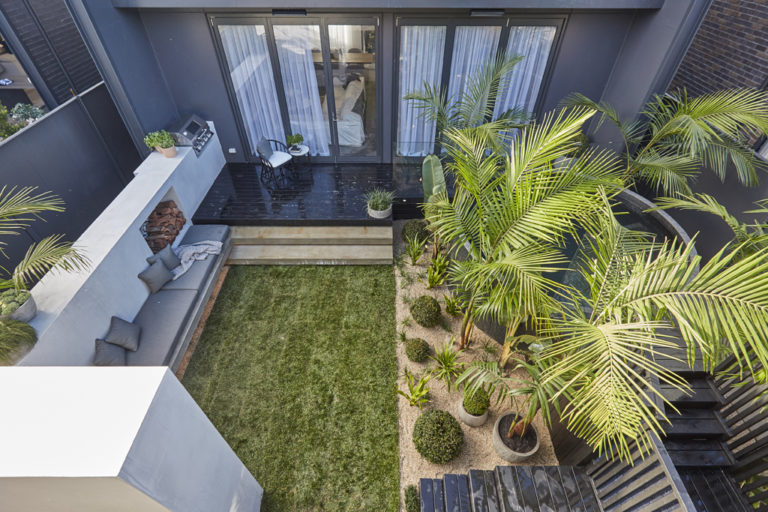 The judges did think it was an amazing addition to the home and a remarkable effort to get it in there (if only they knew!). Darren said it was like a beautiful rockpool. Neale said he wanted to plunge in there, even on a cold Melbourne day! He said plenty of buyers would want it too.
Although the space was beautifully and meticulously planned, Neale couldn't get over the lack of dining table and said a house at this price point demanded one. All the judges agreed it wasn't family friendly enough.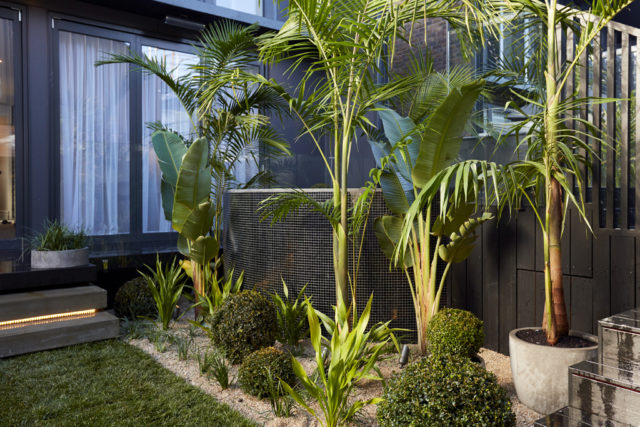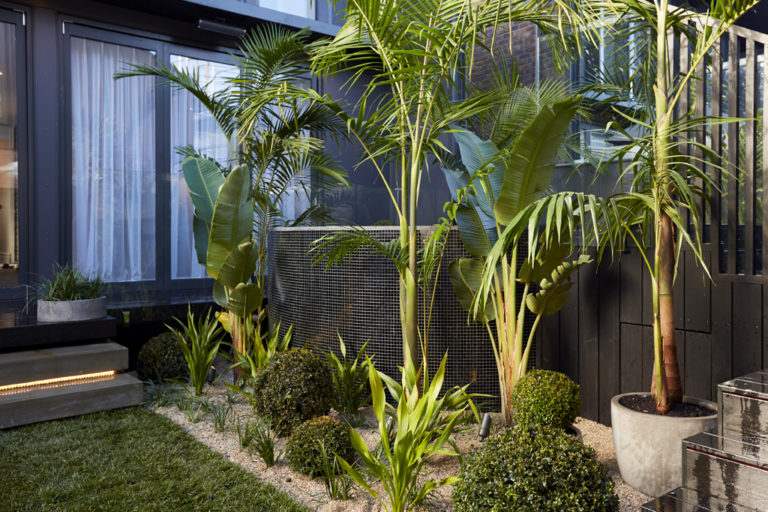 They didn't like the fireplace wall at all, saying it was all about looks and not functionality. Neale said it was visually beautiful but wouldn't appeal to a broader family buyer.  This was a shame because the pool was amazing.
Our picks to buy: Plunge pool, black rattan chair.
Sticks and Wombat: second place with 29/30
I loved this one and so did the judges.
Shaynna said it felt bigger than others because there were no barriers. It felt family friendly with the cubby house and veggie patch.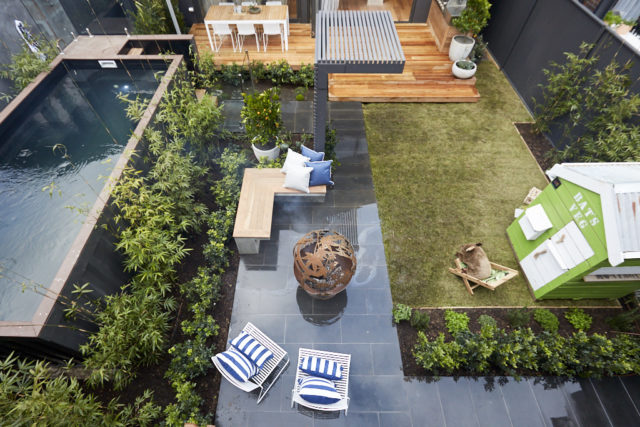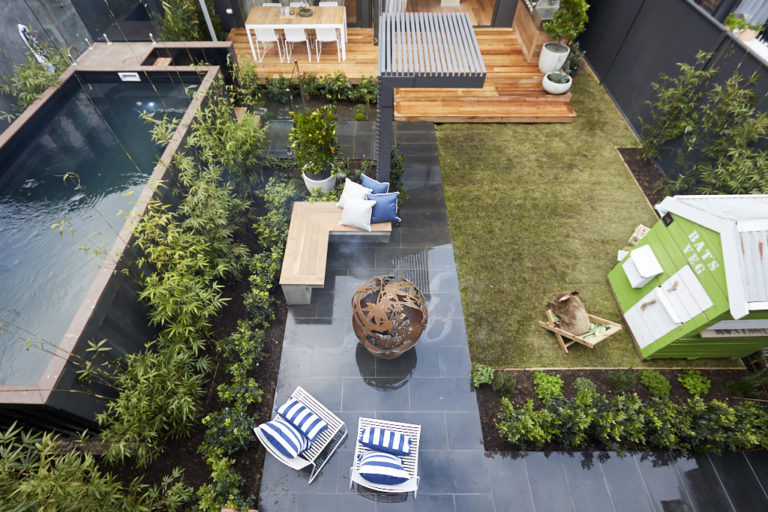 Neale said it had everything you'd want: a beautiful lawn, ample room for a dining table and a swimming pool. That shipping container pool was so them and so cool, don't you think?
Darren loved it, saying it was amazing they'd thought that through and that it worked really well with the Colorbond paneling.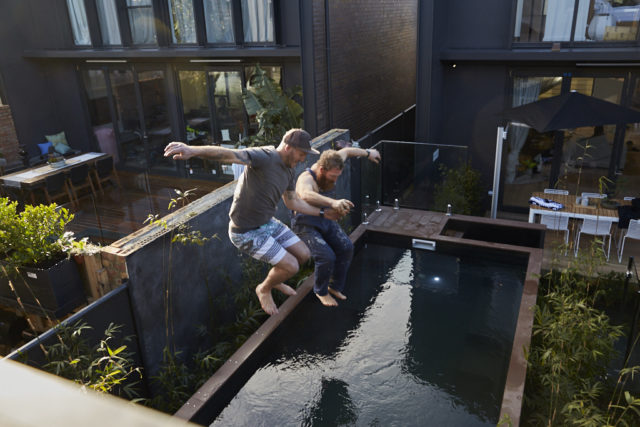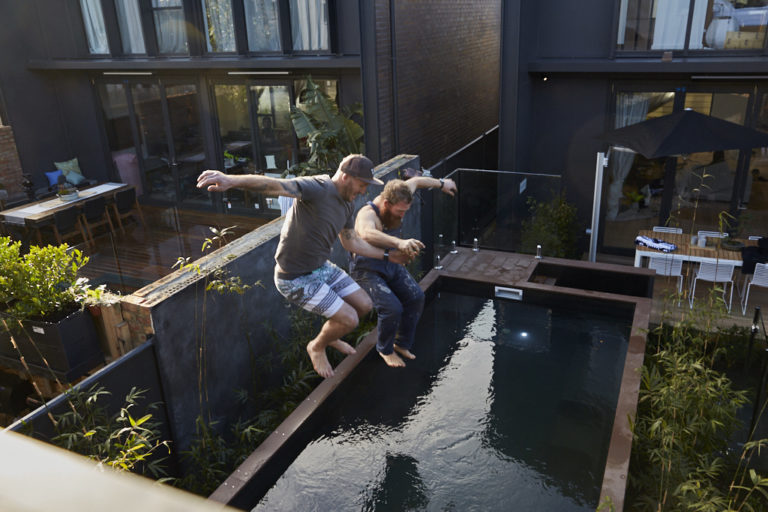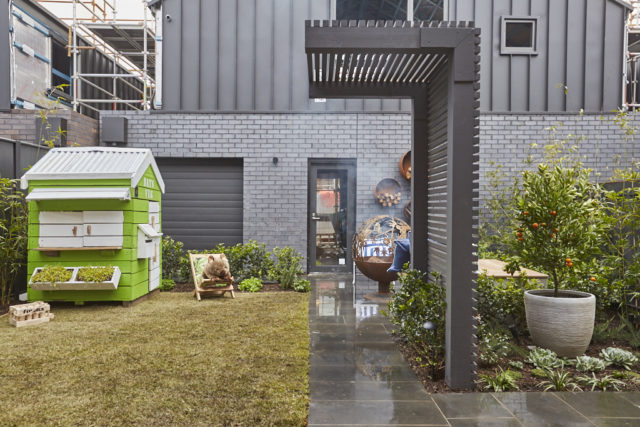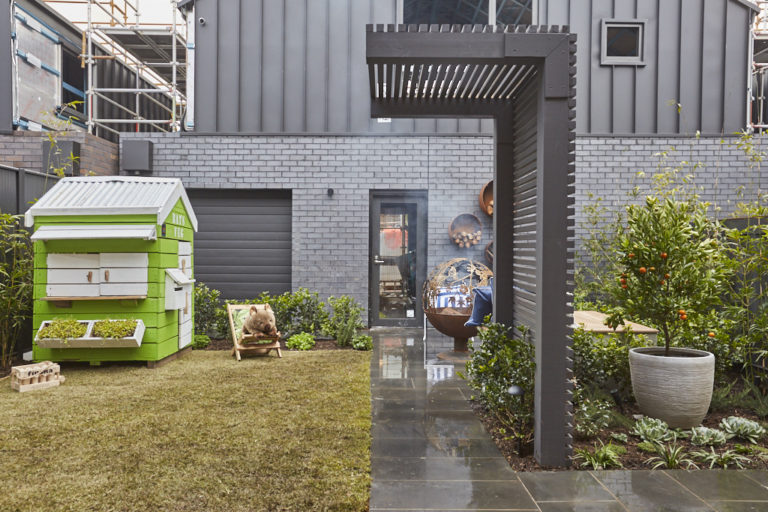 Neale was very enthusiastic saying the yard was beautifully thought out and done with love. It was the perfect example of how far the boys had come. It had a real sense of harmony and was very human.
Our picks to buy: Custom hand cut spherical firepit, wire dining chairs.
Josh and Elyse: first place with 29.5/30
It looked like Sticks and Wombat might win, and they nearly did, but the best was yet to come! The youngest couple did it again (by half a point) with their outdoor space.
The in-ground pool was of course a showstopper.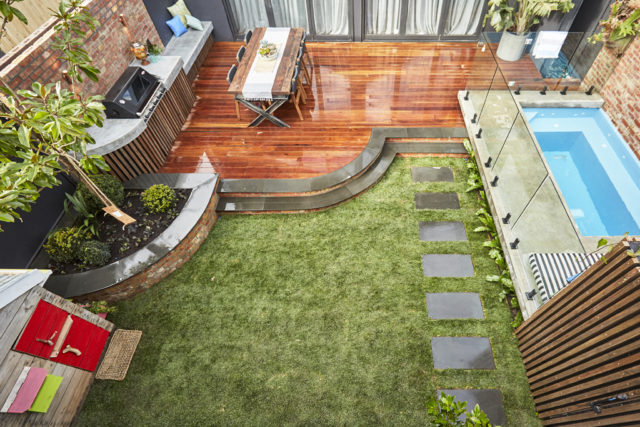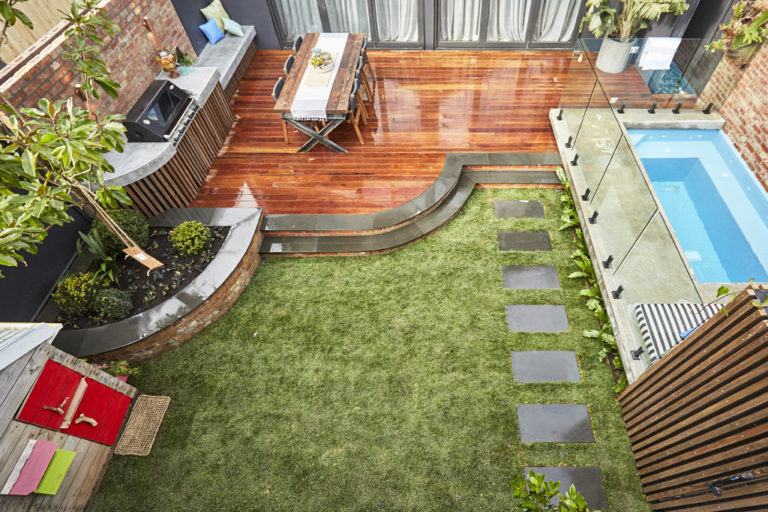 Shaynna said it was the perfect family garden. Neale said it was visually sophisticated. Darren loved the contrast between the timber, concrete and brick.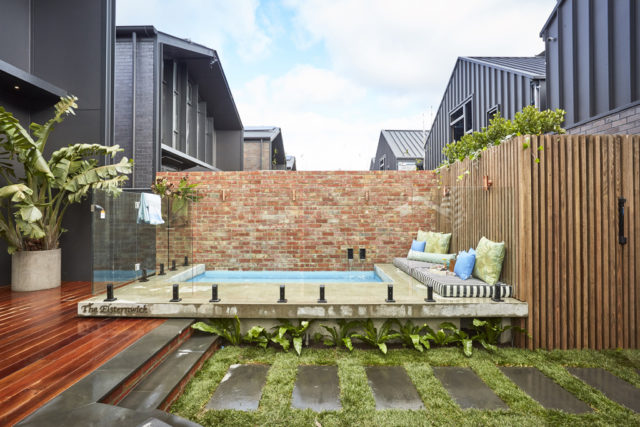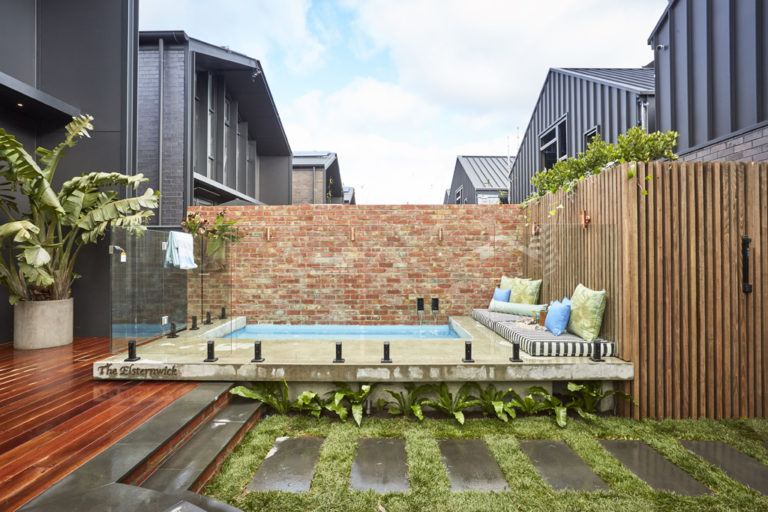 Shaynna loved that it was the only space where you could actually sit at the poolside. Darren just couldn't get over the pool! He said the yard felt luxurious and high end and the whole thing was genius. "It's incredibly sophisticated yet so simple too. I'm blown away that they could achieve something this good in a week."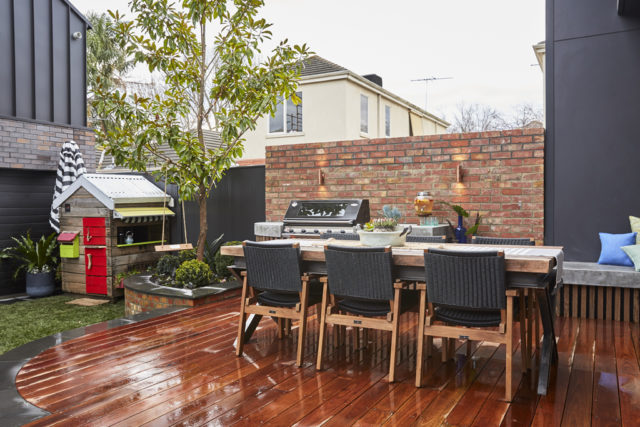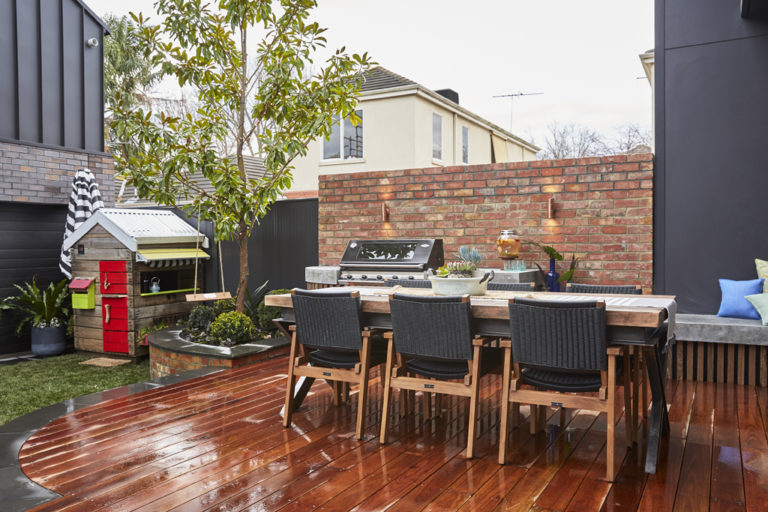 Neale said there was an amazing continuity about the house.
Our picks to buy: Outdoor steel table, copper outdoor lights.
At the end of the scoring, Scotty revealed each couple would get an extra $25,000 this week as it had become clear many of them couldn't possibly finish on their existing budgets. It looks like next week's going to be another week of stress, drama and arguments! Watch this space…