Jasmine Mansbridge's latest stunning exhibition, Painting A Perfect World, is an optimistic one, but it came from a place of deep contemplation. In this frank interview, the artist reveals how the ups and downs of last few years, as well as global events, shaped the work.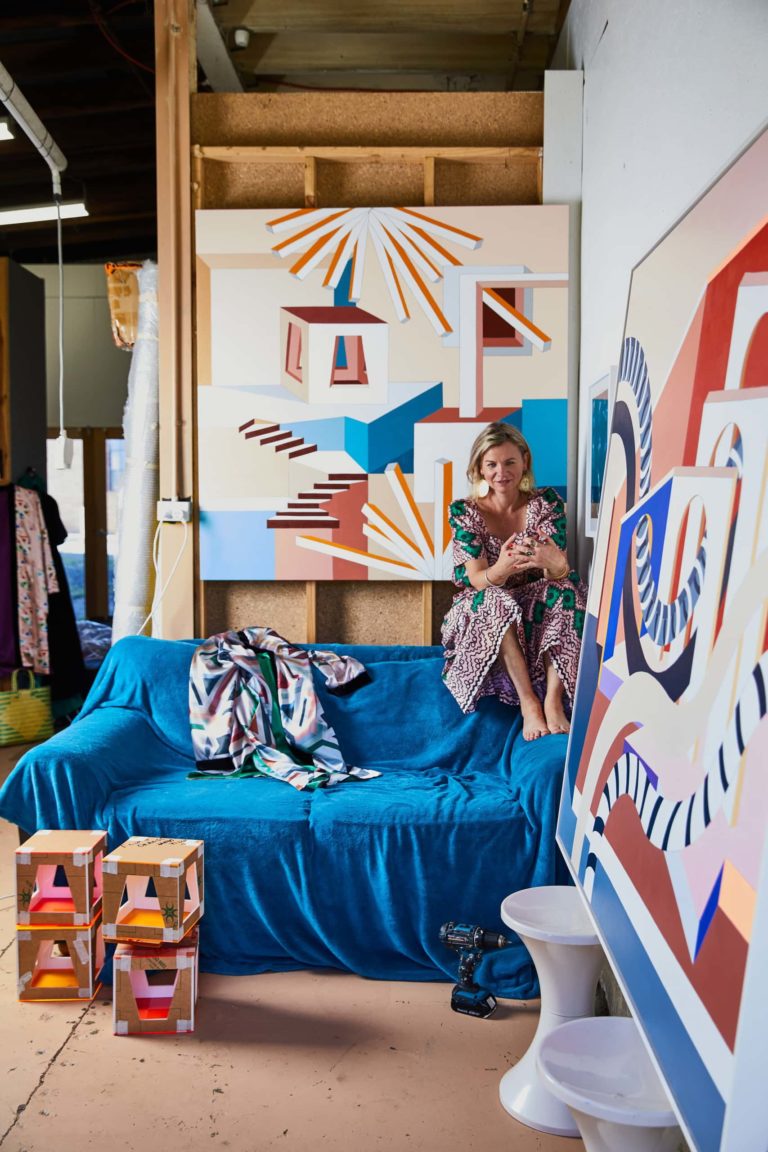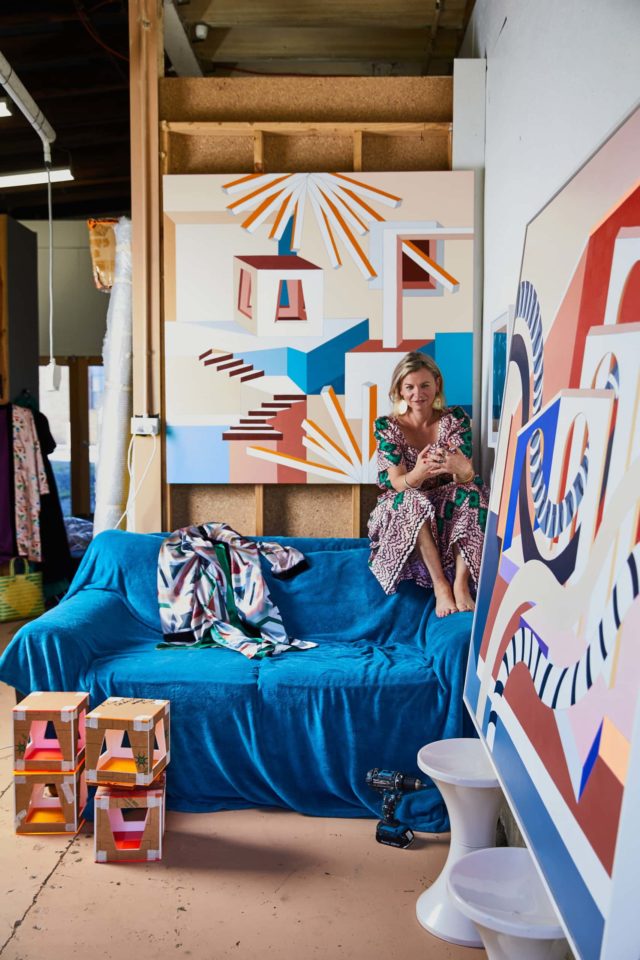 "Instead of what is wrong with the world, I wanted to focus on what an ideal world would look like," she says of the exhibition opening in Geelong VIC, this week. "I wanted to touch on various subjects and quietly pose a question about them, leaving room for contemplation and reflection. I wanted to paint pieces that were hopeful, poignant and warm."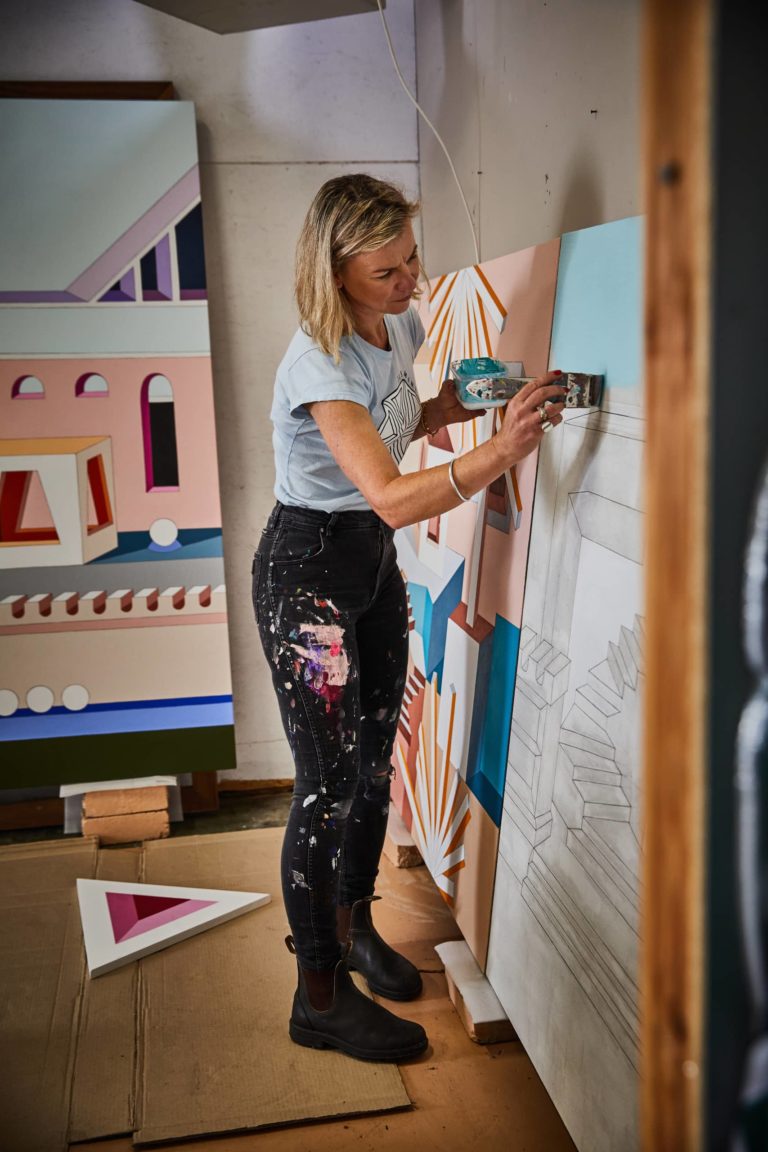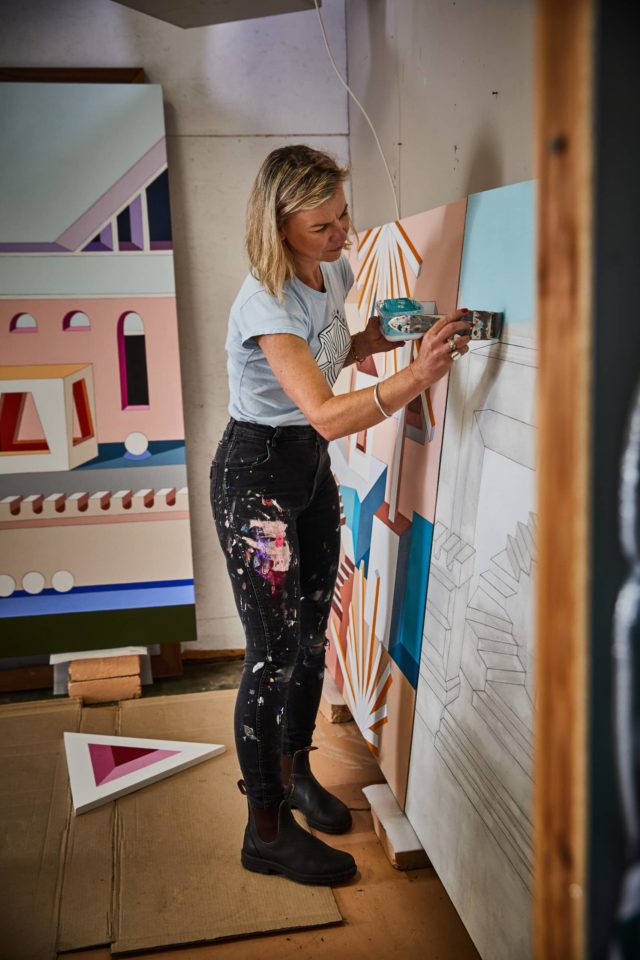 The last time we interviewed Jasmine in 2019, she'd just had her 40th birthday and things were tracking the way she'd planned, work wise and in her personal life. "I have five kids aged 24 to six and was dividing my time the best I could between work and home commitments," she said. "I was travelling and painting a lot and did a number of big international trips that year as I had in the years before. I was working really hard, but in hindsight I was also exhausted, burnt out and running on adrenaline."
Then came 2020 and coronavirus. "Like everyone, I was forced to cancel many things, slow down and take stock of my life. Aside from the impact on my ability to work, I had many other personal challenges thrown at me that year. I felt like they just kept coming.
"We also had all the global, social and political things going on, with environmental, gender and racial inequality issues coming to the forefront. It felt for me like everything was up for negotiation, both in my personal life and life in general."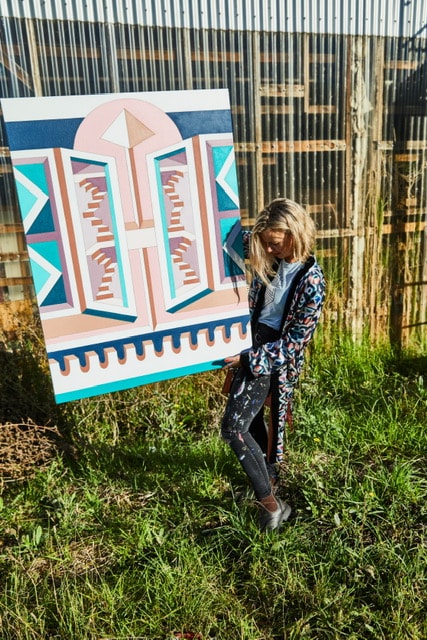 Jasmine says this fed into this latest body of work. "It sounds cliche, but I was forced to look closely at myself. To dig deep and ask hard questions about what kind of world I wanted to live in and what kind of person I wanted to be. To look past circumstances and imagine the world as it could be. To do better and be better in the future.
"So, I started looking after myself for the first time in my adult life, prioritising sleep and self care, meditating, doing yoga and slowing down what had previously been my very busy mind." She gave up caffeine and limited alcohol to when she was with friends. "The result of all this is I have learnt to be happy, just because. To choose to be happy regardless of circumstances. To accept life as it is and be in the present far more than I ever was before. This has all filtered into my painting and I have found I am able to be in flow with it far more easily than ever before."
Jasmine wanted to create paintings for this exhibition that were aesthetically beautiful, transportive and dreamy; paintings that bring joy to their surroundings and capture all that is good and hopeful in the world.
"I have alternated between scale with these works, using both a micro and macro focus, zooming out on the details in some of the paintings and coming in close for others. For example, I have taken a bird's eye view in the piece Painting a Perfect World. This is a utopian, surreal painting filled with the symbolism I love to tell stories with. It features a Thought Catcher and Three Point Portals and also a new one for me, the circles or Air Balls, these being symbolic of change and the need for acceptance of uncertainty.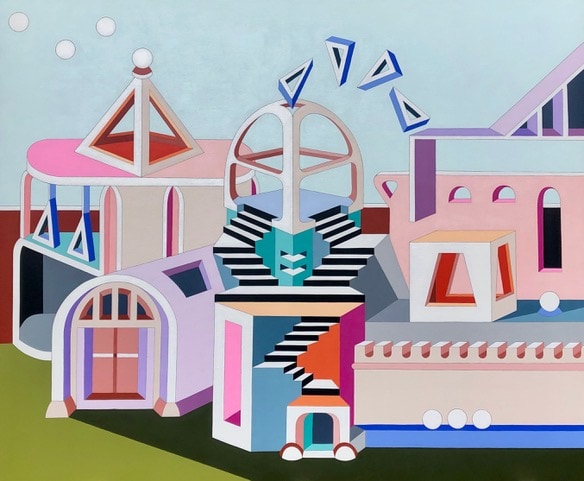 "In contrast, I have gone in close on paintings such as Everything Falls into Place and Connect the Dots. These more abstract paintings were a way for me to deal with the more complex aspects of my personal life, while also being open ended and relating to the many aspects of our shared human experience.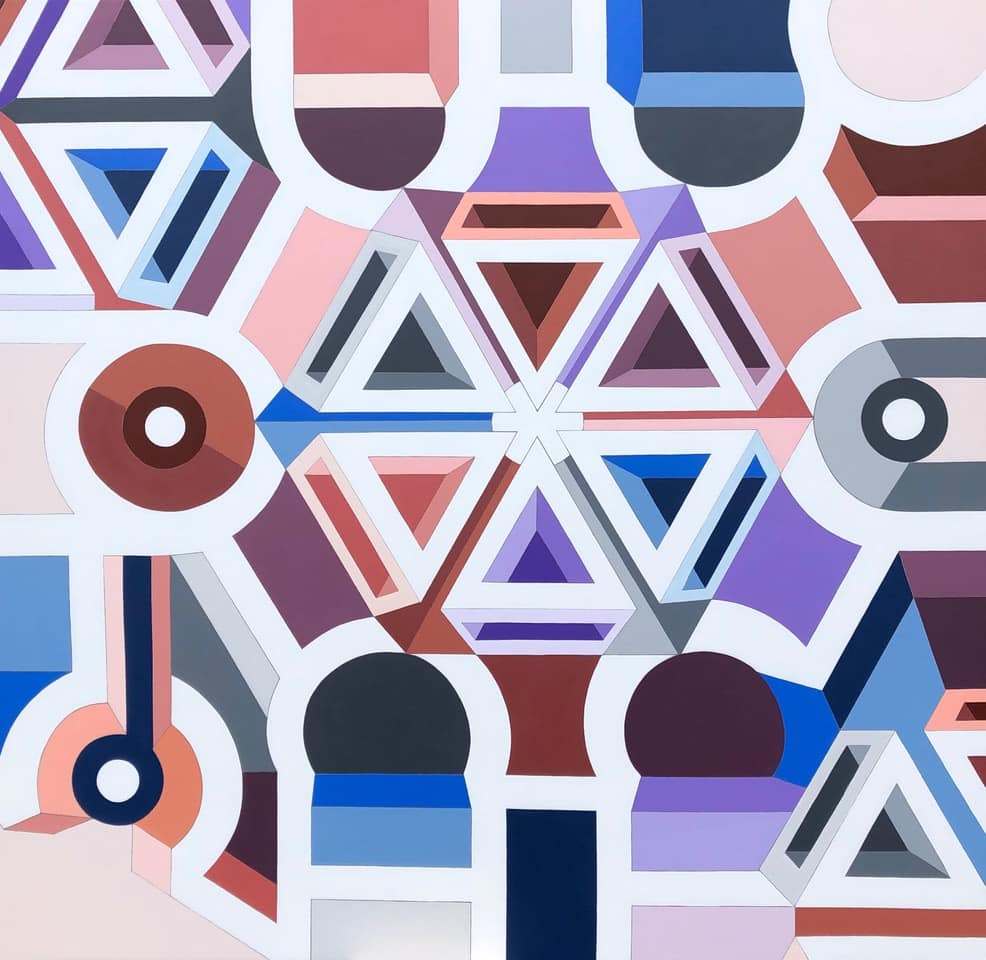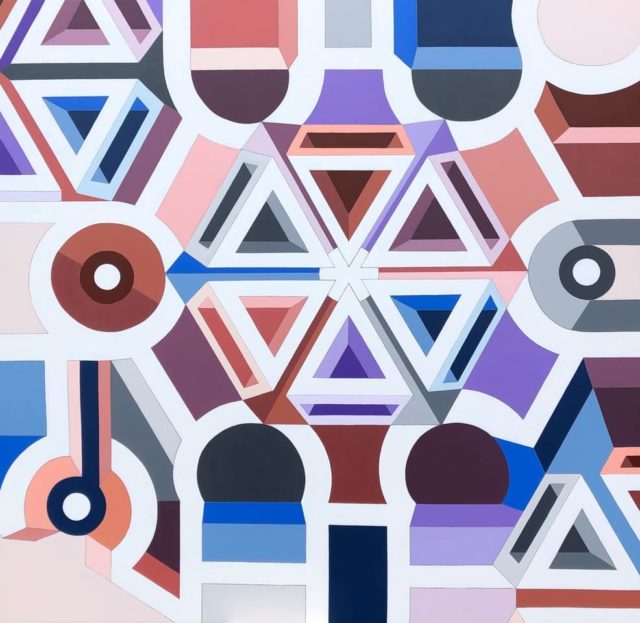 "I have also covered wider subject matter, the piece Open The Gates being in response to a recent Gorilla Girls interview in which I was struck by the the statistics surrounding the continued under representation of female and ethnically diverse artists in institutions worldwide. And then The Golden Shower was my response to a Tracey Emin interview and her thoughts on female sexuality. So, the Painting the Perfect World exhibition was always about the bigger picture as well, not just limited to my personal life."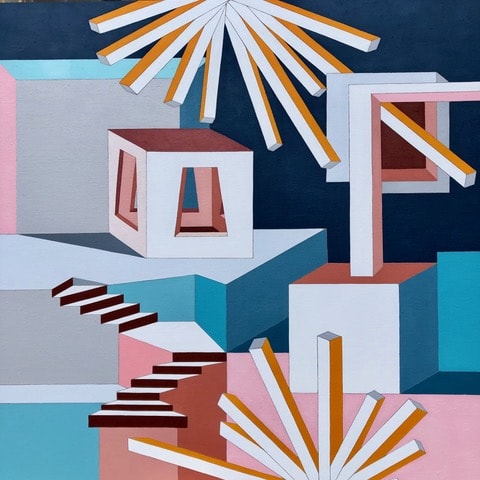 The paintings vary in size, from over two metre works on linen down to pieces on A3 arches paper. In addition to the paintings, the exhibition will also feature several installations and a digital artwork, making it an immersive experience.
Painting a Perfect World is at Boom Gallery, Geelong, VIC, from 22 April to 16 May 2021. For more information or a catalogue.
For more information on Jasmine
Photography: Armelle Habib