Atop one of Melbourne's CBD apartment blocks sits a meticulously designed penthouse, almost entirely customised by its new residents. It is home to Joan and Wes, who purchased the entire top floor of Hawksburn Place Residences before the building even hit the market. Starting from an empty shell, they worked closely with the building's developer to customise the floor plan to their specific desires.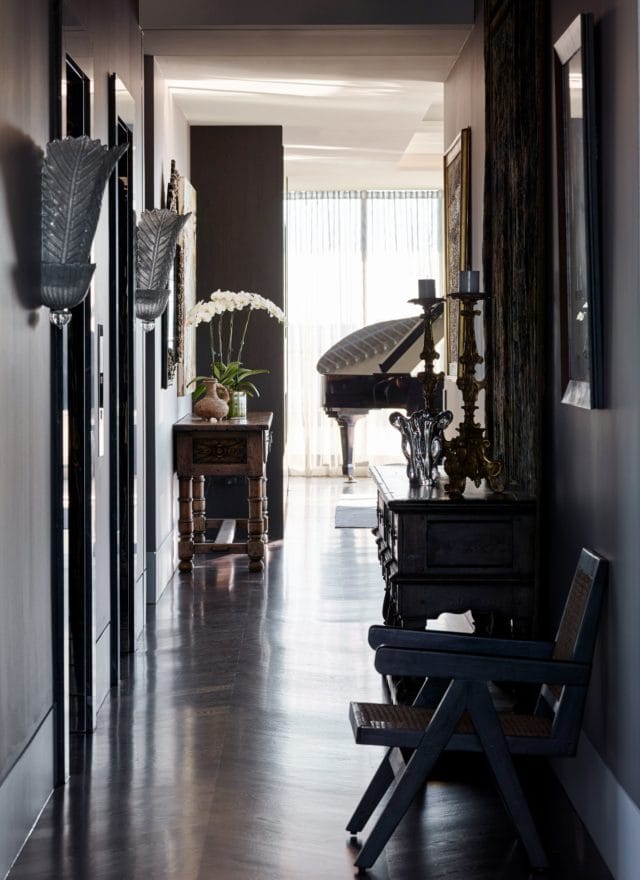 "Joan and Wes's situation was really unique in that they were able to purchase this
penthouse as a shell and work not just with us as the developer, but the project's interior designer to create a completely bespoke home," said developer Tim Gurner. "Every room, every material, every piece of marble chosen reflects their specific tastes – it's very rare that a penthouse can be customised like this."
The expansive home spans 345sqm of internal area and another 461sqm of external terrace. It includes three bedrooms, three bathrooms, a library and a marble-clad kitchen. The wraparound terrace boasts phenomenal 360-degree views of the CBD and a 12.5m plunge pool.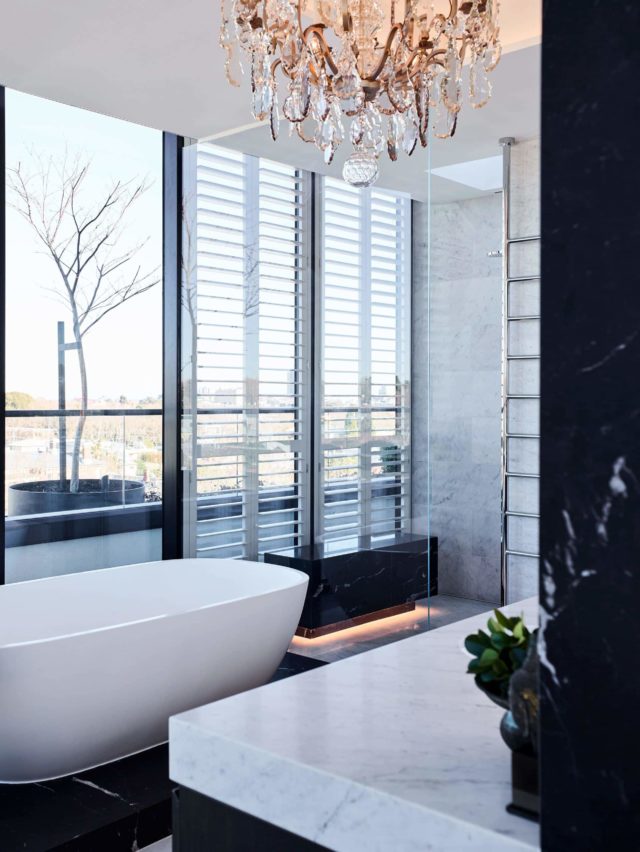 Working with esteemed designer David Hicks, they created a unique interior, with custom cabinetry and raised ceilings showcasing priceless antiques and art the couple have collected from around the world. These antiques include the penthouse's feature chandeliers, which the couple sourced from Paris.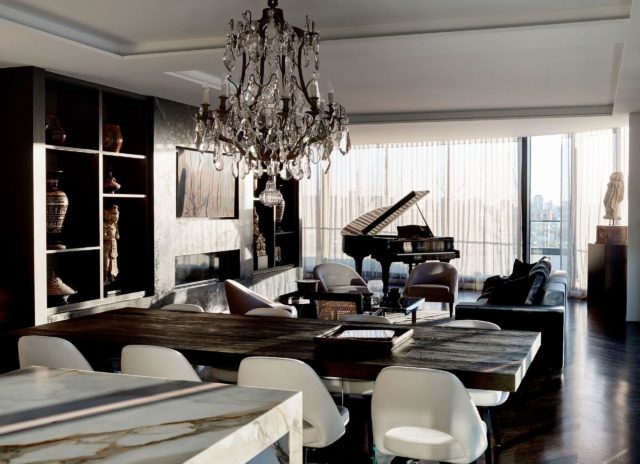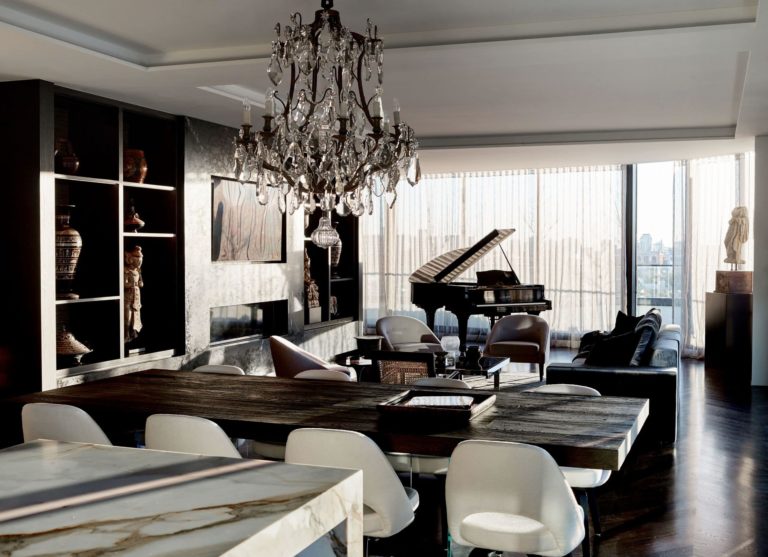 "The antiques speak for themselves so we provided a dramatic backdrop for them to sit seamlessly. Introducing specific places for each piece with strategic lighting was also key." said David.
The bold departure from the white-on-white design trend results in a sumptuous mix of chocolate parquetry, smoky walls, and rattan armchairs. The darker, more moody interior palette absorbs and offsets the abundance of natural light afforded by the surrounding floor-to-ceiling windows.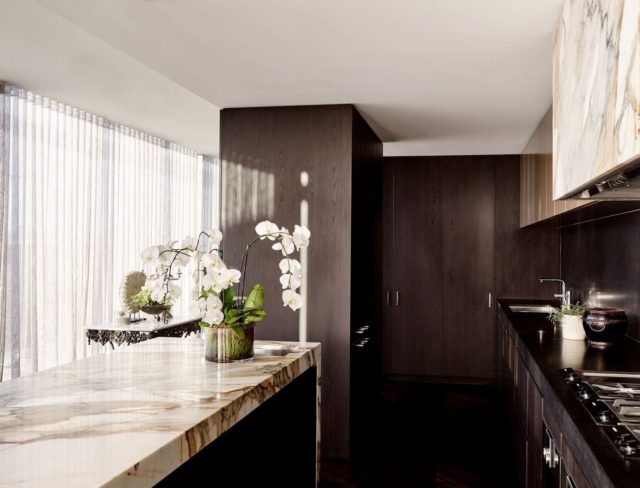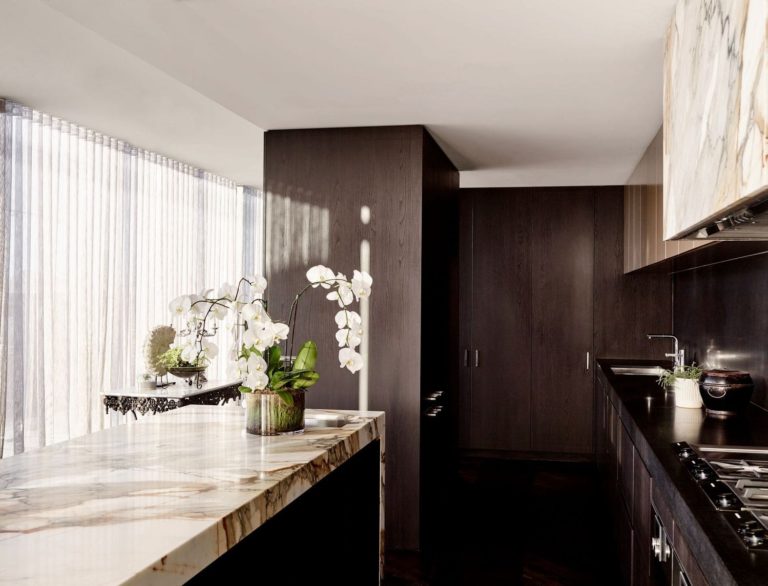 The penthouse is fitted with plentiful luxury hotel style details, such as private access lifts, access to the on site seven-day-a-week concierge, and a six-car garage.
The project team was led by luxury developer GURNER, alongside David Hicks, Cox Architecture and landscape architect Paul Bangay.
Photography: Mark Roper