You know Christmas can't be far away when you suddenly find yourself drawn to baking buttery biscuits laden with spice and covered in beautiful decorations. Especially if you're not a super-keen baker throughout the rest of the year! Christmas is the perfect time to exercise those unused baking muscles and whip up something homemade that you can give your loved ones. Or just have in the pantry for those extra holiday visitors.
These classic gingerbread cookies make the perfect end-of-year gifts for school friends and teachers, or Christmas gifts for neighbours and workmates, and are a great way to get the kids involved in Christmas preparations.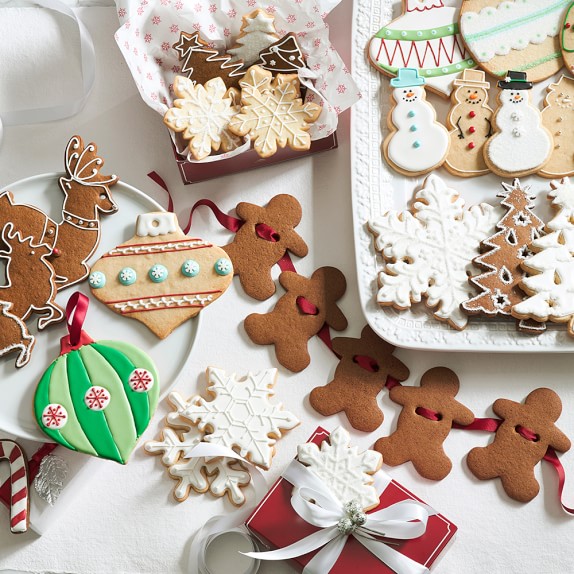 Plan ahead, though – this recipe (like most good gingerbread biscuits) require you to rest the dough for at least a couple of hours or overnight. Longer resting means the flavours and colour will have more time to develop – in the case of gingerbread, this can only be a good thing!
STYLING TIP This recipe will work wonderfully with any of Williams-Sonoma's festive cookie cutters. Of course, decorating is only limited by your imagination – store-bought icing pens and icing keep things simple, but feel free to break out your favourite royal icing recipe if you prefer! For gifting presentation, why not enclose each cookie in a small cellophane bag sealed with a decorative sticker, or layer them on a pretty Christmas plate or a shiny new baking tray that also doubles as part of the gift?
Still not too sure about baking your gifts? Why not leave it to the experts? Check out the in-store pop-ups happening in Williams-Sonoma this weekend featuring Nectar & Stone (in Chadstone), Grumpy Donuts (in Bondi Junction) and MakMak Macarons (in Chatswood).
Ingredients (Serves 12)
225 g unsalted butter, at room temperature
1/2 cup firmly packed brown sugar
1/2 cup caster sugar
1 cup molasses
1 egg
5 cups plain flour
1 tsp bicarbonate of soda
1 tbsp ground ginger
1 tsp ground cinnamon
1/2 tsp ground cloves
1/2 tsp salt
Icing pens, coloured sugars and other decorations as desired
Method
In a large bowl, using an electric mixer, beat the butter on high speed until fluffy and pale yellow. Add the brown sugar and caster sugar and beat until the mixture is no longer gritty when rubbed between your finger and thumb. Reduce the speed to low and gradually beat in the molasses. Add the egg and beat until the mixture is blended.
Sift the flour, bicarbonate of soda, ginger, cinnamon, cloves and salt together onto a sheet of greaseproof paper. Gradually add the flour mixture to the butter mixture, beating on low speed or stirring with a wooden spoon until well blended.
Turn the dough out onto a floured work surface and, with floured hands, form into a large, smooth mound. Divide the dough into 4 equal portions, shape into discs and wrap each disk in plastic wrap. Refrigerate for at least 2 hours or up to 2 days.
Preheat an oven to 200°C (180°C fan-forced). Lightly grease 2 baking trays or line them with baking paper.
Working with 1 disc at a time, roll out the dough between 2 sheets of greaseproof paper to a thickness of about 5 mm. Using gingerbread cookie cutters about 7-10 cm tall, cut out figures. Using an offset spatula, transfer the cookies to a prepared baking tray. Repeat with the remaining dough portions, then gather up the scraps and reroll them. If the scraps of dough have become sticky, refrigerate them for 10 minutes before rerolling. For best results, do not roll the same piece of dough more than twice.
Bake the gingerbread figures until lightly browned on the bottom, about 6 minutes. Let cool on the sheets for 5 minutes, then transfer the cookies to wire racks and let cool completely. Dress up the cooled gingerbread figures with the icing, sugars and other decorations. Makes 2 to 5 dozen cookies, depending on size.
—Head to Williams-Sonoma for lots more inspiration, or book a cooking class in their Sydney Cooking School – it makes the perfect Christmas gift for your favourite foodie.