This is an edited extract from A Tree in the House by Annabelle Hickson published by Hardie Grant Books AU $50.00/NZ $55.00 and is available where all good books are sold. Photographer: © Annabelle Hickson.
I recently went to the Sydney flower market with a florist friend. I'd happily never go there again. She had casually warned, 'Oh, there's a chance I might have a panic attack' but I thought that, because this is somewhere she goes regularly for work, she was just being funny.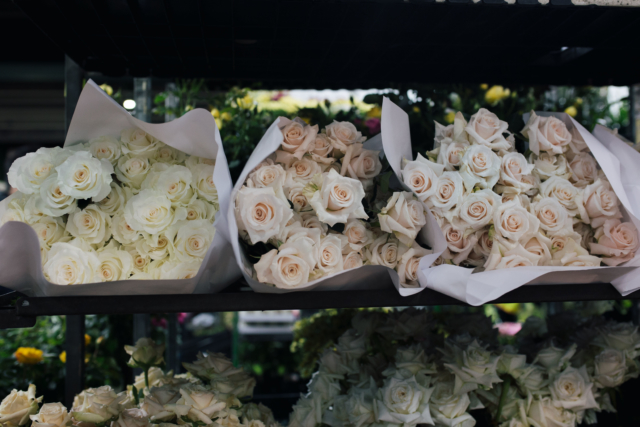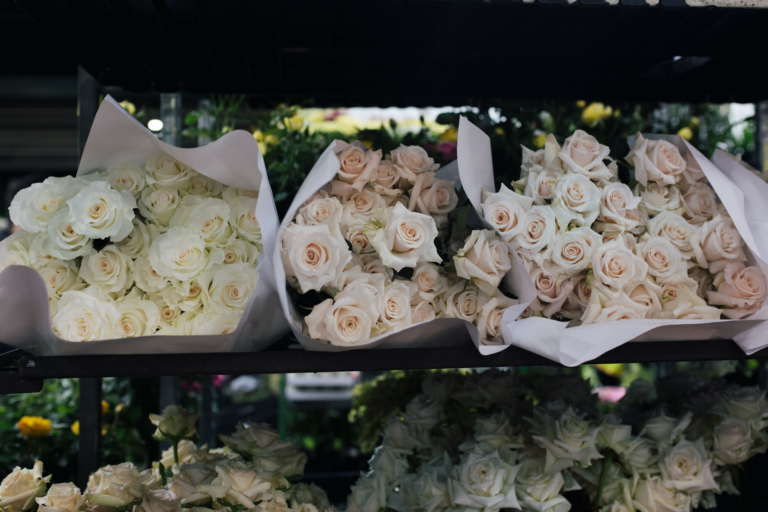 I met her in the rooftop carpark at 4.30 am on a Friday morning. Already, all the car spots were taken. I started lapping the carpark, along with several other harried-looking women, until a text came from my friend advising me to 'pull over and create your own parking spot'. So I did, though not without some angst.
As I locked my car in its non-carpark, a desperate lady in a tiny car, who had also been lapping, pulled up alongside me and stuck her head out of her open window. 'Where can I park? Why do they charge us $10 to get into the carpark if there are no spaces? At 4.30 in the morning?' I told her – calmly, as if I was a regular, 'You must make your own, anywhere you think you can get away with'.
Without a word, she put her window up and drove off. This was the atmosphere in the pre-dawn darkness of that Friday morning.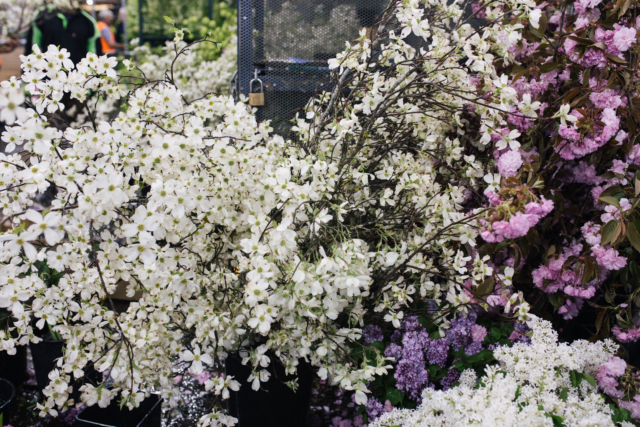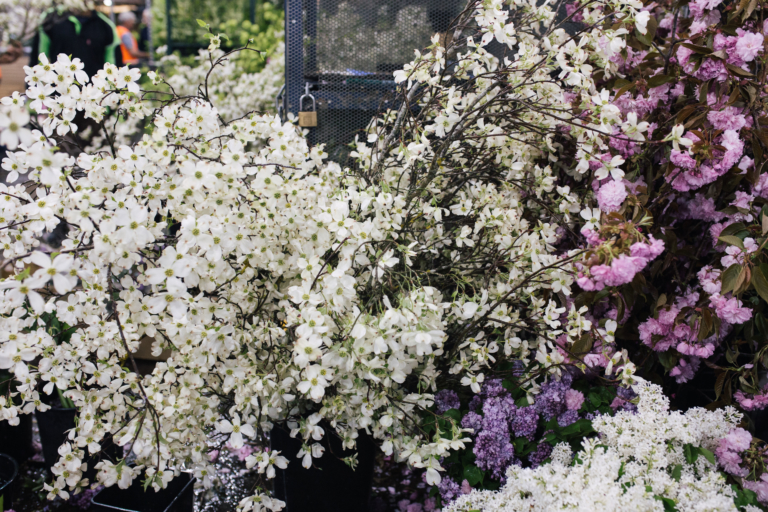 I met my friend at the lift. She had parked her hired van in another dodgy spot (this is a great tip for flower market amateurs like me: hire a van for the day if you plan on getting any significant quantity of flowers. Also bring big, rectangular plastic tubs filled less than a quarter full with water. Round buckets will tip over as soon as you hit the first speed bump on the way out). Thankfully, I had a fourwheel drive, unlike that poor woman in her small vehicle.
We made our way down to the flower market below and lined up at the shut roller doors. Not even at the main ones, but at a less obvious one set at the side that still had at least twelve people milling around, not talking, but occasionally peering through the slits in the door to spy whatever it was they were going to make a sprint for when the doors opened.
At 5 am the roller doors began to come up, and I am not lying when I say that people crouched
under the gap as the doors opened and ran for their dogwood blossoms, or whatever it was they were
worried they were going to miss. It was like being in a dystopian movie where petrified florists have
to find the perfect cherry blossom branch, of which there is a limited amount, or face death.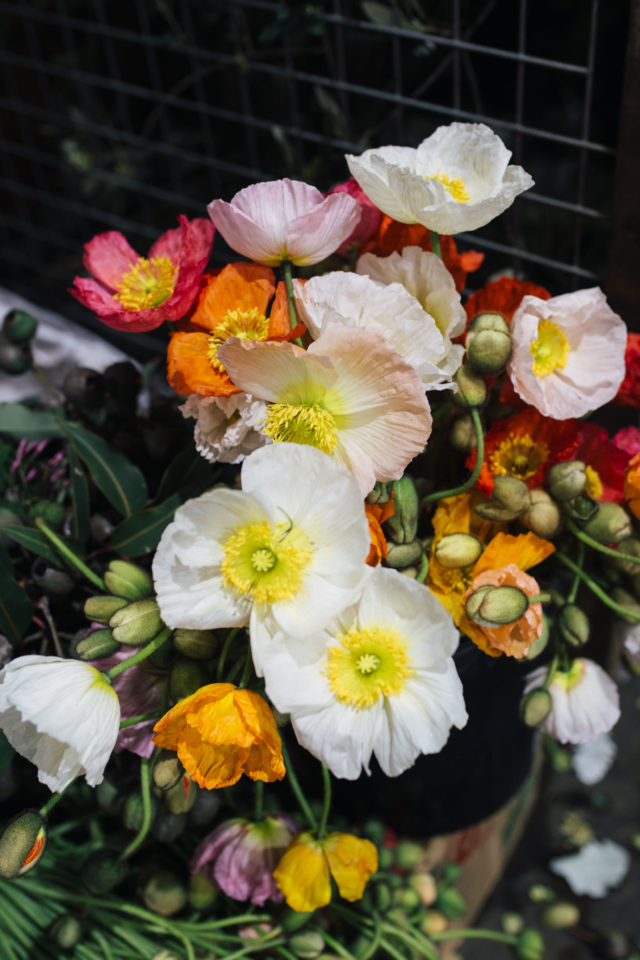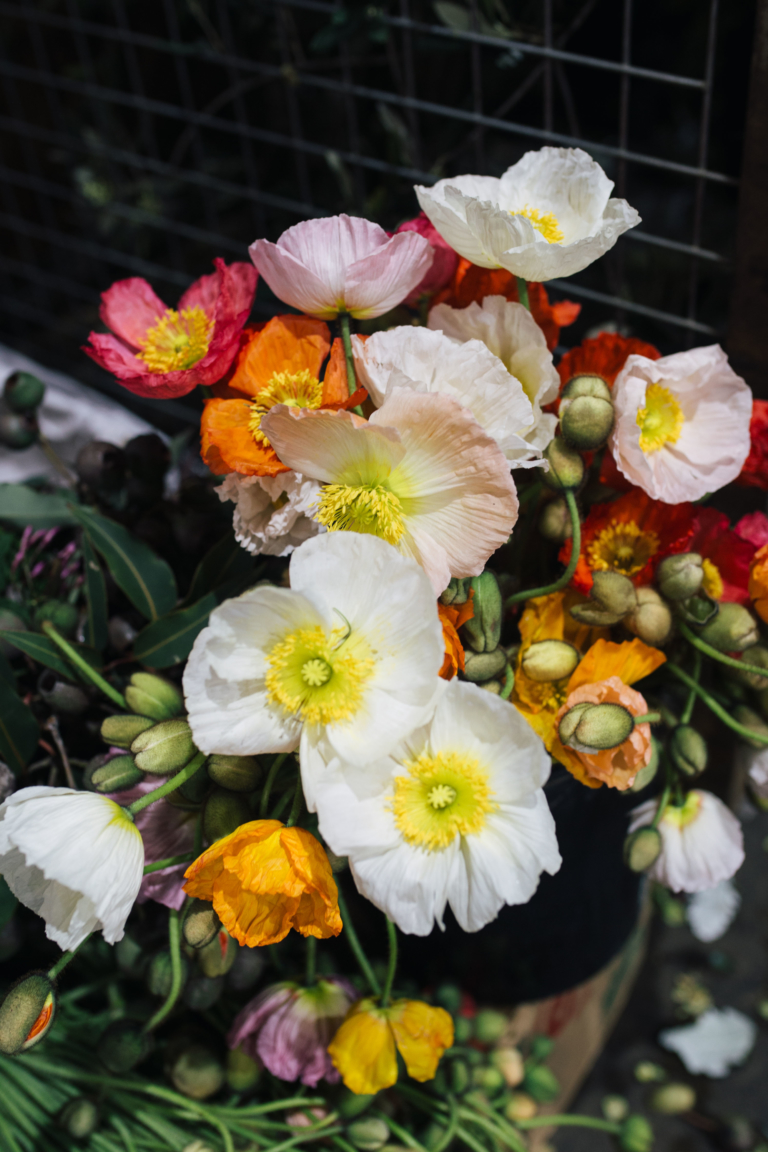 I am pleased to report my friend didn't crouch and run, but she sure did power-walk through those aisles of flower stalls. Everyone looked stressed to me: the growers and the buyers. The market forces of supply and demand, as told through flowers – spectacular flowers. The produce was astounding, but all morning I was plagued by the feeling that I was missing out on very important things. Exactly what, I was not sure.
Plus, I was wearing long flares that brushed the ground and soaked up water like a sponge. The floor of the flower market is wet. Don't wear flares, even if you do think they look flattering when you catch a glimpse of yourself in the mirror at 3 am before leaving the house. From what I could see, the market morning was broken up into three distinct sessions: the first session is all business, where you run around saying, 'I'll take that, that and that'. You power-walk down the aisles, check out the different stalls and put your name on the stuff you want, saying to the grower that you'll be back.
Once you've secured your picks, you shift into the second session, which is all about returning to the growers, paying them in cash and being nice to them to strengthen your relationship for future first sessions.
Session three is the take-it-to-the-car session. This involves either lots of little trips holding as many bunches as you can from the marketplace to the lift, up the lift and to your car, which may or may not have been towed away, with your wet flares slapping your ankles. Or one or two more intense trips with a borrowed trolley, dodging Bobcats with flashing lights. There are lots of tiered trolleys around. I am not actually sure who owns them or how you get one, but I know it has something to do with being nice to the growers or spending incredible amounts of money.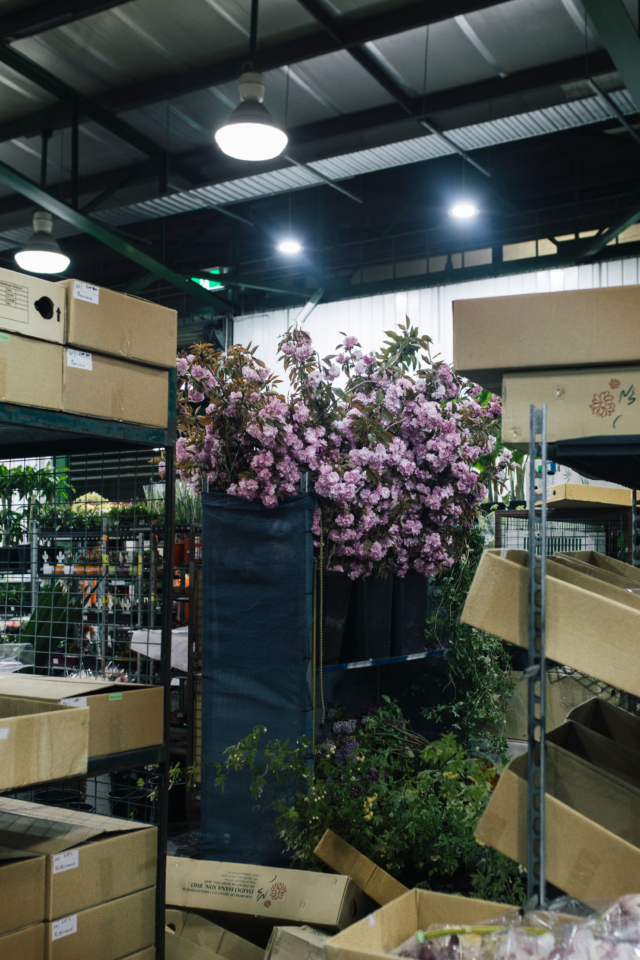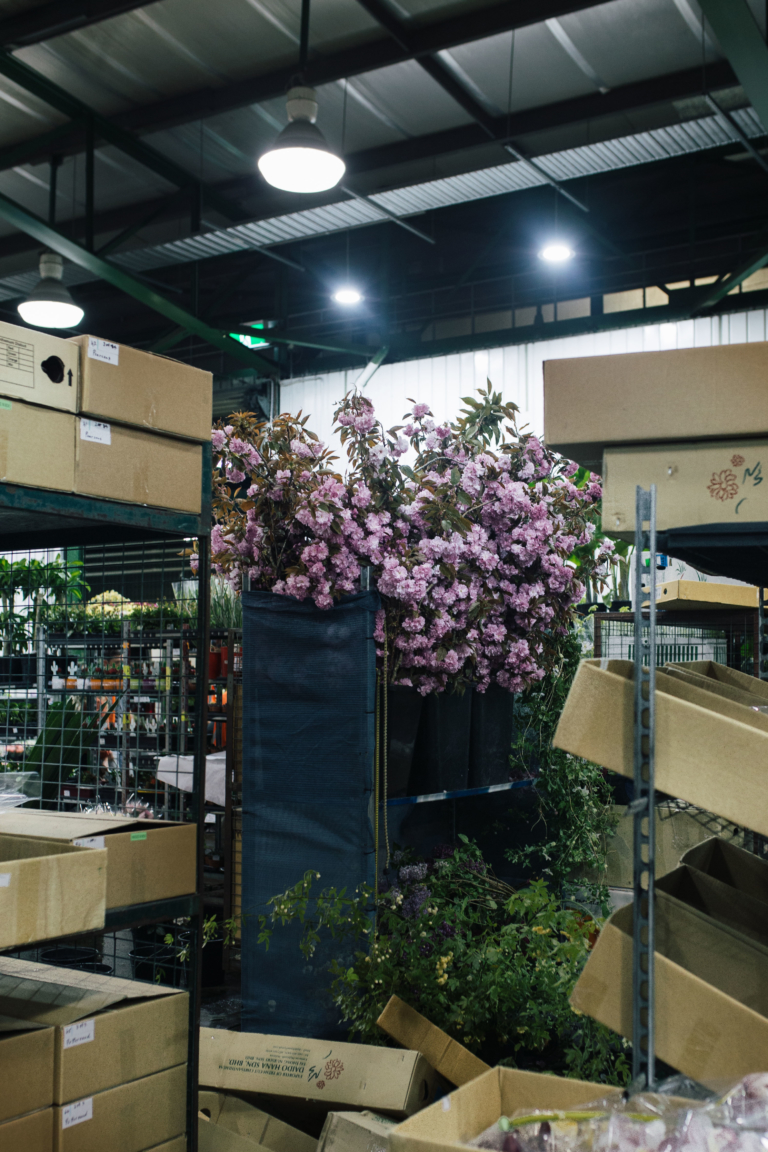 The morning was far too intense for me. I was hungry, cold and a long way from home. My friend didn't have a panic attack, but I'll tell you what, I was close. I would happily leave this experience to the professionals and arrive at the markets at 8.30 am, when the parking is easy, to pick over whatever flowers are left. Or just take my chances with whatever is growing next to the railway track.
There is also something inherently stressful about having so much choice. The markets have everything, and it all looks spectacular. It's very hard to come away with a curated selection of flowers and foliage when the pool from which to choose is so vast and so good. This editing process is a skill in and of itself, and I would very much rather nature do it for me.
So if you do find yourself doing the flowers for an event, by all means go to the markets to get your material. But be warned: no small cars, no silly little buckets and no flares. Bring lots of cash, friends with helping hands and a steely focus. All this while the rest of the city sleeps.