Sponsored by Williams Sonoma Australia
Not everyone smugly finished their Christmas shopping two weeks ago. Yes, I have those friends! The ones with the colour co-ordinated, tastefully understated wrapping… I always start off with the best intentions but life gets in the way. And this year, with newborn Charlie in tow, well, I had no chance did I?! Last weekend I could be found buying toys for Sebastian, pushing the pram (piled high because who has a spare hand for the basket?!) with one hand and jigging a crying baby in the other. I spent about five seconds choosing wrapping materials, grabbing whatever was closest and would fit in the aforementioned pram basket. Lucky Santa's coming too, right?
So, because I know that there are other people out there with the best intentions, I've put together this handy guide of what to buy for all the usual suspects in your world. And the best news? You have until Friday to place your order for any of these and receive them by Christmas*! Plus, fill your one online basket from four stores: Pottery Barn, Pottery Barns Kids, west elm and Williams Sonoma! Don't assume you've left it too late and you have to buy people those generic wine, chocolate and undies gifts and ruin your reputation for having great taste and being thoughtful. We won't hear of it! Clearly, I will be following my own advice for my remaining gifts because that Saturday toy shopping trip? Ugh…
So, here we go, with presents picked by person. And while we have stated the RRP, almost all of these choices were on sale when we put together this list, so be quick and see if you can still grab the saving before the weekend!
That female friend with the excellent taste who has everything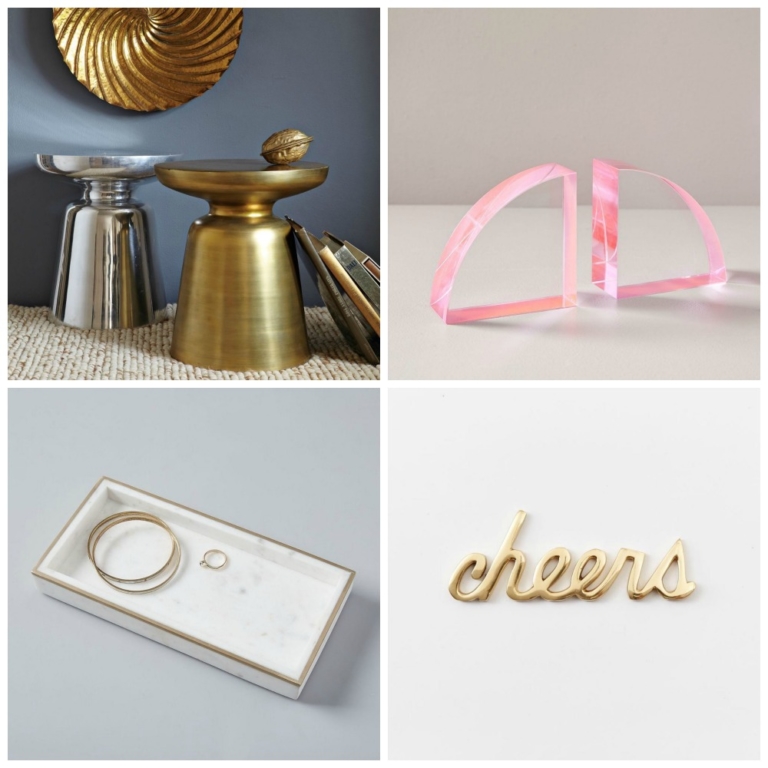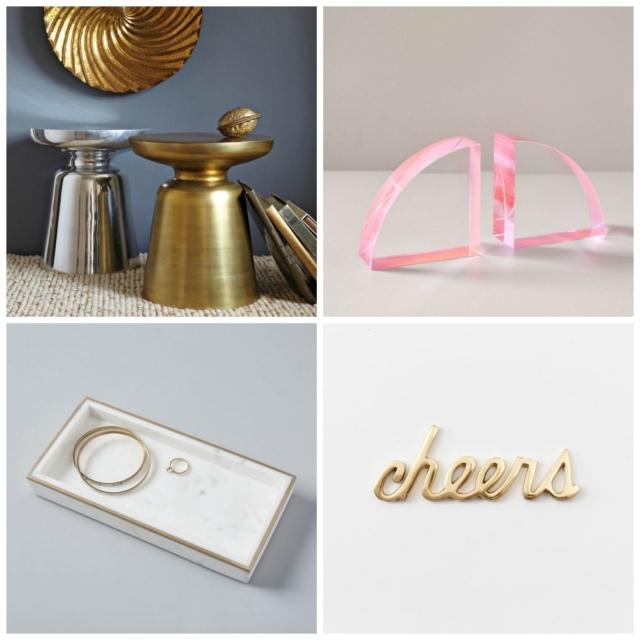 Brass inlay marble tray, $59: I just don't believe anyone wouldn't love this elegant and useful gift! It also looks more expensive than it is in my opinion!
Martini side table, metallic, $199: There's a reason this west elm classic is a bestseller. I truly believe you could find the perfect place for this in any home and I for one would kiss the person who bought me this for Christmas! Hint hint, Santa!
Colour pop crystal bookends (set of two), $69: These come in pink or blue and are so unique. They're colourful but not too colourful, so they'd work in most homes, and who doesn't love books? Weird people, that's who!
Brass word object: cheers, $49: This gift is festive without being tacky, made of heavy solid brass, it's a cute decor piece and a bit of fun.
The man in your life who's too cool for socks and jocks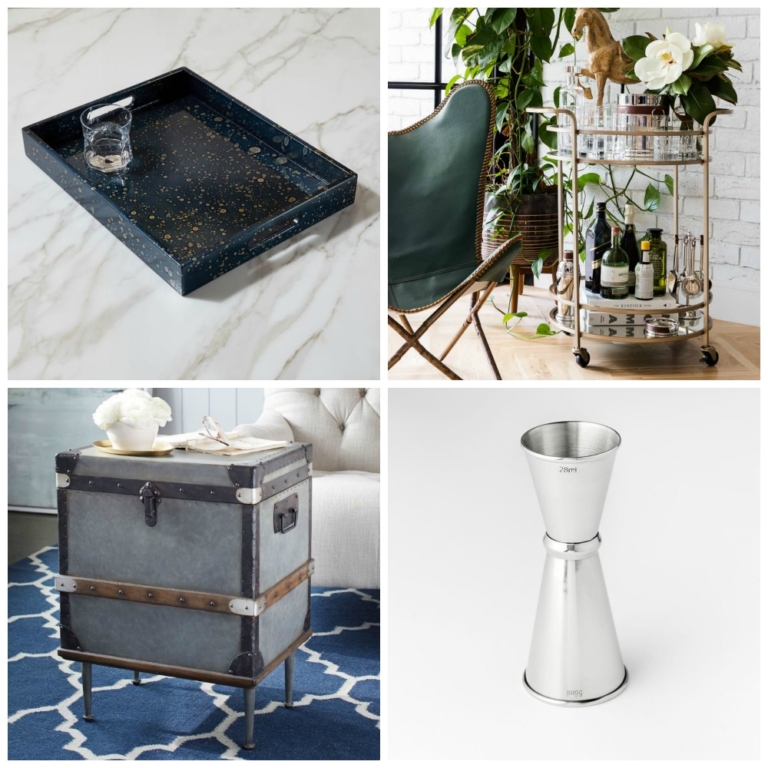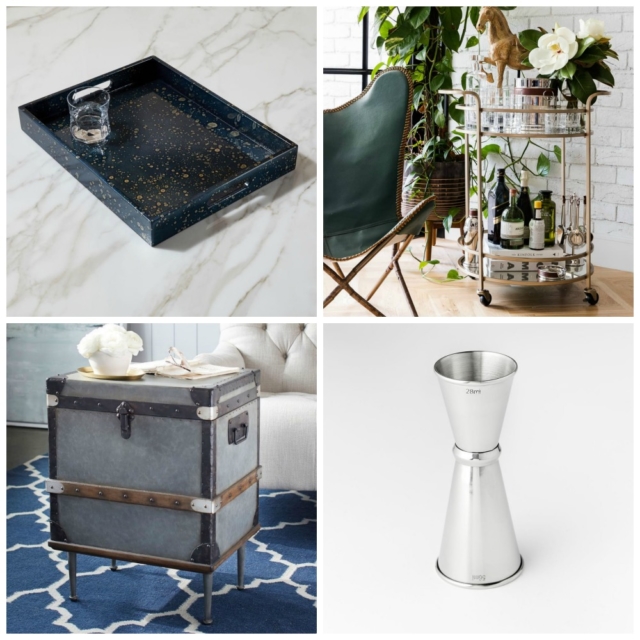 Oil spotted lacquer tray, $64: Masculine and stylish, this lightweight tray is the perfect size for coffee table, bedside or hallway console. We know plenty of girls who'd love it too!
Tristan bar cart, $534: Frankly, is there anyone who wouldn't love to receive this stunning bar cart?! We can see a lot of men having this at the top of their bachelor pad wishlist!
Stainless steel mixing pitcher and strainer, $49: A simple, heavy, quality piece of barware for the modern man!
Kirkwood trunk side table, $664: Is it a side table? Is it a bedside? Is it just handy storage? Let them decide. Spoil someone with this unique, vintage looking furniture piece.
Your/their dad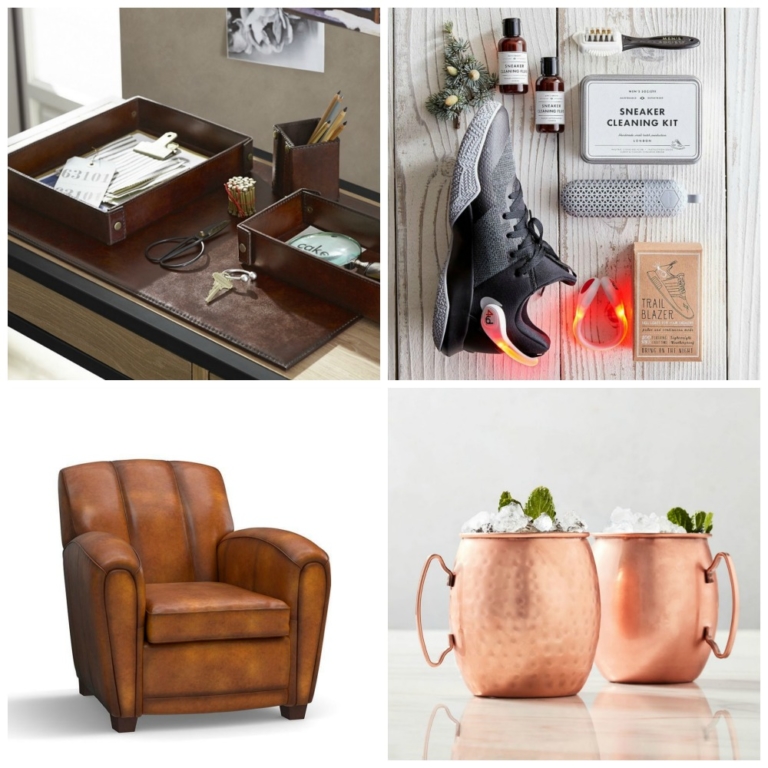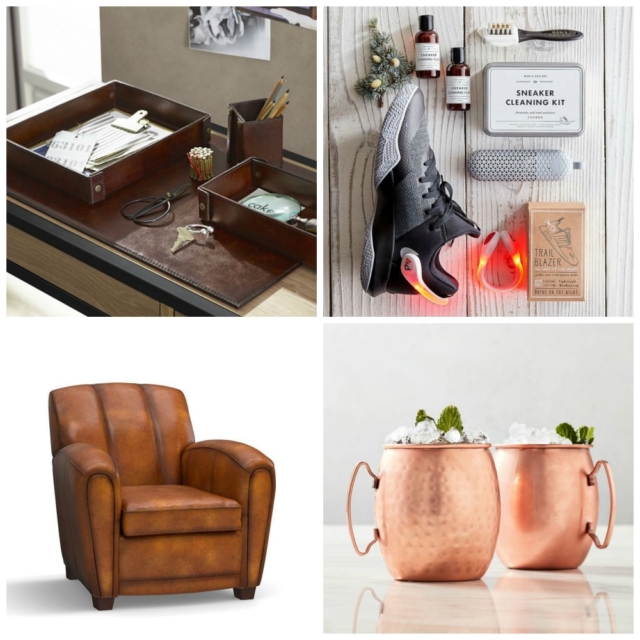 Elliot armchair, $2299: Could this leather armchair BE anymore Dad-appropriate?! A real timeless investment piece. One to club together with the siblings for?
Saddle chocolate leather desk accessories, from $24: Keeping with the leather theme, these desk accessories are another classic, quality choice.
Sneaker cleaning kit, $39: This is a great little gift for a younger dad!
Moscow Mule mug, $34: If Dad's going to have a cocktail it's more likely in this copper mug than a martini glass, right?!
The new baby in the family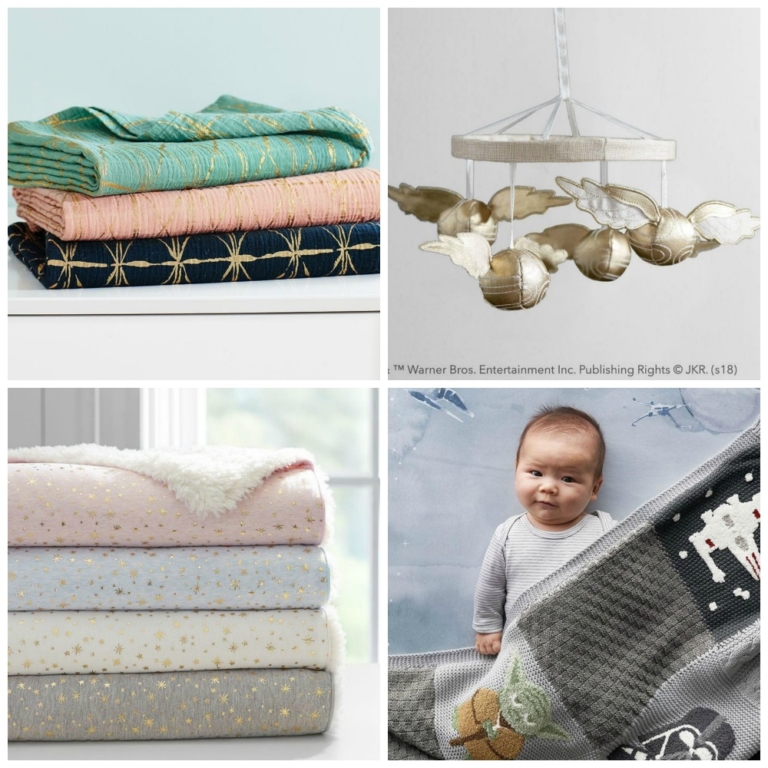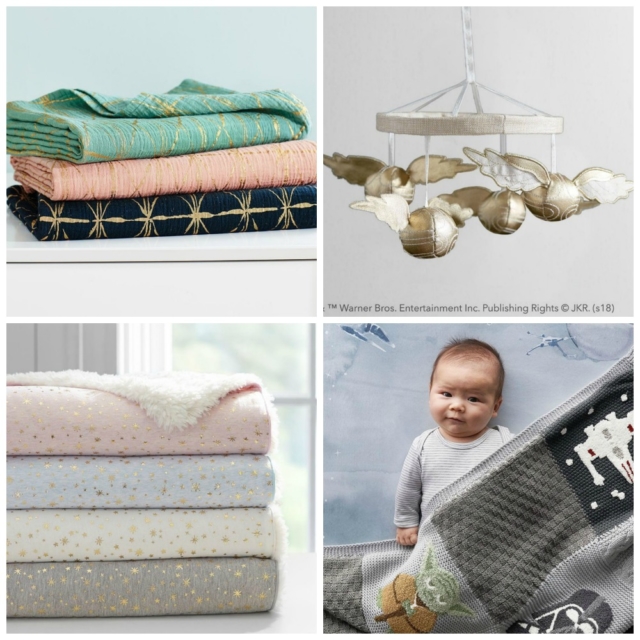 Gold star sherpa blanket, $69: Made of machine washable cotton and expertly stitched by hand, this pram blanket looks super special.
west elm x pbk metallic print muslin swaddle set, $59:  Trendy swaddles are totally a thing these days and we love this gorgeous set of three! A gift that's sure to be well received by mum and dad!
Star Wars heirloom patchwork knit baby blanket, $89.50: If you're friends with the baby's dad, this is probably the blanket to buy! And if anyone makes licensed merchandise look classy, it's Pottery Barn Kids!
Harry Potter snitch mobile, $79: Again, you're buying for the parents really, but how cool is this mobile?! We love it!
Secret Santa under $20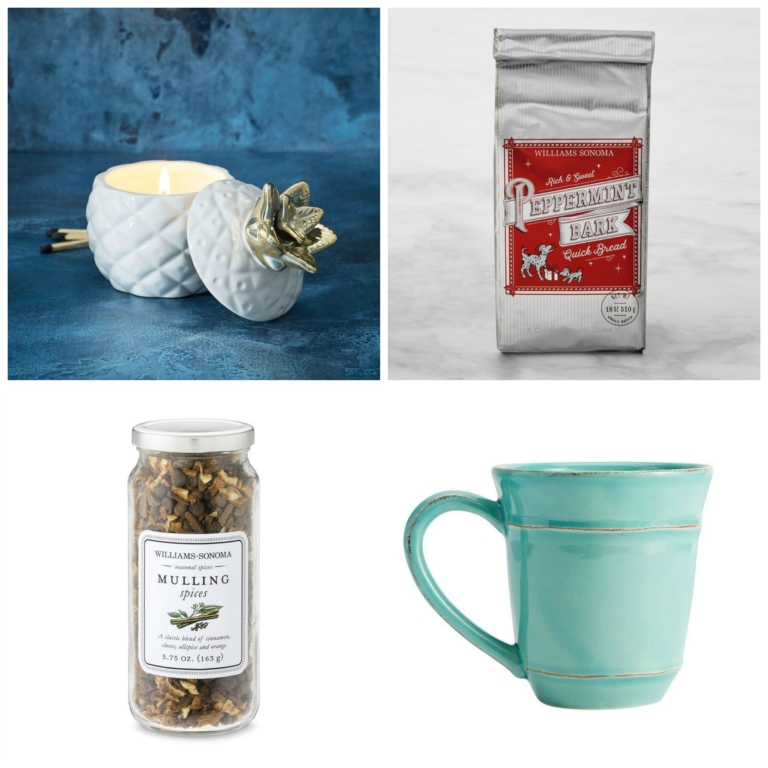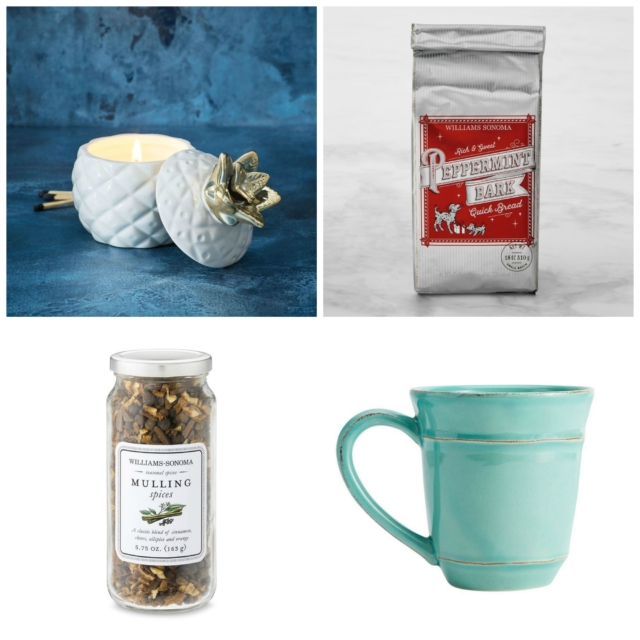 Pineapple scented candle mini, $14: The gold makes it festive but this can sit pretty all year round. And despite what pineapple snobs keep saying, our love for this spiky fruit is going nowhere!
Mulling Spices, $18: I once got told off by Customs for trying to import this kind of thing from the UK. Ridiculous! Anyway, these are great to make mulled wine or cider and might be especially welcomed by those from cooler climates, i.e. Poms!
Cambria mug, $10: Handmade from glazed stoneware and coming in a choice of colours, this could soon become the recipient's favourite mug!
Peppermint Bark Quick Bread Mix, $20: Suitable for even novice bakers, they'll love whipping up this festive cake over the holidays with all the festive flavours of Williams Sonoma's legendary sweet treat.
The kids whose mum doesn't want anymore garish plastic with primary colours!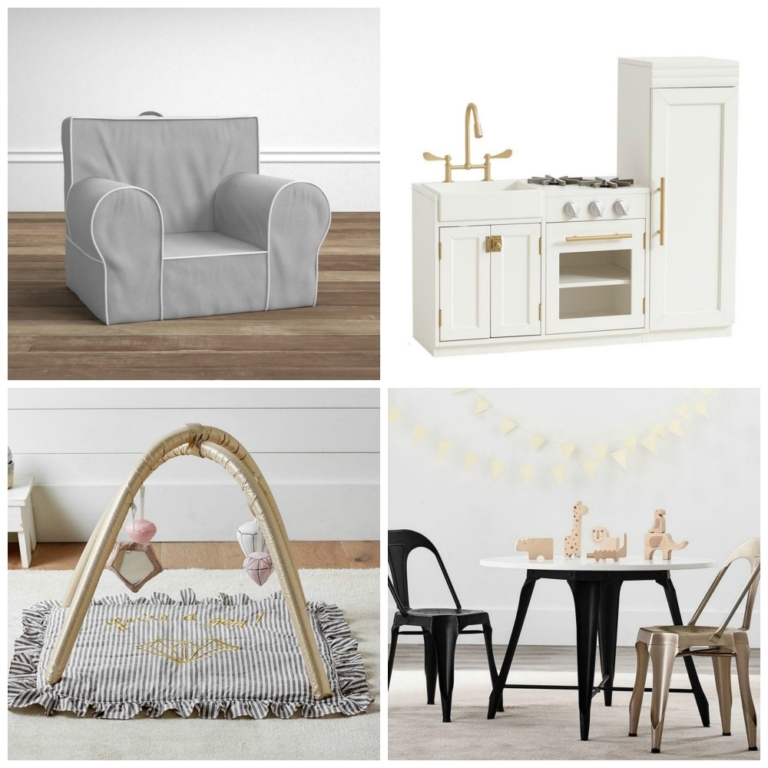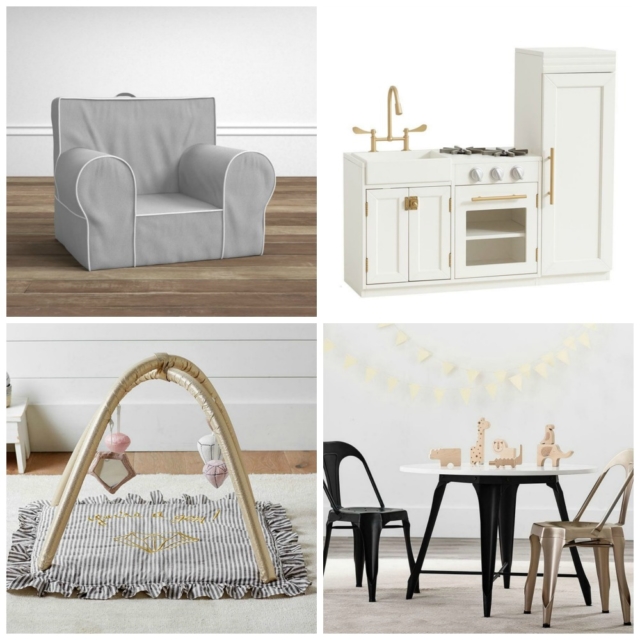 Aaron metal play table, $329: Seriously, could this kid size table be anymore stylish? And it'll certainly not look out of place in the most stylish or minimalist home!
Anywhere Chair and cover, from $159: We are onto our second of these for Seb, having started with the smaller size and graduated to the bigger size. And you can bet the small one will be passed onto Charlie. I love that you can change the covers too if you get bored or change your home decor. They're lightweight, easy to move around and kids LOVE them! You can choose a cover that's understated like this or more kid-friendly with many patterns and colours available.
Chelsea all in one kitchen, $599: I mean seriously! Have you ever?! This is better than most of our real, grown up kitchens! Not the cheapest play kitchen out there clearly, but the quality is amazing and this will get years of use in your family.
Play gyms, from $149: A serial offender in the crimes against decor stakes, Pottery Barn Kids' baby play gyms will not stick out like a sore thumb in your living room!
So, remember, order cutoff for Christmas is this Friday 21 December! What are you waiting for?
* Order by midday 21 December for small parcel delivery to Sydney, Melbourne & Brisbane metro areas.
Shop: west elm | Williams Sonoma | Pottery Barn | Pottery Barn Kids
Don't forget you can also head in-store for last minute shopping over the weekend. All stores will be open until (and including) Christmas Eve.