KitchenAid have just released their Artisan Food Chopper, a one touch, two-­speed power machine that chops and purees in one nifty unit. What it sacrifices in size (which makes it something you could actually leave out on the bench top) this small and mighty addition to the iconic KitchenAid family makes up for in design and performance.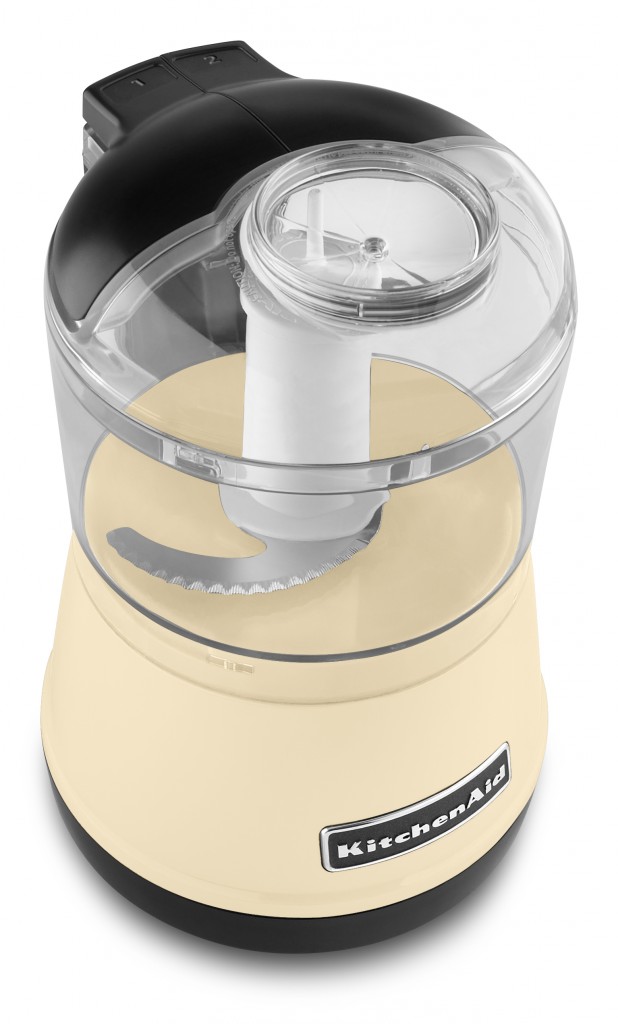 The razor sharp, serrated edge, stainless steel blade quickly processes small amounts of meat, fresh or cooked fruits and vegetables, and nuts and herbs – and will stay sharp for years to come. The reverse spiral design pulls food down into the blade for uniform chopping. It also minimises the need to scrape the sides of the bowl.
The uniquely shaped domed lid has a wet ingredients adder for incorporating liquids at a perfect flow rate while in use. Never ruin a batch of mayonnaise again by adding your oil too quickly; it's simply impossible with this feature.
The two no-­fuss settings of "Chop" and "Puree" (even I can work that out and I'm no sophisti-cook) cover most small quantity food preparation needs at home. Beyond everyday uses like chopping onions and garlic (who wants to do that with a knife and end up in tears?), the KitchenAid Artisan Food Chopper lets you crush biscuits for a cheesecake base, make a spice rub in moments, or puree cooked vegetables in seconds.
As someone who doesn't do an awful lot of inventive cooking but always picks a recipe that calls for the food processor I do not own (and have no inclination to spend $600 on), I think this is just up my street. Plus, it comes in an array of colours, in true Kitchenaid style! Available in Stainless Steel, Empire Red, Onyx Black and Almond Cream, this nifty gadget includes a generous 875 ml (3.5 cup) BPA-­free chopper/bowl, which comes easily off the base for cleaning.
RRP $99.95 from quality home and kitchenware stores around Australia. More info.
Appliance Addict is expecting to review one any day now and we'll share the results, and a little recipe, with you soon!