Did you have a childhood SodaStream? We did. It was white and yellow. I can picture it in my head, clear as day. It came with glass bottles and I was really jealous when our neighbours got one of the first new models with (wait for it) plastic ones! When I got the chance to road test the latest, 2013 model, I had no idea it would look quite this slick!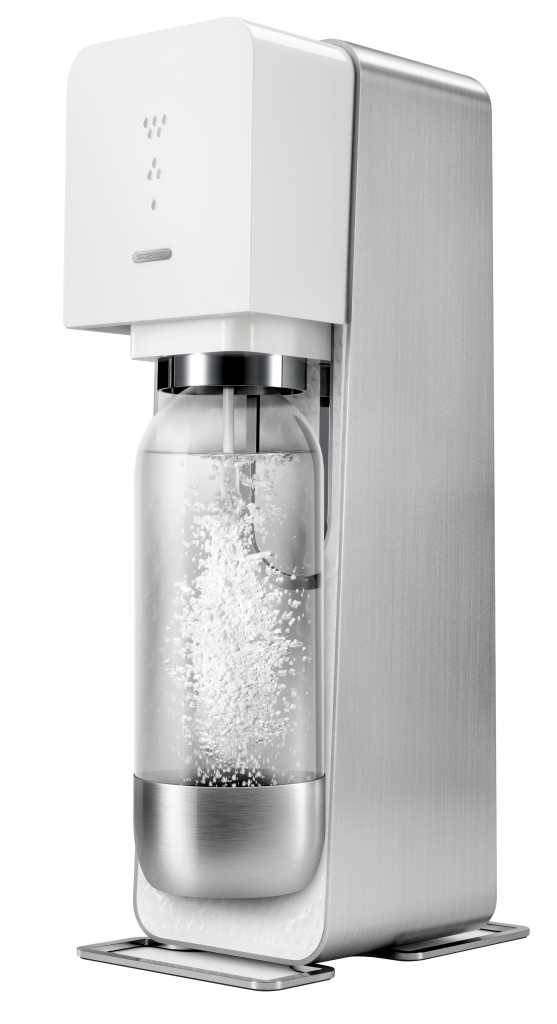 Ladies and gentlemen, I present to you the SodaStream Source. Fancy, huh? It even has LED lights.
SodaStream partnered with Swiss designer Yves Behar to re-examine every element of the soda maker, including the design and material selection, the bottle, and the overall experience.  The result is the Source, a very nice looking gadget that combines beauty, functionality and efficiency.  The carbonating bottle locks into place using the new, patent-pending "snap-n-lock" mechanism for easy bottle insertion and removal.  And the entire top surface of the soda maker is responsive to touch (you push the whole thing down to 'pump' the fizz in), and the strength of carbonation is visible through the LED display (the more blue lights, the fizzier it is!).
It hasn't all changed though, I'm pleased to say, the end result is still the same (although there are many more flavoured syrups available these days, including sugar free, stevia-sweetened versions) and it still makes that same satisfying noise when you when you release the bottle! But, unlike our garish yellow 80s version, this should take price of place on any kitchen counter top. And while you may not be into soda, if you like your water fizzy, it could be a worthwhile investment as well as fun for the kids, if you have them.
It's as easy to use as it ever was. You just press down a few times. Although that being said, I did tell Damian you're not supposed to carbonate the water with the soda mix already in it but he didn't listen. Der. This led to cola all over the benchtop and a lot of giggles…
Yves says: "Disposable water bottles are going away, and so they should, so now is the time to rethink our soda bottles as well. SodaStream uses technology to reduce the complexity and waste of sparkling water and soda, and this is the quality I focused on."
SodaStream Source, RRP $149, from Myer and Harvey Norman. Also available in black, red and blue.
If you're feeling flash, there's a Swarovski Crystal SodaStream (seriously!) for $349, with only 10 available in the Australia.