After some Covid filming setbacks, The Block returns this Sunday for the 16th time. This season will take us on a new journey, from the beginning of the 20th century up to the dawning of the rock 'n roll era. Five period homes from the 1910s, 20s, 30s, 40s and 50s, all in a dire state, have been uprooted and transported to a 2761-square metre block of land in the heart of sunny and affluent Brighton in Melbourne. There they wait to be brought back to life by five eager new couples.

I'm excited!
This year's Block is within walking distance of the beach and minutes from the world- famous Brighton Beach Boxes. "We always change our show up and make it fresh and I think this is a great way of doing that, by having houses themed according to different decades," says host Scott Cam.
"I love that we are getting back to renovating family homes as well. People can watch The Block and see what the contestants are doing and get inspired to do it themselves."
After overcoming all sorts of complex challenges in previous seasons, this year The Block encountered something that could never be planned for: a global pandemic. This will be the season that goes down in history as it captures the first ever shutdown of The Block, and the way the program was able to resume production in a world grappling with the upheaval of COVID-19.
"It was an incredibly tough decision, but I firmly believe it was the right thing to do," says executive producer, Julian Cress. "At the time it was kind of heartbreaking, but we were able to get our contestants back to their kids and loved ones, which was the most important thing."
Architect Julian Brenchley has designed the renovations, which maintain the five period houses and add new two-storey extensions at the rear. Each house now has at least four bedrooms, three bathrooms, a huge kitchen, dining and living area, plus a double garage with a studio and a pool!
"This time around we looked at preserving some of the period aspects of each house," Julian says. "It's been really interesting to explore five different renovations of five houses, because in the past they were all roughly the same design."
Joining Scott again this season will be co-host Shelley Craft, site foremen Keith and Dan, and judges Neale Whitaker, Shaynna Blaze and Darren Palmer.
The location – Brighton at a glance
Brighton is 12 kilometres from the Melbourne CBD.
Famous residents include Eric Bana, Shane Warne, Chris and Rebecca Judd and Brendan Fevola.
The median price for a four-bedroom house is $2.9 million.
The median price for a five-bedroom house is $3.68 million.
The last reported sale of a rare Brighton Beach Box was a remarkable $340,000 in 2019.
In affluent Brighton, 74% of residents own their own home while 26% rent.
The suburb is known for incredible churches and beautiful schools.
Bay Street is the centre of Brighton, with many cafés and the famous Palace Brighton cinema.
This year's contestants
Harry and Tash (VIC)
The Block's first ever father and daughter duo.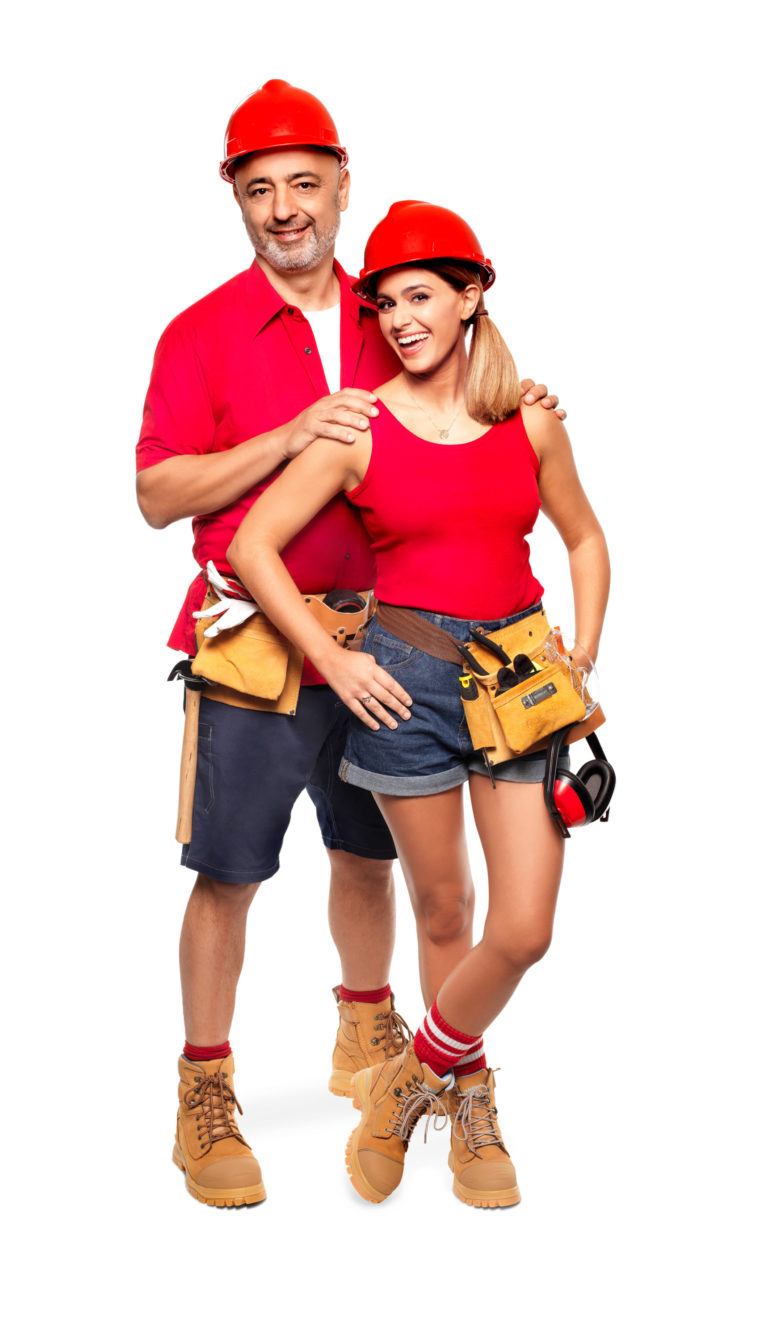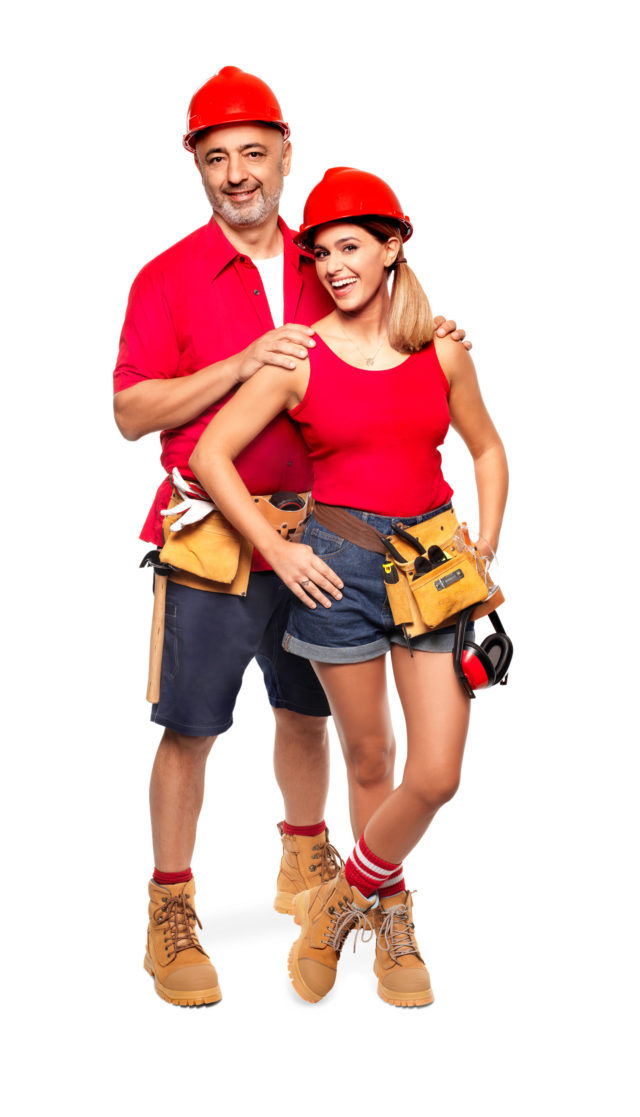 Harry (57, an IT manager) has renovation experience but he wouldn't call himself an expert. He has renovated a bungalow as well as the family home. As for Tash, she loves a project and a good spreadsheet, but those things alone don't build a house.
Family man Harry was born in Cyprus and moved to Australia when he was four. He lives with his wife Andrea (Tash's mum) in the suburb next to Brighton. Harry hopes to have a home turf advantage as he knows the area and what the locals like.
Tash (32, works in social media and production management) is Harry's eldest child. She lives with her partner Brad in the inner Melbourne suburb of Richmond works at a PR agency. Although she hasn't had any experience on the tools, she won't be letting that get in her way. "I am used to working with tight deadlines and ensuring the job gets done," she says.
They are a very close pair. With strong Greek roots, they plan to show us how to laugh, argue and get the job done their way. One thing's for sure, nothing will be boring. "We are here to have fun as well," Harry says.
Sarah and George, NSW
These self-proclaimed "mad dogs" from western Sydney are unlike anyone we've seen on The Block before. Together for eight years and married for three, they have a relationship built on old-school values and new-school quirk. By just being themselves, these "westies" are ready to light up the competition.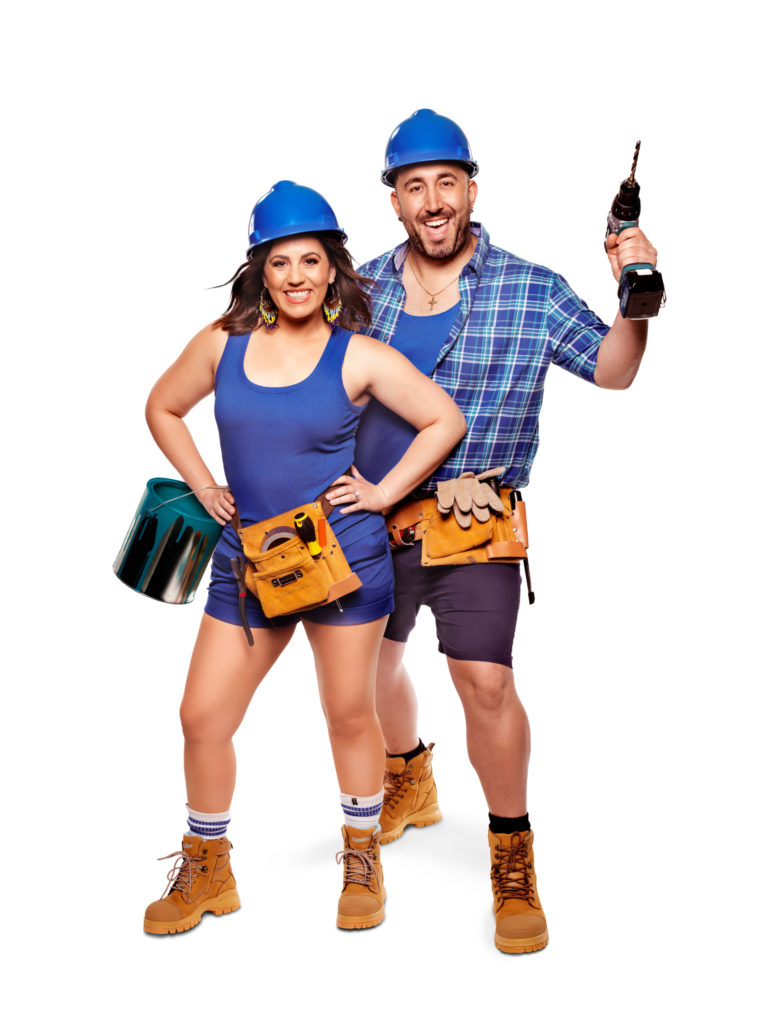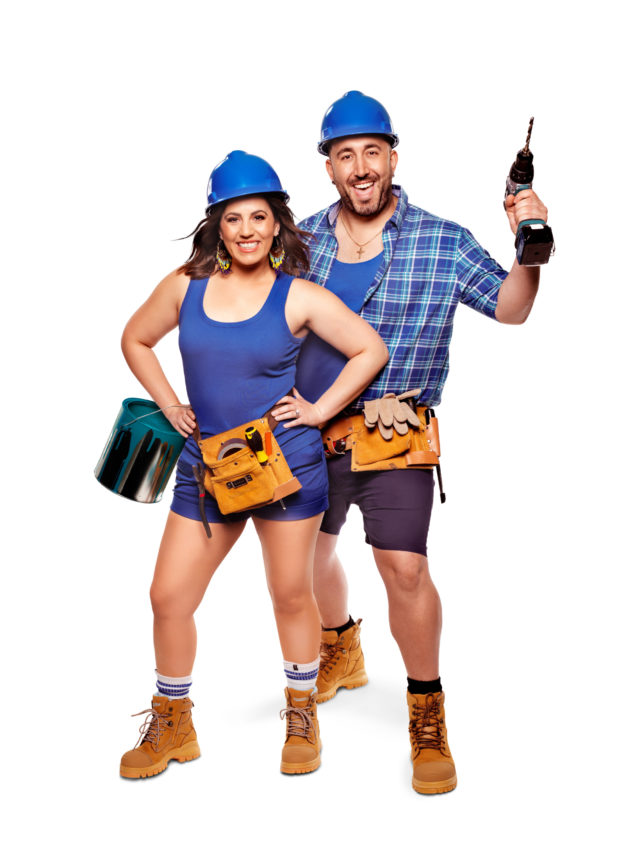 George, 33, is an electrician, and they have renovated two homes together. Sarah, 27, a teacher, hopes the experience on The Block could lead her to a different career direction. "Don't get me wrong, I love my job, but I am not the same person when I'm teaching. It's just not the dream," she says.
Sarah says the reason she is always positive, laughing and smiling is because of her one- of-a-kind husband, George. He has worked as an electrician in Sydney for 13 years. Sarah describes George as a very funny character, a bit of a nerd, and unlike anyone she has ever met. He plans to make his fellow Sydney westies proud by keeping his bling and his hair fade looking "fully sick" throughout his time on The Block.
They've had their struggles. An investment property they owned was trashed by tenants when they were newly married, leaving them devastated and forced to completely rebuild the inside of the house. But they feel it has perfectly prepared them for the hard work The Block is notorious for.
Daniel and Jade, SA
These hard-working farmers from 250 kilometres north of Adelaide have made four attempts to get on The Block. Now that they've finally made it, they are ready to grab The Block by the horns in the hope of changing the future for their family of three young kids.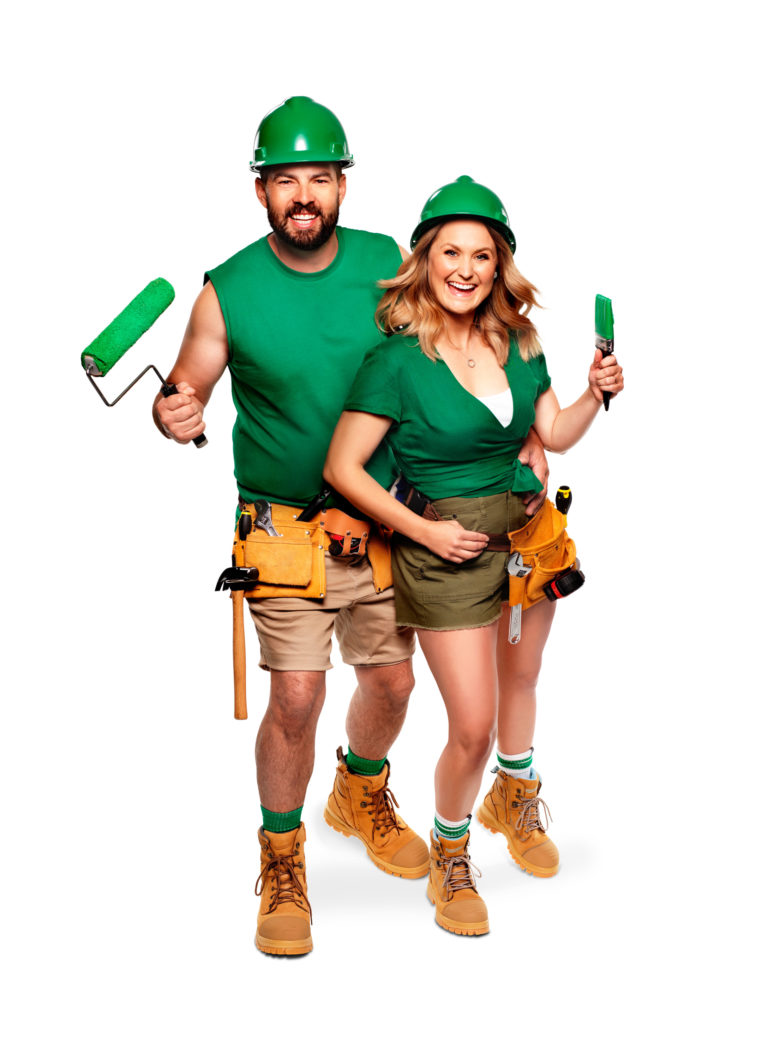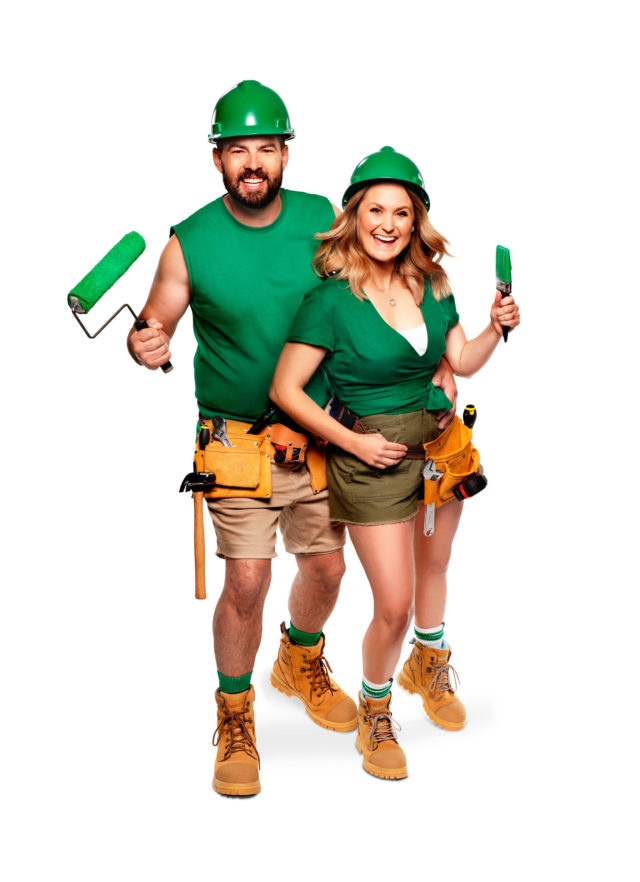 Daniel completed his carpentry trade in his late teens and put the skills to good use on the family farm. Jade is a highly visual person, so when it comes to design she plans on making the executive decisions.
Being a farmer is everything to Daniel, 35, a true-blue Aussie man on the land who feels more at home on a tractor or working with animals than choosing cushions. He doesn't understand why past contestants have ever complained about things, and he is ready to enter the build with a whole lot of confidence.
Jade, 34, works part-time as a hairdresser when she isn't looking after the kids. Being on the farm is something that has taken her some getting used to, but with Daniel and the children by her side she has made herself feel right at home.
"Our life is going to work and supporting the kids. Being away from them is going to be a big test," Jade says. The main reason the pair applied for The Block is daughter Isla. She is one of only eight children in the world identified with a rare chromosome disorder that affects her speech and physical ability. They say anything they can win and put towards helping her is worth going to be worth the hard work.
This couple, who own two farms in rural SA, have endured great hardship over the years. Their farms have been affected by drought since 2016, and just when they thought things couldn't get any harder, last Christmas one farm was destroyed by a bushfire. They're now close to million dollars in debt.
So Daniel and Jade hope The Block will turn their lives around, get them back on their feet, and maybe free up some of their time back in South Australia.
Luke and Jasmin, WA
This dynamic Perth duo, married with two young kids, are ready to school the other contestants on how to build the best house on The Block. Luke, 35 is a chippy and Jasmin, 36, is a teacher. They think they might have the perfect mix of skills to be the first West Australian couple to win The Block.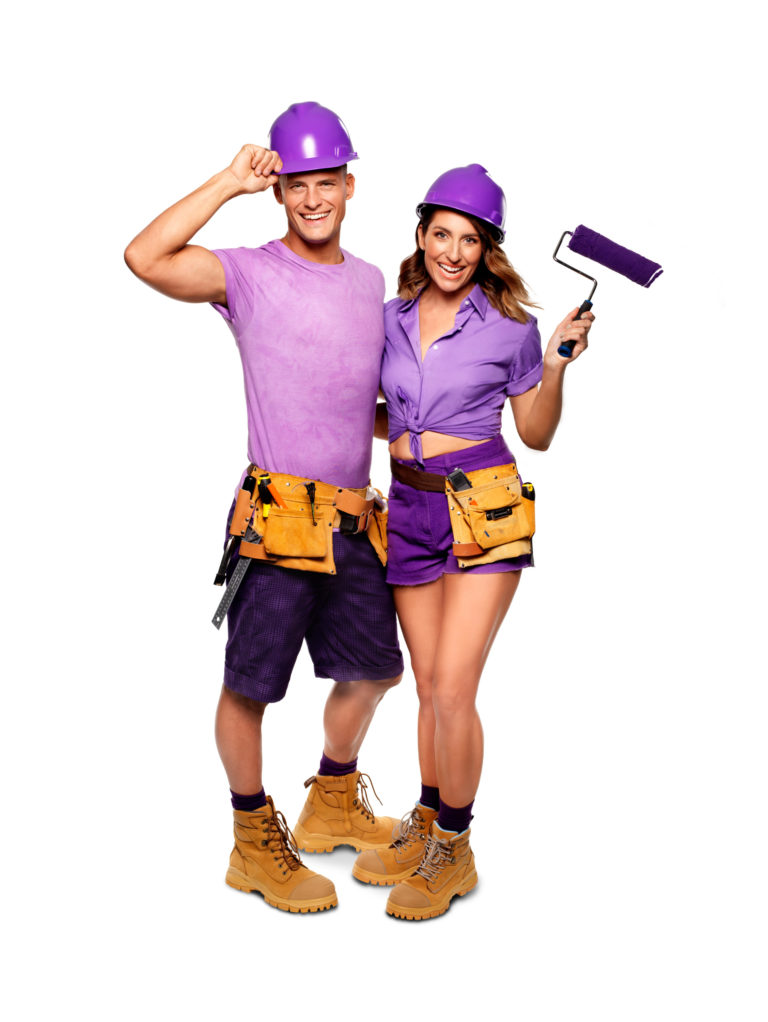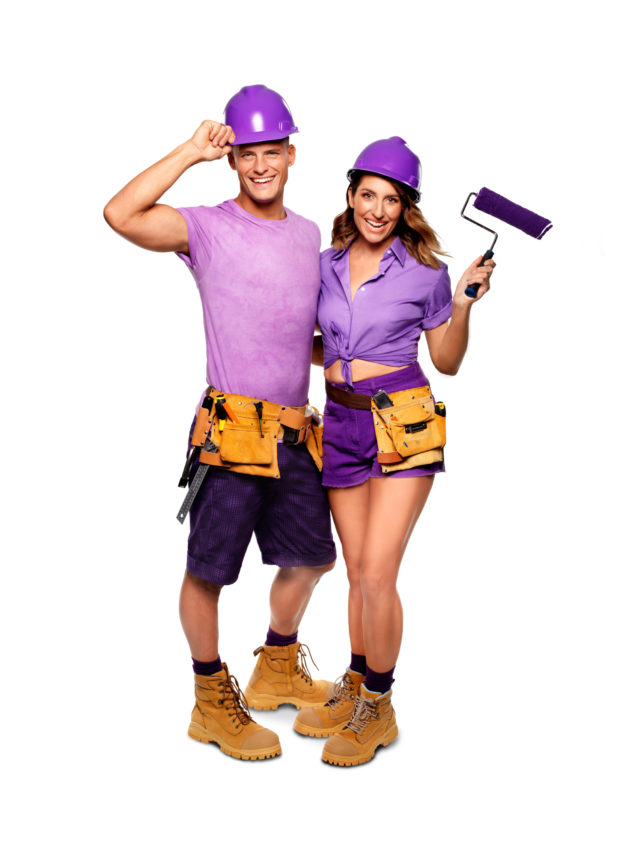 Luke owns a carpentry business that he started nine years ago but his CV also includes his other successful career – male modelling! "I used to do a lot of fashion stuff when I was younger," says Luke, who was signed to the premium agency Chadwick Models. "But now it's mainly commercial." If he isn't on the tools or looking after the kids, this Perth local can be caught catching waves.
Jasmin is a part-time kindergarten teacher who loves being able to educate and entertain children. Luke describes Jasmine as a hard-working, beautiful person and mother, saying he and the family would be lost without her.
This couple met 17 years ago in a local pub on a student night and have never looked back. They are currently renovating their own home as they raise their two kids, Lola, 4, and one-year-old Sonny. "It's pretty much been baby, renovations, baby, toddler, and renovations," Jasmine says.
Jimmy and Tam, QLD
These married battlers from Brisbane are ready to give The Block everything they've got. They're ready to bowl over the competition to create a better life for their young daughter.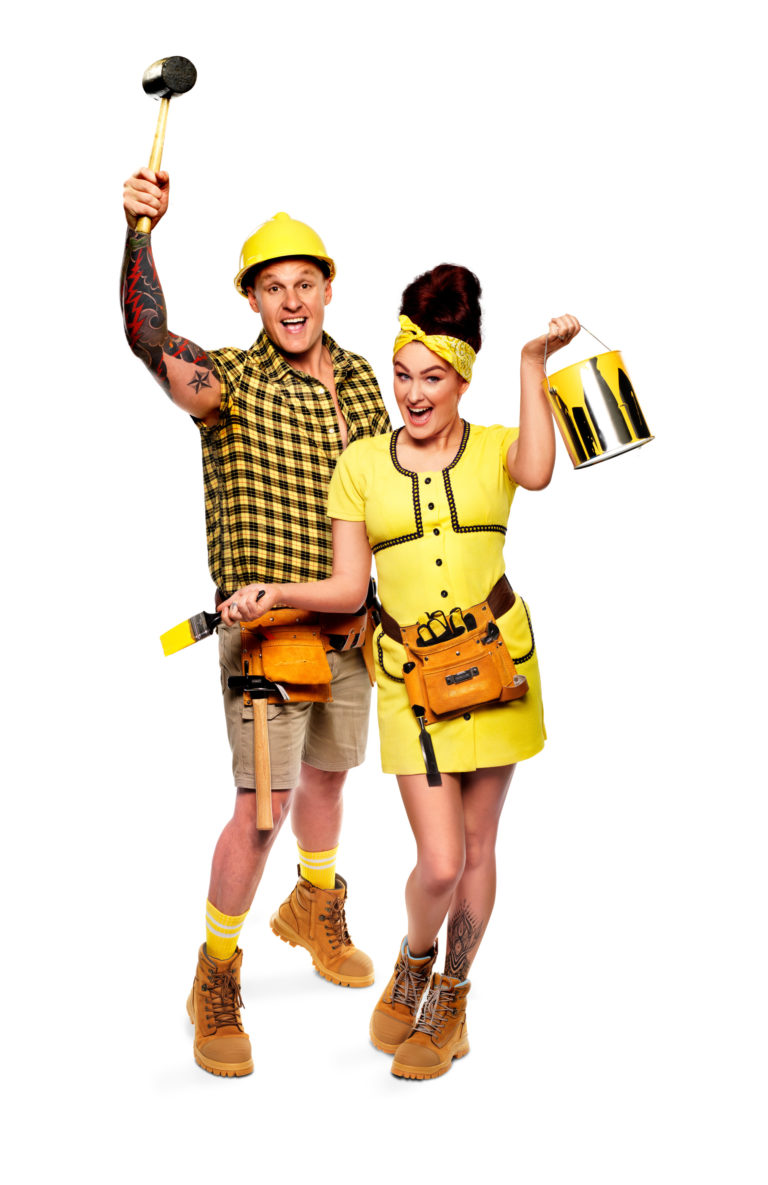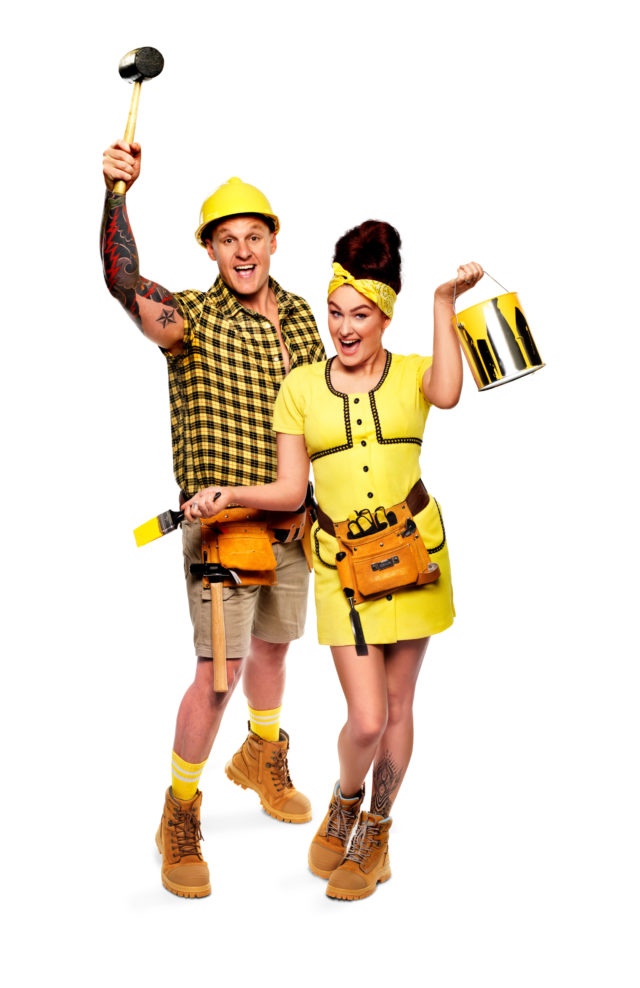 Jimmy, 33, is no stranger to a worksite and has been around plenty of renovations with his plumbing work. Whereas Tam doesn't know what a spanner is. But one thing this couple have in spades is grit and determination.
Jimmy is a very experienced plumber. After working his way up in the trade, he now manages large plumbing jobs, but he hasn't forgotten how to roll his sleeves up and get his hands dirty. He was previously a gym coach and that is where Tam came into his story.
The bar manager at her local bowlo, Tam, 31, says the club has been a major part of her life for as long as she can remember. She grew up there as her mum was a star player, and it was her first place of employment. She even got married to Jimmy at the bowlo!
A self-proclaimed op-shopaholic, Tam with her bright red hair is quite the fashionista and she's not afraid to show it. She has always had her own unique sense of style and she will be bringing that to the suburb of Brighton as well as the renovation project.
They rent in Brisbane with their four-year-old daughter, Frankie. "We are doing this for Frankie. We want to try and win to set our family up," Jimmy says. If they do win big on The Block this ambitious young couple plan to use the money to enter the property market, buy a place and turn their lives around.