Every year, Houzz.com.au announces its annual people's choice awards where the Houzz community highlights the renovation and design professionals with the most popular designs and top ratings. From a stylish wine cabinet to a showstopping powder room, this year's awards recognise just three per cent of the more than 207 million active home professionals on the home renovation and design platform.
"We launched the Best of Houzz awards program over a decade ago to highlight the work of the most talented and customer-focused professionals in our industry. When homeowners come to Houzz to find professionals to complete their projects, the Best of Houzz badges offer a marker of credibility, supporting their decision to move forward," says Tony Been, managing director.
A spa-style bathroom in Sydney
The average spend on the bathroom has risen 15% in the past year, according to the latest Houzz & Home report with some homeowners opting for hotel-worthy luxury features such as a freestanding bath. In fact, searches on Houzz for 'free-standing bath' rose by 328% in the past year and this Sydney bathroom, by Renotech Building, is a case in point. One of the most popular spaces on Houzz, it seems that users were drawn to its monochromatic palette and textural details such as porcelain chevron tiles and rose gold fixtures.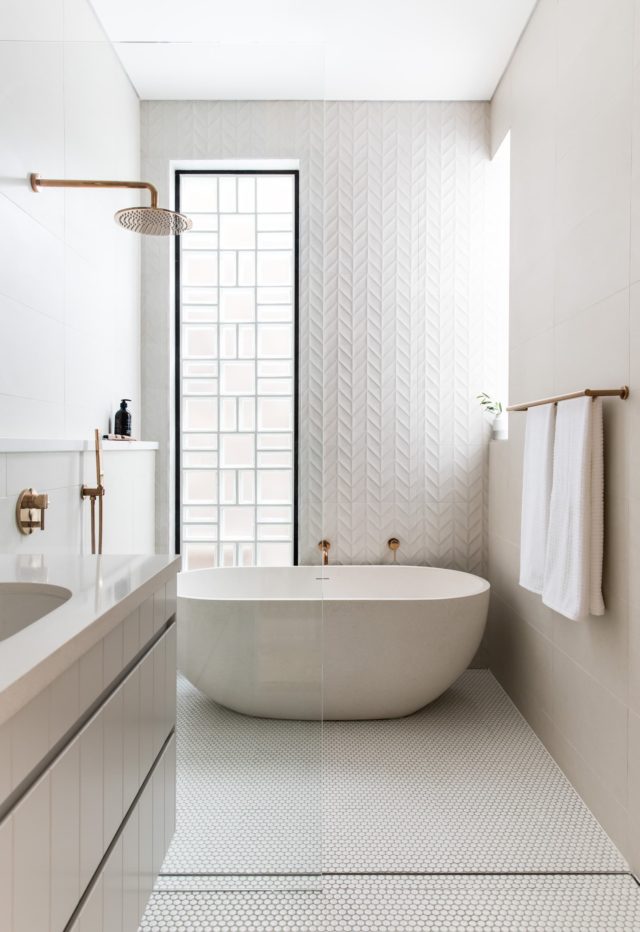 A stylish wine cabinet in Melbourne
Wine enthusiasts looking to store beloved collections, are gaining traction among the Houzz community, with 'wine cabinets' and 'wine room' topping searches year on year (337% and 245% respectively). And if there is one that is deserving of a toast, it's this glamorous wine cabinet addition to a newly built kitchen. Created by First Avenue Homes, this winning design incorporates black timber veneer, a marble worktop and splashback with brass glass hangers.

A crisp laundry space in Canberra
Over recent years, we've seen the laundry, once a purely utilitarian space, transformed into another Insta-worthy part of the home like this winning design by Studio Black Interiors. Houzz has reported that searches for 'marble-look chevron laundry tiles' surged by 203% in 2021 (compared to the year prior). Not only does this bathroom showcase that trend, but its white joinery pairs well with a concrete benchtop, matte black tapware, and reclaimed timber shelving. Topping it off, the natural light filtering through the glass door makes the space feel bright and open.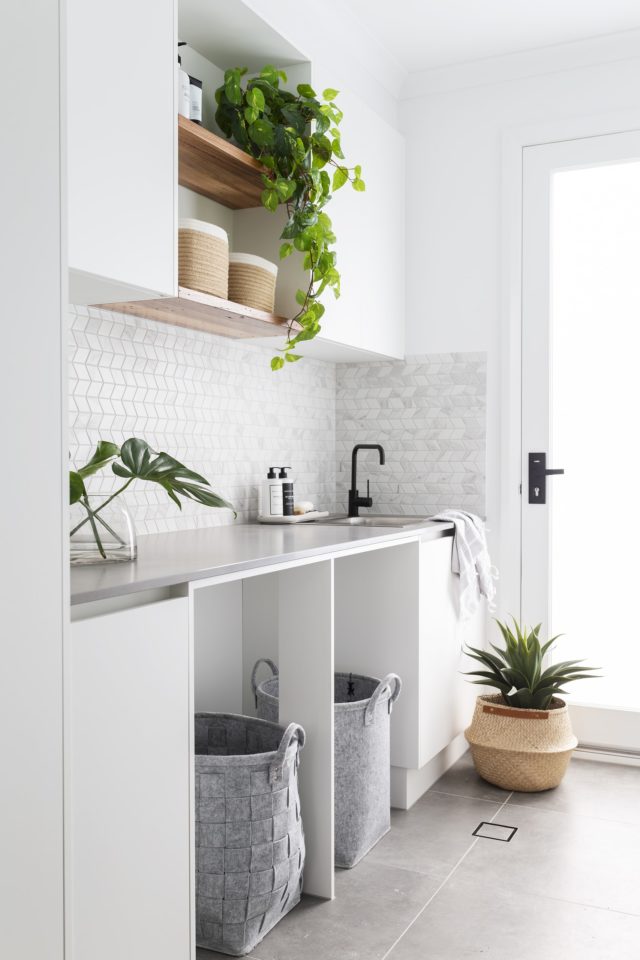 A showstopping powder room in Geelong
There is something to be said about a moody wash space, and Houzz has noticed a growing number of 'dark' inspired spaces cropping up in homes, with searches growing by 294% more than the previous year. In this popular powder room on Houzz, by Dylan Barber Building Design, some may consider a contrast of materials to be the primary aesthetic, however it's the VJ panelling, gently veined vanity and grainy timber that really tie the look together.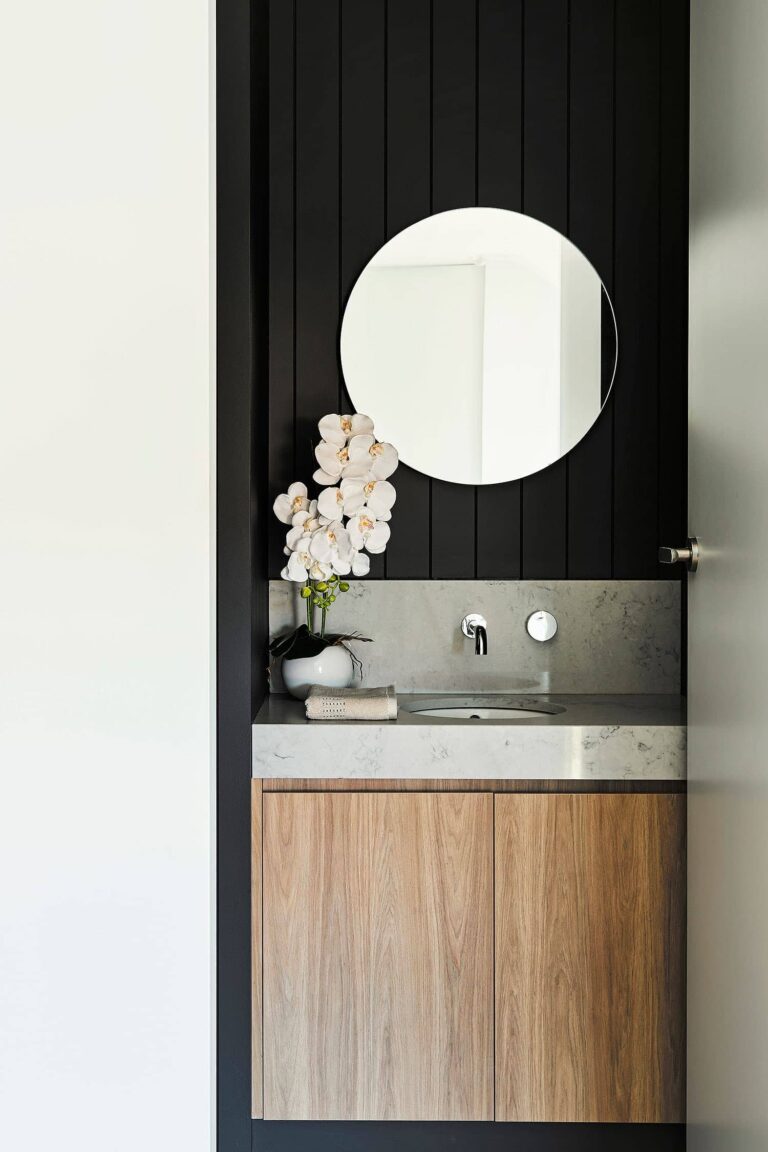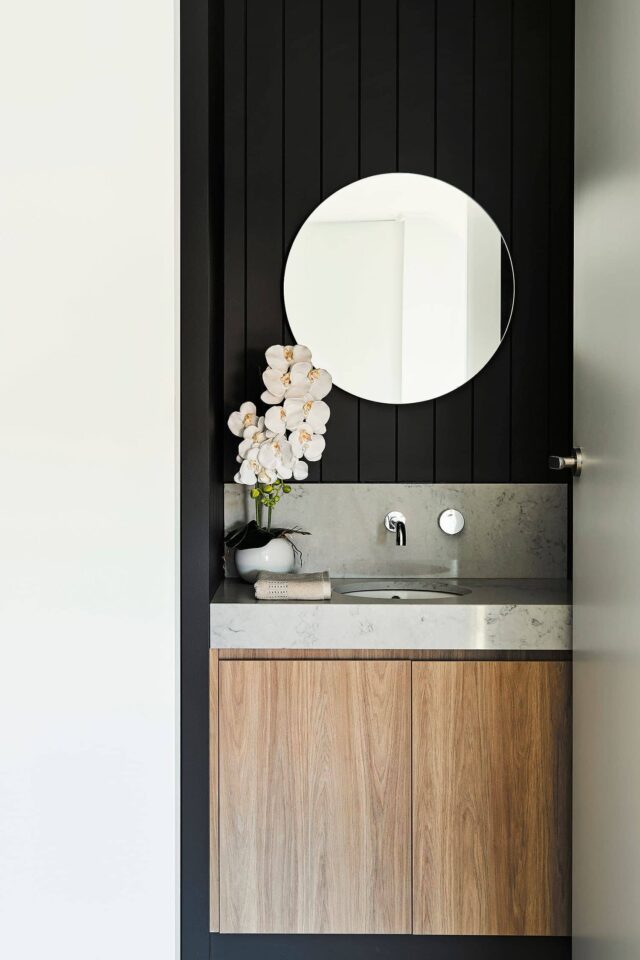 A beachside kitchen in Wollongong
When it comes to refreshing the kitchen, changing the layout is a priority for more than half of homeowners according to the latest Houzz & Home report. Searches on Houzz for an 'open kitchen' just like this one by Chronis Building Design, have proven to be popular among the Houzz community, with the search term increasing by 254% from last year.
A spacious marble island adjoined with a timber breakfast bench creates a multifunctional space that serves to cook, while providing an entertaining as well as work space. Plus, what's not to love about a kitchen that takes advantage of its beachside location with endless views to the horizon?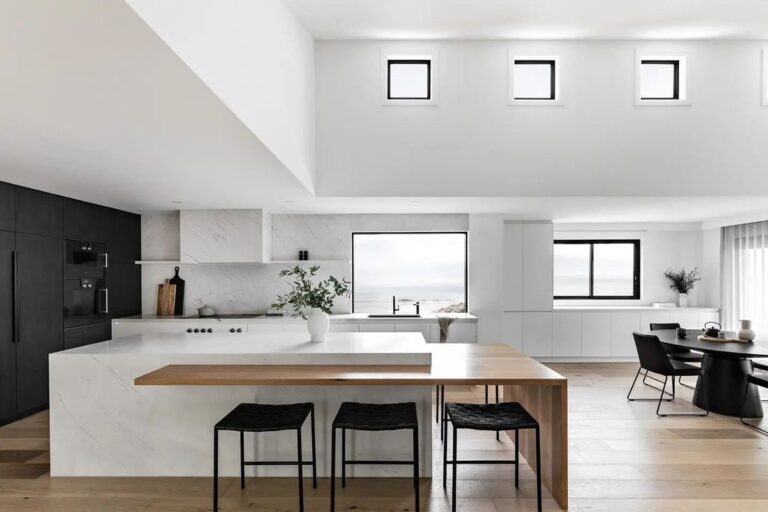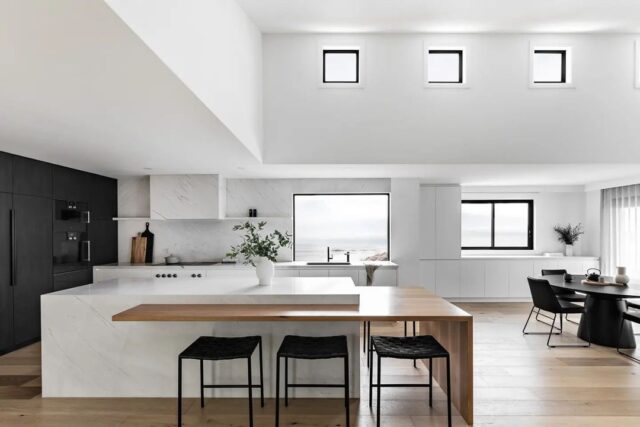 A Victorian verandah in Perth
Outdoor projects are heating up across Australia, in particular, with searches for 'front door' inspiration experiencing a 666% year-on-year upswing on Houzz. This Victorian verandah, by Suzanne Hunt Architect, sticks to tradition, standing tall with its period trimmings. It also has a garden bed of 'yuccas', which is one of the most sought-after plant varieties on Houzz, with searches up by 1651% more than the previous year. It's a charming scene and easy to see why it's a Houzz community favourite.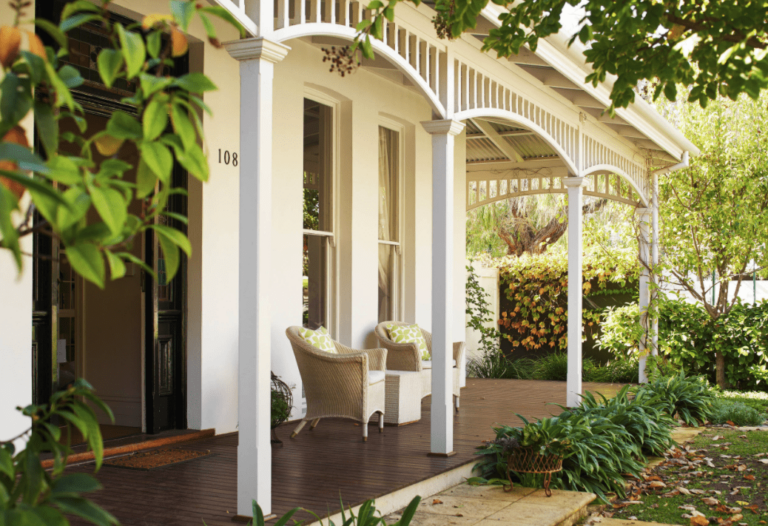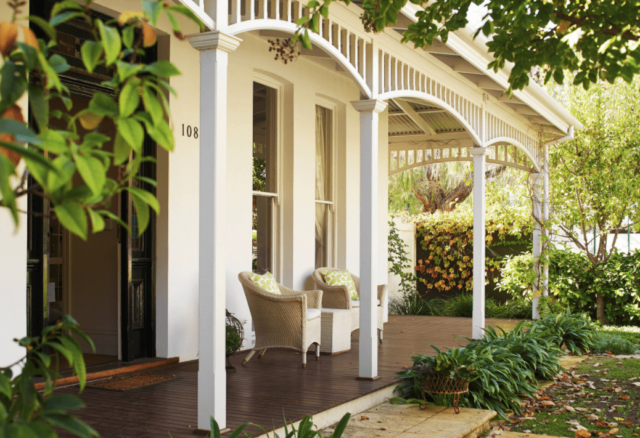 An indulgent main bedroom in Naremburn
This room, by Amanda Smyth Design, features an Australian Hamptons aesthetic which is proving very popular on Houzz. It's a modern take on traditional style, with a muted combination of serene neutrals, cool whites and lighter blue-based greys. Integration of picture-perfect 'bay windows' are also popping up more frequently in homes on Houzz, with 2021 searches up by 296% more than the previous year. They are a feature used to maximise light while also serving as a retreat space.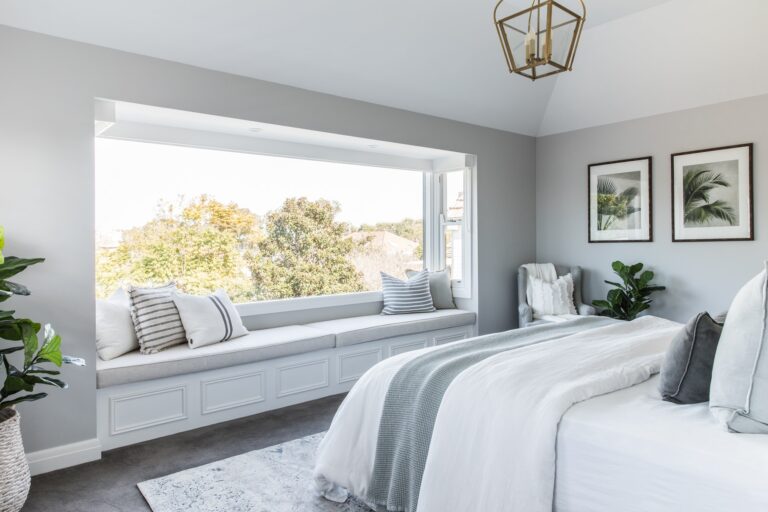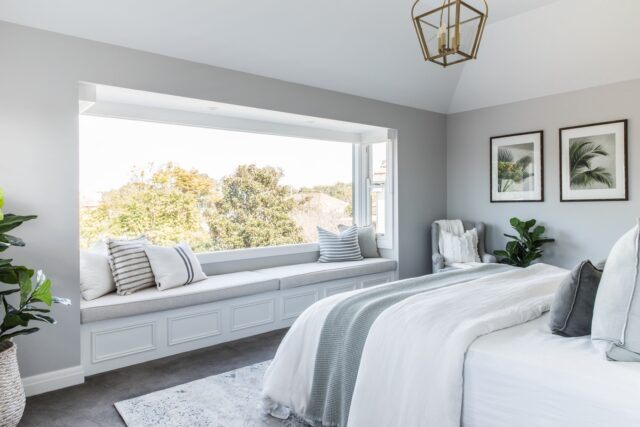 An indoor-outdoor living room on the Gold Coast
Searches for 'beach house' inspired interiors and exteriors are surging on Houzz (they're up by 125% compared to last year), and this winning living room, by Donna Guyler Design, evokes the easy, carefree feeling of being by the coast. The vinyl plank flooring seamlessly connects the open-plan living areas internally, while the sliding recess doors allow the room to extend onto the indoor-outdoor deck.

A poolside cabana in Brisbane
Backyards are another area where homeowners are exploring hotel resort-style potential and searches for landscaping ideas (specifically for 'gazebos' and 'pools') surged on Houzz by 303% and 226% respectively, when compared to last year. The design below, by Beau Corp Aquatics & Construction features a white cabana and sun loungers with pops of green that make this outdoor space feel like an everyday escape.