It may be winter in Australia, but that doesn't mean you suddenly stop wanting ice cream, am I right? At the same time, if you're into the latest paleo/no sugar kind of diet, you may be avoiding processed nasties. So, what if I told you could make guilt-free ice cream at home, really easily? The only catch is you have to like bananas!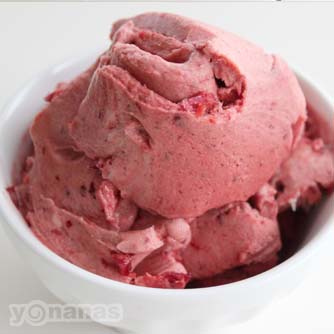 The last gadget I tried out before setting off on my travels was Yonanas and I loved it so much, it is sure to become a regular feature on my kitchen bench when I get home. Its technology and high-torque blade emulsify frozen fruit into a healthy treat that looks, tastes, and feels like soft-serve ice cream—in just seconds. Unlike other dessert makers, you don't have to add any other ingredients such as milk, cream, sugar, yogurt or soy—which makes it perfect for vegans, diabetics and those who are lactose intolerant (which seems to be a lot of people these days).
While you can chuck any fruit through this machine, if you want a creamy, ice cream-like texture, you really do need to include bananas. What's more, it works best with overripe bananas (the ones you end up chucking out when they get too brown and spotty) which will no longer be wasted. When you have those sad looking brown bananas in your fruit bowl, simply peel and freeze them to use in your Yonanas later. You basically chop them up and force them through the machine, a bit like pushing fruit and veg through a juicer. It's amazing how frozen bananas alone come out tasting so good and so similar to the consistency of ice cream. I bet you could trick your children!
The machine comes with a great book of recipes. I tried adding both peanut butter (not that great) and dark chocolate (yum!) to my bananas, but to be honest, the frozen bananas alone were so satisfying I didn't feel the need to add any extras, plus it's healthier that way.
My husband Damian wasn't as convinced, but let's just say I have healthier tastebuds than he does and he'd rather have the processed, artificially flavoured version of most things (it's a constant battle…). It wasn't that he didn't like the end result, but just refused to believe my claims that it really was just like ice cream!
I found it really easy to use and loved that it was dishwasher safe. The only downside was the noise. It's not quiet!
Since I checked out the appliance ($55), they've released a new, snazzier version called Yonanas Elite ($165). The original machine got a makeover with sleek new design elements and a quieter and more powerful motor. Available in glossy red or black.
Yonanas is available online or from The General Trader, Harvey Norman and David Jones.