Former The Block contestants and keen renovators, Kyal and Kara Demmrich have unveiled their latest project – an allergy-smart six-bedroom, two bathroom home in the beachside suburb of Toowoon Bay, NSW.
While Kyal and Kara describe the original house as having good bones, the 1970's three-bedroom red brick 'box' with downstairs granny flat was half-renovated and required extensive work to make it
liveable.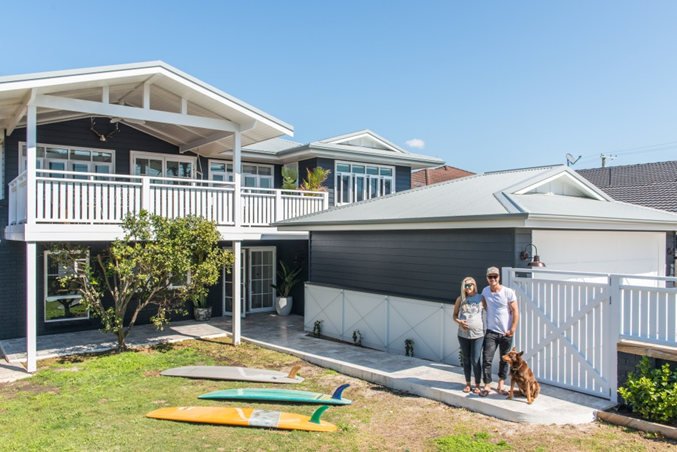 Through careful thought and planning, Kyal and Kara were able to transform the property into a stylish and functional home ideal for an active young family. Additionally, the property now boasts a new garage extension and backyard self-contained studio – all fitted with carefully selected, quality materials.
With a focus on creating a healthy environment, choosing allergy-smart building materials was important to the couple. Gyprock Sensitive plasterboard was used throughout the main house and studio to line the
walls and create sweeping ceilings. The moisture and mould resistant properties of Gyprock Sensitive make it the ideal choice for building a space suitable for sensitive airways.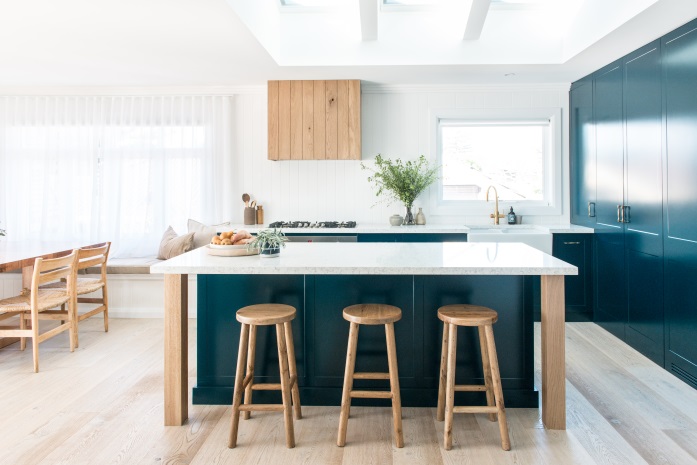 Gyprock Sensitive is a revolutionary hypoallergenic plasterboard that is the first and only residential
plasterboard to be approved by the National Asthma Council Australia's Sensitive Choice® program as a
better choice for asthma and allergy sufferers. Sensitive is treated with a powerful but gentle anti-fungal agent designed to resist mould growth enhancing the quality of living for the home's occupants.
Furthermore, the use of floorboards instead of carpet in the home also contributed to creating an allergy safe environment, while large casement windows and strategically placed skylights assist ventilation and flood the property with natural light. Ensuring the home was a functional, health-smart place to live was one part of the couple's objective. The other, was creating a stylish beachside retreat. To balance the
other interior design features of the home and create aesthetic harmony room-to-room, Gyprock Trio cornice was used as the finishing touch to the walls and ceilings. Trio's dramatic three-step profile and strong, modern lines offer a subtle update to this more traditional home.
Like the main house, the two-bedroom studio designed as a sub-let in the property's backyard has also been lined with Gyprock Sensitive. The design uses open plan living with north facing windows to provide plenty of natural light, aided by the three skylights in the kitchen. A deck made from 140mm blackbutt compliments the cladding and connects the master bedroom, second bedroom and living spaces to the outdoors. With the help of Gyprock, Kyal and Kara were able to transform the property into an asthma and allergy friendly family beach house. As new parents "it was important for us to create a healthy environment for ourselves and our little man Ziya," said Kyal and Kara. "Using allergy-smart building materials when renovating is an investment in health for every family. Moving forward with our next
renovation at Long Jetty, we'll continue to focus on using allergy-smart materials."
For more information about Gyprock Sensitive solutions visit Gyprock.com.au/Sensitive
or download the White Paper on Indoor Air Quality in Australia from Gyprock.com.au/Brochures