Last month, the lovely Charlie Albone, Selling Houses Australia's resident gardening expert, agreed to answer a few reader questions. We were going to pick a few, but he was kind enough to answer them all! Here are the Q&As below. Thanks Charlie!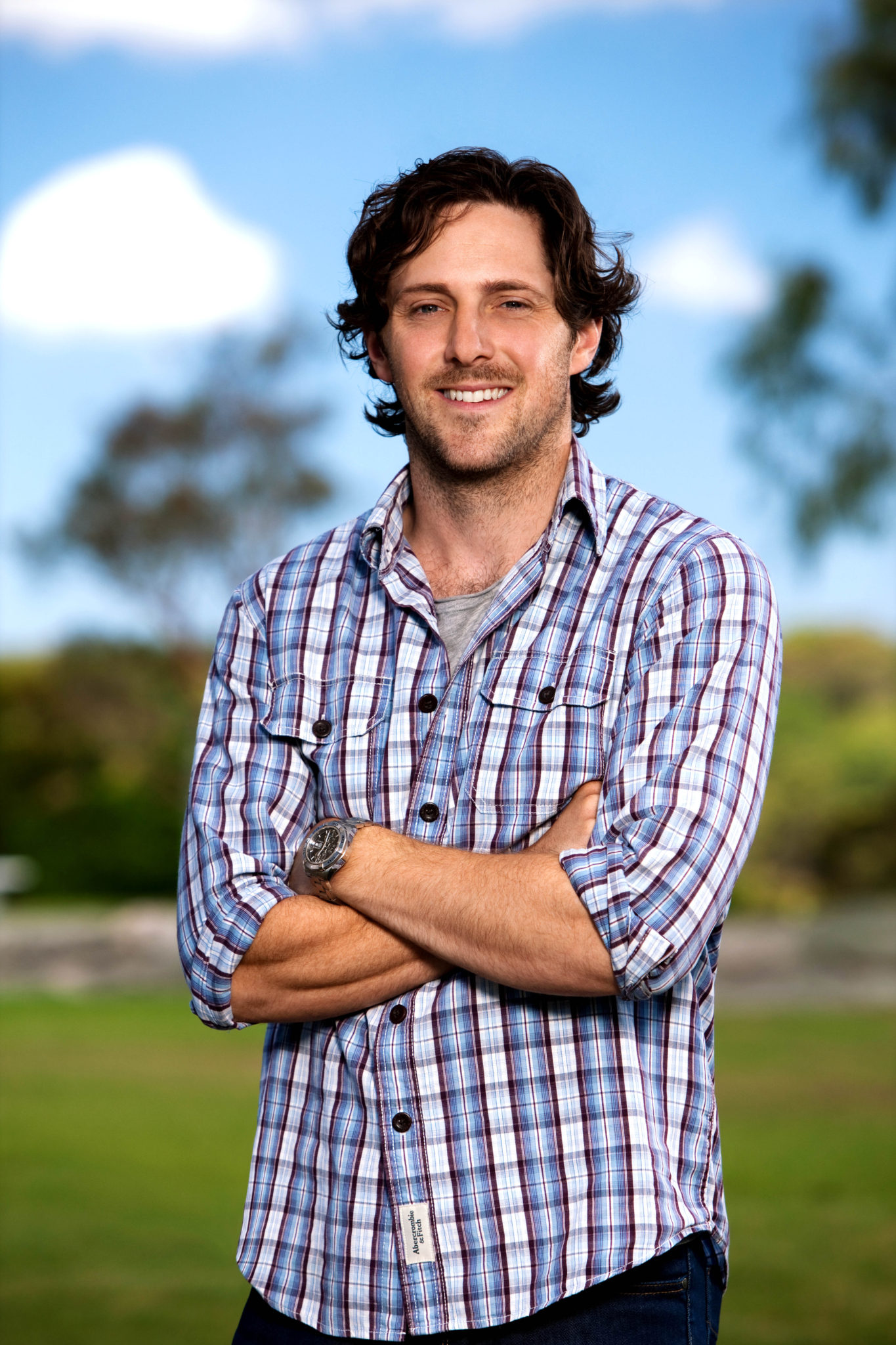 Question: Hi Jen & Charlie. 
My partner and I have built a house on an amazing waterfront block and have done little bits to it landscaping wise but feel it has some much more potential then were seeing – it's also a slightly larger block and steeply sloping at the back to the water so it's hard to know how to get best use out of it and have it look the best possible way it could? We want it to be a fun space yet contemporary and low maintanence!! We don't ask much do we?
 We'd love to hear your thoughts??!!
 Thanks, 
Mandy & Brendon
.
Answer: The trick with sloping sites is to try and create some usable flat areas with terracing. By using retaining walls you can make flat areas that you can then give some purpose – areas for lawn, entertaining, storage, kids play area etc. These areas can then be linked together with meandering pathways. I like to plant heavily around the paths so the areas appear to open up as you travel through the garden. No doubt at some point in the site you'll have to put in some steps, it sounds like you have the space to make these wide and deep which will add a sense of drama and additional spots to stop and sit, relax and enjoy the plants and view around you.
Question: Hey guys,
 I'm building a new house this year, and won't have an overly big backyard (10mx8m) but I still want lots of greenery and pretty colourful flowers, that will ideally be low maintenance and not require a lot of watering. The land is flat. Would love any ideas of what you think would be best to plant. There won't be a lot of shade and I live in South Australia so the summers can get quite warm!! I have already bought 2 beautiful frangipanis that I will plan to put in some big pots. 
Thanks so much, Bek.

Answer: Sadly, lots of green and colourful flowers don't go with low maintenance and waterwise plants! I would think about going for a more tropical look, which I assume you wouldn't mind as you have a couple of frangipannis. Designing with foliage shapes and colours will give you the interest all year round and general maintenance will be a bit less demanding. The aspect you have won't really suit a tropical look so you need to create a slightly more protected microclimate. Introducing a small shade tree or installing a fixed shade sail can easily achieve this. I would also consider putting in an automatic irrigation system to make sure water requirements are met.
Question: Hi Jen and Charlie.
We live in a unit with a rooftop terrace, and every year I try to find plants and veges that can last in the heat of summer and survive in pots. We've had limited success of course! I'd love to hear from Charlie on some suggestions that would work on the rooftop and look fab at the same time! 
Thanks, Kate.
Answer: Rooftops are really difficult as they are hot, dry and windy, the sort of conditions desert plants like succulents like! You will find growing produce difficult so you need to try and create a different climate. You can do this by firstly trying to cut out the winds by using some screens or planting some trees in big pots. Veggies will actually like the sun but growing them in pots means the soil dries out too quickly so try and make the body of soil as big as possible, this can be done by creating a raised bed or buying the biggest pots possible, some hardware stores stock raised veggie beds. Mulching heavily and watering more regularly will also help preserve the water in the soil. If you follow my points above you should have a bit more success and be able to grow more variety.
Question: Hi Jen & Charlie,
 I have had a lemon tree for 3 years -planted in a new garden, but it hasn't produced any fruit. I planted a lime tree close to it 1 year ago & it produced a few small limes. All of my other plants have thrived. What can I do to produce some fruit?
 Thanks,
 Rebecca.
Answer: It is a little odd that the lime is doing well (seeing as it's quite young) and the lemon doing nothing at all especially as they are living in the same conditions. It may be a small environmental difference that is causing this rather annoying problem so go through my checklist to see if the lime has all of the below:
Fertilizer – Citrus are heavy feeders so make sure they get fed with a complete slow release organic fertilizer. A liquid feed will also give the plants an instant hit of nutrients.

Water – Lemons and Limes love good drainage and moist soil so make sure your soil is free draining but keep the water up to the plant.

Mulch – Citrus like hot leaves but cool roots so mulch heavily with a sugar cane mulch.
Question: Hi Jen & Charlie,
 We have just finished renovating our house and it is now time to tackle the yard! We have a large rectangular backyard with no gardens or landscaping, apart from two lovely shady trees on the back fence. My dilemma is how to landscape a rectangular yard without making it boring? How do we add interest and structure without doing the same old boring garden beds along the fence. Help! Down the track we would love to build a timber shed and pool so these need to be worked into the design. Our house is an old Queenslander so ideally we are after classic plants varieties with a hint of tropical. Any suggestions or tips you have on adding interest would be greatly appreciated!
 Thanks, Elisha
.
Answer: The easiest way to make the space interesting but not going for a rectangular design is to create a circular area of hardstand (paving) that can be used for entertaining. If you go for a more rustic paver like recycled bricks or cobblestones it will suit your style of house and planting over something modern like concrete. Keeping this intimate and surrounding it with planting will allow you have the additional space for the other elements you want to introduce in the future. In one of my old gardens I did something similar and made an impact with a stone table, hopefully the photo will give you some inspiration.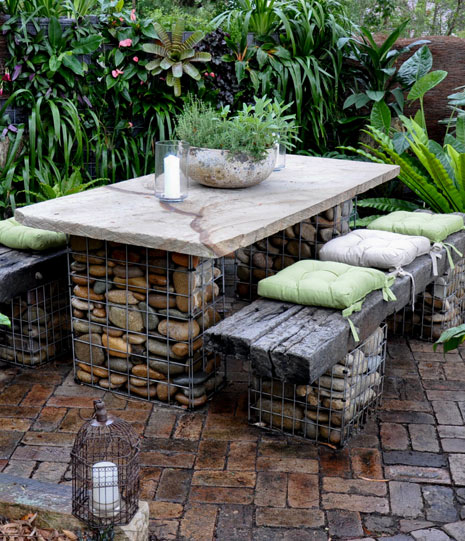 Question: Hello Jen and Charlie. We're moving into an inner city house with a minuscule courtyard. Room to swing a very short-legged cat only. It faces North West and has a high (7 ft) wall all around it. My mind indulges itself in all sorts of fantasies of lush verdance but it's hard to know how to achieve that, especially when we have two vast dogs who will regularly barge through the space, thus making it impossible to have many pots. My idea, therefore, is to have a vertical living wall but I've heard they are costly, temperamental and difficult. Do you have any comments or suggestions? Anything gratefully received!

Answer: A vertical garden does seems like a really good option for you but you are right they are not maintenance free – but no plants are maintenance free. The original green walls cost around $1,500 a square meter to install but the price has come down to around the $1,000 a square meter mark. If you go for a reputable company they should offer a 3-month guarantee on the plants and will give you all the information you need to look after it successfully. 
Charlie runs his own landscape design and project management business, Inspired Exteriors.