Located in Sydney's Walsh Bay, this two-storey, three-bedroom apartment is the work of the celebrated interior designer, and Interiors Addict favourite, Greg Natale. From the sumptuous architectural curves to the voluptuous furniture and beautiful muted palette, this project is a softer take on Greg's signature, patterned aesthetic.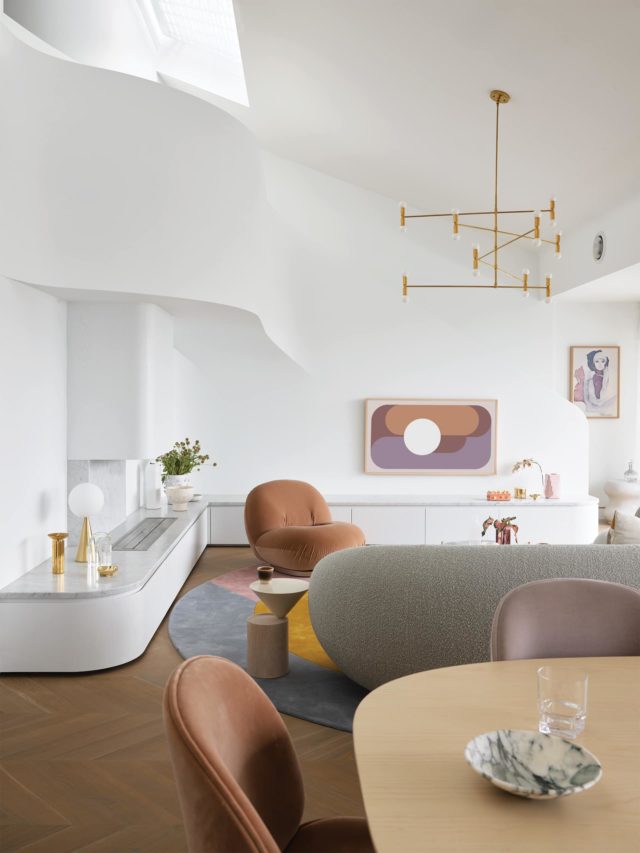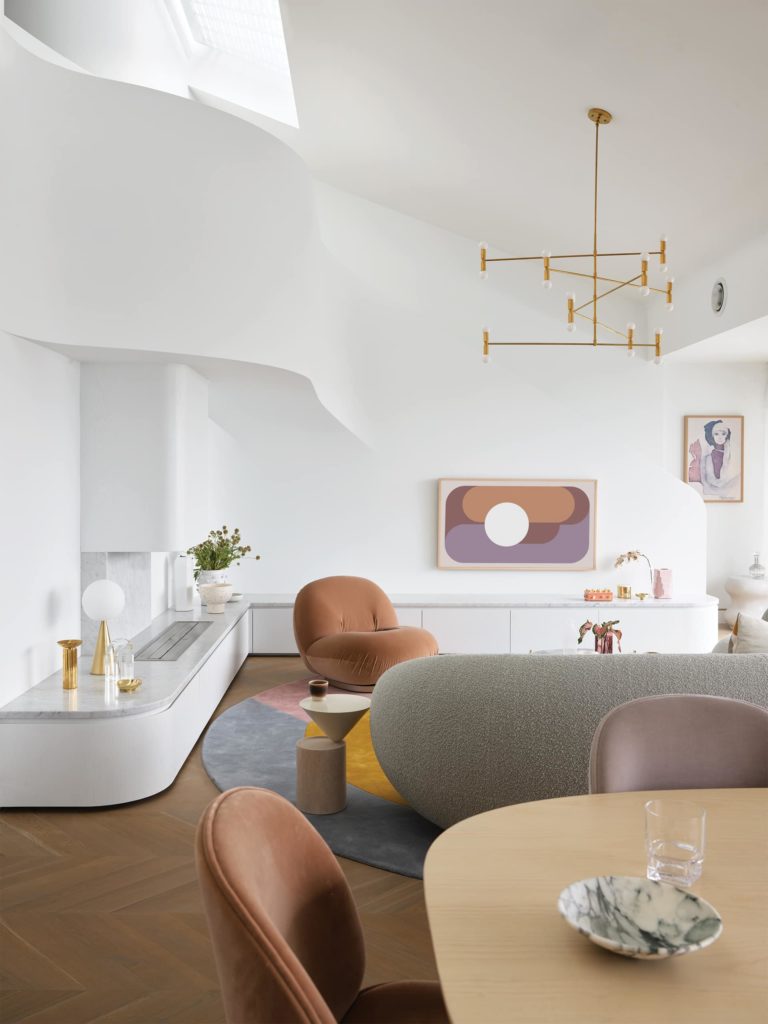 "The brief requested 'plenty of curves' as well as a delicate palette and the use of modern European furniture. The owner wanted a soft, contemporary space filled with fluid lines," says Greg. Curves aside, the home's colour palette is rather gorgeous – cinnamon, mustard, violet and grey give the spaces a sophisticated yet playful edge.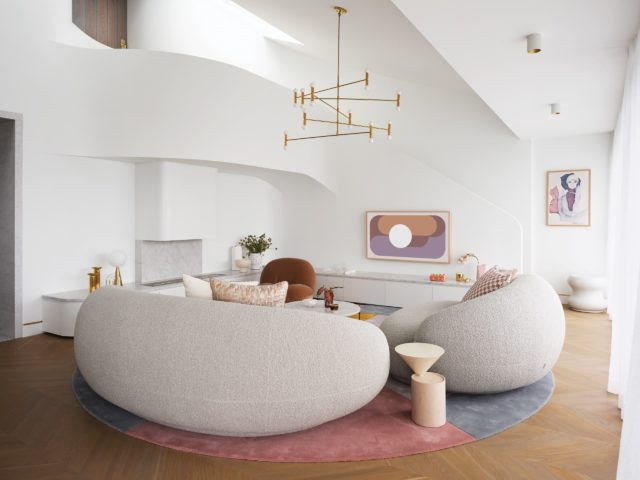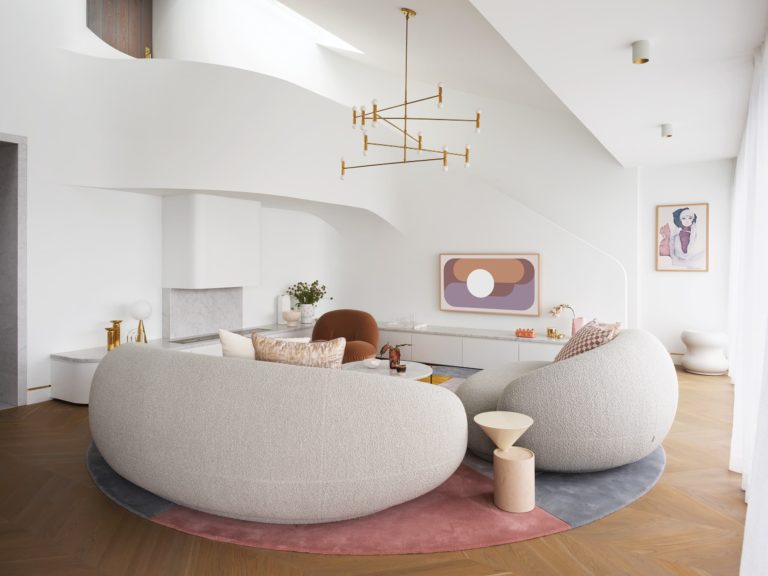 A deftly executed space, the living room is one of the most striking parts of the property – from a custom made and curved stairway to curved walls, a built-in bench and cabinetry, the space challenges the limits of Gyprock. Crafted from the brand's Flexible plasterboard range, the product is designed to bend for small radius curves and it certainly helped Greg achieve that shapely design brief.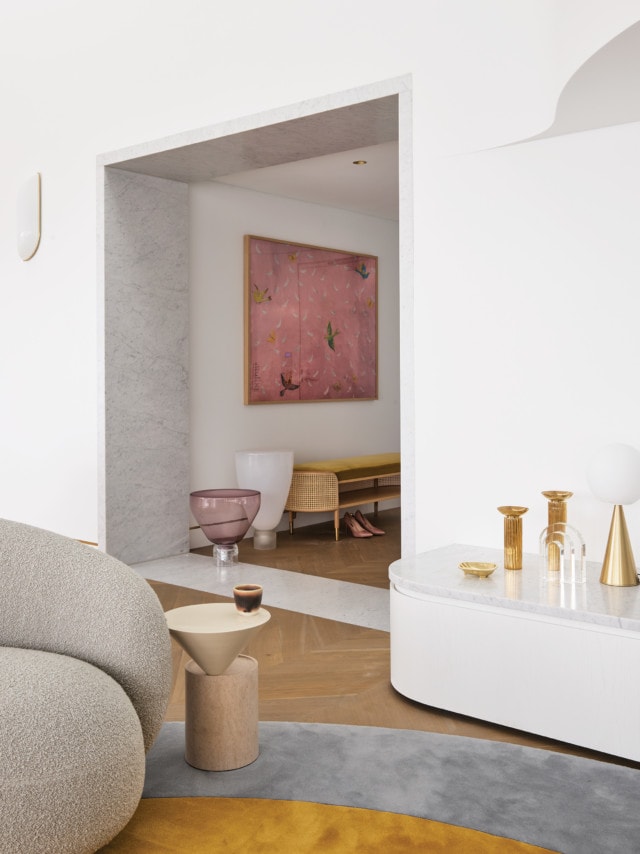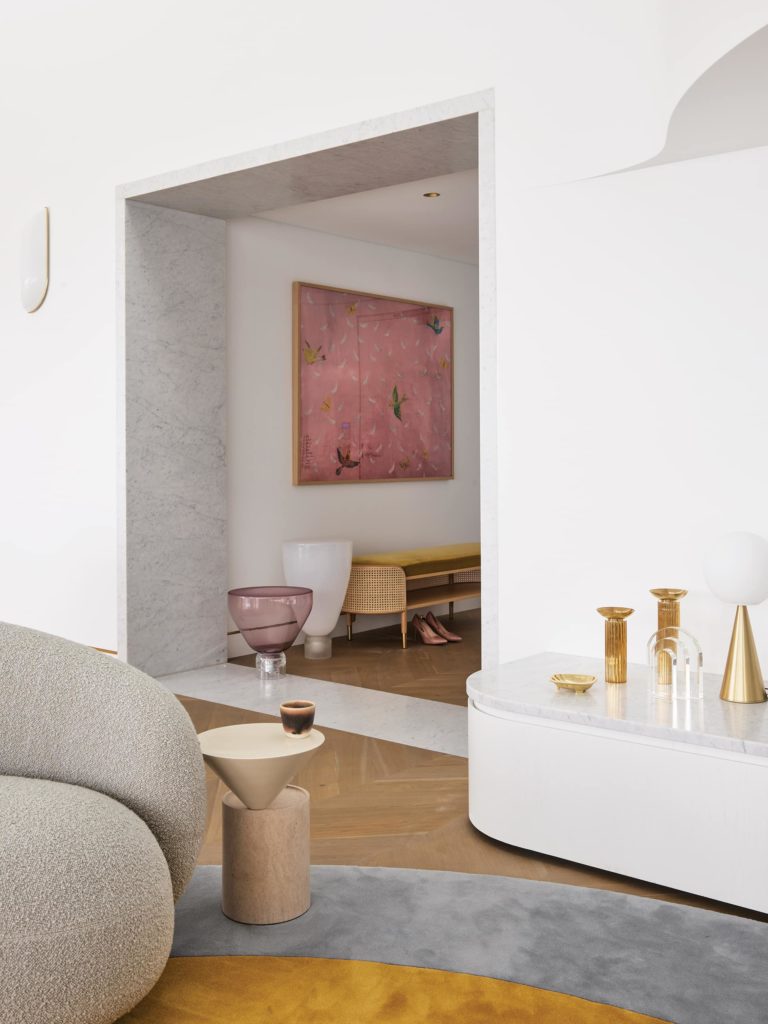 "When I'm designing a space, the walls and ceilings are among my first considerations. They're an essential layer of the architecture, and a wonderful way of introducing pattern into the framework of a room, helping to define its look and add interest and drama," says Greg.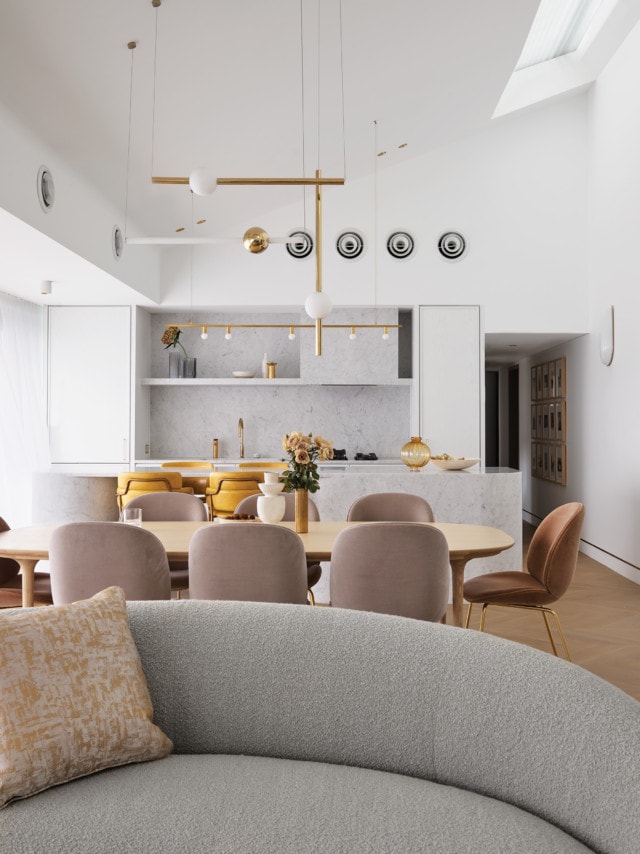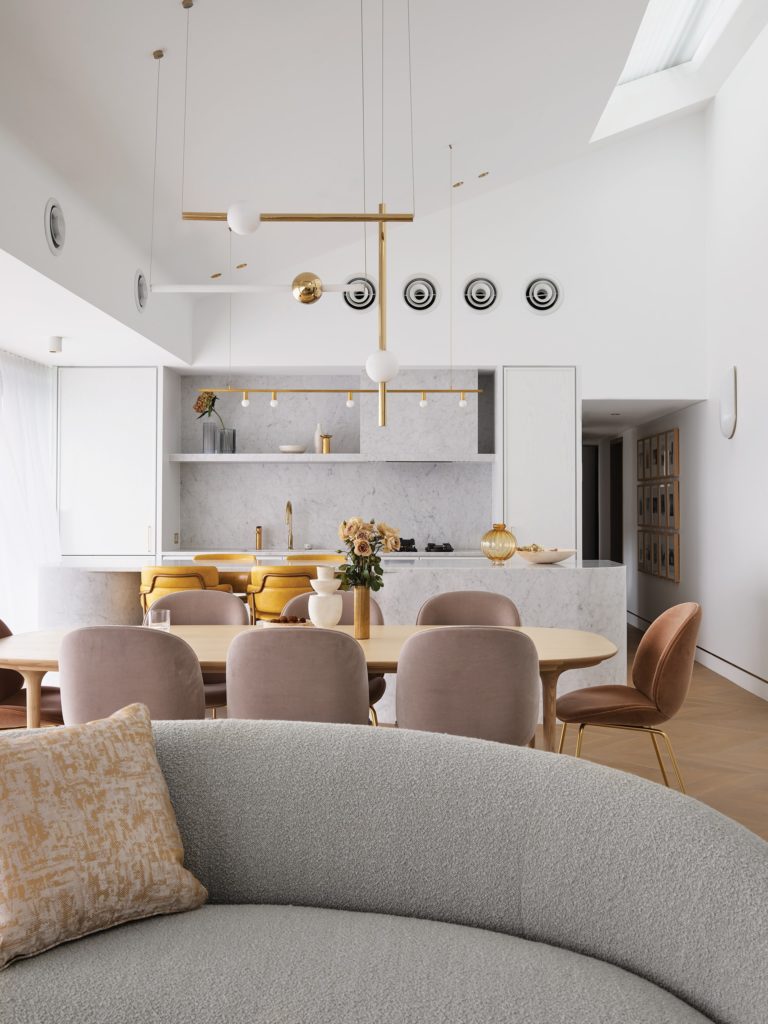 The kitchen features soft grey marble, brass and statement pendant lights as well as a gorgeous colour palette that merges pink and yellow with white and grey.
The master bedroom is a unique space with its open-plan design. The bed sits adjacent to a walk-in robe while a freestanding bath sits alongside a fully furnished living area. "The master bedroom and ensuite, with its organic lines, continue the apartment's blend of luxury and comfort in which curves and colours combine to create a sophisticated, serene space," says Greg.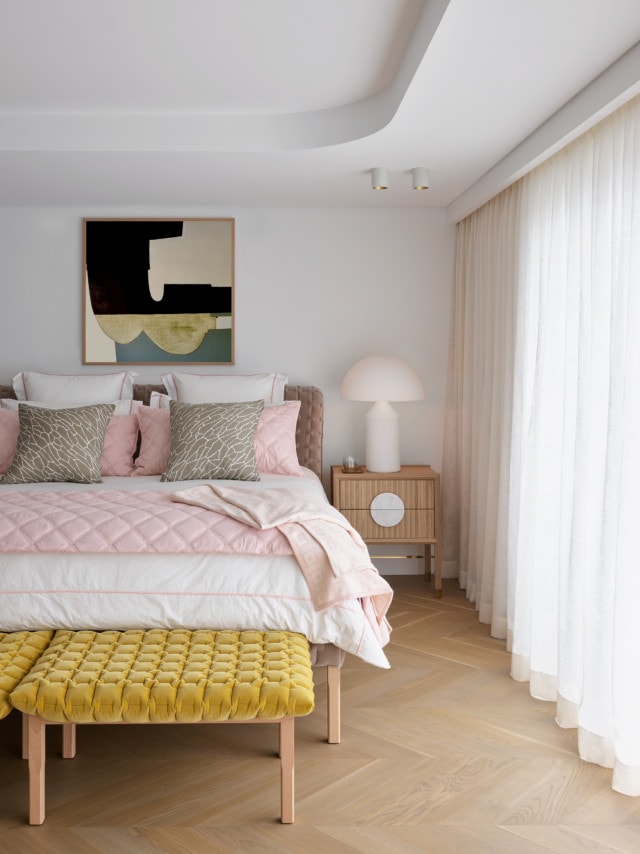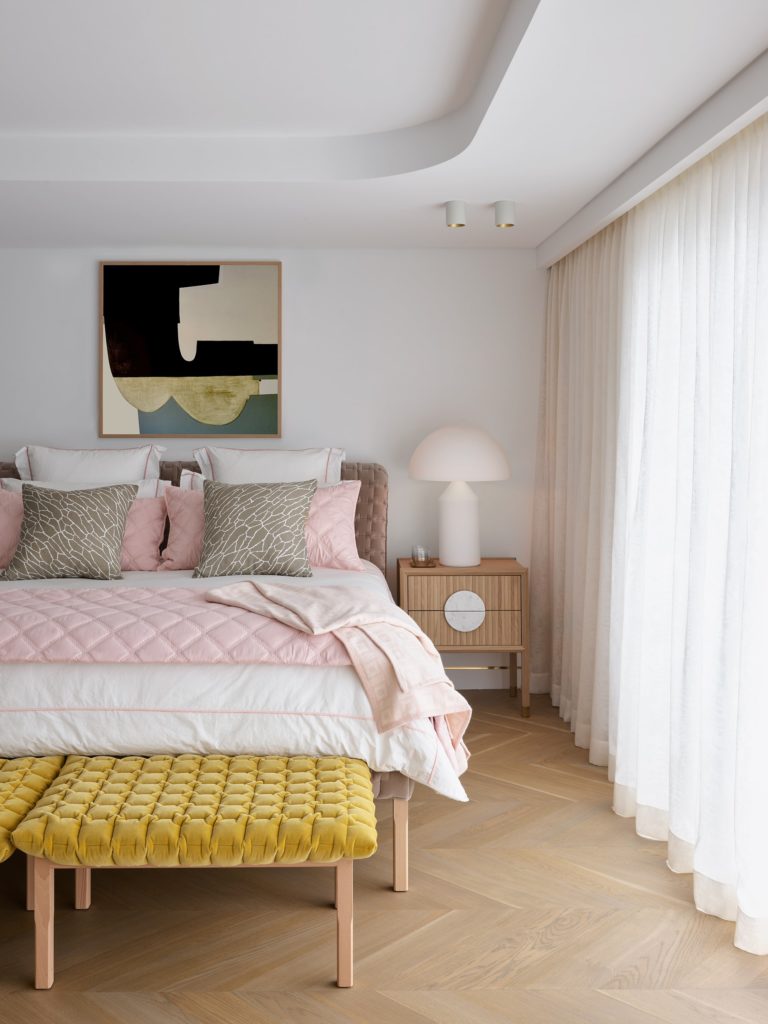 The Gyprock Flexible plasterboard range was used in this room too where the bulkheads, containing services, were crafted into a curved feature. "Utilising curves in the ceiling coffers resulted in a restrained and elegant layer of detail that suits the soft palette of the space and continues its story of curves."