I don't know about you but it's the sleekest looking cooktop I've seen. This month, Siemens will unveil its most innovative creation yet, the freeInduction. Unlike other induction cooktops that are restricted by predefined cooking zones, the freeInduction cooktop offers unlimited freedom when it comes to pot size, shape and position.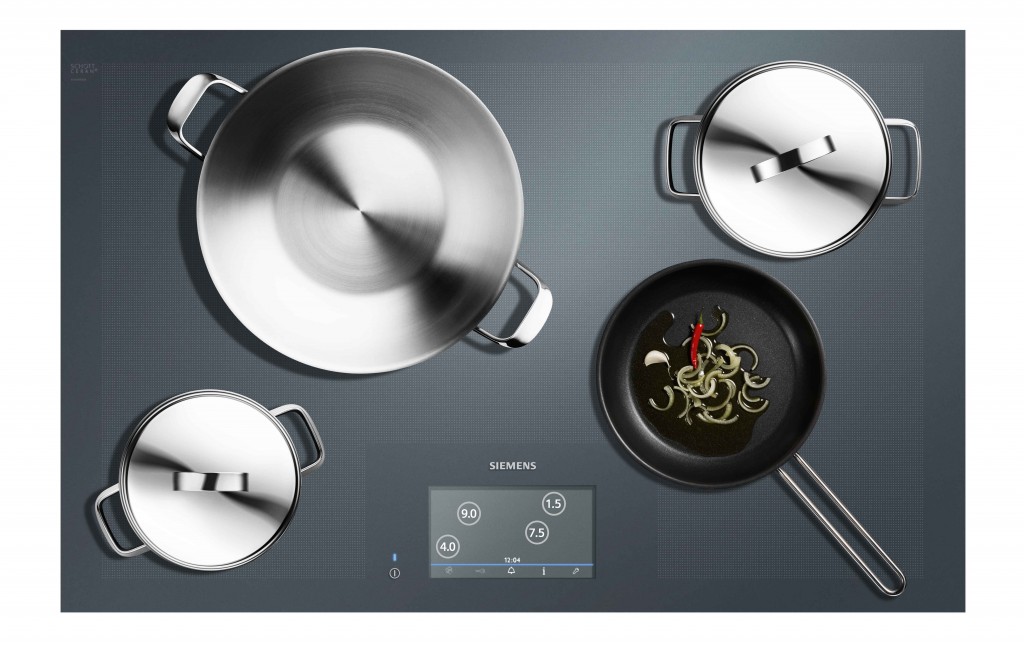 48 heat micro-conductors operate below the glass to form one continuous cooking surface. Placing a pot anywhere on the ceramic surface activates a cluster of inductor modules that can be controlled as one entity.
The intelligent hob automatically detects and heats up to four pots or pans at a time, whilst accommodating the size, shape and position of each individual piece of cookware. If a pot is moved, pan sensors immediately detect and transfer the selected heat settings to the new cooking position. Pretty clever huh?
Intelligent technology requires intelligent design – a large 6.5-inch TFT touch screen displays the size, shape, position and setting of each pot or pan, enabling individual activation and control. This display is automatically updated when pots are moved.
I particularly like the Siemens wipeProtect, which allows current settings to be frozen at an instant with the touch of a button, so that any spills can be wiped clean before cooking is resumed.
Some of the other key specs include:
80cm freeInduction cooktop

1 large cooking zone – multiple size pots, pans and trays at once

LED timer and display for all cooking zones

Position display on control panel for each pot/pan

Automatic pan recognition

6.5-inch coloured TFT touchscreen control panel

Stainless steel side profiles

2-stage digital residual heat indicator for each cooking zone

Child lock function

wipeProtection function

Automatic safety switch-off

Integrated cooling fan

powerBoost function for all cooking zones.
Of course, all this technology doesn't come cheap, at $8,999. But you have to admit it's very clever and it looks damn good.