Starting in January, The International Institute of Home Staging's Naomi Findlay (who you may also know from SILK Home Staging & Styling in Newcastle) is sharing her top de-cluttering tips to help you:
Have time to rest without clutter reminding you of all the work that needs doing in your home
Feel on top of things in your home
Have a beautiful space you can retreat to and share as a family that is still functional
Have successful systems in place to help you deal with everyday clutter and avoid becoming overwhelmed.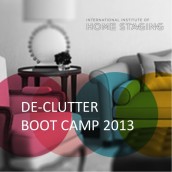 On the De-Clutter Boot Camp, you will discover:
How to prepare your mindset to make de-cluttering easier
How to create a no-fail plan to de-clutter your home
A step-by-step process to de-cluttering your home
Tips, tools and systems to manage day-to-day clutter.
You can get all of this delivered straight to your inbox for just $19.97. Register now to save your spot on the 2013 De-Clutter Boot Camp.