With Australian property prices still sky-high, many of us have abandoned the quarter-acre dream in favour of apartment living. And when it comes to the art of apartment living, interior designer, media personality and Interiors Addict fave Neale Whitaker has lots of fabulous, practical advice. From creating discrete zones to selecting supersized furniture and artwork (controversial, I know!), Neale has lots of great apartment styling tips – many of which he explored when creating this Melbourne apartment in conjunction with KING and Mirvac.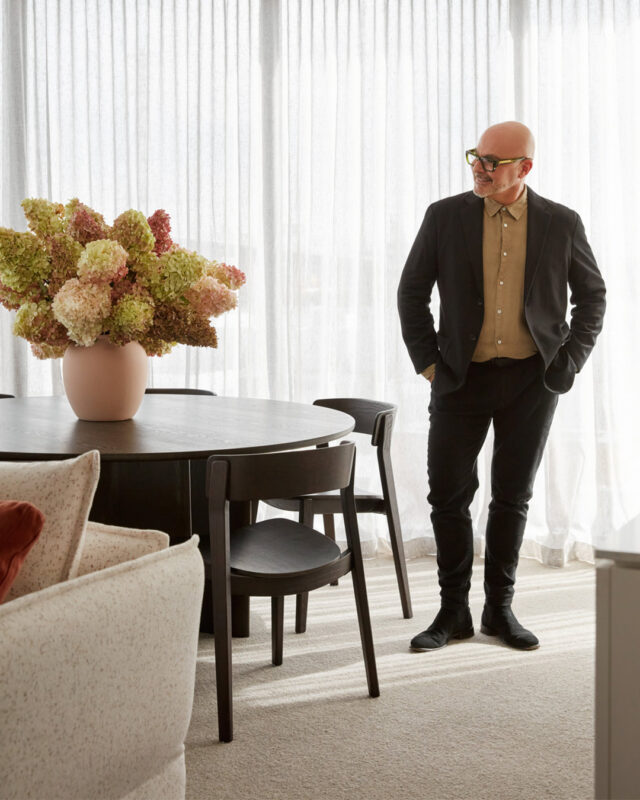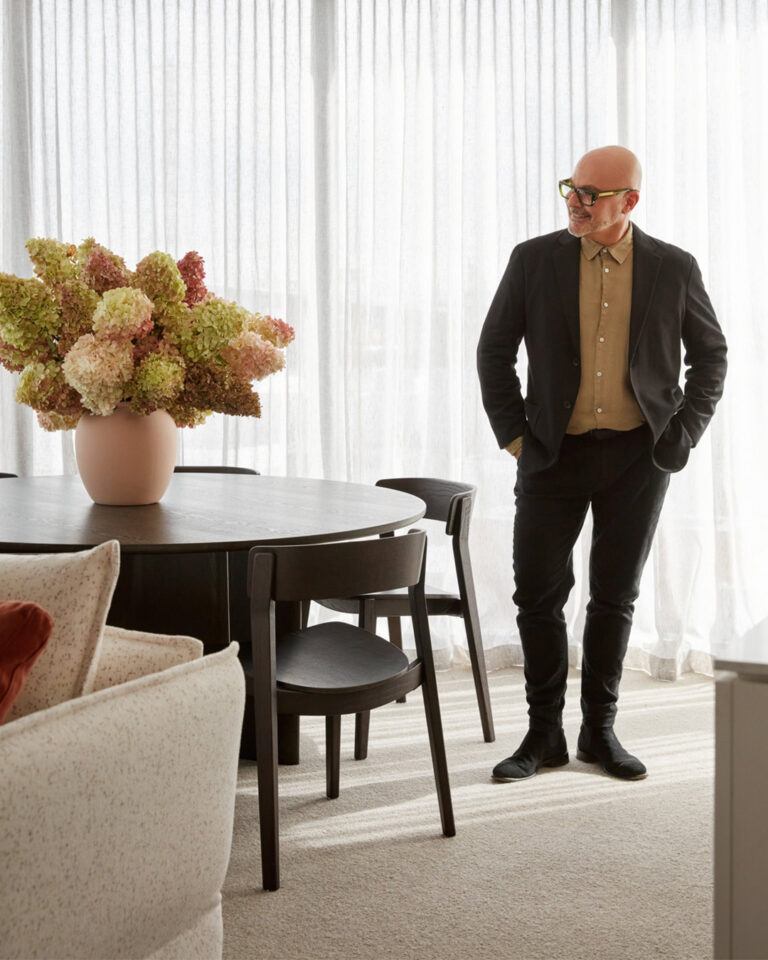 Upsize furniture & artwork
With many people downsizing from larger homes into apartments, Neale says that many people wrongly assume they must scale everything down and fill the space with smaller pieces. "This creates a doll's house effect where because everything is smaller, it creates the illusion that the space is smaller. To create a feeling of space, it's far better to upsize and have fewer pieces overall," says Neale.
For instance, rather than opting for a two-seater in the apartment pictured, Neale chose a 2.5-seater as well as an occasional chair, ottoman and set of two complementary coffee tables from KING. "This apartment really isn't that big but choosing larger pieces made it feel that way," says Neale.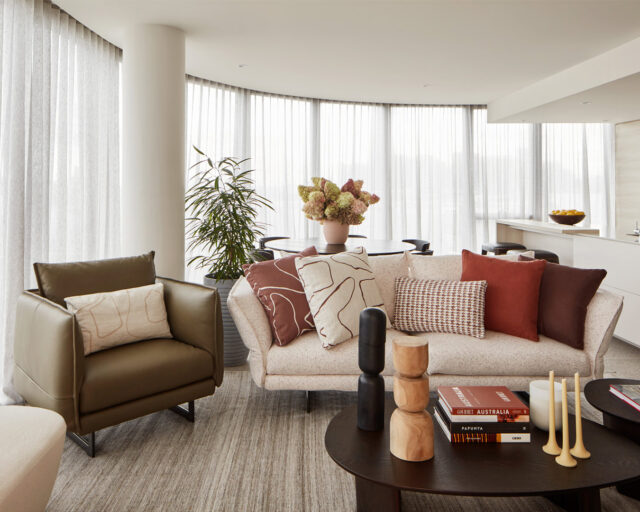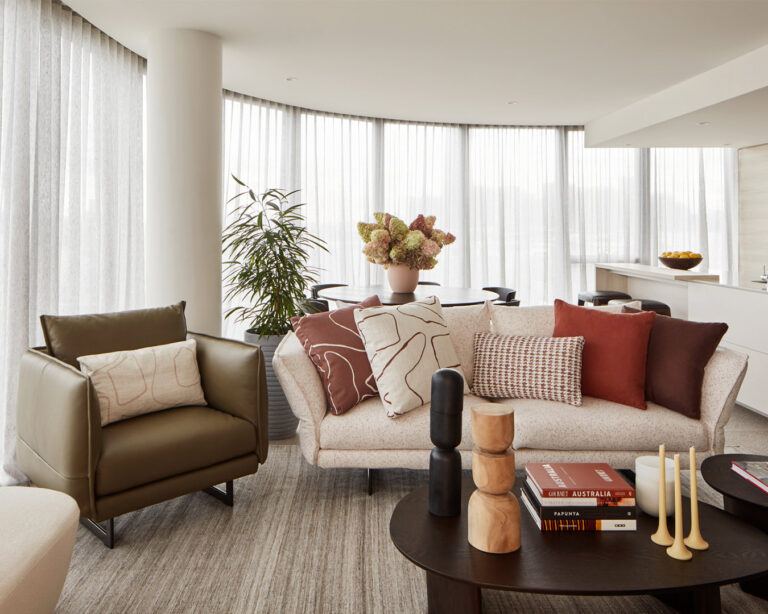 And this idea holds for art and mirrors too – upsizing both not only draws the eye up but makes a space feel instantly larger. "Basically, when in doubt, go bigger as it will allow a small space to feel like a large one," says Neale.
Create distinct zones
Whether you live in a house or apartment, most of us are familiar with open plan living and understand the pressure to create specific living zones – this tension is amplified with apartment living but Neale has some practical solutions.
"In this apartment I used contrasting rugs to delineate the dining and living zones, but I also like to use room dividers where possible," says Neale. The designer used the KING Vertio wall unit as part of the design – in this case it was wall mounted but the design can be used as a freestanding room divider. "A room divider creates distinct zones within an open plan area while giving you extra storage and display areas too," says Neale.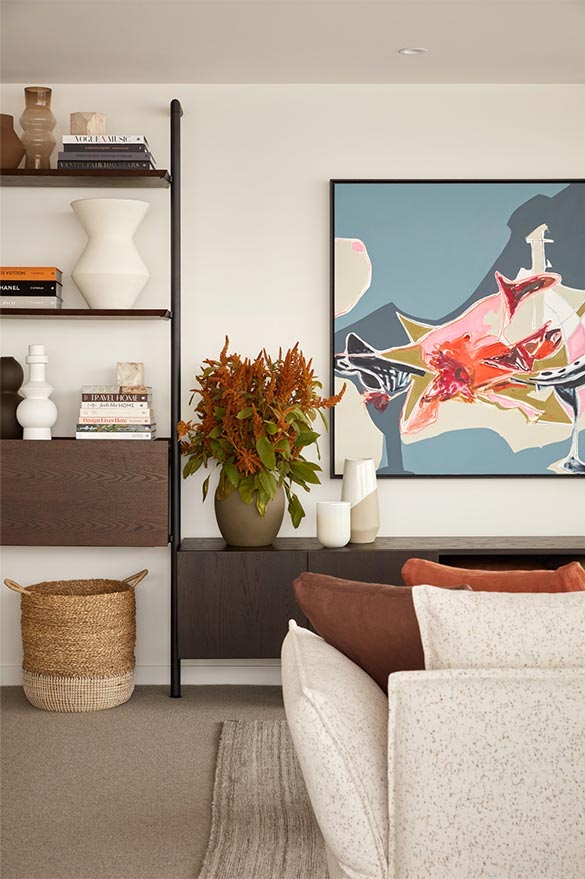 Multifunctionality
"With people spending much more time at home, all of us are seeking greater functionality from our houses and furniture items that double up are at a premium," says Neale who explains that this is even more pressing when living in an apartment. Great multi-tasking furniture items include the aforementioned room divider as well as gas-lift storage beds. "KING has some great sofas and desks with built-in phone chargers too," says Neale.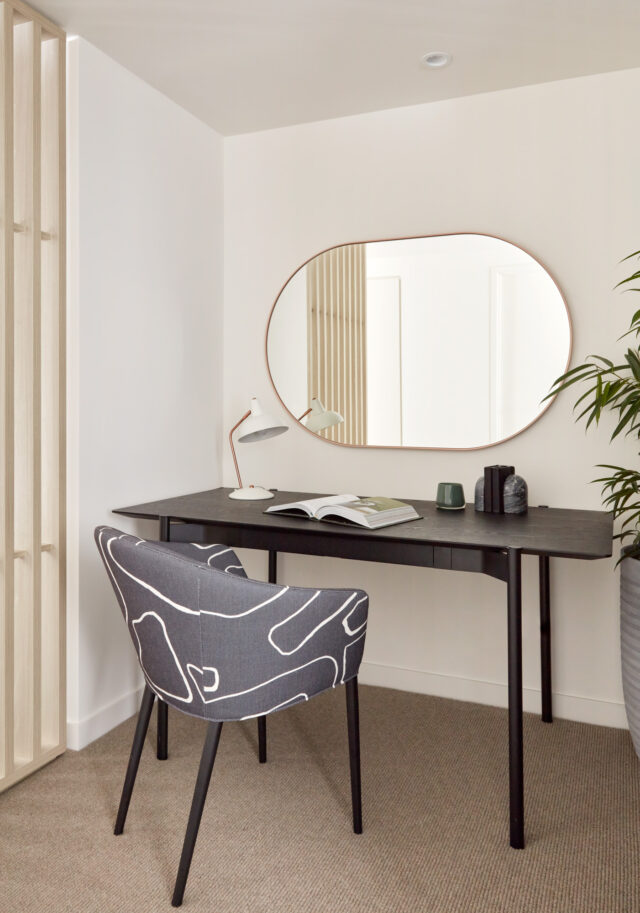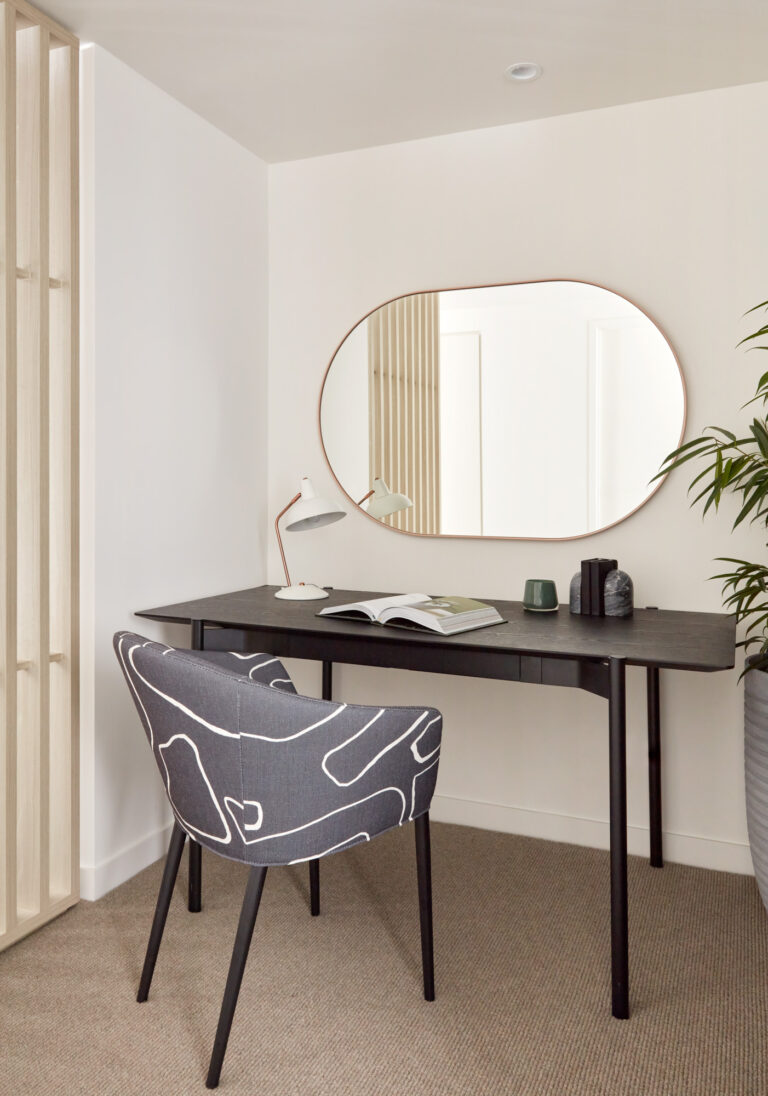 Embrace the full colour palette – not just neutrals
When it comes to your colour and materials palette, don't assume that you must revert to white and bright. In this apartment, Neale chose a medley of colours inspired by the Australian landscape – rusty red, terracotta, greens and brown.
"There's a lot of rules about compact spaces that don't necessarily make a lot of sense. You don't need to limit yourself to neutrals and blonde wood to make things feel bigger," says Neale who used dark timber and a moody contrast wall in this apartment also – neither of which made it feel smaller.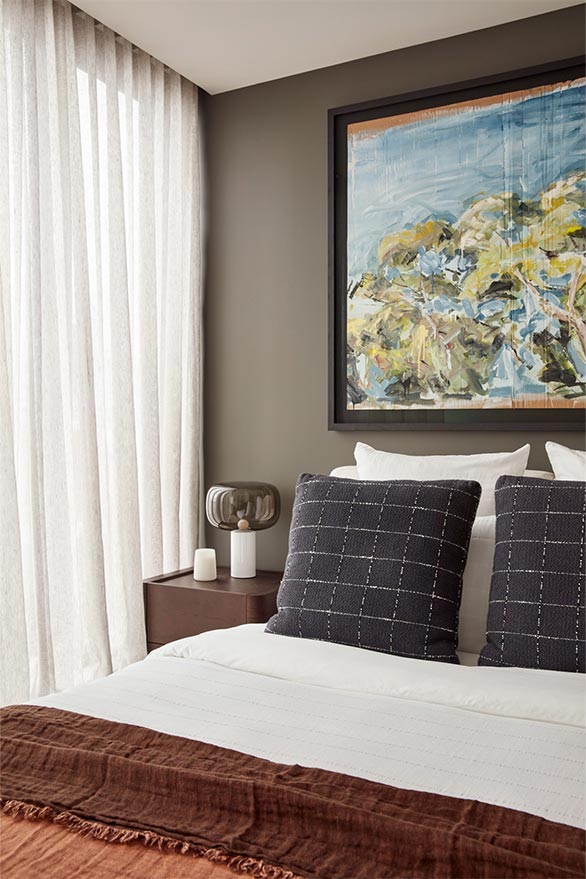 The master bedroom's contrast wall is painted in a Porter's Paint tone that sits somewhere between dark grey and dark brown. "Again, it's counterintuitive but that dark tone really made the room pop."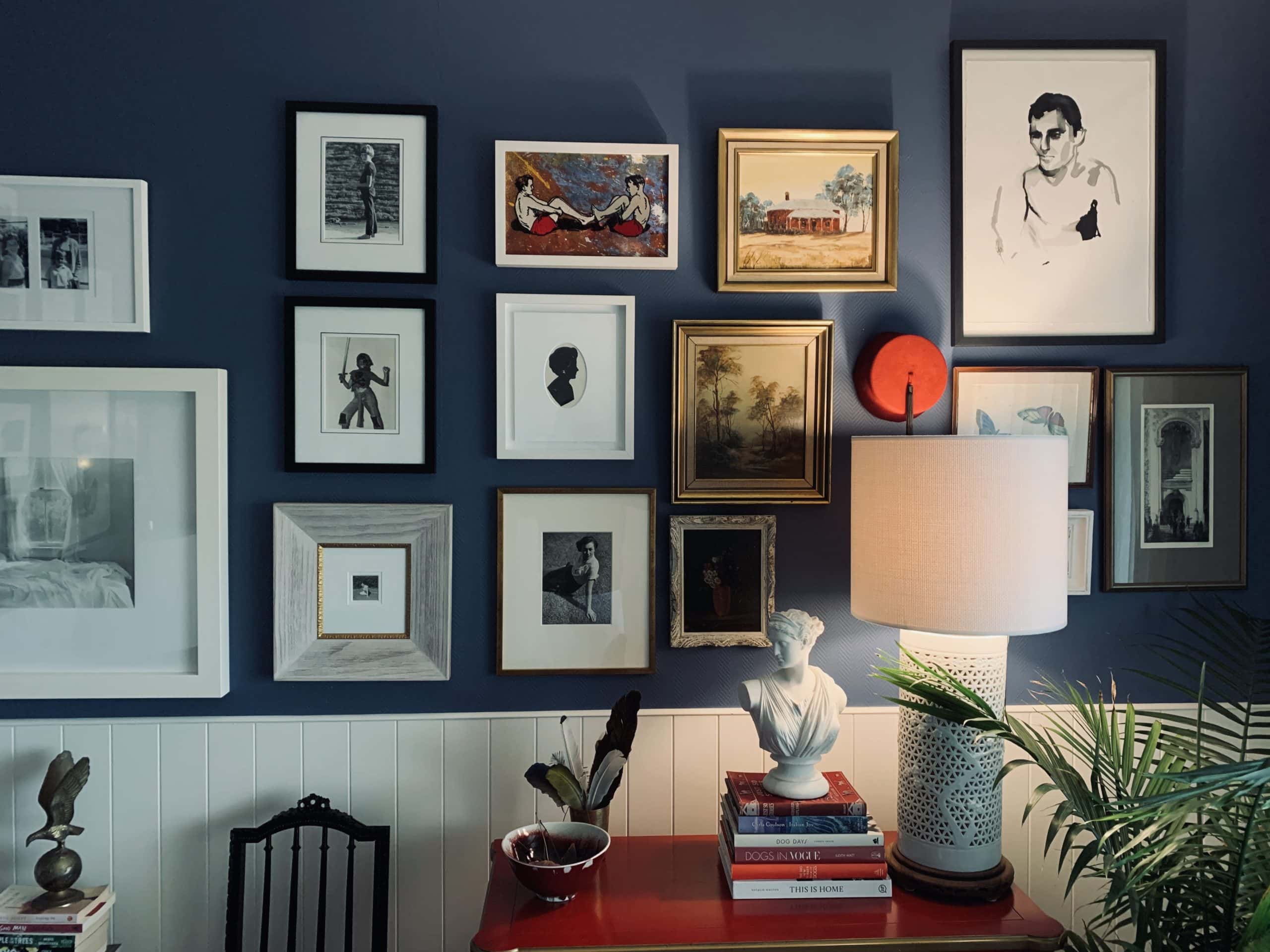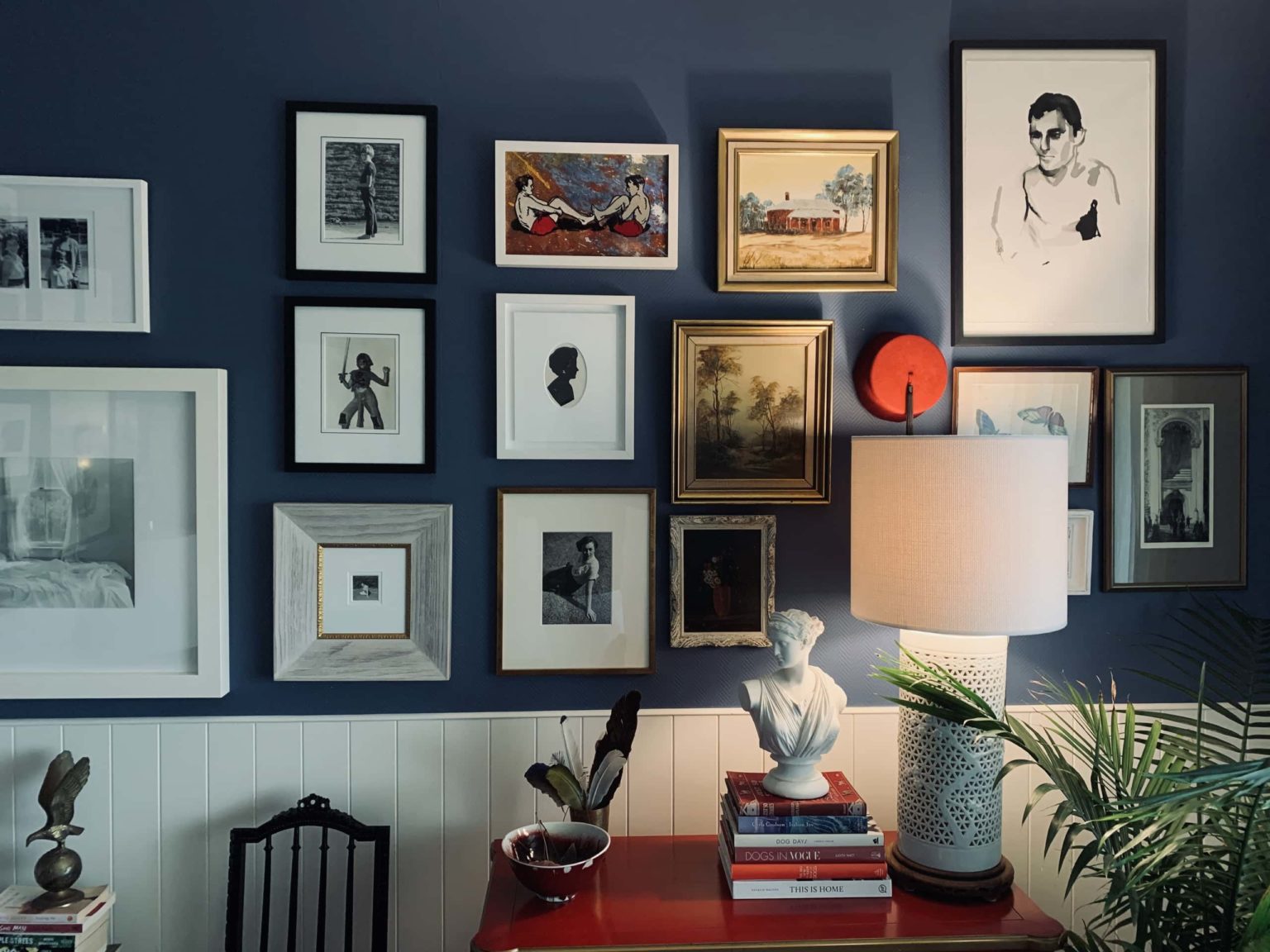 Interior design expert Neale Whitaker shares four things to make your house a home
When it comes to transforming a house into a home, interior design expert and TV personality Neale Whitaker, certainly knows…