Following on from my top West Elm picks, today I give you my top 8 Pottery Barn buys, available in store at Bondi or online if you live interstate. This was really hard but you have to edit somewhere! As I've said before, Pottery Barn is my idea of "when I grow up" classic but that's not to say there aren't a lot of things I couldn't incorporate into my decidedly not grown up apartment already.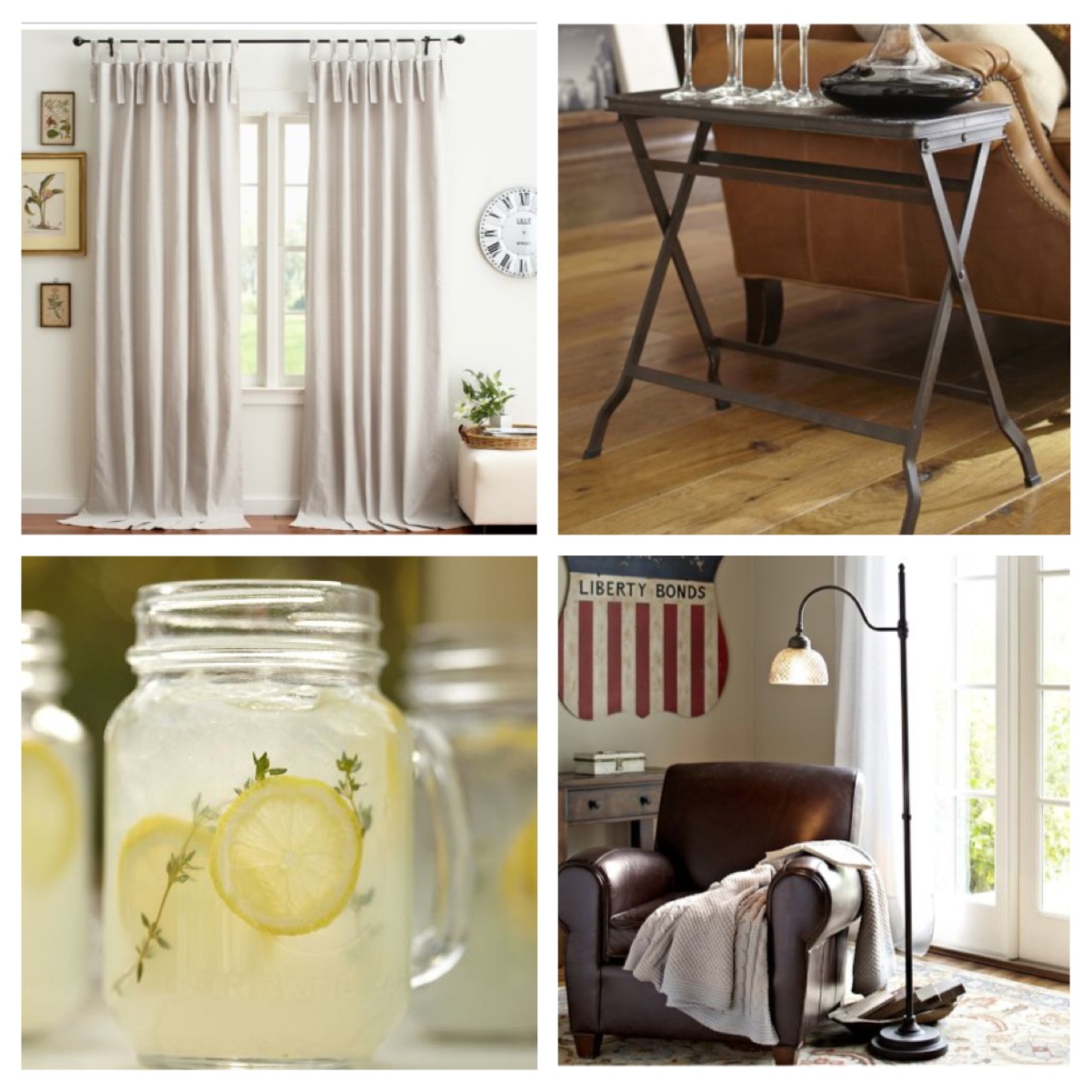 (Above, clockwise from far left)
1. FINALLY, decent ready to hang, neutral, inoffensive, off the shelf curtains! Where I'm from (the UK) these are available pretty much everywhere. I've come to learn that nice, inexpensive, off the shelf curtains are really hard to find in Australia. Ikea's an exception. But these! Look at the pretty tie tab tops! Who cares if they're too long and they pool at the bottom? That actually makes them look better. And the best bit? $68 to $80 each!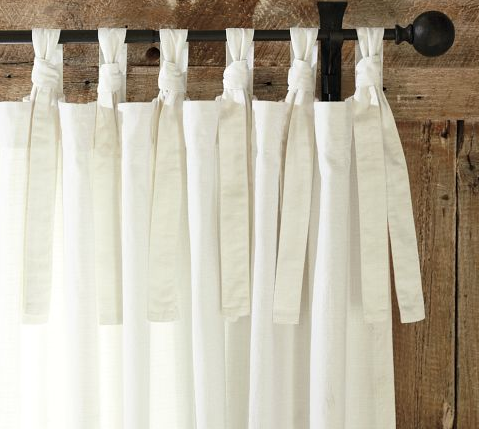 2. Isn't this just the best narrow piece of furniture to sit beside your lounge for a glass of wine and a candle? Side tables are often too wide or round, and this folding metal tray table seems just perfect. $237.
3. Put something in a jam jar with a stripy straw and tie some hairy string around it and you have instant cool these days. Especially if you're on a raw or sugarless diet (preferably both) or you own a Vitamix. Cash in on that cred with one of these mason jar mugs. A mere $6!
4. I love a floor lamp that doesn't take up too much floor space and can sit nicely by your favourite chair for some cosy evening light. I think this mercury glass lamp is gorgeous and a bargain at $241. Great lighting at a good price can be hard to come by in the Australian marketplace.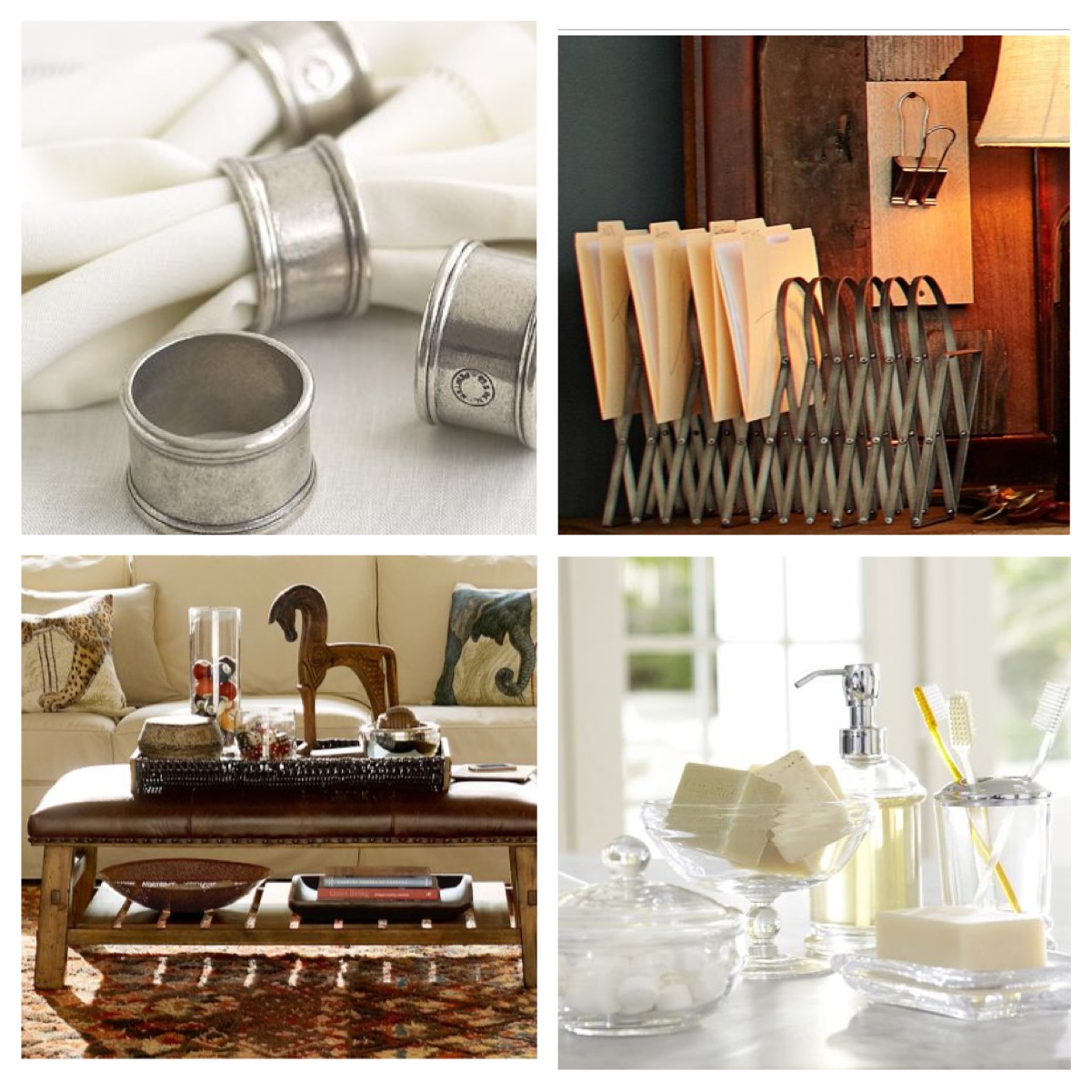 5. I'm not generally a fan of napkin rings but love the antique, simple look of these pewter ones. And sometimes I do throw a decidedly grown up dinner party at our place. Just $12 for a set of 4.
6. I'm currently working on my home office and I've discovered that a lot of home office, sadly, is UGLY on account of it having to practical (damn it). This accordion document holder however, is not ugly and very practical. i think my desk needs it. $71.
7. This leather ottoman is a lovely investment piece which is bound to get better with age and could easily move around your home and find new uses and new spots in new rooms. $1319.
8. If there's one thing Pottery Barn does well (other than monogramming everything which isn't nailed down) it's the basics. These classic glass bathroom accessories, from $21, are on my shopping list.
 Which do you like best? Do you think the prices are good?