Brought to you by Fisher & Paykel
LET'S START AT THE BEGINNING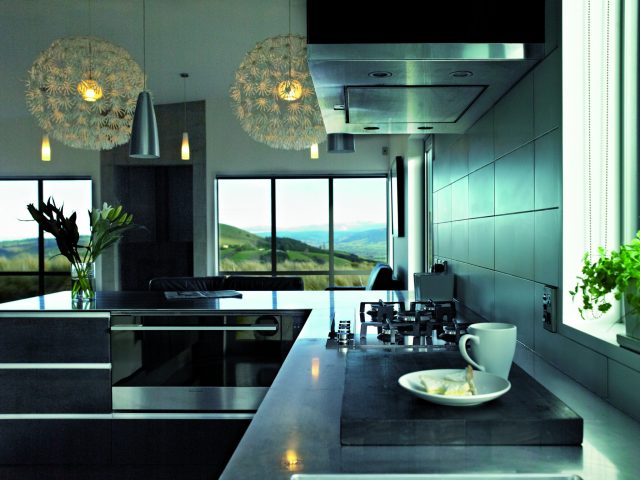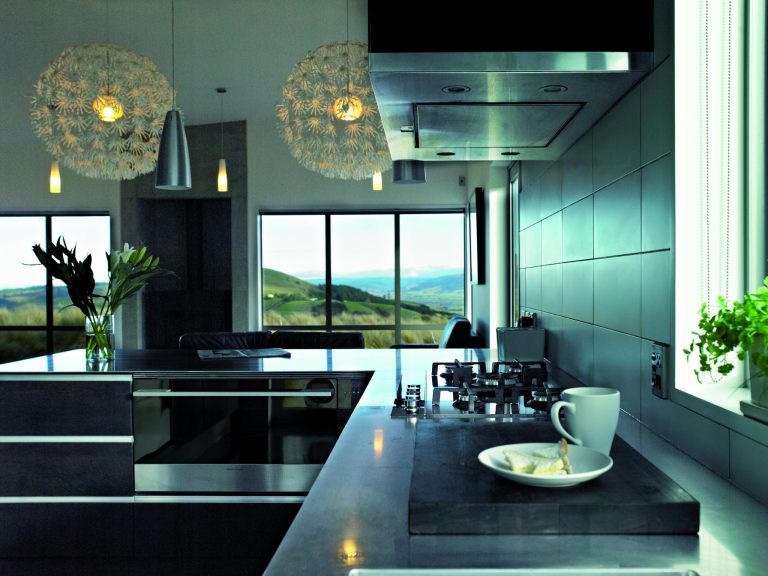 "A kitchen design is certainly one thing that you need to get right because once it is in, for most of us, we are stuck with it for a long time." That's the advice from one half of The Block Sky High's "kitchen queens" Alisa Fraser. "Spend the time planning and don't feel pressured into making any decisions that you are not comfortable with. Look at products that are sustainable and will serve you well in years to come. You really need to picture yourself working and living in the space and make a list of things that don't work in your current space and apply them to your new design."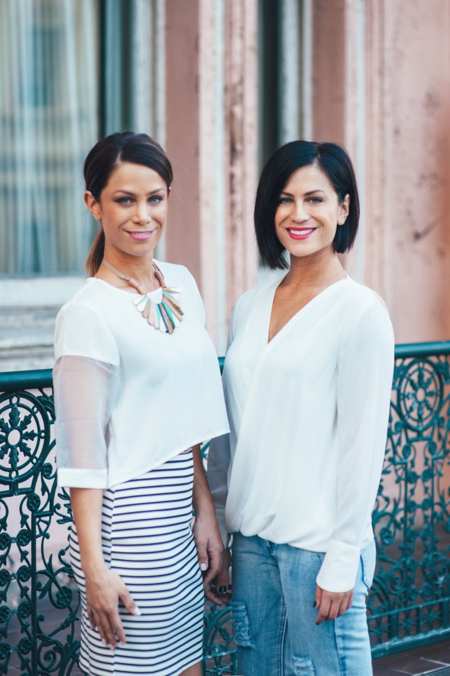 I couldn't have put it better myself. Although I personally have never designed a kitchen (the one house I bought had a kitchen I loved just as it was and since I've been in Australia I've been renting), I've certainly pinned enough 'Dream Home' photos to Pinterest and given my opinion when asked by numerous friends about theirs. I also happen to hang out with a fair few people in the interiors business (understatement!), so I like to think I have an idea of what makes a good design and what's in.
Alisa and her twin sister Lysandra won the title of the kitchen queens on the hit renovating show, impressing the judges and the public on both the Sky High and Fans vs. Favourites series. "I think we are good at visualising a space," Alisa says. We are very conscious of not just choosing a product because it is the latest trend, as we all know that trends come and go so quickly these days. I remember Neale Whitaker commenting on our Fans vs. Favs kitchen and saying that it would still look good in 30 years. And that is the trick! Kitchens are expensive so you don't want to be changing them every five or so years. It's also about making the most of a space and utilising every part of it. But most of all, a kitchen needs to be functional and practical."
SPATIAL PLANNING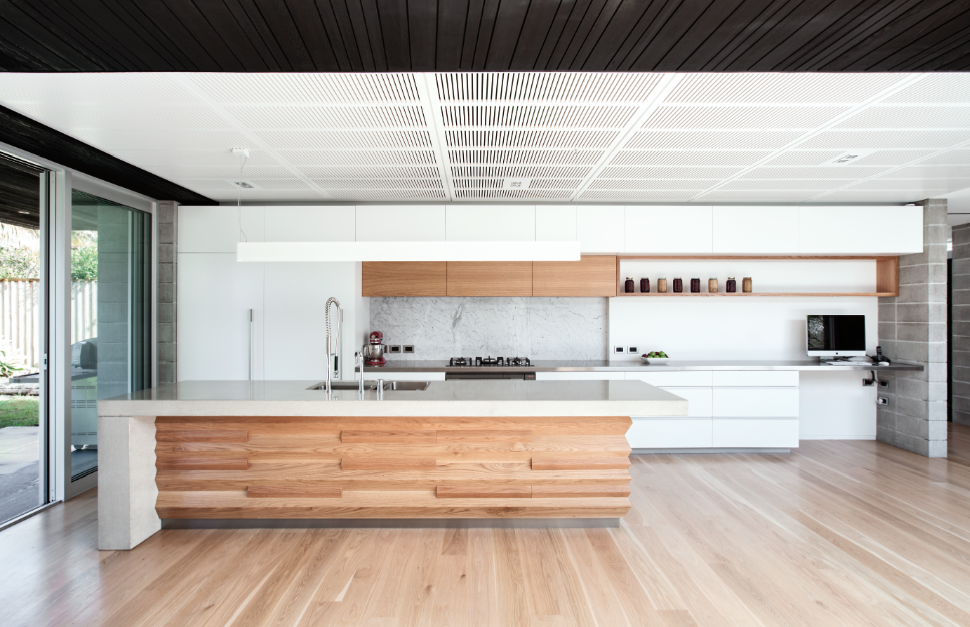 Not everyone has the vision of Alisa and Lysandra. My advice would be to call in a professional, even if you think you know what you want. The reason for this is they do this stuff day in, day out and may well think of things you'd never have thought of. Chances are you've gotten very used to living with your space, which can make it hard to visualise it any other way. Most kitchen companies offer free consultations and can whip you up a CAD model of your future kitchen. Seeing it on paper in 3D will really help. They'll also know about the latest appliances and clever storage options you might not be familiar with. I'm talking pull out pantries, dishwashers or refrigerators in drawers and combination induction and gas cooktops here!
If you feel uncomfortable about having someone in your kitchen or feel like you'll be given the hard sell, head to your local showroom armed with a simple drawing of your kitchen with measurements. Also mark on it the location of doors, windows, plumbing and anything that can't be moved.
THE WORK TRIANGLE?
I'm sure you've heard of the theory of the work triangle; that is that your stove, fridge and sink should be laid out in a triangle for optimum ergonomics and use of space in the kitchen. Is it relevant in 2014? Probably not. There are many reasons for this, not least that today's kitchens tend to be open plan, larger and used for many more things. They're so often the heart of the home. People eat in them, cook in them, do homework in them, and so it goes on.
While it used to be taken as Gospel, Fisher & Paykel reject the traditional notion of the work triangle. Their head of industrial design, Mark Elmore, says: "There are many more advantages to be gained through the use of distributed appliances. Consumers can choose to position modular appliances or combinations of appliances wherever they think they'll be most useful in the kitchen, entertaining and living spaces."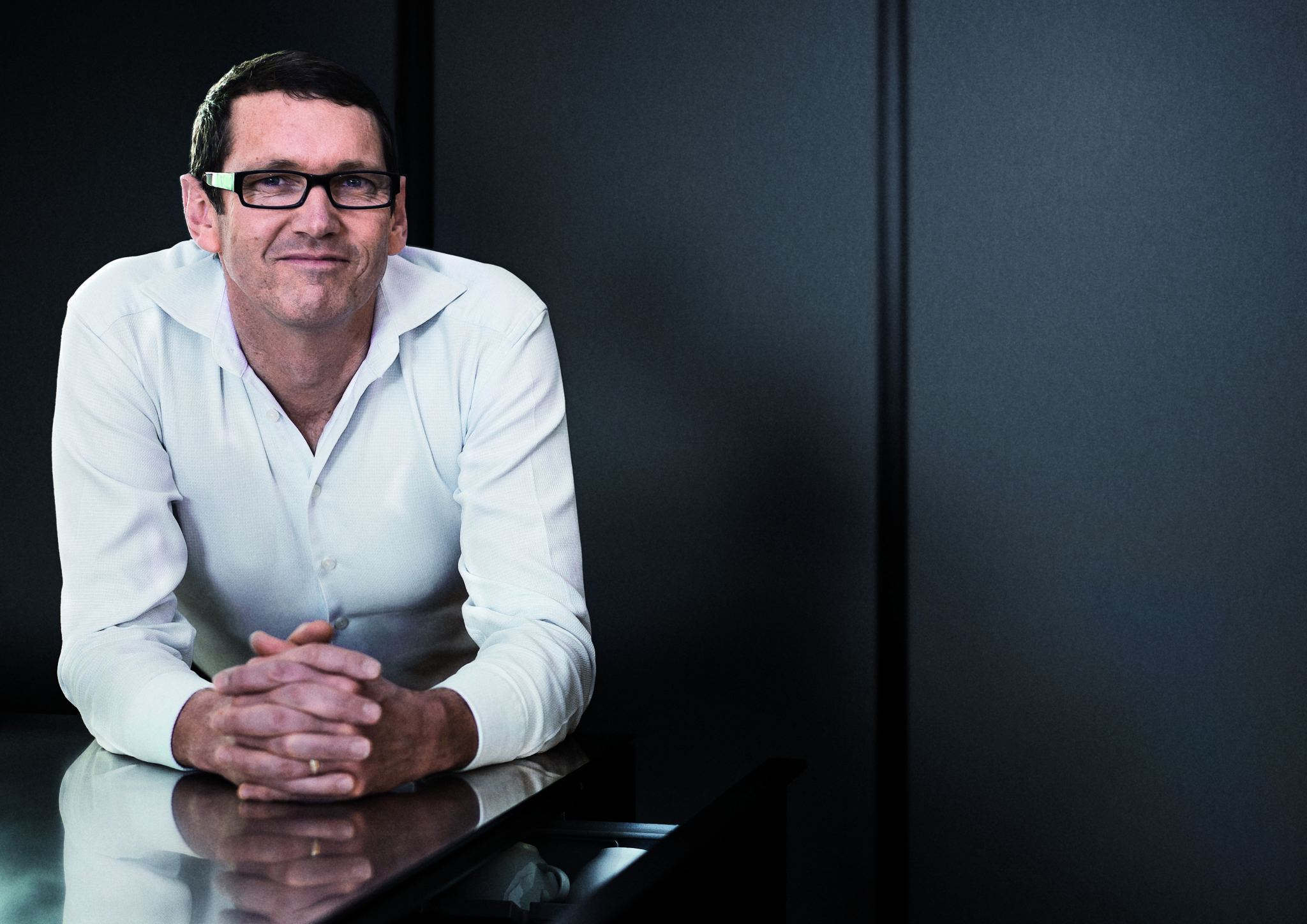 The work triangle came about off the back of time and motion studies. But today's kitchens are both individual and more social, says Mark. "Today's layouts suit a more social, usually open-plan kitchen. And layouts are more ergonomic – ovens are higher in walls and dishwashers and fridges can be distributed to suit your patterns of usage or positioned higher to minimise bending. This concept sees modular appliances, such as Fisher & Paykel's DishDrawer™ or CoolDrawer™ positioned around the kitchen – or beyond – to suit the way people live."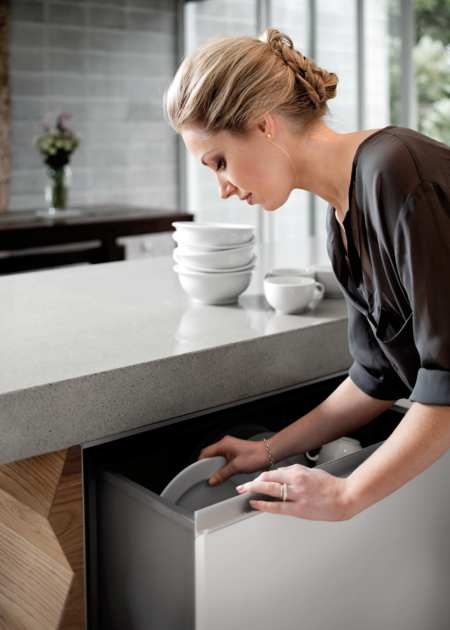 Consideration should be given to which and what style of appliances you're after at the very beginning of your design process. "When it's stripped back to its elements, a kitchen is space plus functionality," Mark says. "How you and your family use your kitchen should determine not just the position of appliances, but also the features you look for."
BUDGET
It's a good idea to set one early. So many people go into a kitchen store and for some bizarre reason, are afraid to disclose what they're willing to spend. Quite frankly, it's a little ridiculous. These people can help you much better if they understand the sort of money they're working with. Don't feel embarrassed that your budget is too low because you can only afford what you can afford. And there is no point quoting more than you intend to spend either. My advice is to be honest with the professionals. They'll tell you what's possible within your budget and if you then decide you can find extra money for the marble benchtop or built-in coffee machine you really can't live without, then so be it. Not being open or honest about your budget is just going to waste everyone's time.
Mark says, in general, people spend between a quarter and a third of their budget on appliances. "Passionate foodies who demand top performance from their appliances daily, might spend more." An important point Mark raises is that a new kitchen gives you the opportunity to consider your whole life and design a functional space that responds to your needs.
APPLIANCES: THE BASICS
"The basic appliances every home needs are an oven, cooktop, rangehood, microwave, dishwasher and fridge-freezer. Yet the appliances you select will depend on how you cook," Mark says. "People who love to bake or cook several meals simultaneously might go for a double oven or an extra large 90cm wide oven. Many people get a premium built-in oven and then supplement it with a combination microwave or steam oven that can be used for a different purpose."
APPLIANCES: AESTHETICS
"Styling has become increasingly important as the trend of open-plan kitchens continues to grow," says Mark. "Contemporary styling which works with living spaces is in high demand and if your kitchen is one of the increasing number that extends into your living area, then the look of your appliances will be more important."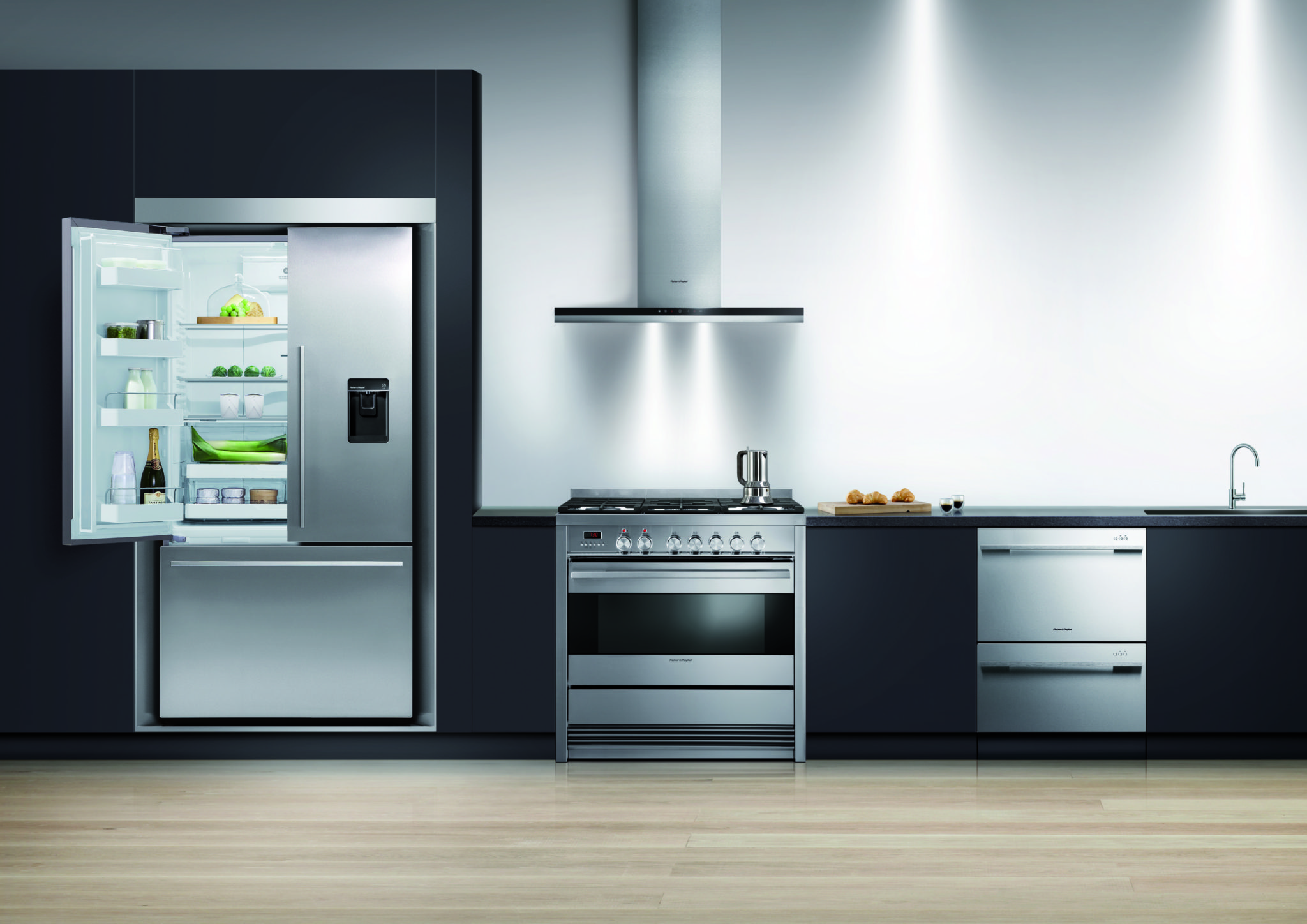 Fisher & Paykel's range of cooking appliances are designed to match each other – in finishes, proportions and details. Rather than having a clashing array of styles and brands, you can buy a complete suite of appliances with a cohesive, consistent look.
While integration is popular, Mark says not to discount the 'wow' factor of a big statement piece such as a robust, freestanding 90cm cooker or a sleek line-up of built-in appliances from their Companion range such as a coffee maker, combination microwave oven or steam oven.
THE LATEST INNOVATIONS
There is of course, always some new gadget to add the wow factor. Alisa says there are so many new appliances hitting the market every day, it is sometimes hard to keep up. "From built-in coffee machines, to steamers and instant hot and cold Zip taps, innovative appliances are what make kitchens stand out from each other.
"Appliances are not only essential and practical, but nowadays they are sexy and make a statement of their own. The right appliances in a kitchen say a lot about the people cooking in it. You can add your own personality with the many types of models now available. Choosing appliances has never been as exciting as it is today.
"We all want and expect more from kitchens now, so in your standard kitchen 10 years ago, a dishwasher was a luxury. Now, it's just expected. Not only that, but now there are so many products available to us, when it comes to selecting appliances – cabinetry, benchtop finishes – reaching a final decision is so much harder."
To create more flexible options, Fisher & Paykel have designed innovative appliances in drawers – the DishDrawer™ dishwasher and CoolDrawer™ multi-temperature refrigerator – plus a range of modular cooktops available in up to five burners or zones. Instead of having a traditional dishwasher next to the sink, you can put a single DishDrawer™ beside the sink and another closer to cupboards where glasses and crockery are stored. Putting appliances in the kitchen island is also a great option for open-plan kitchens.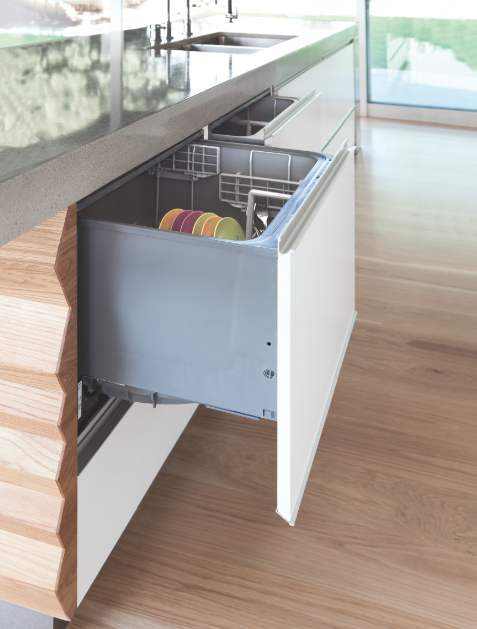 SPEND VS. SPLURGE
One area you can save money is on your splashbacks, says Alisa. "Glass splashbacks can be quite expensive, so head to your local tile store and see what is on special. A tiled splashback, done right, can certainly create impact. If you are really looking to save money on your kitchen renovation then as nice as it is to have soft closing drawers, they are not an essential. Another money-saving tip is to go out and source your own handles. Generally kitchen places offer the top of the range kitchen hardware, but it is amazing what specials you can pick up at your local hardware store."
So, where should you splurge? "I certainly think quality appliances are always going to serve you well," says Alisa. "They should last you a long time and it will save you the effort and hassle of having to replace any faulty appliances down the track. I also feel that investing in some kind of stone bench top is well worth it. Even though there are some pretty amazing laminates out there, I still feel nothing screams class as much as the real thing."
When it comes to deciding whether to replace your appliances, bear in mind that old ones can consume more energy leading to increased costs. "Fridges are often the worst offenders," Mark notes. "It's really not a good idea to put your old fridge in the garage either because it can cost the price of a basic new fridge simply in running costs!"
When it comes to the cost of a benchtop, Caesarstone offer the following advice: "There are many factors to consider beyond the actual cost of the material itself. The cost to fabricate a benchtop can vary widely but it's important to keep in mind that cheaper isn't always necessarily better. Another simple cost-cutting measure is to factor the size of the raw material into your kitchen design – a small change in the length of your kitchen island for example, could be all the difference between needing two or three slabs of stone, which will make a big difference to the bottom line."
WHAT'S TRENDY NOW?
When it comes to the biggest kitchen trends of the moment, Alisa highlights the comeback of the butler's pantry and even the addition of a laundry within the kitchen to optimise space. "People are becoming more creative when it comes to storage solutions. Now they can be discreet and practical."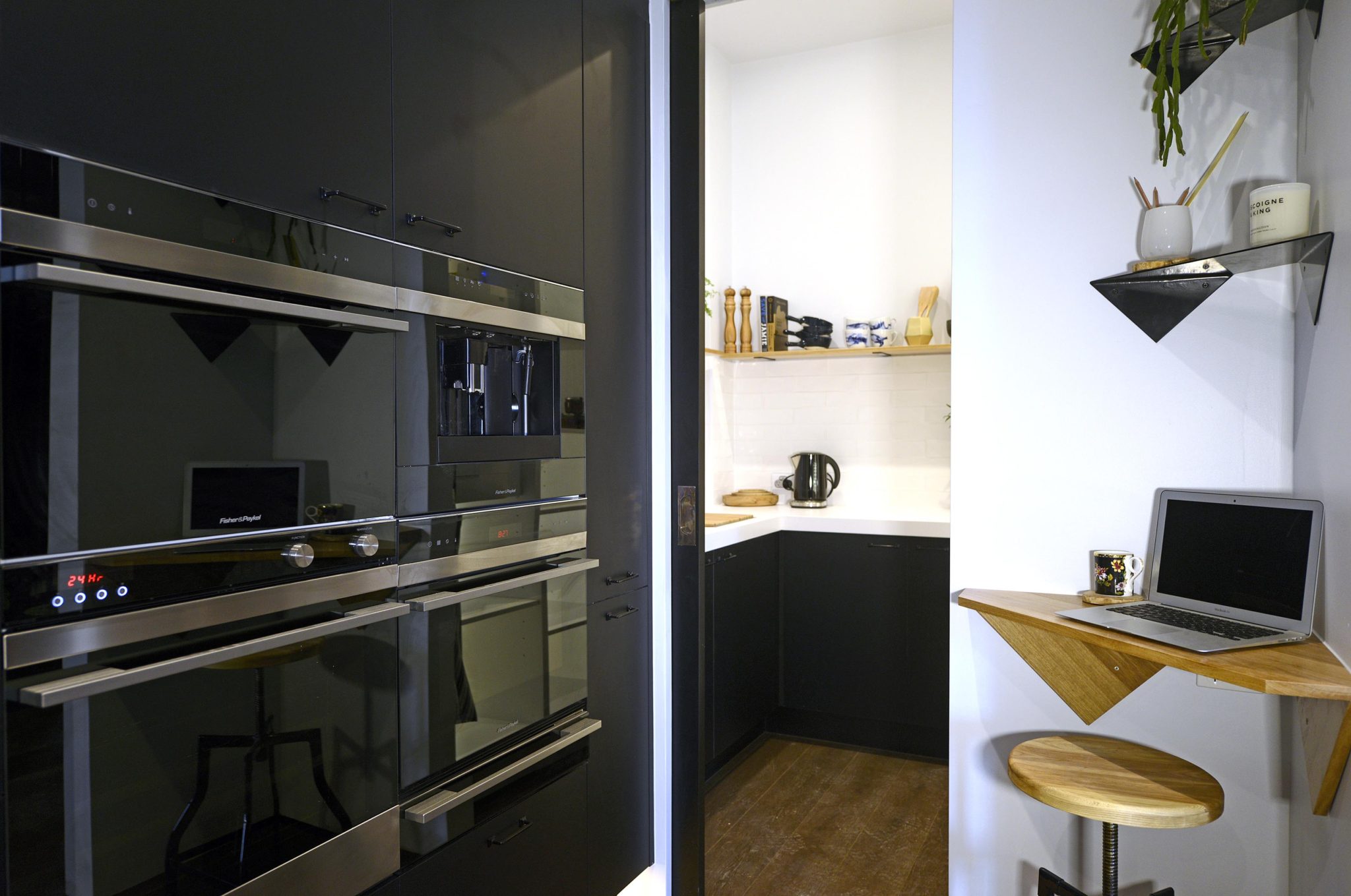 Another trend is the use of slab splashbacks. "They are predominately used in open kitchens that have the advantage of working with space. Slabs with marble veins can create a focal point and in essence, become a piece of art. I am loving the use of timbers throughout kitchens this season. Whether used subtly or throughout the entire kitchen, there is something sexy and inviting about timber. It is clean, contemporary and always looks amazing with white clean lines."
Like the twins' kitchen in Fans vs. Favourites, which Alisa calls her dream kitchen, she is seeing a lot of designs take advantage of the space-saving and entertaining benefits of having a dining table integrated with the kitchen benchtop. "When done well, this can make your kitchen look bigger and creates dimension in the room." When it comes to layout, Alisa doesn't believe there is a set rule. "Each space is unique and every person has different wants and requirements."
In fact, if you had to highlight one consistent trend in kitchens at the moment, it's for customisation in all areas. "People who want very high temperature burners or wok cooking often select one or two gas burners and put them together with an induction cooktop," says Mark. "Fisher & Paykel caters to this customisation as people make their own cooktop combinations. Each of the gas and induction variants are designed to match, in the same easy-to-clean, reflective black Stopsol glass and unifying polished metal strip."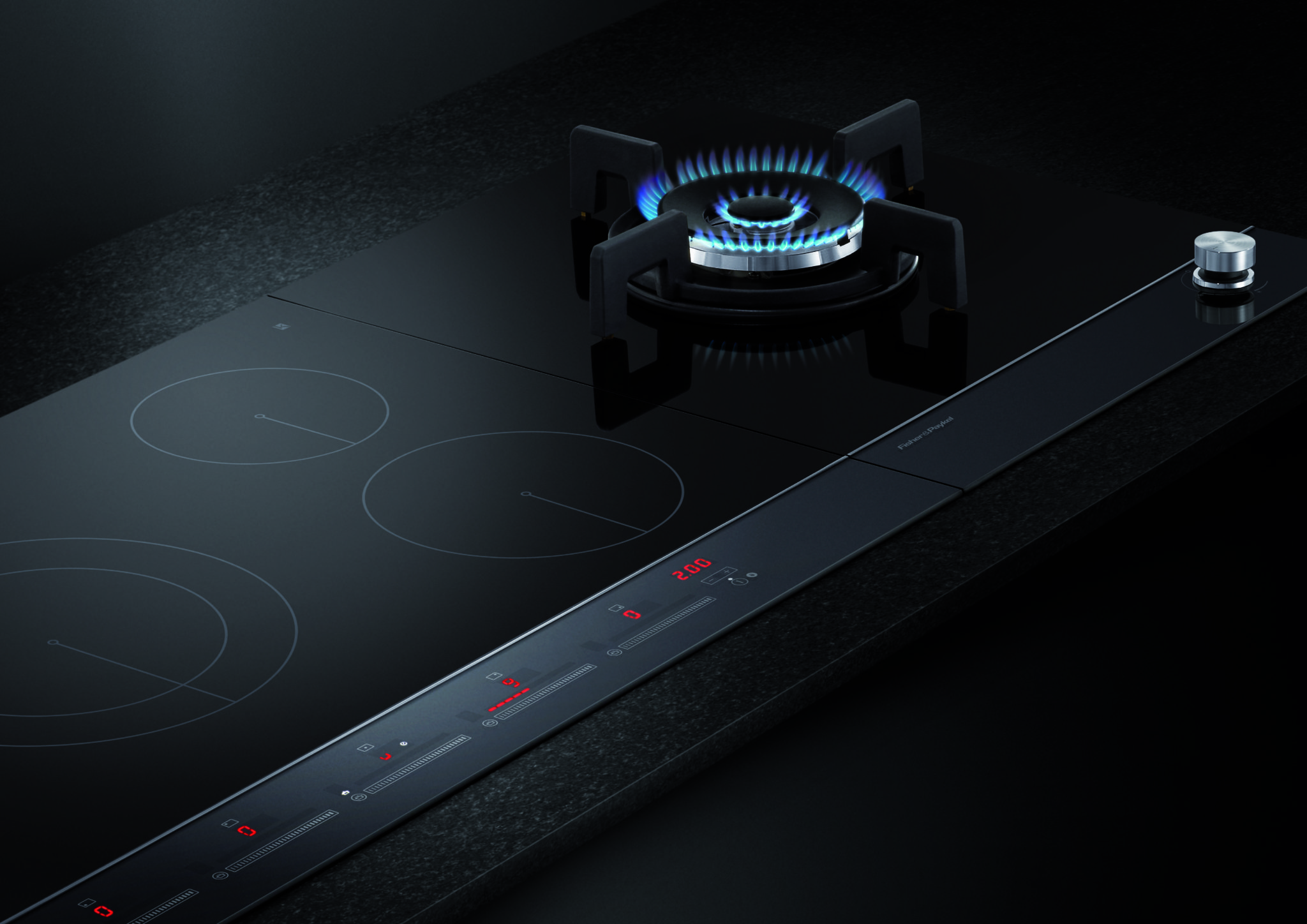 When it comes to benchtops, due to improvements in technology, Caesarstone are seeing a trend back toward more natural looking surfaces with their marble-inspired Supernatural designs and colours in high demand. "As the modern industrial look becomes increasingly popular, we are also seeing a growing trend toward concrete-look benchtop surfaces being incorporated into mainstream kitchen designs, as more affordable and practical alternatives such as our Sleek Concrete become available," says Caesarstone's George Skentzos.
CHOOSING A BENCHTOP
Benchtops seem to be one of those things people um and ah over for a really long time, trying to get just right. At the end of the day, the look, colour and quality of your choice will have a big effect on the aesthetics of your kitchen. Then again, there are so many practical considerations as benchtops get a bit of a battering and you want them to last. Marble, in my opinion, looks amazing, but you wouldn't catch me installing it as a benchtop even if I was made of money, due to its bad relationship with water!
George says: "Like the icing on a cake, a benchtop is the finishing touch for any kitchen – a personal signature which can dramatically transform the overall look of your kitchen. When selecting your benchtop, it's important to ask yourself what overall look you want to achieve and whether you want the surface to become a focal point or blend in with the décor."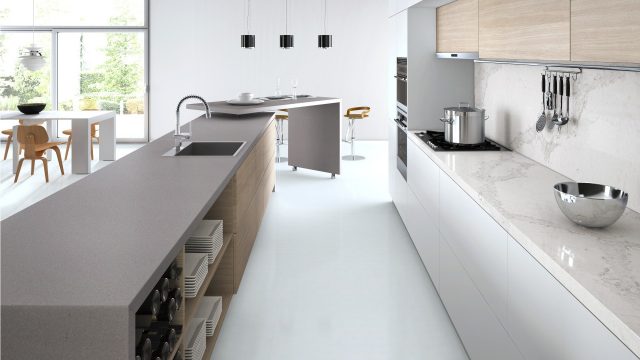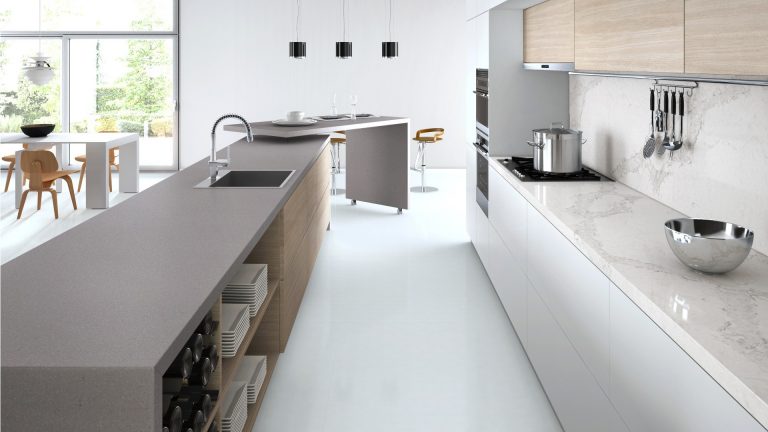 Designing a modern kitchen that will stand the test of time is a balancing act between incorporating current style trends with classic design elements to create an overall look that feels both modern and timeless. "Often, people make the mistake of designing their kitchen to be more clinical than contemporary, so my advice would be to incorporate natural materials like stone and timber over a neutral foundation which will always be on trend, then introduce a contemporary twist with fixtures like taps, feature lighting and splashbacks, which can be updated easily and affordably over time to keep the kitchen looking fresh."
LAST BUT NOT LEAST
So, if you're about to design your kitchen, listen up to the following advice from Alisa: "There are two places where people go wrong when designing a kitchen. Firstly, they don't think about the functionality and layout. This is a huge mistake as once a kitchen is in, the layout is extremely difficult and expensive to change. The other mistake is that people design their kitchen around what is on trend right now, but come the next season, the trend will have changed. There are simple ways you can add trending products into your kitchen that can easily be changed, like pendant lights, stools, tea towels and vases. These are affordable items that can easily be removed and changed."
CONCLUSION
I hope you've enjoyed this guide to designing your modern kitchen. While trends come and go, I hope we've offered you some great advice on how to budget, what to consider, where to invest and where you can make some clever savings. We know a kitchen reno is a huge and sometimes daunting task to embark on, but don't put it in the too-hard basket anymore. Armed with the right information and having done your homework, you can have a dream kitchen that you'll use and love for many years to come. Good luck!
NEED MORE HELP & INSPIRATION?
If you're planning to renovate, you can find out more about the latest Fisher & Paykel offers here. For more design ideas you can explore the inspirational case studies here or check out Interiors Addict's Kitchens & Bathroom section.