Sponsored by CarpetCall
In our new house, we decided we would in fact like carpet in our bedrooms. While we are long time fans of hard flooring and had an oak-look floating floor through our last home, there's just something about stepping out of bed in the morning onto lovely soft carpet! We always slightly regretted not having the bedrooms carpeted last time, so this time we did it, and the playroom too (did I mention we have a playroom? BEST EVER!).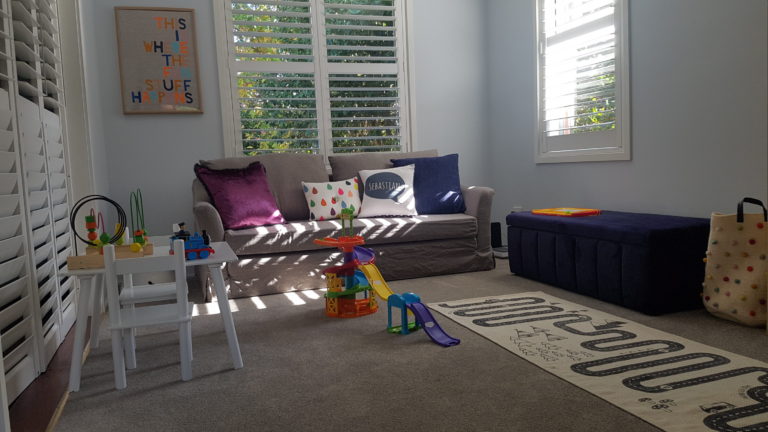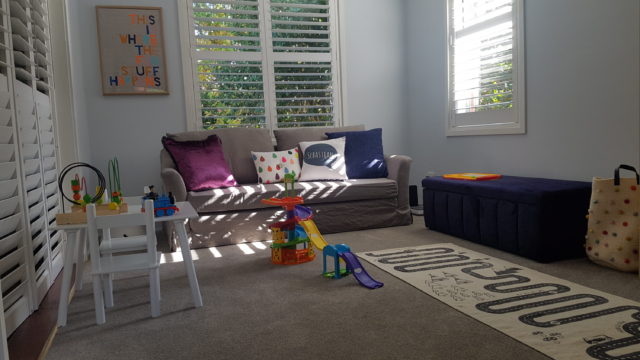 The playroom was previously cork floor! When was the last time you saw that, eh?! And while it is probably the perfect flooring for kids to play (and spill) on, it doesn't exactly look beautiful!
So with a toddler in mind, we obviously wanted a carpet that was super forgiving and stain resistant. But it had to look and feel nice too.
We chose the Lasting Impressions carpet in Cloud (a mid grey) and we're really happy with it. Everyone who has been to visit has commented on it too. It feels lovely when you step out of bed onto it, Seb just loves lying on it playing cars and any spills or sticky marks in the playroom have been very easily removed. In fact, this has probably made me a little too relaxed about what food I let him wander in there with!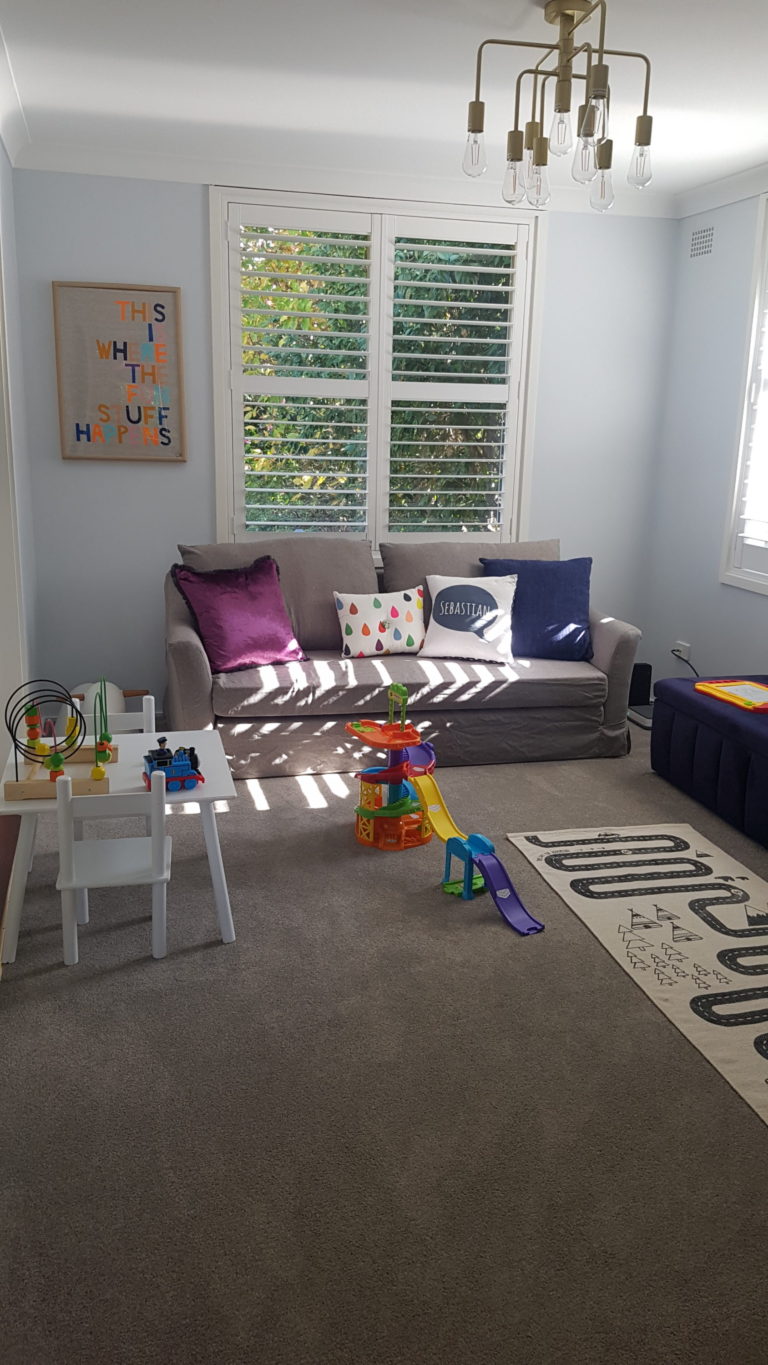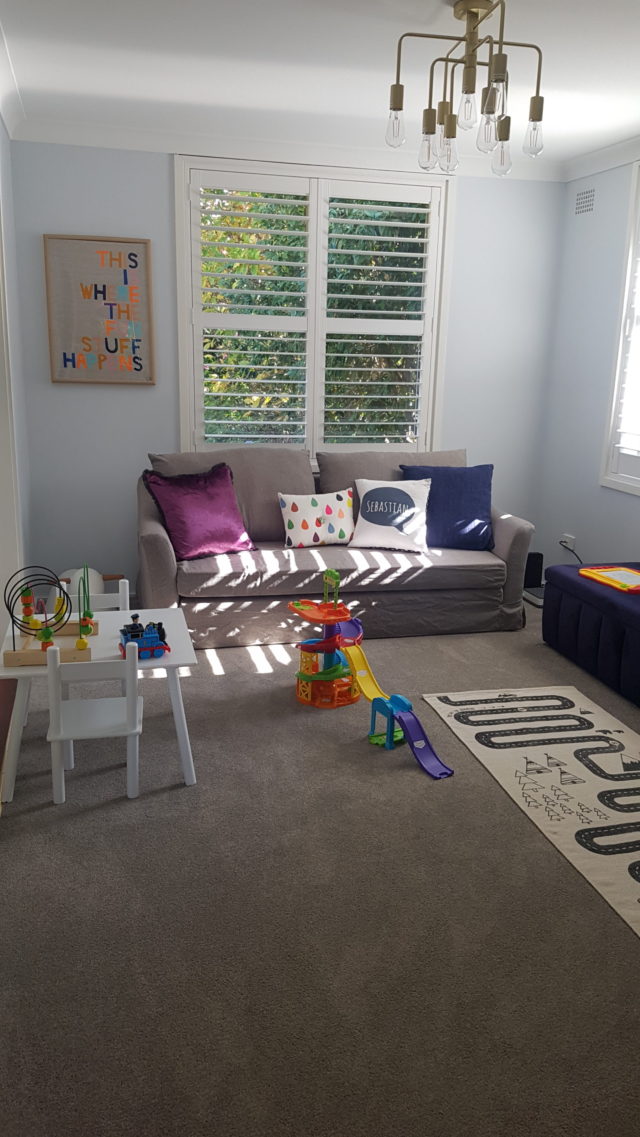 A representative from CarpetCall came out to see us and measure up with a boot full of samples (this is a free service) and I thought I'd share a few things I learnt about choosing carpet:
It sounds simple but you need to select carpet in the rooms where it will be laid. You can't do this in store or online. It's a bit like the rule about getting a tester pot before you commit to painting a whole room (oh, I've made this mistake now and I'll be blogging about it soon!). That's why it's great if the carpet store comes out to you. Lighting and your interior colour scheme and style will all impact how the carpet looks in your home which could be completely different to how it looks in the showroom.
Before this step, you can start to get an idea of what's available by using an online tool like CarpetCall's Room Visualiser. This may help you choose samples you'd like to see in your home.
There's a lot of lingo involved with carpets! They're manufactured in different ways to give different looks and feels. The main types are level loop pile, multi-level loop pile, cut pile (the most commonly used in Australian homes), tip sheared pile, cut and loop and Axminster and Winton Wool (the latter being the creme de la creme of the carpet world).
You have two main choices of material: wool or synthetic (or a combo of the two). Wool is more expensive, many would say looks and feels better and of course it's a natural material. It does shed though, and it's not as forgiving as a synthetic carpet. I've owned a large cream rug so I know. And yeah, won't be doing that again with a toddler…
Synthetic (nylon/polypropolene) carpets are water-resistant, stain-resistant and durable. Some say nylon carpets can look just as good as wool.
Using a good quality vacuum cleaner with the correct attachment designed for carpet will make a different to how your flooring looks and lasts.
You should have your carpet steam cleaned no less than once every two years (CarpetCall recommend using professionals rather than DIY-ing).
Book your free in-home measure and quote with CarpetCall today.