Sponsored by Carpet Call
If there's one thing I get asked about a lot, it's rugs and if there's one thing that drives me nuts when I see people getting it wrong, it's rugs! So when Carpet Call recently asked me to road test a couple of theirs, which are really affordable, in my own home, I was happy to share the results. Because if there's one rug rule I trot out time and time again (and I have of course picked this up from the experts over the years, and they unanimously agree!), it's that bigger is always better!
I'm a big believer in using rugs, especially if you have hard floors, like we do. I love the look, practicality and blank canvas of a hard floor, but you can't beat rugs for adding comfort under foot, colour, pattern, texture, or all of the above, depending on your space. They're also fantastic for zoning tricky open plan layouts.
The problem with larger rugs — ones where you can get all of the furniture on it (or at least a leg of each piece of furniture — is they can be really expensive. So what I'm really happy to show you with these two Carpet Call rugs, is that the affordable option can look pretty great.
I picked the patterned Dolce design from their modern range because I thought it would tie in nicely with my navy lounge, and boy, did it?! The reason it cost less than half what the wool rug I usually have there did, is because it is synthetic. But don't turn your noses up! This makes it really stain resistant and easy to clean, and as I know a lot of you have kids, this is a major consideration. It looks so good, feels lovely and soft under foot and is nice and thick for sound insulation if you're thinking about downstairs neighbours in a unit. If you prefer to splash out on natural fibres for your main living area, consider this kind of hardwearing rug for your playroom, kids' room, entry or dining room.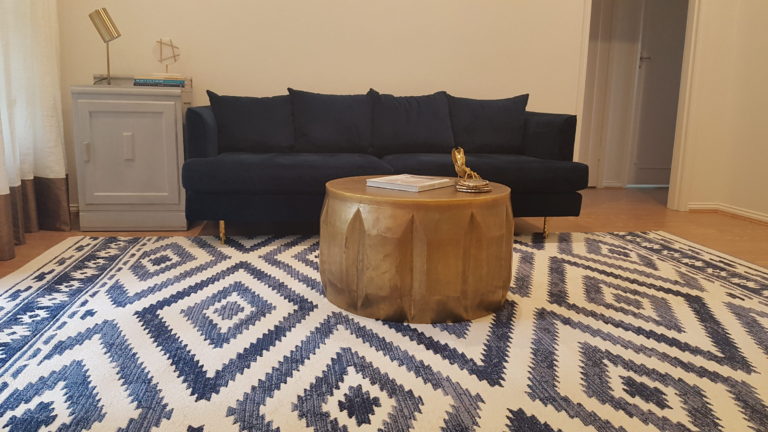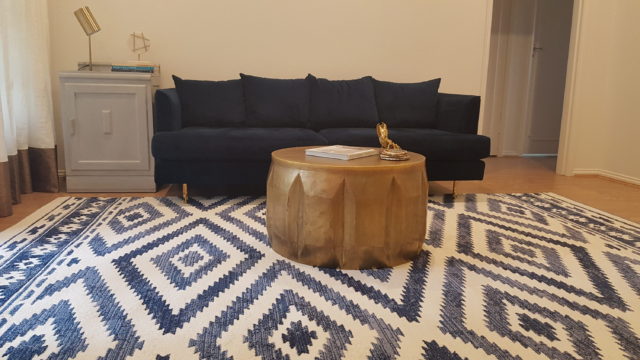 With this Dolce rug, it obviously makes a big statement so my advice with a rug like this is to keep everything else quite plain. Any other patterns will fight with this. On the plus side, this rug is a great way to inject interest and colour into a room quickly and affordably, especially if you're not brave with wall colours or are in a rental and can't change paint or other furnishings like blinds.
For a completely different look, I wanted to show you the other extreme: a plain, cream coloured shag rug; the Risis design, which is one of their bestsellers.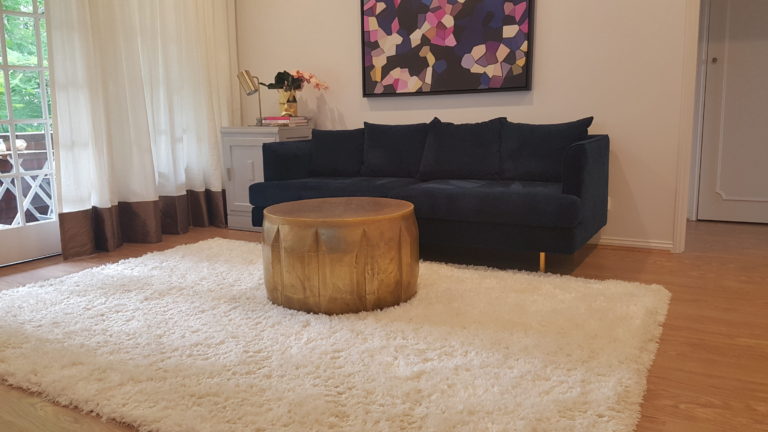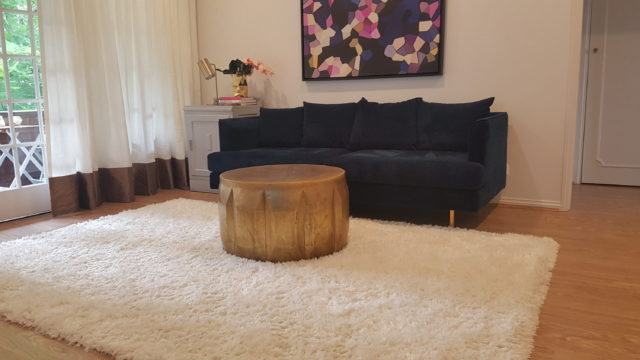 This one is so soft underfoot. And it won't shed, unlike wool rugs, which can shed for weeks (months even!). With a plain rug like this, you still get texture because of the longer pile, and you can afford to have more pattern and colour happening in the art, for example, or cushions.
Two things I really like about Carpet Call's rugs are the free delivery and the fact they come in really big sizes; many are more than 3 metres long as the largest option. So remember, buy the biggest you can afford! And do mark out your proposed size on the floor in masking tape to give you a great idea of how it'll look in the room. This can make buying online a little less daunting!
Of course, you can also pick up a rug from one of Carpet Call's stores where you can see them in person and they'll let you take three home for 24 hours to see how they work in your space before committing.