The spring entertainment season is upon us and what better way to celebrate then with the latest Aussie trend of transforming your home into the hottest bar in town by hosting a cocktail night with friends. Turn mingling hour into the main event with hot tips from interior designer and stylist, Briellyn Turton and cocktail bar, Maybe Sammy, to help you serve up a luxuriously affordable home cocktail party.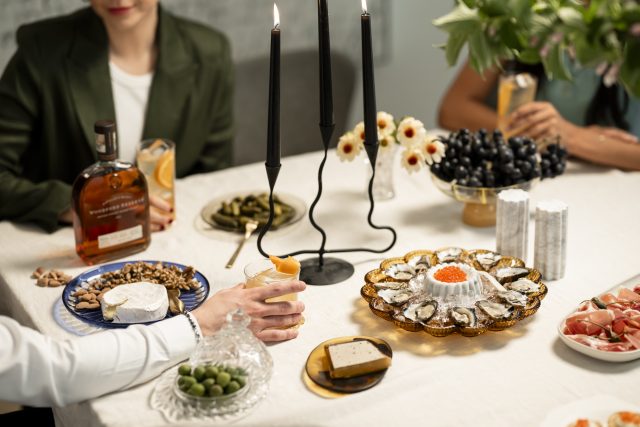 1. Bring the bar home
Drinks are best served with a side of atmosphere. One of the most important things to consider in setting up your space for the night is to set the tone with décor. The best way to streamline your styling is to select your favourite bar for inspiration and find three atmospheric attributes you want to replicate. What flowers do they use? Do they use special glassware? Starting here will ensure consistency through every touchpoint – from the type of serving platter you use, to the playlist you put on.
2. Spotlight the spirit of the night
In keeping with your luxe theme, selecting a spirit of the evening that will be the foundation of many recipes is crucial. Picking a premium spirit like Woodford Reserve, versatile for different cocktail concoctions, will allow you to spend less, whilst keeping your drinks interesting.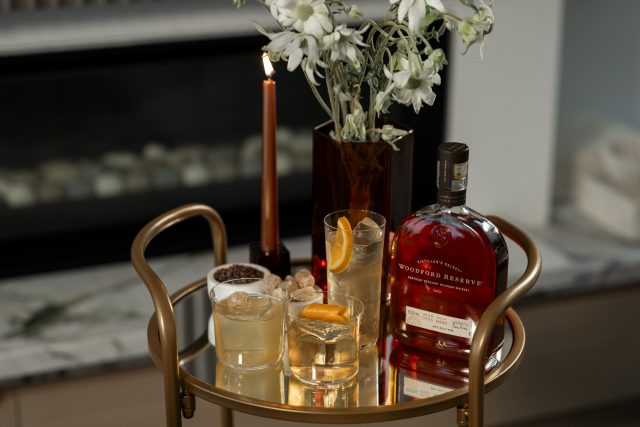 3. Stand out with a signature
Now that your spirit is selected, consider the serve. A signature cocktail is a great chance to add a personal feel to your evening. Once you make a selection, details such as nibble pairings and colour styling can begin to centre around your signature cocktail, creating an experience designed by you and catered to your friends.
4. Don't underestimate the power of a good garnish
The humble garnish can be used to elevate your cocktail from a quick chopped up wedge, to a bar standard aesthetic treat. Make sure to pre-batch ingredients and everything you need to make a cocktail. This will allow you to serve the highest quality drinks at volume and with speed. Preparation is key!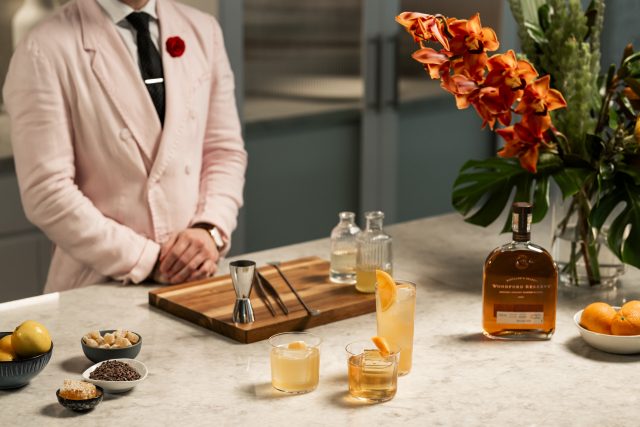 5. A side of appetisers
Bar worthy cocktails deserve bar worthy food. Charcuterie spreads and canapes are a great go-to. You can scale the portions, bring out your colour scheme so they look as good as they taste! Embrace platters and small bowls spread around the table instead of one classic board to encourage guests to roam the room.
6. Switch off your overhead lights and warm with candles
You want to ensure that the lighting for the evening is ambient, warm and cosy. Set the mood with lamps or candles for a subtle uplift of light.
7. Let your guests get comfortable
The key to hosting like a pro is all in the details. Serve your cheese with a slice already taken, leave a dining chair pulled out, and open a coffee table book, encouraging your guests to flip through its pages, interacting with the space. Little signals that make the space feel lived in lets guests know that they are welcome to get comfortable.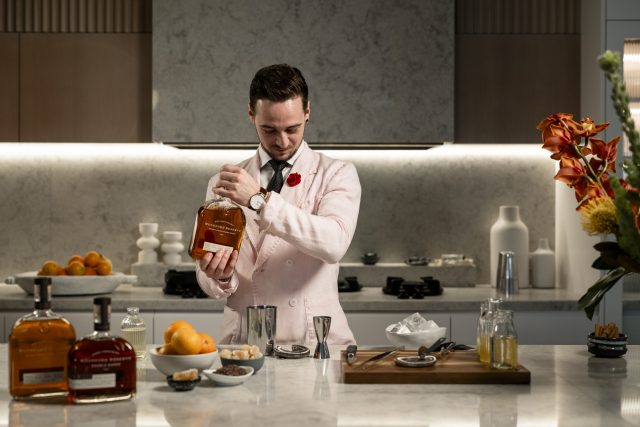 8. Drinks served with theatrics
Every great bar incorporates some level of theatrics into its service! Surprising your guests with a roaming drinks trolley or bar cart is a fantastic way to make your mark as the host-with-the-most. This means not only creating a memorable moment for your friends, but means you can take drinks to your guests, without them lifting a finger, maybe even mix or shake their cocktail right in front of them to really impress.
9. Set the mood with music
Music is one of your most powerful tools when setting the atmosphere of the night, so selecting the perfect playlist is important. The ultimate music hack is to pick a bar whose vibe you want to emulate, and search their name on Spotify, almost always you can find the venue's playlist, preloaded with the perfect tunes to carry you through from first drinks to final hours of the evening.
10. Winding down the evening
If you have ever hosted, you will know the pain. Bottles are dry, but a few lingering guests haven't quite received the message. If you want to subtly suggest the soiree is over, begin to blow out the candles you have laid out. Lower the music till it's comfortable to turn it off and move the glasses out of peoples reach. This way, people can see you're looking to wrap up a very successful party!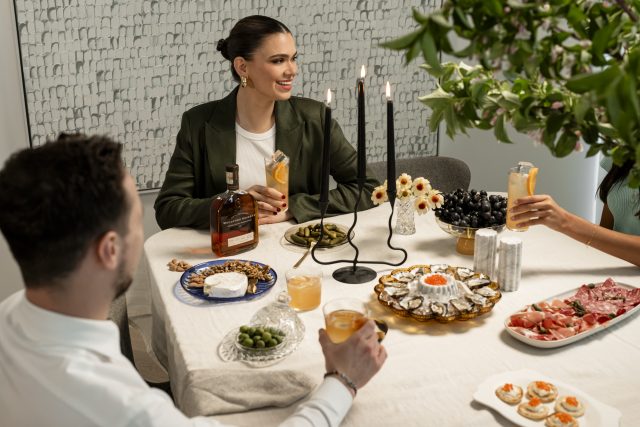 Best of all, simplicity is key! A heart-warming and memorable night is created by the people you surround yourself with and is simply improved by the addition of good food, sophisticated styling and of course, delicious cocktails.