Houzz, the world's leading platform for home renovation and design, has published findings from the annual Houzz & Home Australia survey. The study, of almost 10,000 respondents in Australia, has revealed the top trends in home design and renovations over the last year.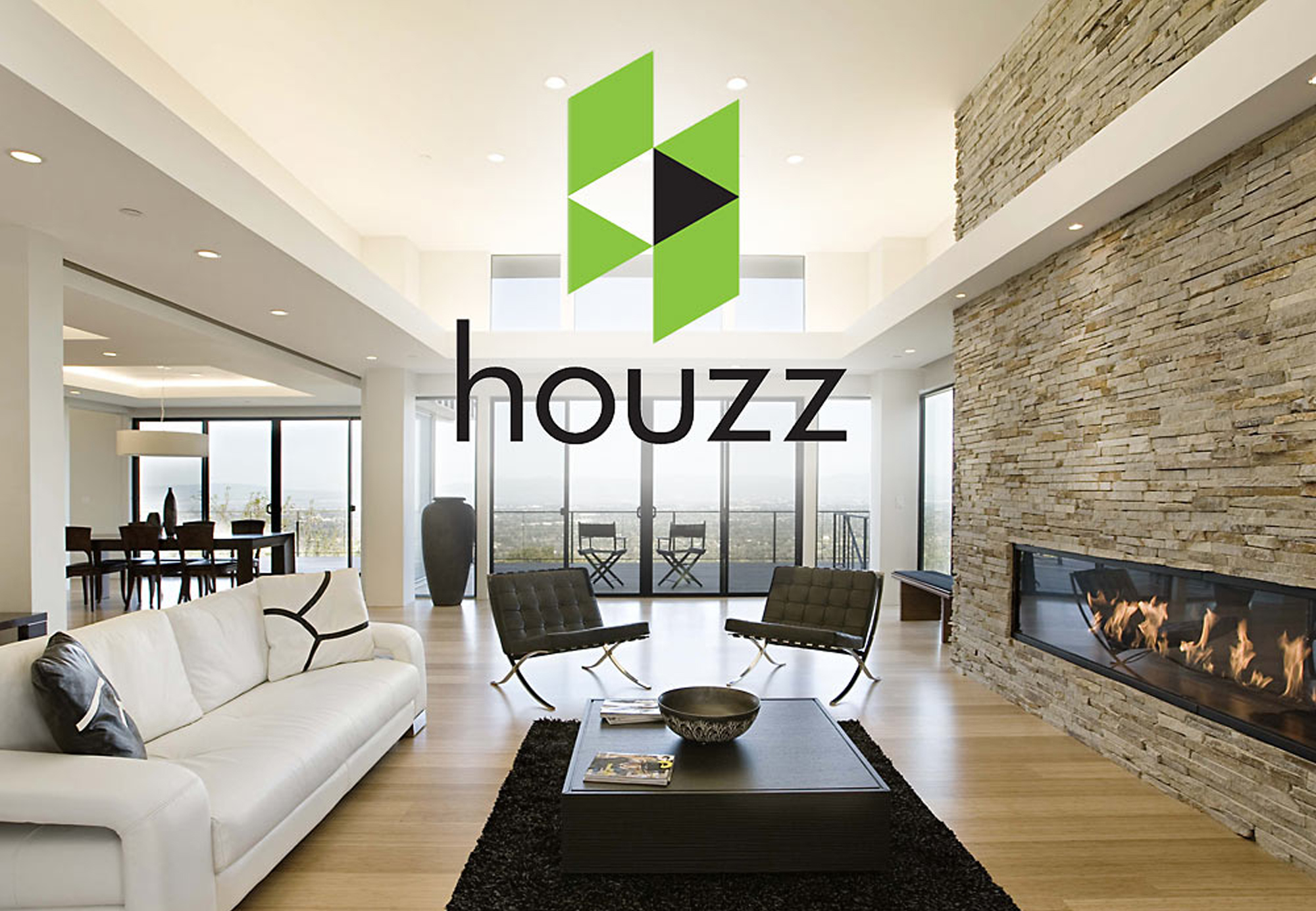 Image source: Vulcan Post
The survey found that recent homebuyers are taking on larger scope projects than all other home renovators with recent homebuyers are nearly twice as likely to renovate all of their interior spaces than the average home renovator (15 percent versus eight percent, respectively).
When considering priorities, kitchen projects top the list for recent buyers (31 percent versus 25 percent for the average renovating homeowner), followed by living rooms (32 percent versus 23 percent) and master bathrooms (22 percent versus 17 percent).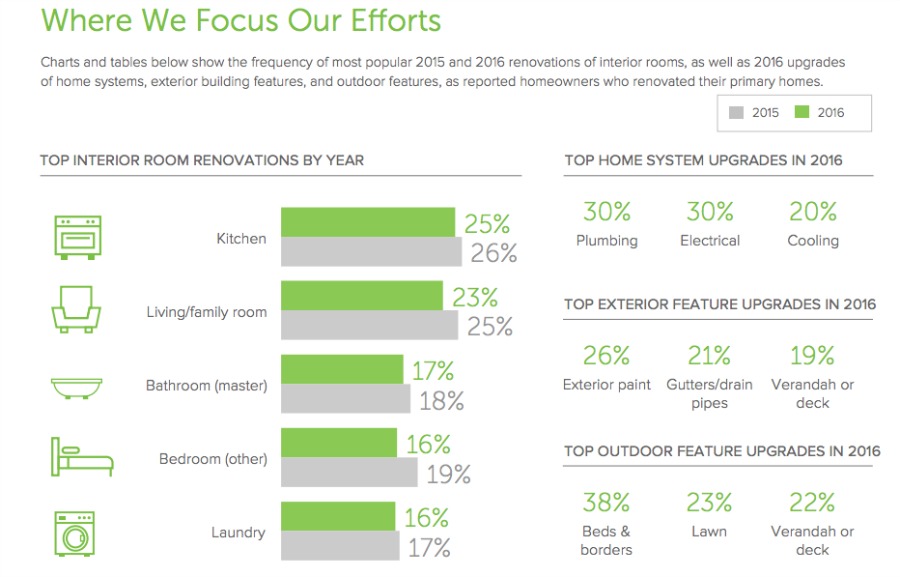 "2016 was another strong year for the home renovation market, with homeowners continuing to invest in their homes," said Nino Sitchinava, principal economist at Houzz. "While the majority of renovations are spurred by homeowners' desire to upgrade a home they have lived in for some time, recent home purchases are also an important driver of home renovation activity."
This year is on track to be another boom year for home renovations, with half of homeowners on Houzz planning to begin or continue renovations in 2017 (50 percent). Homeowners plan to spend an average of $47,000 on home renovations in 2017. In 2016, kitchen renovations commanded the highest spend ($19,300), followed by master bathrooms ($12,300).
Raring to renovate
Australia's property market is as hostile as ever, as property prices have continued to increase over the last year. Figures rose by 18.9% in Sydney alone, according to Core Logic. In light of this, Houzz's study has found that ONE in TWO homeowners on Houzz plan to renovate their homes, rather than sell them, indicating the change in buying and selling habits. These homeowners are choosing to invest in their current properties, instead of re-entering the adverse market.
An energy efficient home is a cost efficient future
While design and functionality top the list of renovation considerations (both 74 percent), almost half of homeowners consider energy efficiency extremely important to their projects (42 percent). To create more energy efficient homes, homeowners are installing home automation technology and solar systems during their renovations (8 percent and 7 percent respectively). Home automation is even more common among recent buyers (15 percent).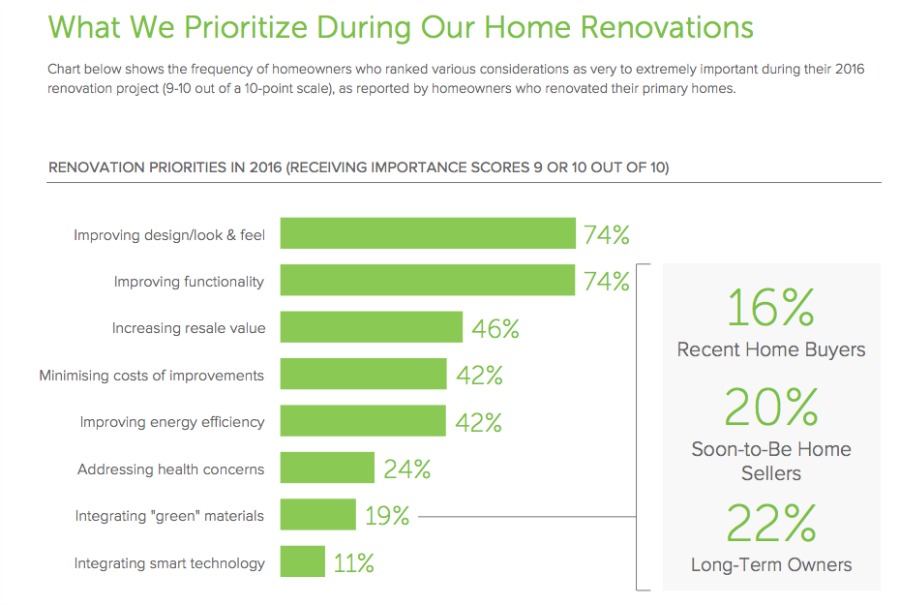 Breaking budget
The top challenge facing renovating homeowners in 2016 was staying on budget (34 percent). Other top challenges include finding the right products and materials and finding the right service providers (both 33 percent).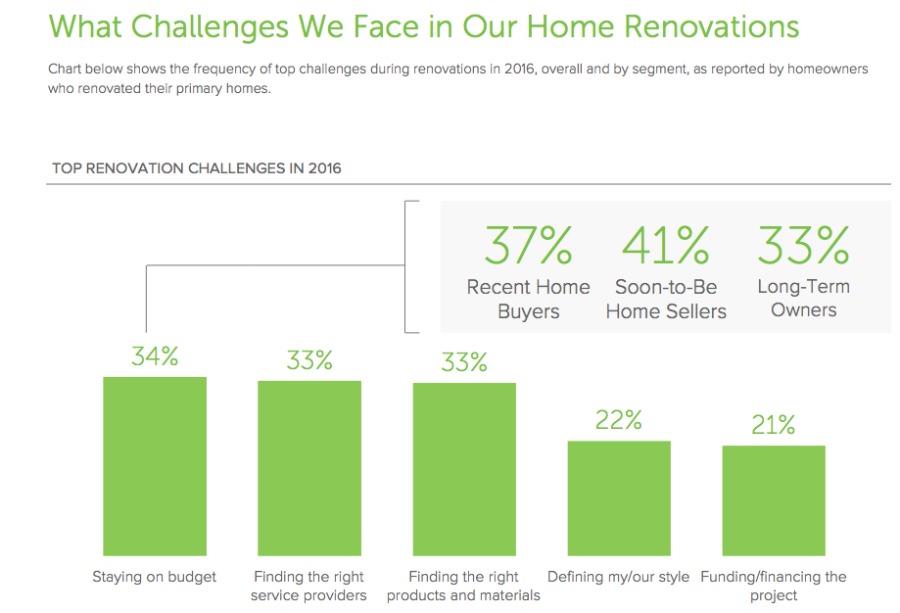 Pro is the go
Nine in ten renovating homeowners hired professionals for their renovation projects in 2016, consistent with 2015 (both 89 percent). Recent homebuyers are even more likely to rely on professional help than long term owners (92 percent versus 88 percent, respectively).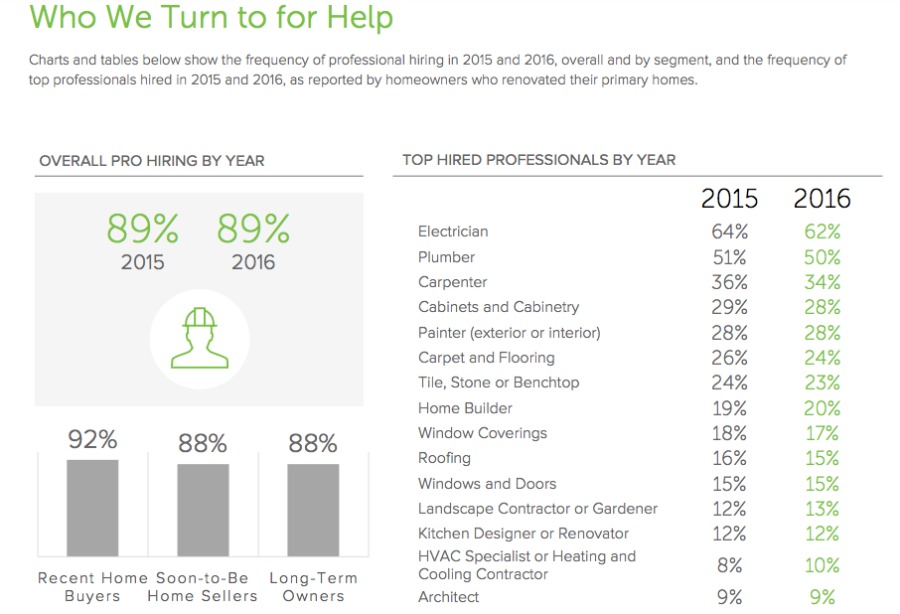 Raring to renovate
One in two homeowners on Houzz report plans to renovate over sell their homes (53 percent versus seven percent respectively).