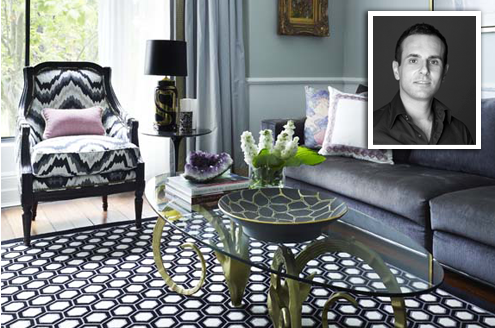 I can't wait for Greg Natale's design sessions at Coco Republic Design School next month. Are you going to join me?
In the first half of each three-hour session he'll share a retrospective of his last ten years in business (running his own practice, Greg Natale Design) with photos of his best residential work. What a treat! The second half of each session will be more workshop style with lots of practical tips to take home. Using case studies, he will guide participants on how to formulate a solid design concept and explain how he creates tailored and dramatic interiors through the use of pattern and colour. Key to Greg's own personal style is choosing the right furniture and accessories to create a layered look.
Winner of Belle – Coco Republic Interior Designer of the Year, Greg's unmistakeable design aesthetic has garnered a loyal following. He has been in the industry for 15 years, working across the full spectrum of corporate interiors through to high-end residential projects. In 2001, he started Greg Natale Design with the core purpose of creating cutting edge work through the integration of interior design, architecture and decoration, focusing on residential, retail and commercial design.
The sessions are on Wednesday 16 May from 6-9pm or Friday 18 May from 10am to 1pm and cost $95.
You can read my interview with Greg last year here. For more details or to book a spot on one of the sessions, visit the Design School's website.