At the end of the day, the SodaStream does exactly what it did when we were kids, it just looks a lot better on your counter, is more practical and these days there are way more drinks flavours available. It's so nostalgic for me. I remember the one we had as kids: it was white and yellow and the bottles were glass. I was pretty jealous of the boys next door with their snazzier, newer version with (wait for it) plastic bottles!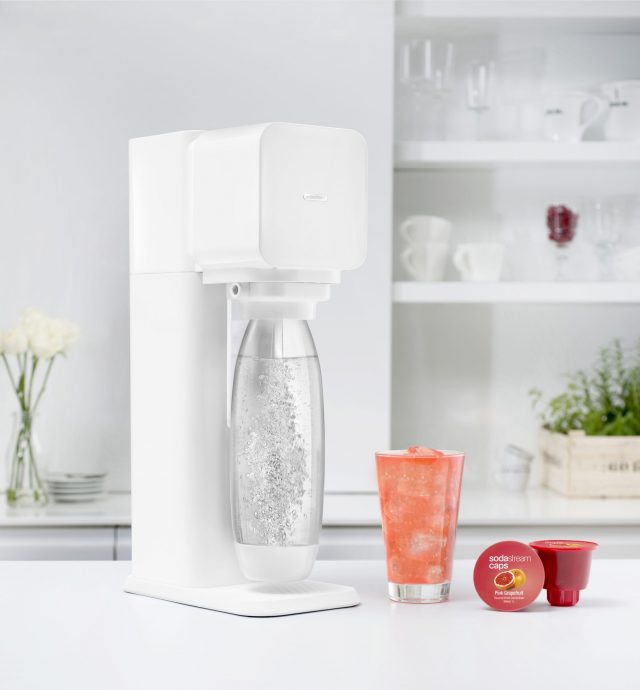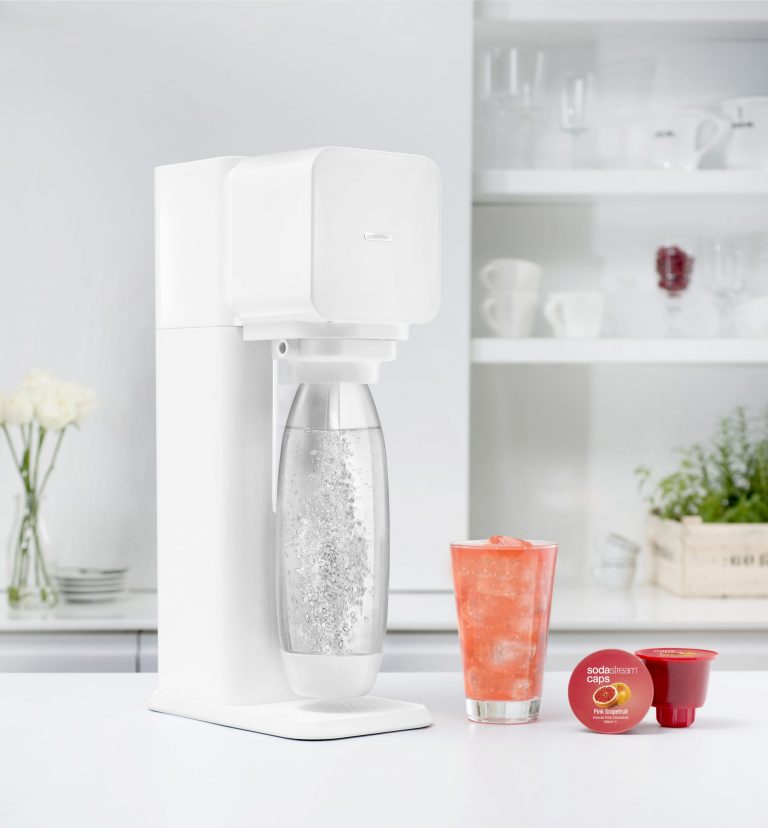 These days, the plastic (PET) bottles are a given. What I love about the latest fizz machine from SodaStream is its sleek design. The Play Drinks Maker, released last month, is minimal by design and ultra-simple to use. Allowing consumers to add a pop of personality to their home, it's available in six vibrant colours including brand new yellow and grey. I was gifted the white and I'm happy with that. It sits there unobtrusively on the benchtop and it's actually getting used a lot! I'm loving the instant 'free' sparkling water with a wedge of fresh lime while my (big kid) husband is loving adding the many syrup options to his fizzy water.
Speaking of syrups and flavours, SodaStream Caps are a new patent–pending flavouring method. This single–serve, disposable capsule system delivers a simple, fun and user–friendly experience. Simply choose your flavour, place the capsule onto a 1 litre carbonated PET bottle and press down lightly to start the flow of flavour. Within seconds, the sparkling drink is ready to enjoy. You can still buy bottles of your favourite syrups including some sugar-free versions sweetened with Stevia.
Play is the first home carbonation system to feature the new "auto-lift" slider, along with the popular "snap-lock" mechanism, making it quick, simple and easy to use. Myles Anceschi, managing director of SodaStream Australia, said: "We understand that people want a product that is fun, yet can fit easily into the aesthetic of their living space. With SodaStream Play, families can get creative in the kitchen and enjoy great tasting, better-for-you sparkling drinks in seconds.''
The introduction of Play follows the launch of the award-winning SodaStream Source in 2012. Yaron Kopel, chief innovation & design officer at SodaStream, said: "After a successful collaboration with renowned global designer Yves Béhar on the Source Drinks Maker, we decided to partner with him once again to create Play – a machine which maintains the design language of the Source family, but still has a clear identity, is priced lower and appeals to more segments of the market."
The SodaStream Play is available nationally at Myer, Target, David Jones, Harvey Norman, Good Guys and Spotlight stores with an RRP of $99. For a full list of stockists or to purchase online visit www.sodastream.com.au.