Pow! We are back after a few days without any appliance news, and guess what, Foreman is back as well! Now he is leaner, and meaner, and… roastier. Ahem. George Foreman is welcoming back the Lean, Mean, Roasting Machine, which as you can imagine, roasts food and knocks out the fat. The appliance has a five litre capacity which means that you can roast a fair whack of food at one go, and it comes with the usual slanted cooking plate which drains away whatever fat and grease drips off your meats.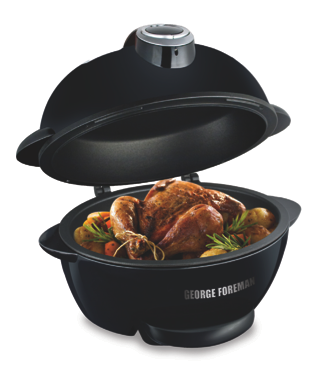 So what will a five litre capacity actually hold? Apparently that equates to a 2.5 kilogram chicken and full cuts of meat, which is pretty significant. The Lean, Mean, Roasting Machine also comes with a removable drip tray and digital timer so that you can simply set and forget.
The Lean, Mean Roasting Machine will set you back $99.95 so there is plenty of… meat left on the bone for food to roast. Sorry. For more information head to RussellHobbs.com.au.