Forgotten someone's Christmas present? Received one from someone you weren't planning to buy for? Come on, it happens! Impress them with a delicious and handmade sweet treat by baking this easy ginger slice this weekend. Thanks to Maxwell & Williams for the recipe which is pictured on their festive Merry Mistletoe range.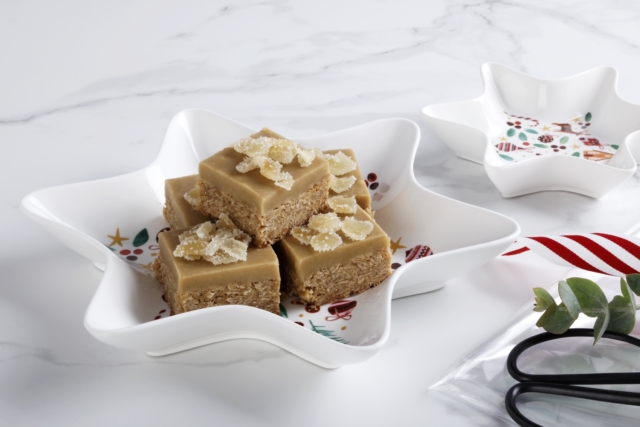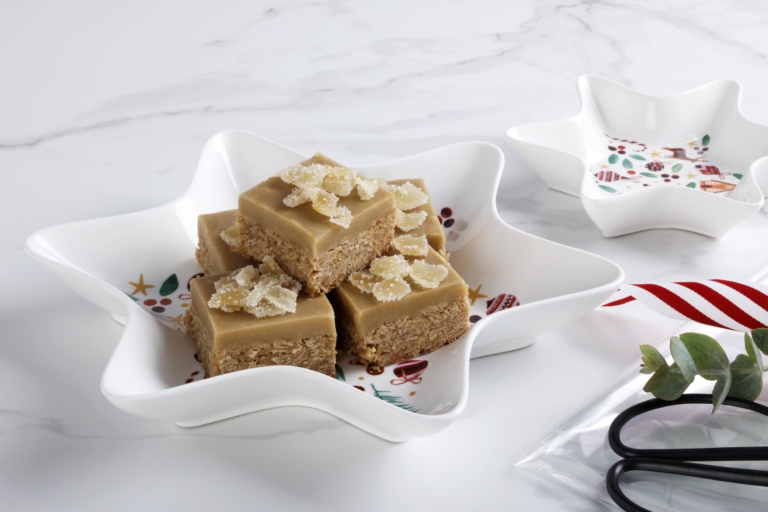 Ingredients
Base:
1/4 cup (90g) golden syrup 1/4 cup (55g) sugar
150g butter
2 tsp ground ginger
1 tsp ground cinnamon
1/2 cup (40g) desiccated coconut
1 1/2 cups (135g) rolled oats
3/4 cup (110g) self-raising flour
Icing:
2 tbsp golden syrup
2 cups (320g) icing sugar
80g butter
3 tsp ground ginger
1/4 cup (55g) crystallised ginger, finely sliced
Method
1. Preheat oven to 170°C
2. Line a 20cm x 20cm tray with baking paper, set aside.
3. For the base, add golden syrup, sugar and butter into a medium-sized saucepan. Place over a low heat for 4-5 minutes, stirring occasionally until melted. Remove from heat and stir in ginger, cinnamon, coconut, oats and self-raising our.
4. Combine thoroughly then scrape into the prepared baking tin, press firmly into the base and spread evenly with a spatula.
5. Place in the oven for 20 minutes or until slightly golden.
6. While the base is cooling, start to prepare the icing. Place golden syrup, icing sugar, butter and ground ginger into a small saucepan over a low heat for 5-6 minutes, stirring occasionally until melted.
7. Remove baking tray from oven and pour icing over the base. Gently rotate the base to ensure even coverage and sprinkle with the sliced crystallised ginger.
8. Place in fridge for 4 hours or until rm, then remove from baking tray and place on chopping board. Cut into 5cm pieces and serve on a Merry Mistletoe dish.
Keeps for one week in an airtight container.