If you went a little overboard decorating with fresh pumpkins for Halloween last weekend, then you'll probably be looking for new and interesting ways to use them up this weekend. This delicious and fragrant pasta dish from Williams-Sonoma — also featuring that other veggie of the moment, kale — is a great place to start.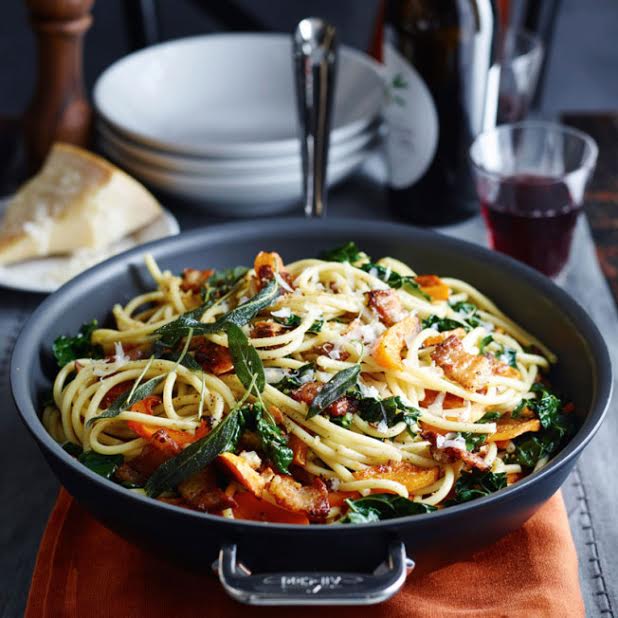 Even if you skipped the Halloween decorations altogether, now is still a great time to pick up a beautiful whole Australian pumpkin or two (be careful not to cook the imported pumpkins sold specifically for Halloween, as these do not make good eating). Opt for the butternut, Queensland blue or Kent varieties that are readily available in supermarkets and farmers' markets right now. When purchased whole, pumpkins don't need to be refrigerated and will last for at least a month on the kitchen bench. Did we mention how pretty they look in the meantime?
Choose pumpkins that feel solid and heavy for their size, because they tend to dry out and become lighter as they age. The skin should be hard, with no cracks, blemishes or soft spots. To cut open a round pumpkin such as a Queensland blue, steady it on a thick tea towel, very carefully insert a large, heavy knife near the stem and cut down through the curved side. Always cut away from you. Turn the pumpkin 180 degrees and repeat on the other side.
STYLING TIP A delicious rustic pasta dish like this needs to be served as quickly as possible. If you don't have a pot trivet, add a thick folded cloth to the table and then you can serve straight from the pan, especially when your pan is as beautiful as this one. The only other thing you'll need is a great piece of Parmigiano-Reggiano, for grating – plus an excellent bottle of red, of course.
Ingredients
1 butternut pumpkin, peeled, seeded and cut into 2.5 cm pieces

2 tbsp extra-virgin olive oil

Salt and freshly ground pepper

375 g dried bucatini

90 g bacon, diced

1 large golden shallot, sliced into thin rings

1 bunch Tuscan kale or cavolo nero, stemmed and leaves cut into thin ribbons

4 tbsp (60 g) butter

3 garlic cloves, minced

1/4 cup (60 ml) white wine

2 fresh sage leaves

1 tbsp pure cream (optional)

2 tbsp pine nuts, toasted

Grated Parmigiano-Reggiano for serving
For the fried sage (optional):
1/4 cup (60 ml) olive oil

8 to 10 fresh sage leaves
Method
To fry the sage leaves, in a small sauté pan over medium heat, warm the olive oil until shimmering. Carefully drop the sage leaves, a few at a time, into the oil. They will sizzle and crisp very quickly, in 15 to 30 seconds. Using a fork or small skimmer, transfer the fried sage leaves to a paper towel–lined plate.
On a baking tray, toss the pumpkin with the olive oil, 2 tsp salt and a few grinds of black pepper. Spread the pumpkin in a single layer and roast until tender, about 25 minutes.
While the pumpkin is roasting, bring a large pot three-quarters full of salted water to the boil. Add the pasta and cook, stirring occasionally, until al dente, according to the package instructions. Drain the pasta.
While the pasta is cooking, in a sauté pan large enough to accommodate the pasta and pumpkin later, cook the bacon over medium heat, stirring occasionally, until the fat is rendered and the bacon is crispy, about five minutes. Using a slotted spoon, transfer the bacon to a paper towel–lined plate, leaving the bacon fat in the pan. Reduce the heat to medium-low, add the shallot to the pan and cook until translucent and tender, about five minutes. Increase the heat to medium, add the kale, 1/2 tsp salt and 2 Tbsp water. Cook, stirring occasionally, until the kale is wilted, about two minutes. Season to taste with salt and pepper and transfer to a bowl.
In the same pan, warm the butter until melted. Add the garlic, 1/2 tsp salt and a few grinds of pepper, and cook until the garlic is fragrant, about one minute. Add the wine and sage leaves to the pan. Reduce the heat to medium-low and cook until the liquid is slightly thickened, two to four minutes. Remove the sage leaves from the pan and discard. Stir in the cream and season to taste with salt and pepper. Add the pumpkin, bacon, kale mixture and cooked pasta to the pan and toss until well combined, warming the mixture over medium heat if the vegetables are no longer warm.
Transfer the pasta to a serving dish and garnish with the fried sage and pine nuts. Serve immediately, passing the cheese at the table.
Serves 4.
— Head to Williams-Sonoma for lots more foodie inspiration, or book a cooking class in their Sydney Cooking School.