When it comes to planning the perfect Easter Sunday lunch spread, there's no better person to speak to than Papaya founder Robyn Connelly. Her top styling tips will translate to any setting, whether it's an Easter celebration for the whole family or a decadent dinner with friends…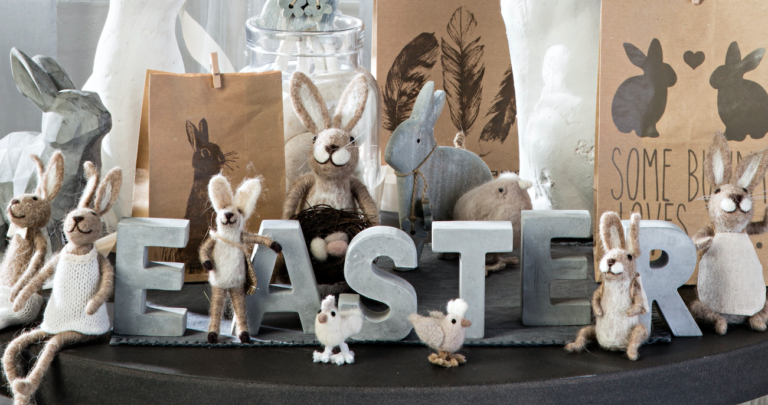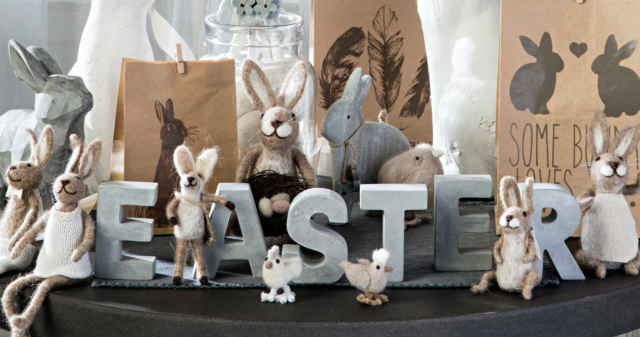 Keep it simple
Choose one colour scheme and vary the size and texture of decorations and ornaments to keep the look cohesive. Table cloths and linens in chic hues of sand and charcoal help to create a gorgeous backdrop for the delicious food to be enjoyed.
Inspired by nature
Bringing nature inspired elements to the table represents the season perfectly. Natural twigs and branches from the garden housed in tall tapered vases are great as festive centrepieces. Hanging small bunnies, eggs and hearts off the branches is the perfect way to add an element of fun for your guests.
Treat time
Double up desserts and decorations with sisal root nests filled with chocolate eggs for a sweet treat at the end of your meal. Treat guests to Easter gift bags etched with adorable bunnies and feathers, the perfect companion for the adventurous Easter egg hunt that follows.
Relaxed entertaining
Be playful and enjoy yourself this holiday season. Alternate felt bunnies, Easter chicks and mini bird nests at the head of each table for a unique seasonal place setting.
Vary the venue
Table settings don't need to be confined to the dinner table. Transform your living room with life size Easter bunnies in hues of white and grey, add hanging garlands and concrete lettering to the mantel piece or coffee table to add a touch of Easter through your entire home.
Add some flower power
Place a small spray of tulips or carnations in a tight arrangement in small vases or decorative glassware throughout the table. Having fresh flowers on display is an instant mood-lifter. Not only does it add a wonderful fragrance, it adds a touch of colour and natural beauty, the perfect way to elevate your table this Easter.