Got a knackered, battered old metal chair just begging for a new lease on life? This DIY project might be right up your street.
This easy DIY project, completed by Natasha Dickens, of Little Red Industries uses Hammerite Direct to Rust Metal Paint to completely transform an old, weathered metal chair that was rescued from the side of the road. Natasha chose Direct to Rust Metal Paint in the black hammered finish as it performs as a primer, undercoat and top coat – saving both time and money. Hammerite Direct To Rust Metal Paint utilises Dualtech technology to provide two-way protection by repelling water and stopping rust, keeping the metal stronger for longer.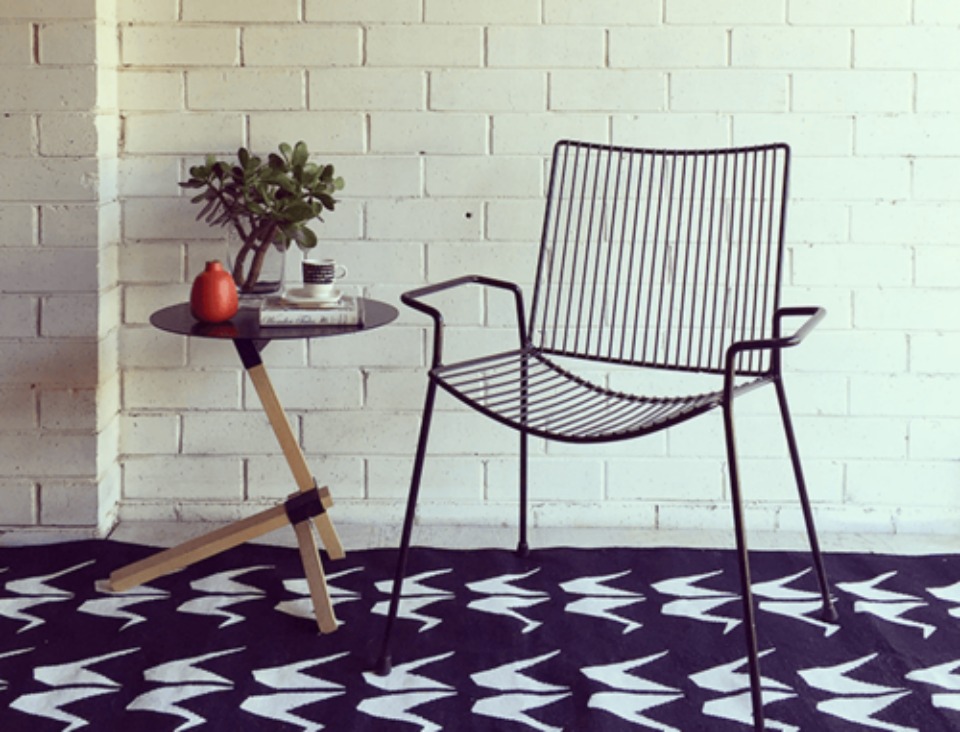 Image via Little Red Industries
How to: Turn a vintage chair into a designer piece
Materials
Wire brush or sandpaper
Pliers or scissors
Rubber feet
Damp cloth
Newspaper or drop-sheet
Face mask
Hammerite Direct to Rust Metal Paint Aerosol
Method
Store aerosol at room temperature for two hours prior to use.
Using pliers or scissors, clip away any plastic covering that has frayed, cutting close to the frame.
Remove rust and loose paint with a wire brush or coarse sandpaper.
Using water and a diluted detergent wash chair thoroughly to remove all dust, grease and dirt which may prevent the paint from sticking to the surface. Rinse with clean water.
Set up a spray booth in a ventilated area or place a drop-sheet or newspaper around the surrounding area to catch any spills or drips.
Ensuring the surface is dry, test spray on a small inconspicuous area to ensure surface compatibility and finish suitability.
Shake can vigorously, in a vertical motion until the agitator ball is heard and then shake for another three minutes.
Apply light even coats, from a distance of approximately 15cm to 30cm, starting at the back and underneath.
Apply several thin coats paying particular attention to corners and edges and allow 15 minutes between coats.
Add the new rubber feet to protect your floors.
For more information, visit www.hammerite.com.au or call 1300 745 536