Interior designer Darren Palmer, who himself shot to fame on a reality TV show, appears on tonight's The Block. Interiors Addict had a quick Q&A with him about his thoughts on this season.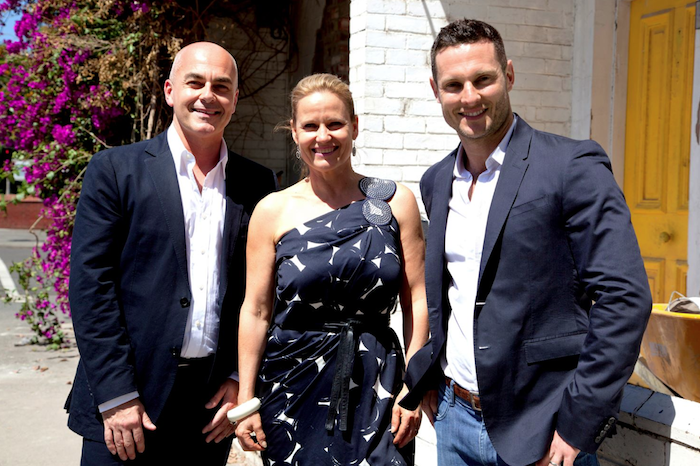 Photo L-R: Block judges Neale Whitaker and Shaynna Blaze with Darren Palmer.
Q: How did you feel when you were asked to be a guest judge again this year?
It's always great to be asked to share expert opinion and The Block is such a great show so I was over the moon to be asked to be involved.
Q: You appeared on the last series too. How does this one differ, do you think?
Last season I guest judged a belle challenge, this year my involvement is quite a bit more, I'm filling in for John McGrath on a few occasions, tonight and in a few weeks. I've also filmed for The Block Unlocked on the Friday episode of those weeks AND if that's not enough you can see me again tomorrow night judging a charity challenge! Brilliant!
Q: What do you think of the contestants? Who do you think will win?
I really like Dale and Sophie's style. I think their uniqueness will really excite a particular buyer, though their challenge is to make sure the building works are appealing to that market of buyer. Mike and Andrew have a very slick style which appeals to me personally, Brad and Lara seem to be hitting exactly the right mark for a broad market as do Dan and Dani.
Q: What do you think new judge Shaynna Blaze has added to the mix?
Shaynna has certainly shaken up The Block judging! She has very strong opinions and isn't afraid to voice them. Just what the doctor ordered I think!
Q: Do you think the couples are likely to make money on their properties this year?
It's really hard to judge that. If they do a quality job with well considered design solutions and finishes then they stand the best chance but the market also comes into play.
Q: There's been a lot of backlash about the amount of non-renovating challenges this year. What are your thoughts in this?
Challenges are a challenge. They're necessary but I see on Twitter people frustrated that they're not renovation focused, so I guess if they had more of an education and renovation focus they could be more popular.
You can see Darren's work in the current issue of Grand Designs Australia and the upcoming June issue of Real Living.