By Tatyana Leonov
I was fortunate to travel to Guilin in China to check out the new Club Med Guilin last week. You've got your beachy Club Meds, your ski Club Meds… and then you've got Club Med Guilin – a completely different and unique resort.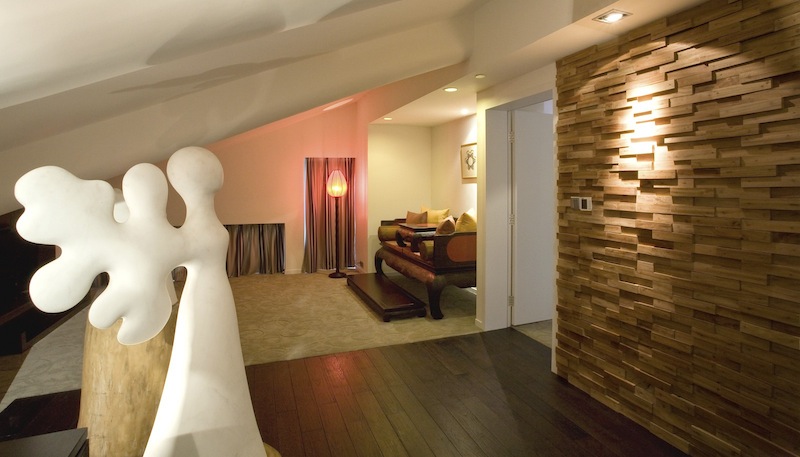 I set off a day later than anticipated due to a typhoon (forgotten quickly once reclining in my lie-flat seat on my business class China Southern flight). As soon as I arrived I set about making the most of every moment over the 3 days I had at the resort.
The first thing that stands out about the Club Med Guilin is the setting. It's surrounded by rugged, sugarloaf karst peaks and luscious greenery that make for a picturesque backdrop. To be honest, it's way more than that. The landscape that the park sits in is recognised by UNESCO because it's so amazingly beautiful. First tick.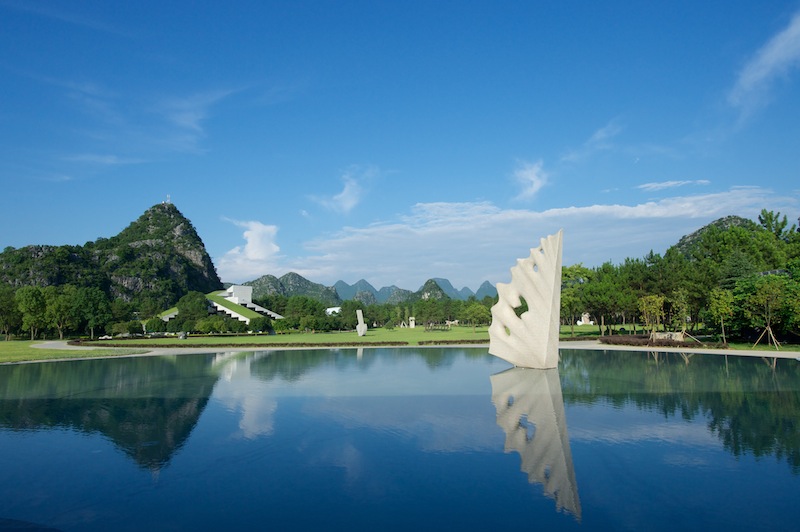 The second (probably even more interesting) point is that the resort is located within a sculpture park. A Taiwanese entrepreneur named Tsao Rhy-Chang founded the park in 1997, dedicating it to the promotion of contemporary art and culture, and today the 46-hectare park has over 150 unique, massive sculptures. Tick 2.
Because of the remarkable setting, the resort had to be designed to impress. Occupying a former Relais & Chateaux site, Club Med interior designers, Marc Hertrich and Nicolas Adnet, were hired for the job.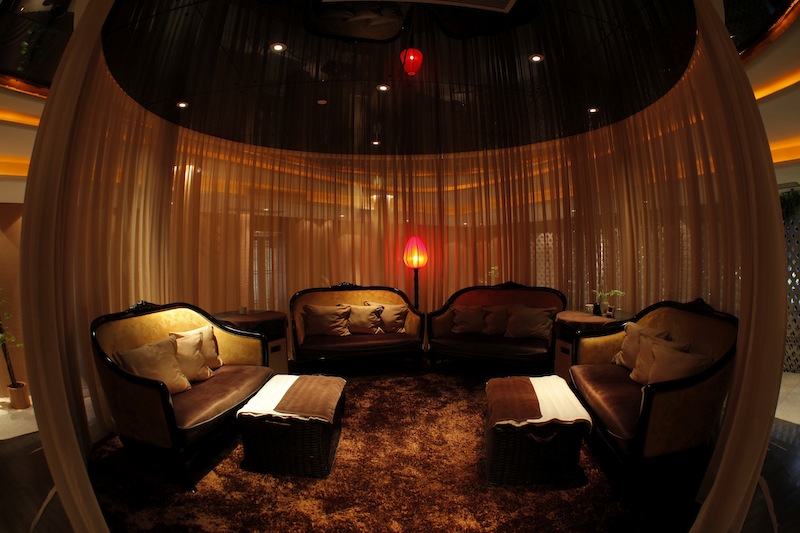 The accommodation is spread out across 2 different buildings. The boutique HOMA Chateau Hotel has 46 rooms based on 5 different design concepts – modern Chinese-themed, rooms based on modern sculptures by artist A Kan, a cave series (with inspiration taken from the surrounding karst rock faces), a lin grass series and contemporary rooms. The second building is the modern Courtyard Hotel which is brand spanking new. It has 284 rooms, all with views (a big plus given the surrounding environment).
I'm not quite sure what the design theme of my room was, but my HOMA room was quirky-cool and it worked. Beds are super important to me – I travel a lot and if the bed ain't right, I don't feel good. Another tick. The mattress was soft enough for a relaxed sleep, hard enough to support my back.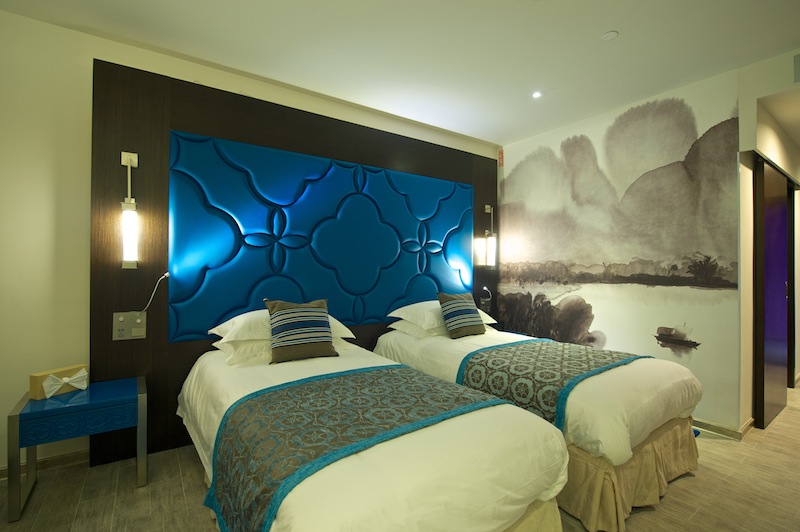 My room was split into a living area, a bedroom and a separate toilet and shower, which I liked. The washbasin was located in the bedroom which is a little different, and it was quickly evident that Hertrich and Adnet maximised space with the aid of novel design aesthetics.
Club Med Guilin has a bunch of other cool spaces to hang out in (4 different restaurants, 3 bars, a super swish spa… ) – so there really is something for everyone – families, couples, adventure seekers and those wanting to simply escape for a while. One of my favourite spots was the HOMA Moon Bar. A textured multicoloured floor, brightly coloured lounge seats and white drapes certainly made for an interesting interior scheme! I like to relax on holidays, so also enjoyed the soothing background music (for those who want to party you can get the opposite experience every night at the Atelier Bar – the Club Med team know how to put a fun party on!)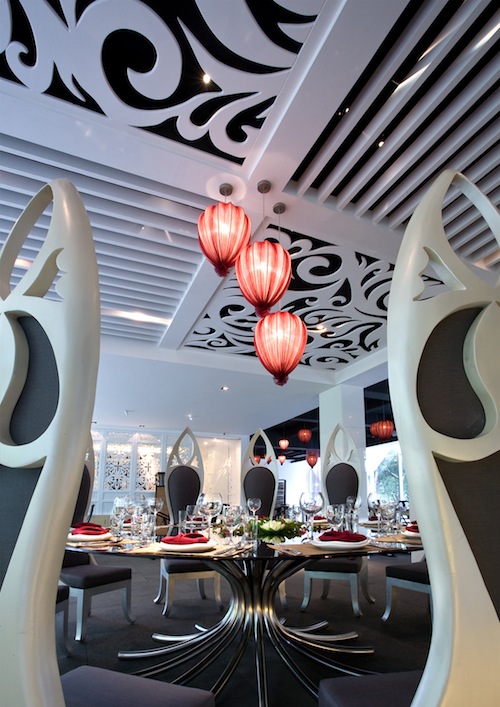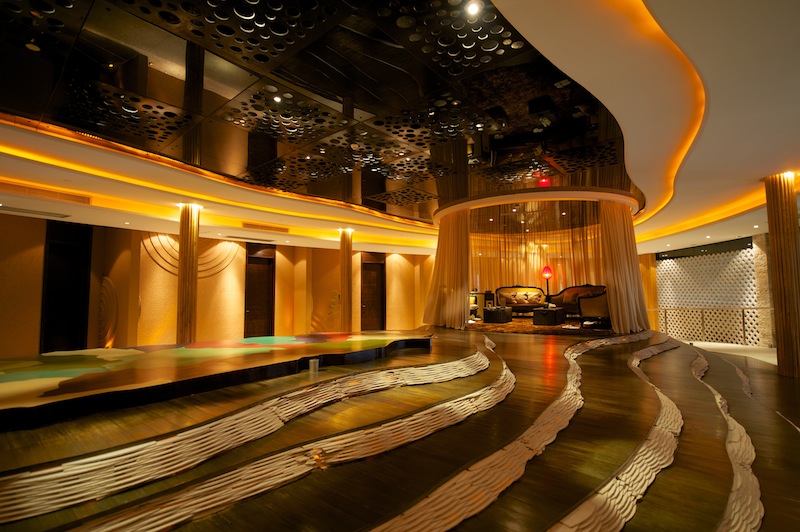 The other space I completely fell in love with was the Limestone Cave. It's a fair way from the main complex but you can call for a buggy to take you (OK really it's probably only 15 minutes walk from the Welcome Centre). Because it's away from everything else it feels secluded (if being in a cave didn't already give you that feeling). The fact that you can have a cocktail inside this gorgeous natural space subtly accentuated with dim lighting (it's reserved for special events) is pretty spectacular.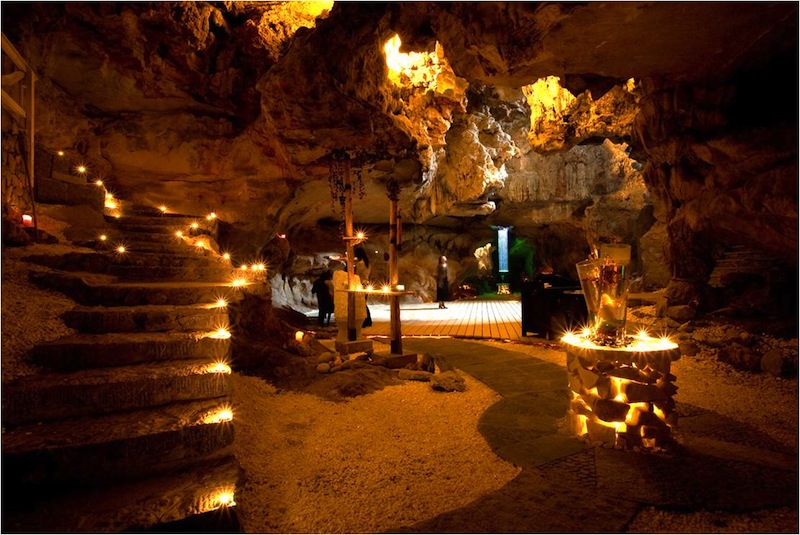 And this is what Club Med is all about. I'd never been to a Club Med before and didn't know what to expect. Truth is, I'm picky. I get hungry at odd hours, I get cold, then hot. I like to eat my cereal with a teaspoon… Everything at Club Med Guilin was thought of to make my stay exceedingly comfortable. Umbrellas were strategically placed around the resort complex in case of rain, buggy drivers appeared when my feet got sore, and fruit platters arrived in my room just when I was getting peckish. I thought I'd love my stay because of the quirky-cool design and the gobsmackingly beautiful location – and I did (to be honest I've never stayed anywhere quite so unique). What I also loved was that everything possible was thought of – easy to say – much harder to do! I'll be back with hubbie next time.
For more information visit www.clubmed.com.au
Tatyana Leonov is a writer, editor, avid traveller and determined dreamer. She's mastered (beginners') yoga in Goa, partied with Russia's elite in a Moscow club, sampled local delicacies all around the world (including a camel burger in Morocco and guinea pig in Peru), trekked to Nepal's Annapurna Base Camp in Havaianas and had a short-lived career as a Bollywood star.