We've been following the jaw-dropping renovation of Naomi Findlay's stone cottage, Carrington House, for a few months now. Today, she shares our favourite room yet: the living room! Over to you, Naomi…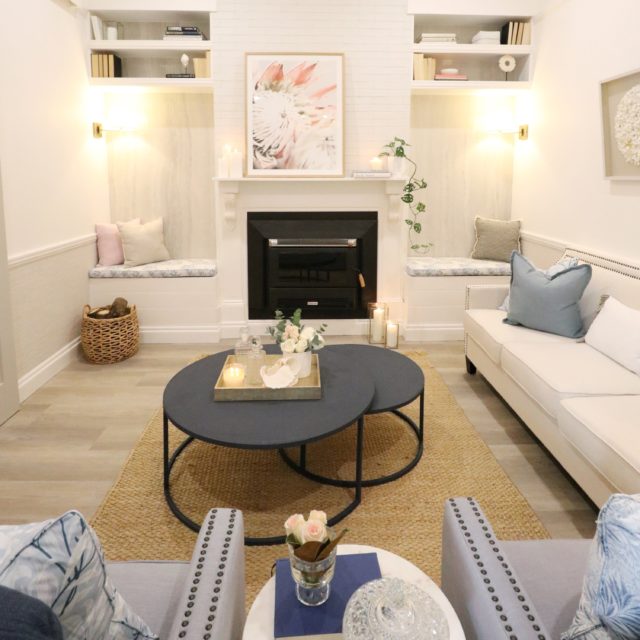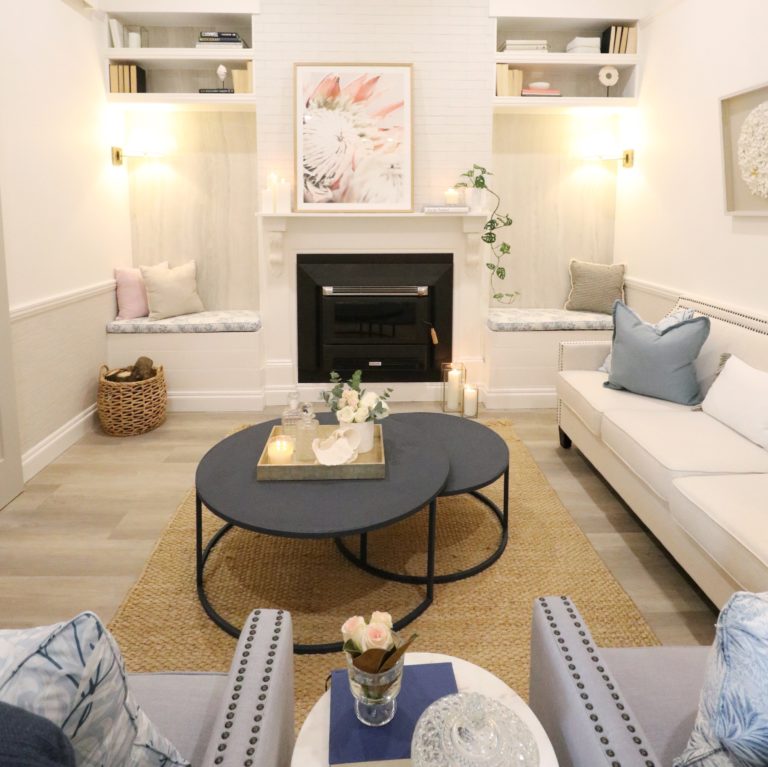 Welcome to the living room at Carrington House. It is finally done and I have to claim it right now, as the hardest room to date, without doubt. This room has been such a challenge. I mean, we had a swamp under the floor. We had a fireplace that was leaning, a mantle that was falling over, walls that were falling apart, and we had the challenges of bringing in those big doors that everybody is talking about.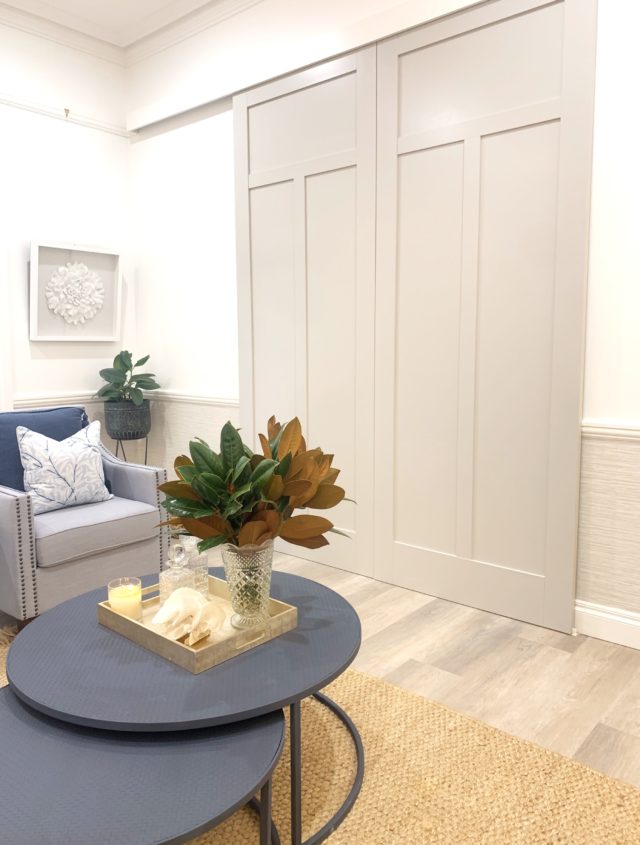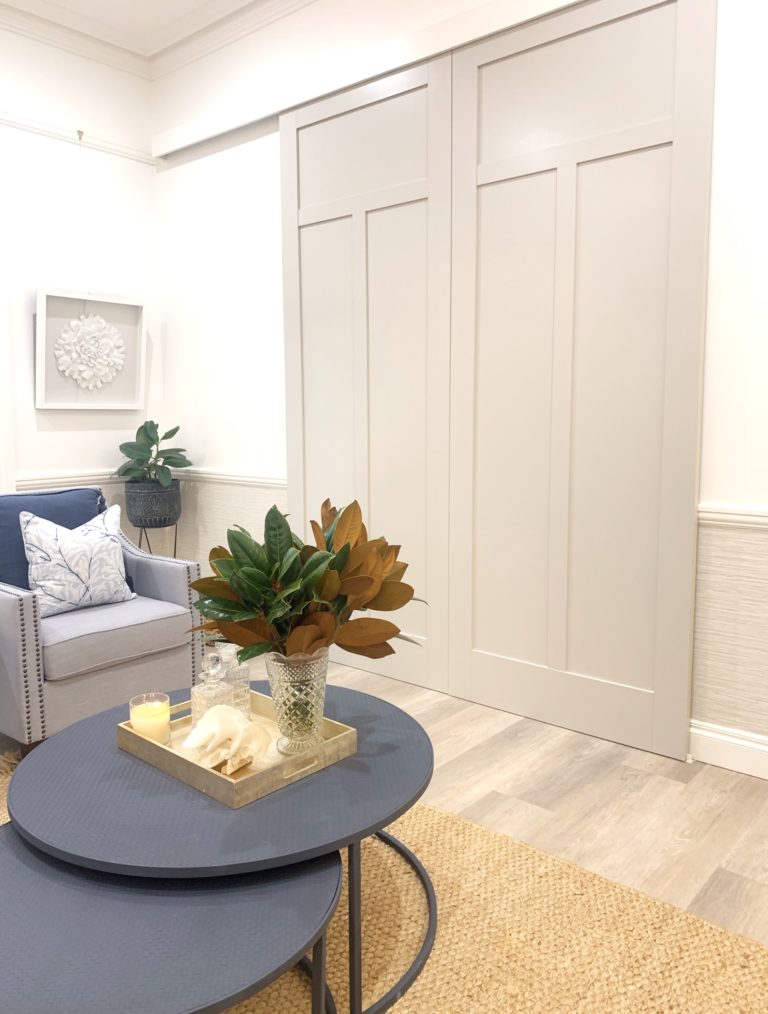 To bring this together, I needed a really strong team. And to be honest with you, it was a huge challenge in that there were times that our team had to come back and forth, back and forth. The fireplace wall especially, was such a team effort; intricate detail with the plasterers, the builders, the painters, the tilers. You name it, everyone had a hand in it!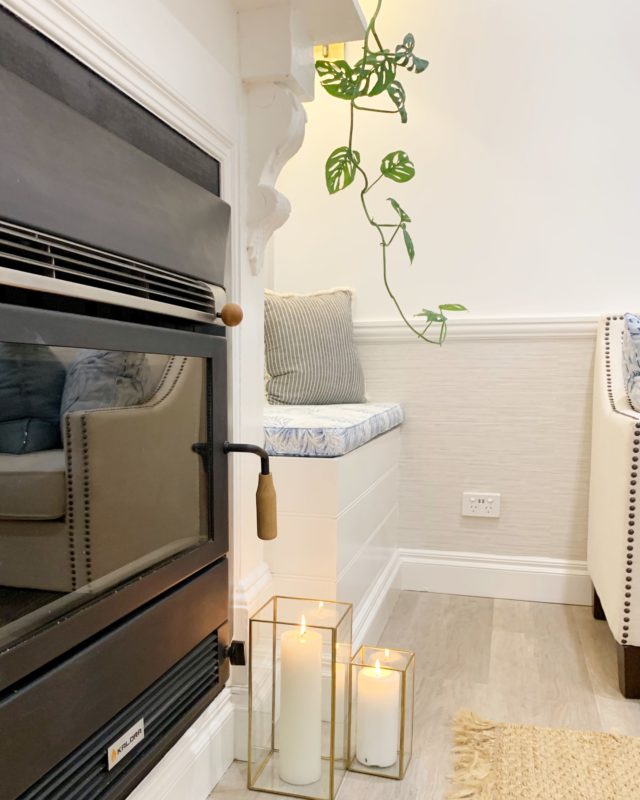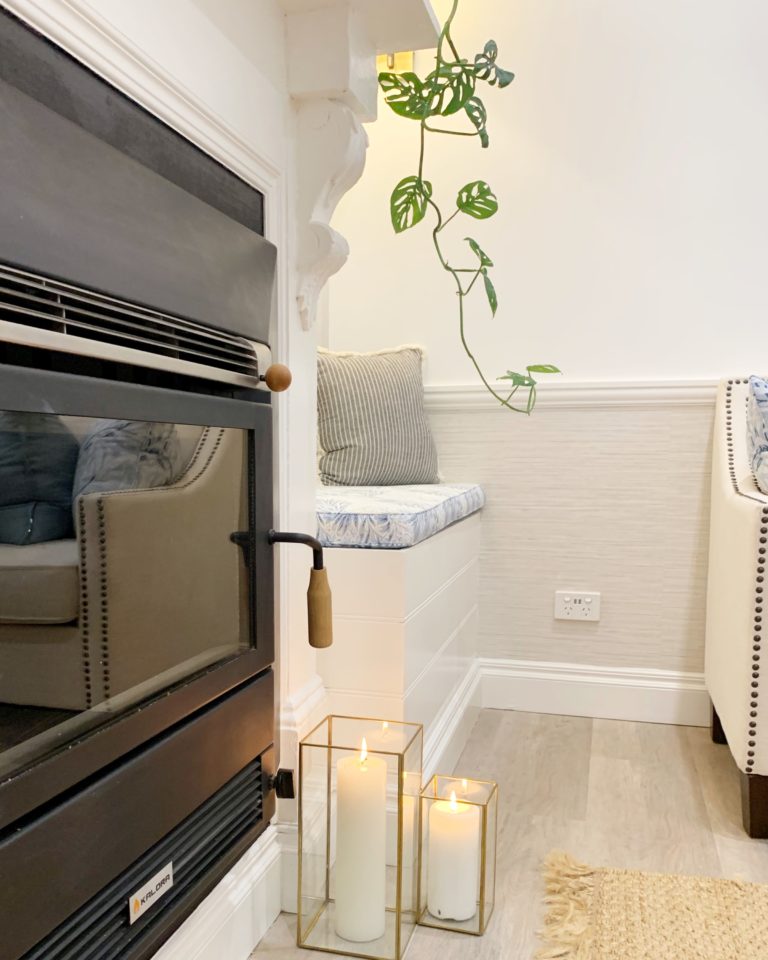 The finishes in here are much more neutral than in room one or room two (links at the end of this post). I've definitely brought some of the blues in here so that they all talk to one another, however, this room is all about layers.
For starters, we have the vinyl planks floors that are so textured, and then we have the beautiful Intrim trims: skirts, chair rails and picture rails. And then, to give that really warm detail at a low level, I've got grasscloth wallpaper, which I picked up from my local Bristol store.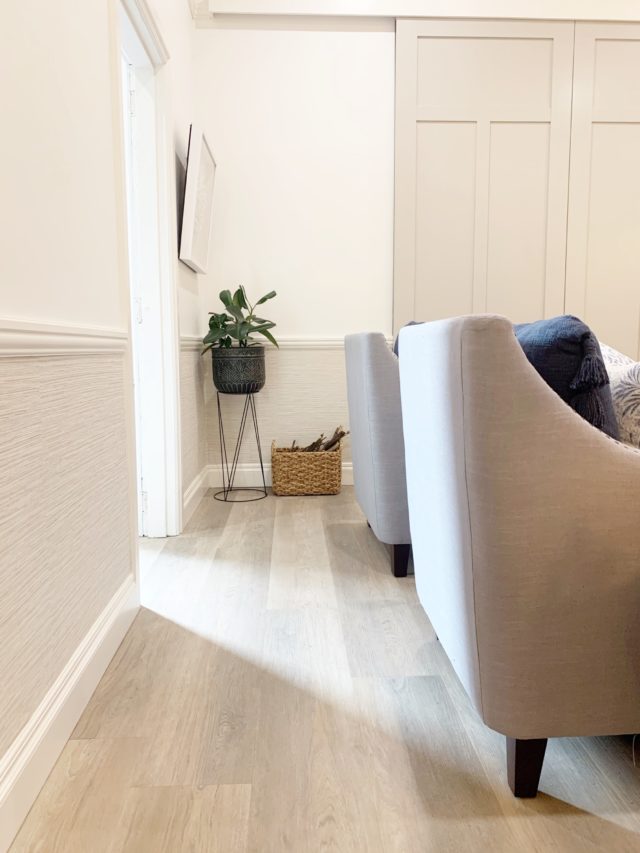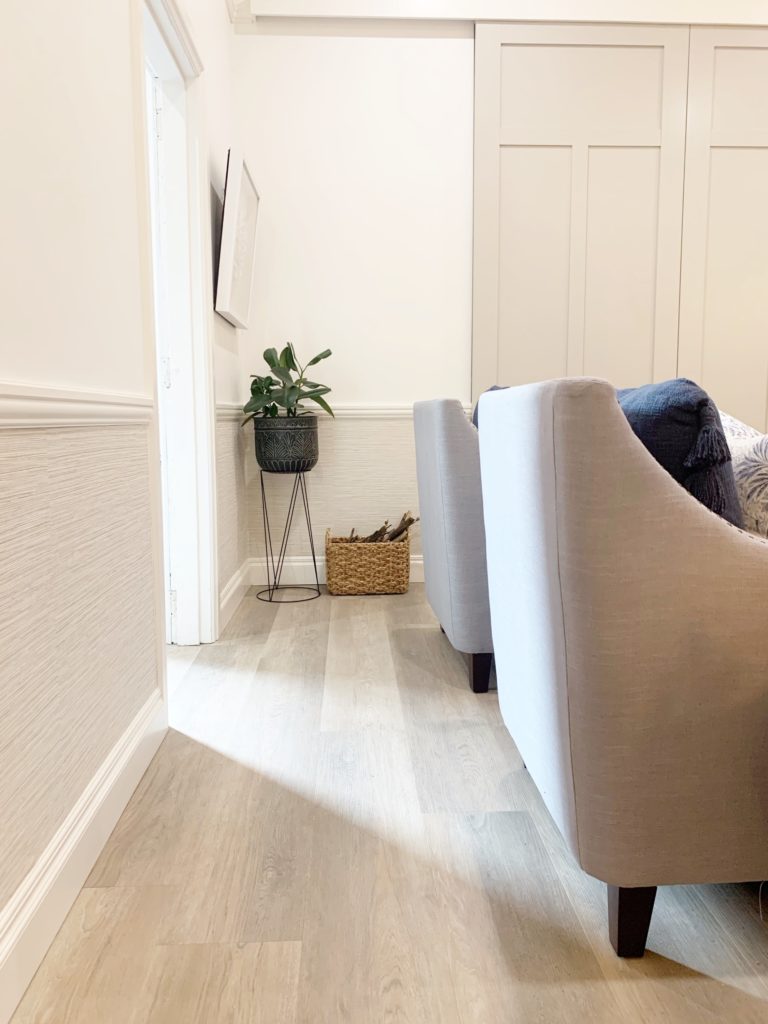 I have so many favourite things in this room; everything from the beautiful white Tribeca tiles which adorn the chimney, and let's face it, between the sealer and the render underneath those tiles, and then the tiles around the chimney, it's actually holding it together! The fireplace is flanked by unbelievably large format slab tiles from Beaumont Tiles.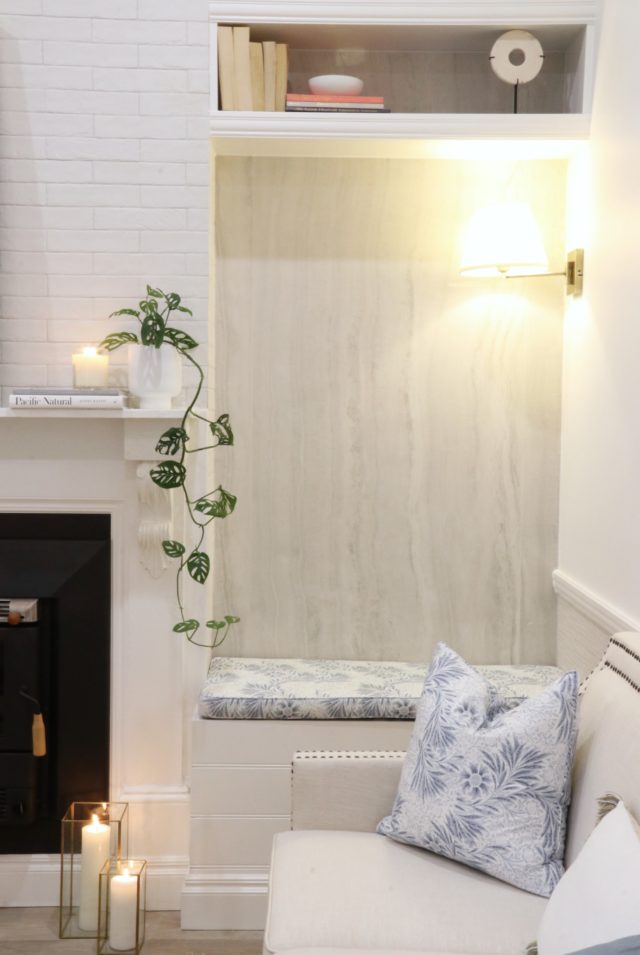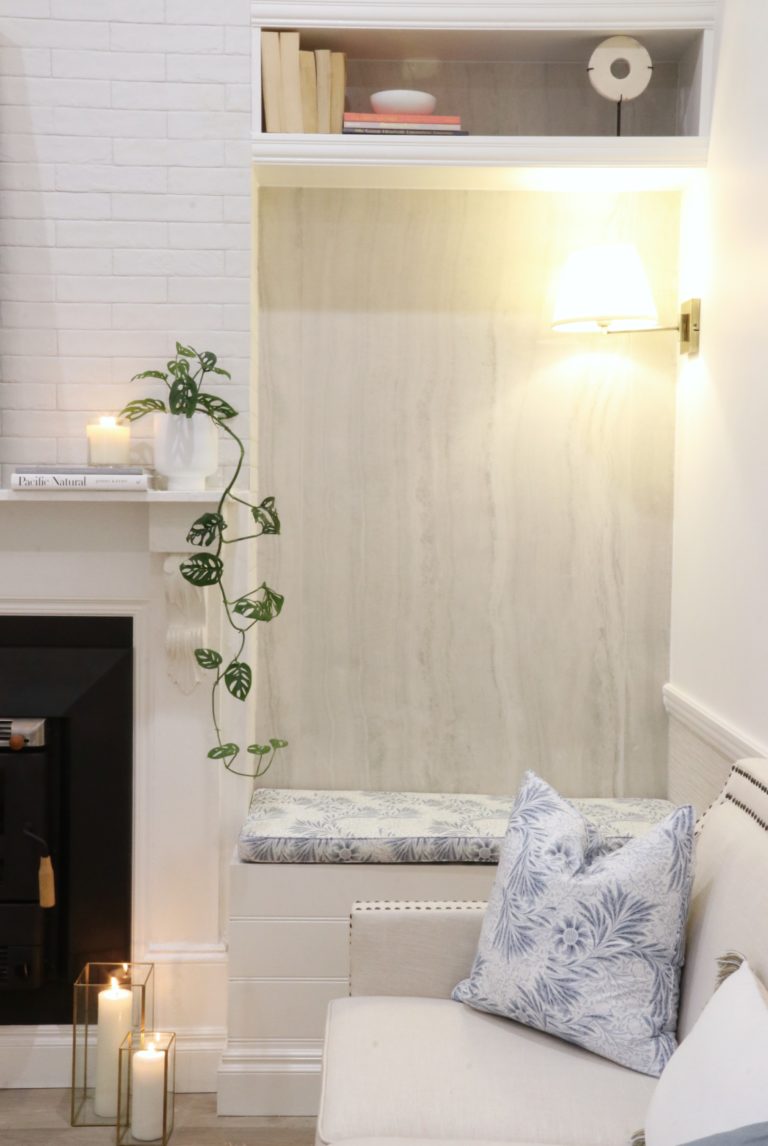 For me, this isn't only about creating something beautiful, it's also unbelievably practical. It means no matter who sits at those bench seats either side of the fireplace, I don't have to worry about oil from their hair, makeup, or dirty hands, spoiling it! It's going to be so hard-wearing and magnificent to look at.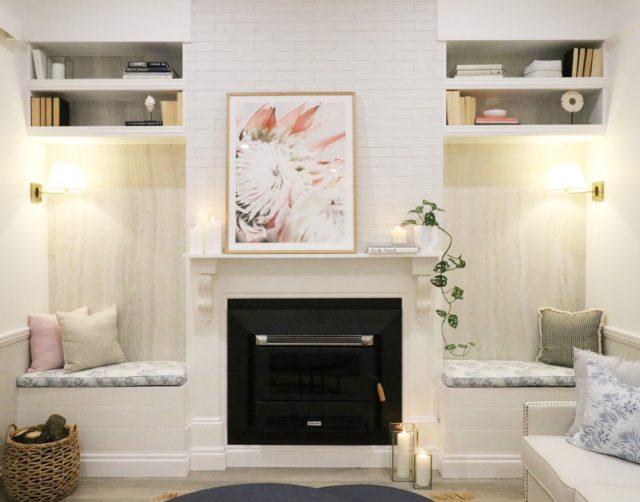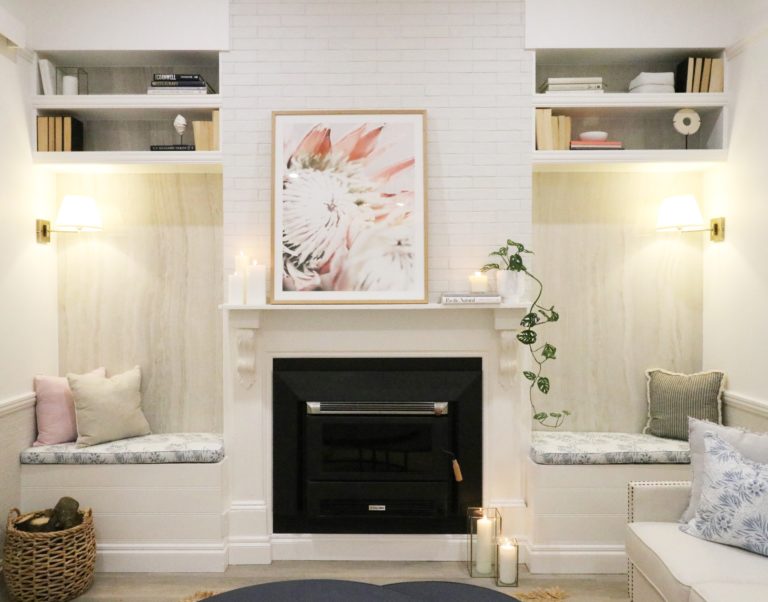 My next favorite thing is the giant doors. I just love the scale that they play with. I love the fact that the room's quite small (it's actually a traditional 1880s living room size, nowhere near as big as our current living room sizes) so I've played with the scale by making these absolutely huge doors. Between the huge doors and the massive pendant light, it's a great example of playing with scale in a space. A small space doesn't mean that everything in it has to be tiny.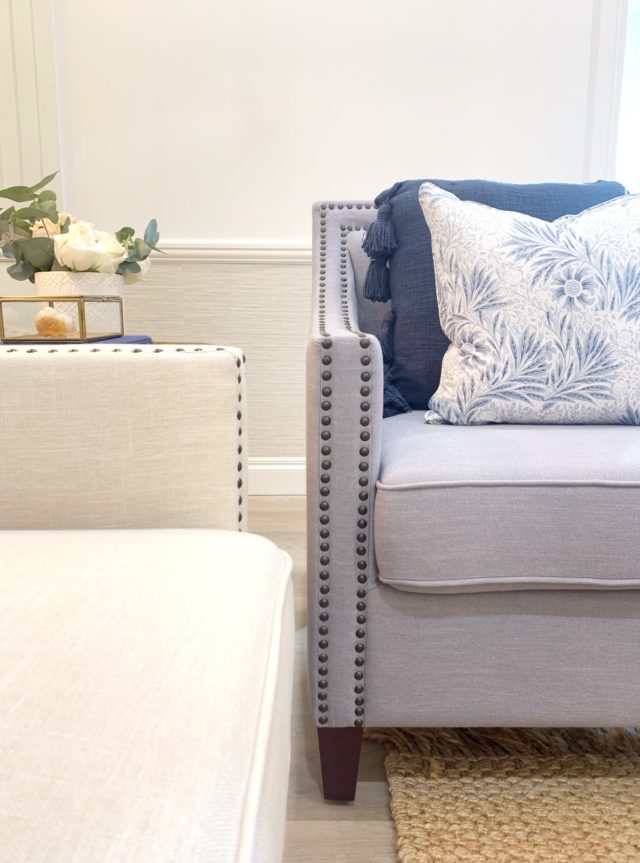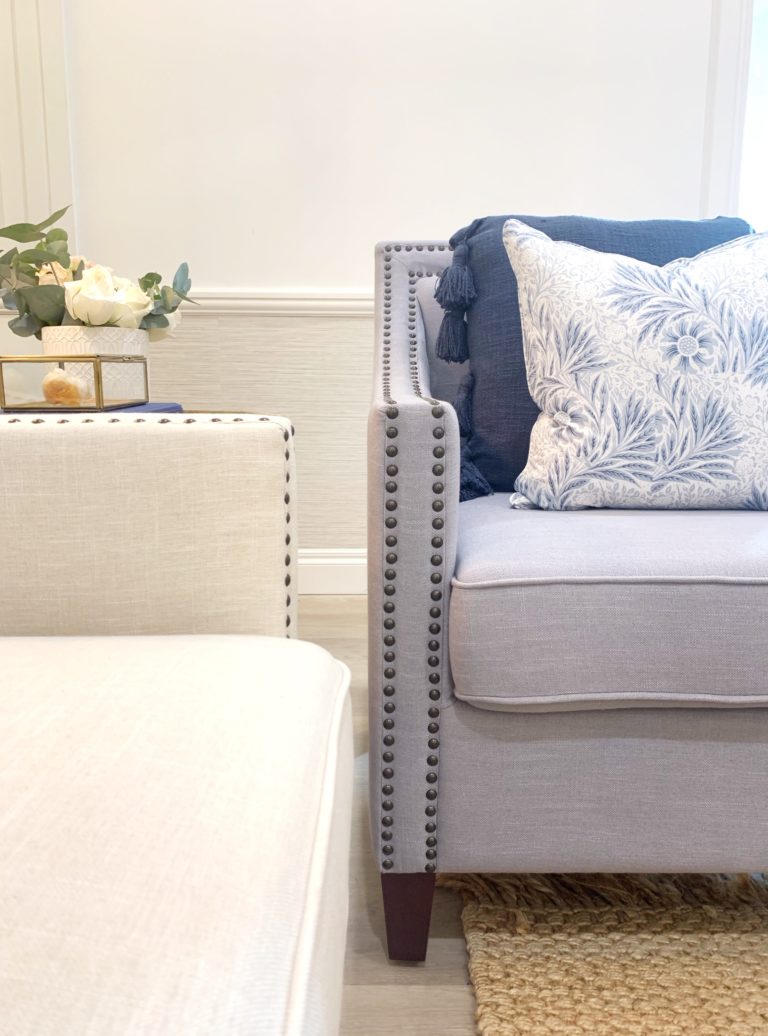 I adore the lounges. One of the challenges that we often have when we're furnishing older homes is that real juxtaposition where a lot of the furniture that is available on the market is either too old fashioned and not practical, or it's too modern and just looks silly in a really old home. But I lucked out when I found these from Brosa and ordered them online, which is so convenient.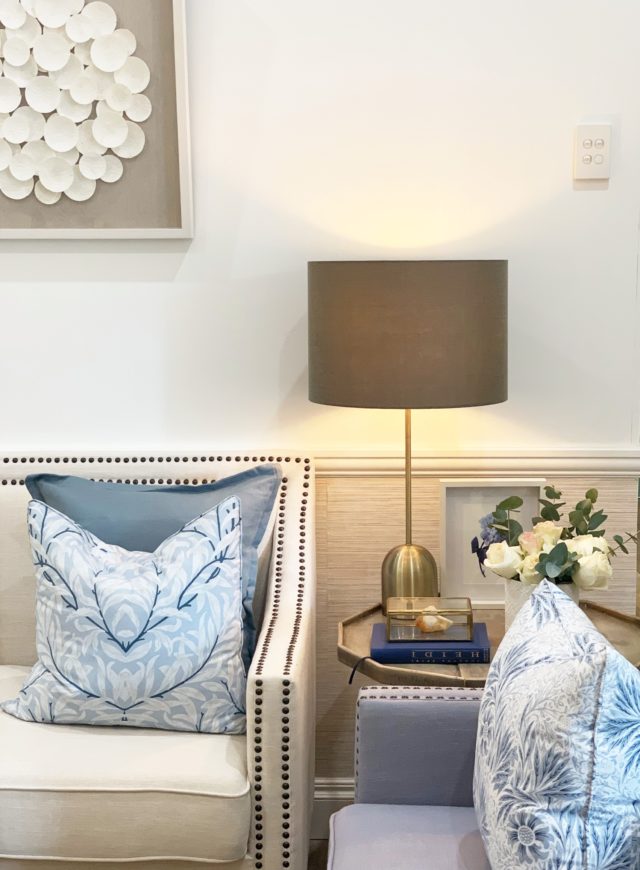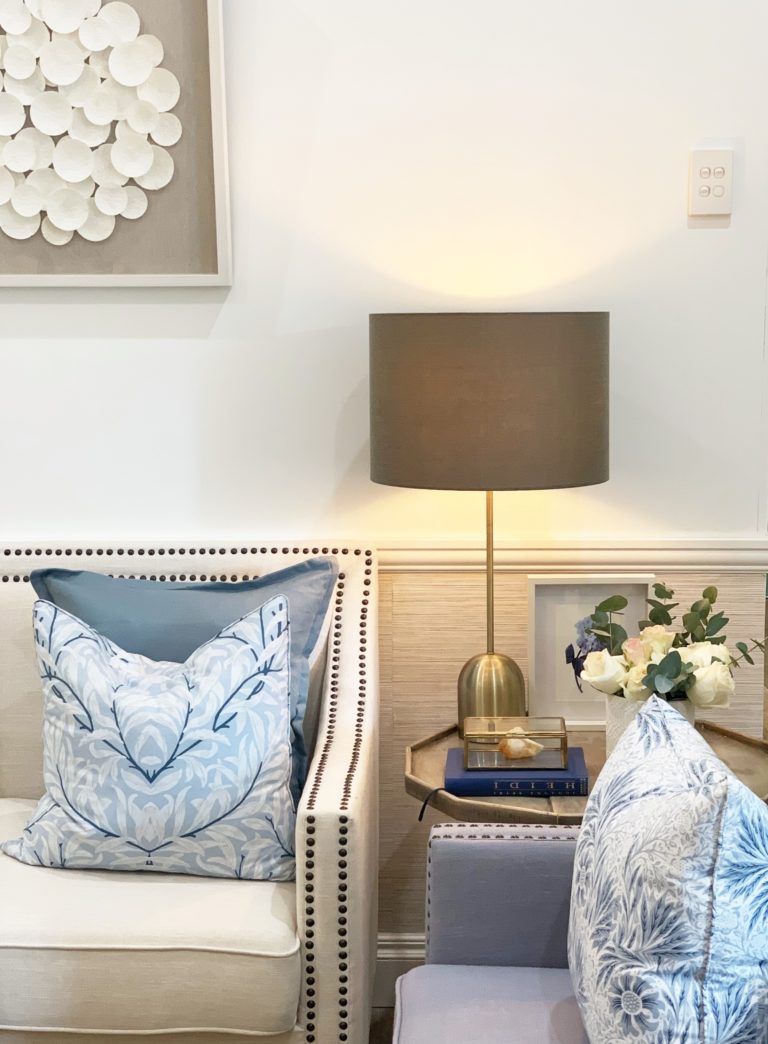 I got a Diana three-seater and two Diana armchairs in a contrasting colour. I love the level of detail, the studding on them, and the textured linen, which is going to be so forgiving when it comes to marks and scuffs. And I adore the fact that there's there's a nod to yesteryear, yet they're super comfy and they fit in with this traditional home perfectly.
Another favourite in here is the custom fabric I designed from a William Morris design. I had it printed and got some cushions made. It's really lovely, when you have a space, to have a touch of history or a touch of you. It's beautiful to be able to include you and the things you love in a space.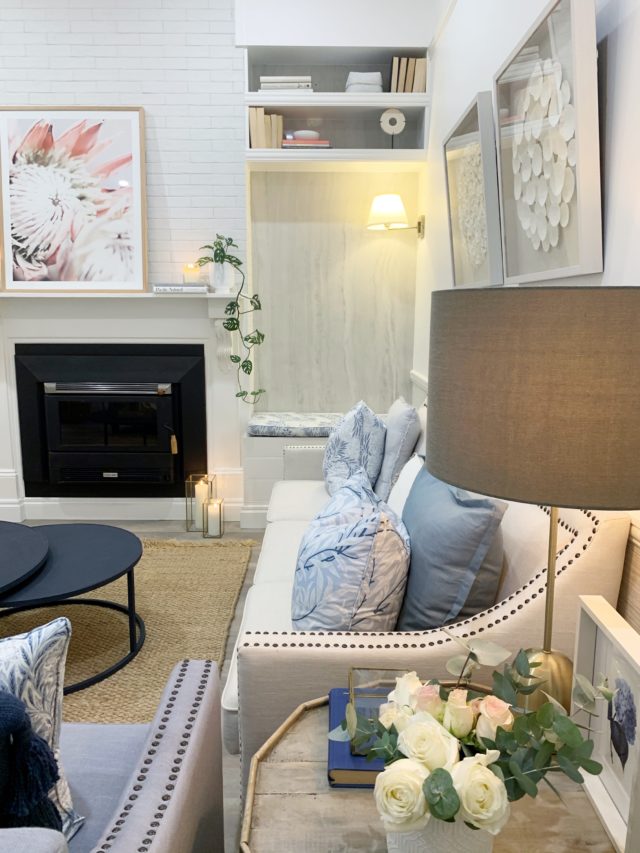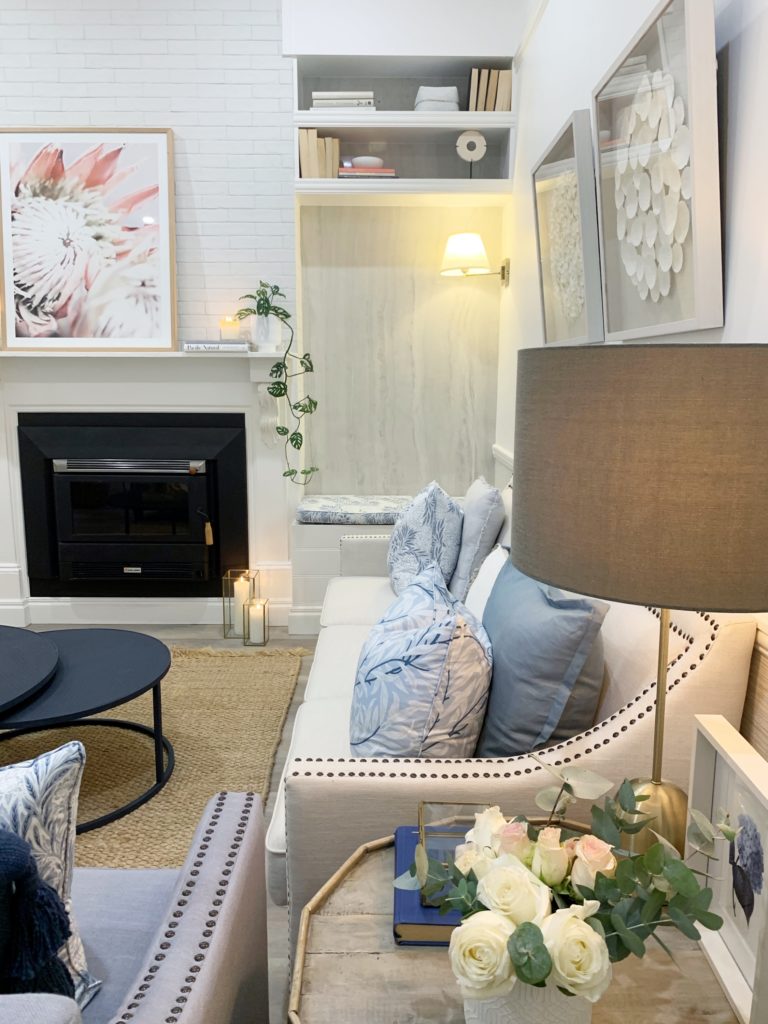 The three biggest challenges, without a doubt, were the swamp, the floor and walls, and the fireplace. A huge shout out to my team that worked on the fireplace with me: Ferris Building, Newy Painting Crew, Hunter Lining Projects and Pachira Tiling. Check them out. They were all so considerate of one another working on this.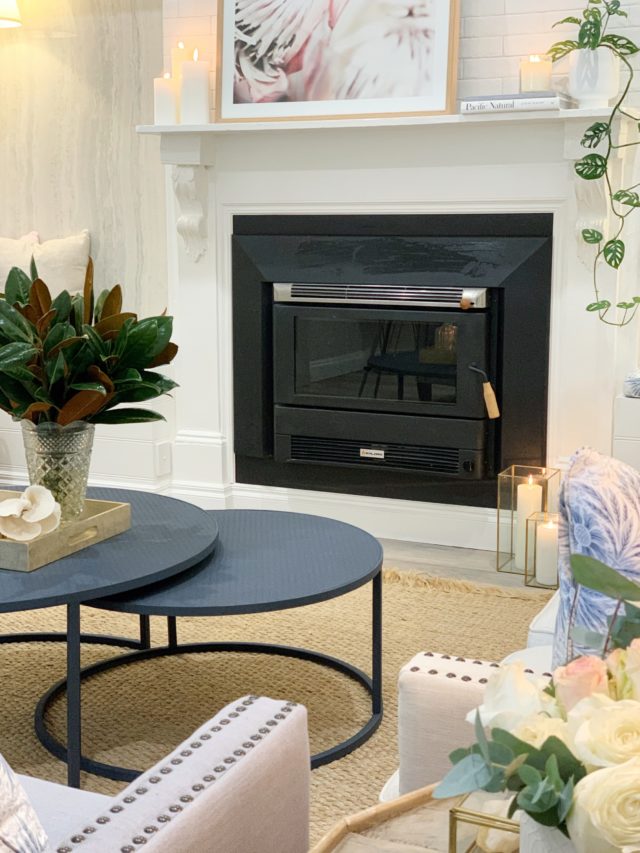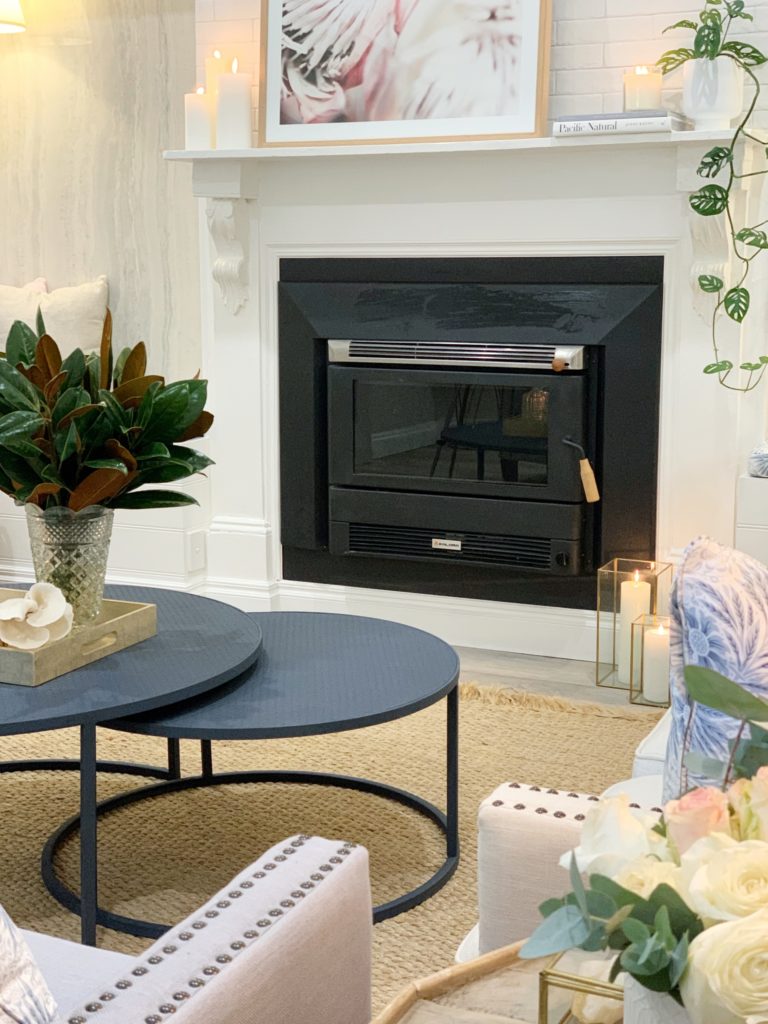 The icing on the cake in this room is that I've actually been able to reinstate a form of fireplace. It's not an open fireplace, but with the help of the team from Kalora, I have an inbuilt solution that is going to keep this room and the rest of the house toasty for the coldest winters to come. I chose to install an inbuilt system because I didn't want the mess of an open fire, I wanted the beautiful feeling of being able to see fire, and the ease of installation into an existing chimney, which meant that I didn't have to go about repairing the really old one.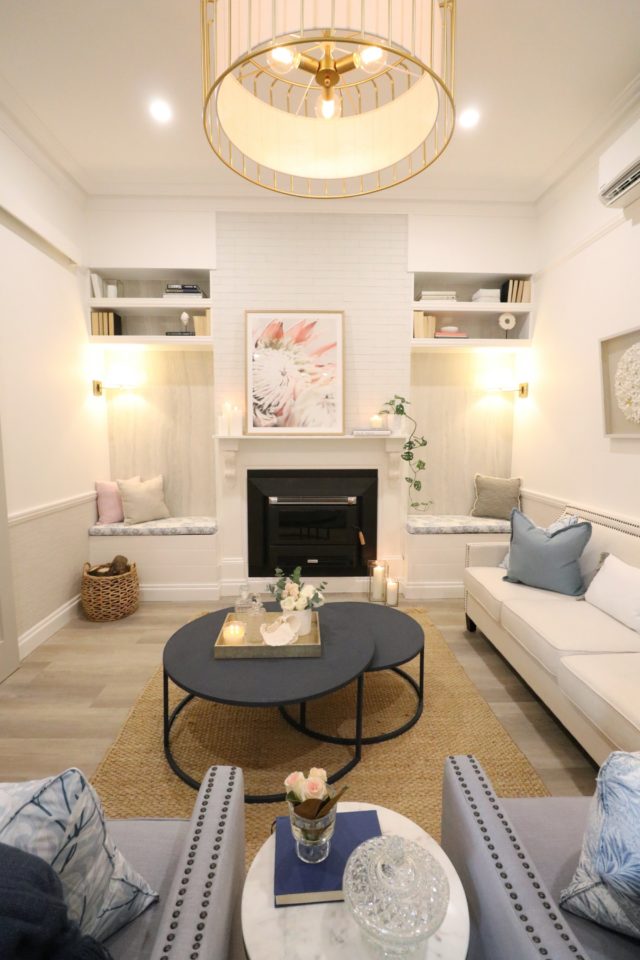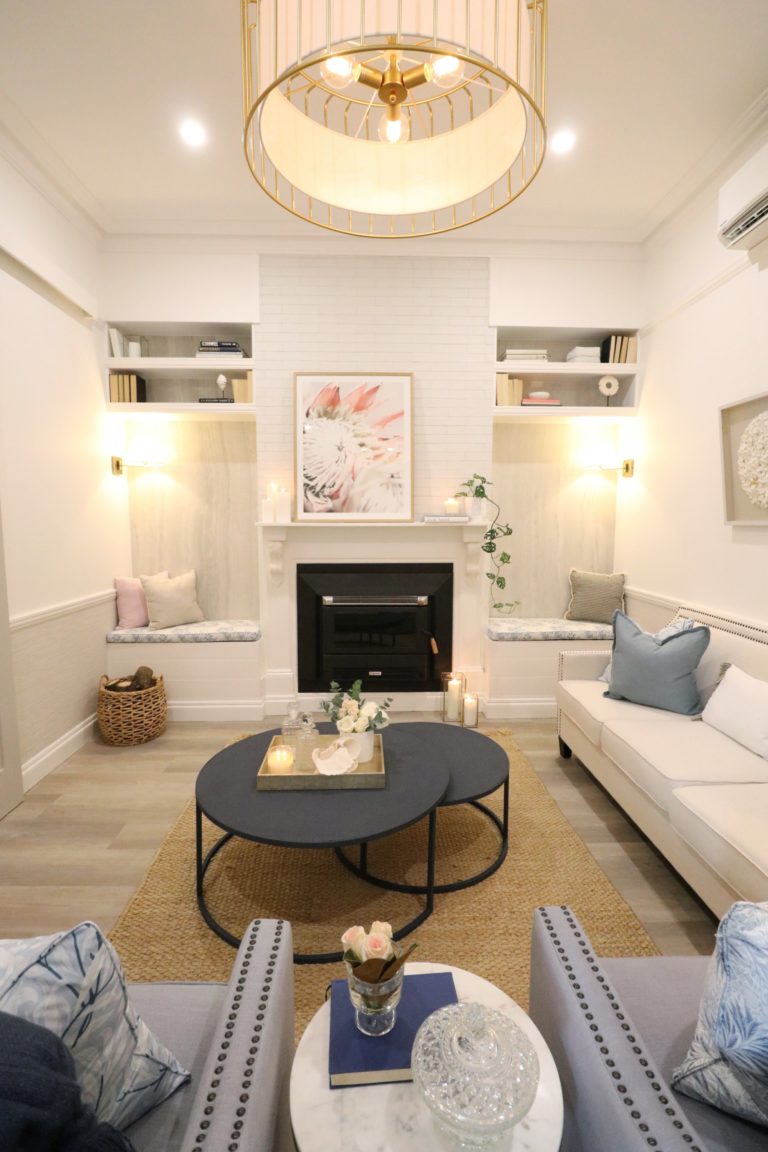 The one thing I would have changed is I would have been ultra prepared and I would have ordered my rug seven months ago, pre-COVID, which would have meant that it arrived. Instead, I've had to make do with one that I had. It's not perfect, which upsets me a little, but it still looks great!
Well, that's it. The living room is a wrap. I hope you've really enjoyed the journey of this room with me and with my team. It's certainly been one! We've had lots of ups and lots of downs. The next stop in this house is the design studio I'm creating to work from, and then we have some exciting times ahead of us when we start phase two of Carrington House, the extension. Thanks for joining me.
For all the supplier details and more behind the scenes!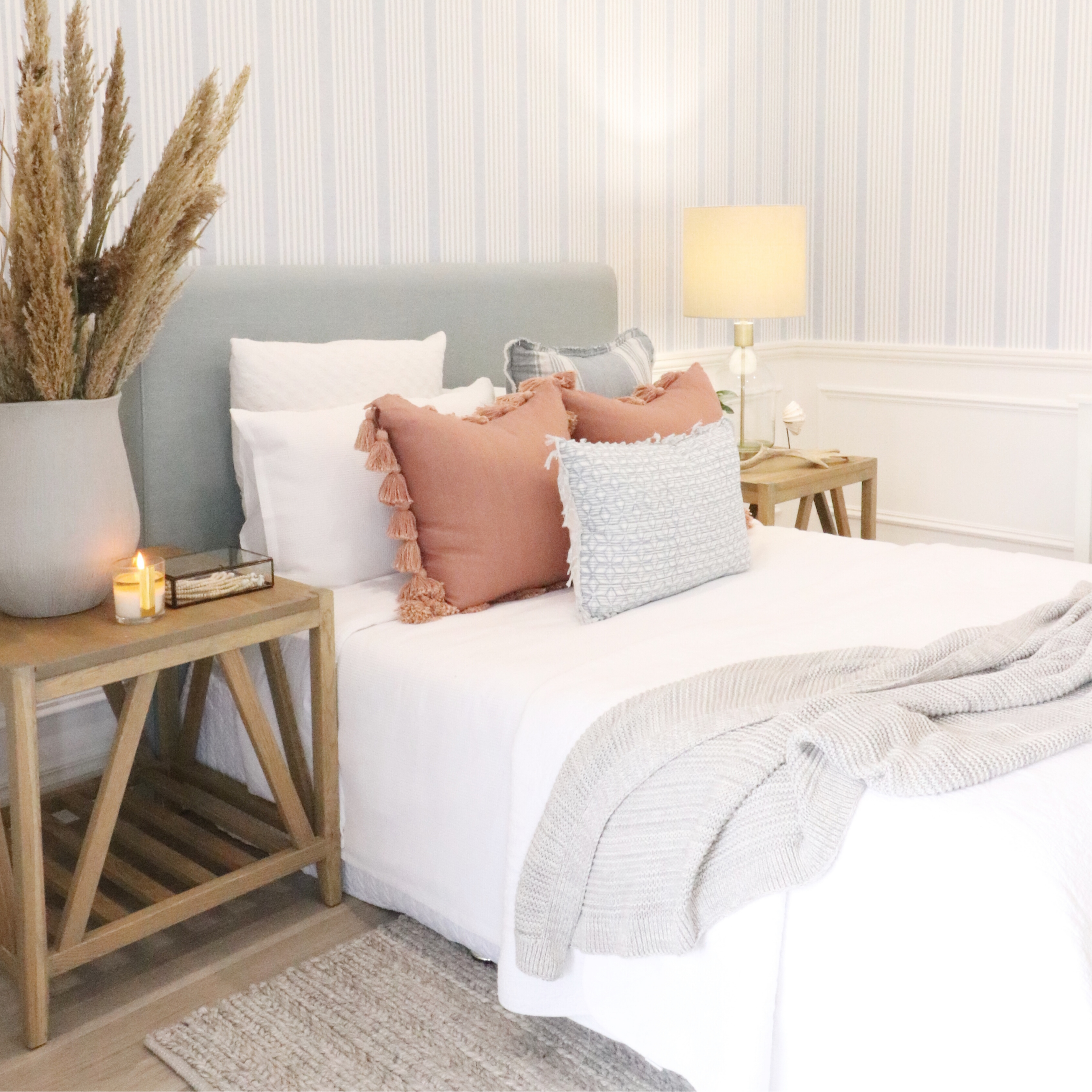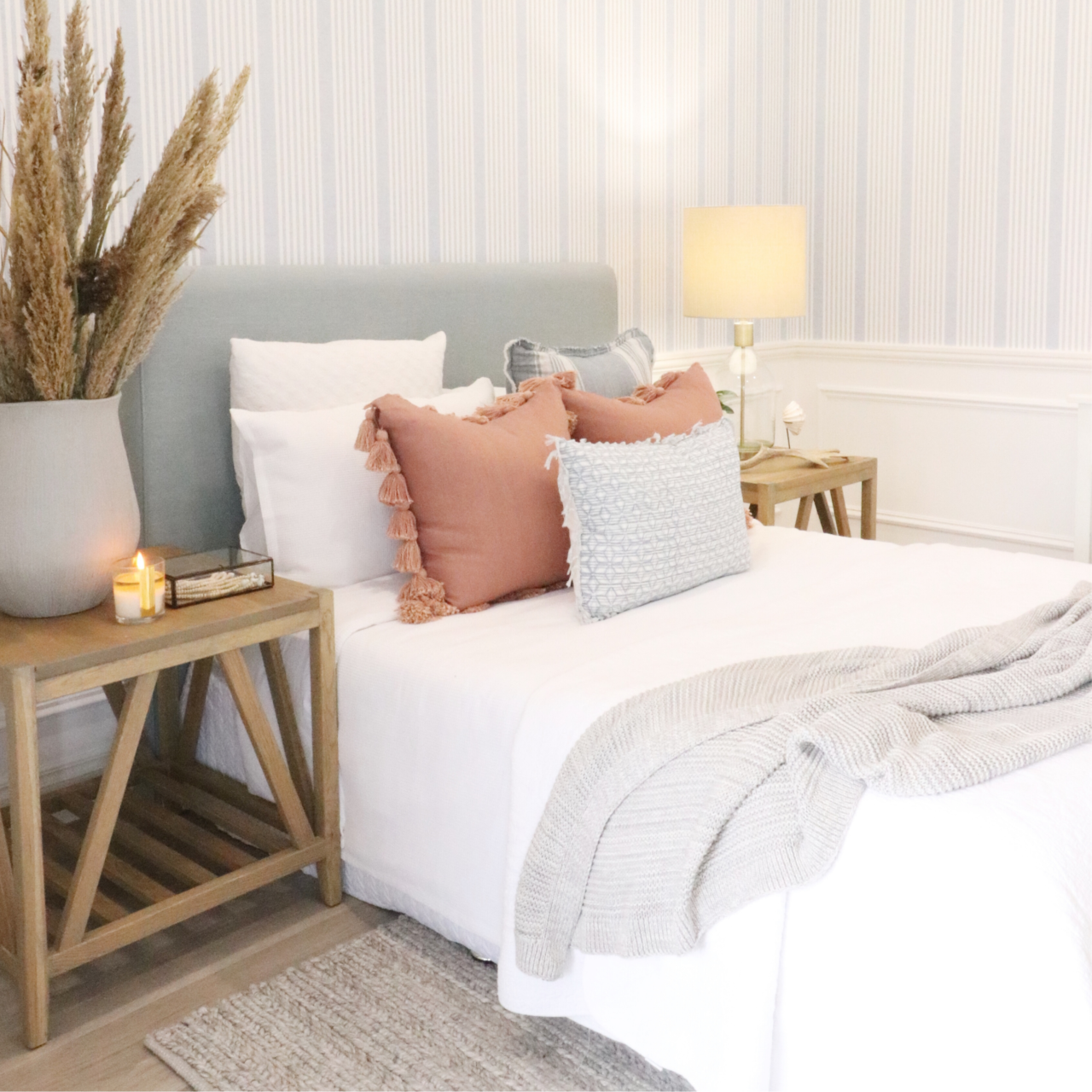 Depressing kids' room becomes nurturing, dreamy space.
This week, Naomi Findlay shares the second finished room in the rundown 1880s stone cottage she is renovating. If you missed room one, check it out here. Over to you,…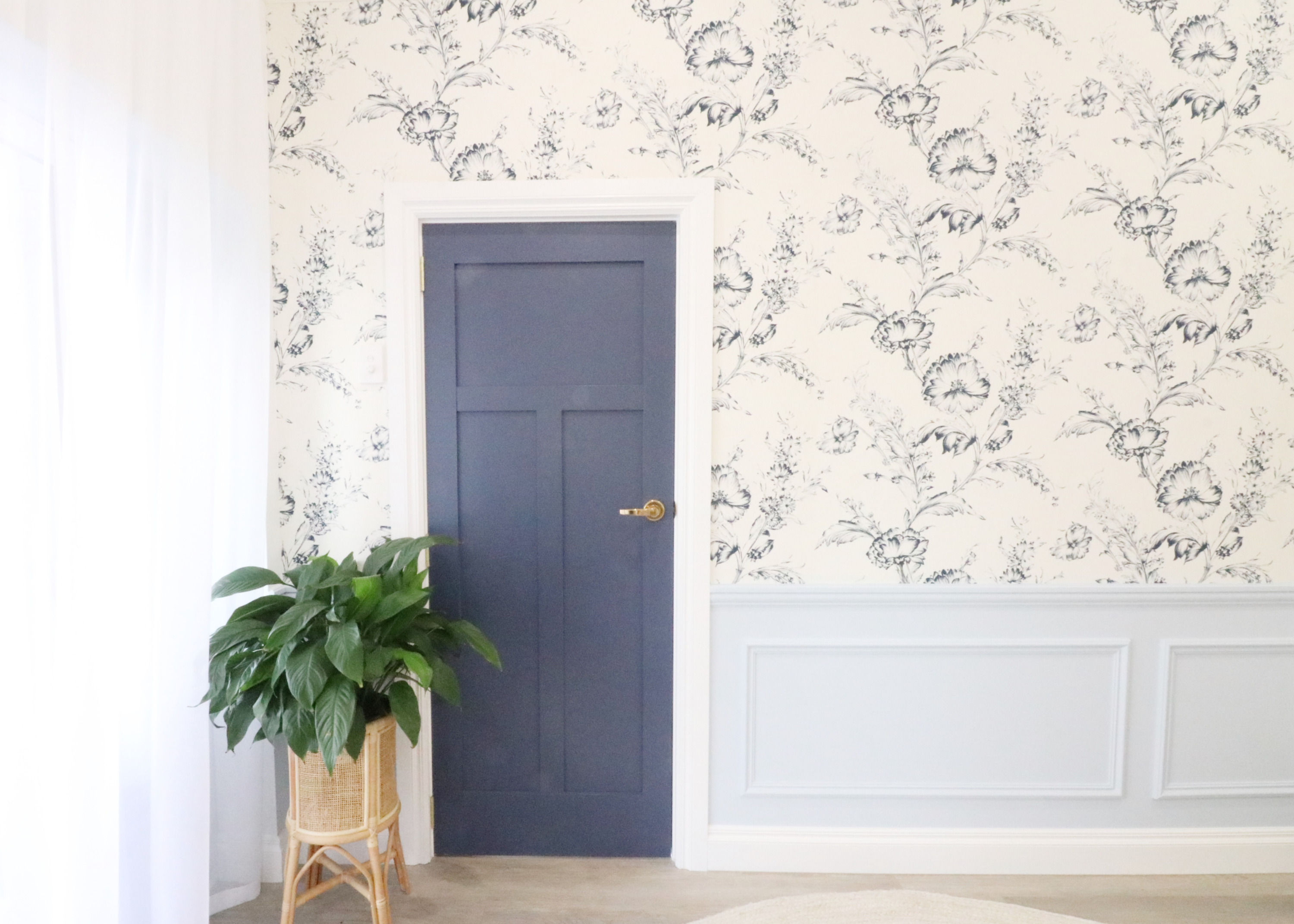 Stone cottage renovation that'll blow your mind!
Most people would have run for the hills on seeing the rundown state of this 1880s stone cottage, but not our favourite renovator Naomi Findlay! Her years of experience and…