I don't know about you but every day when I get home I lament the fact that it is terribly difficult to cook a good, big paella on my current cooktop. OK, I don't, but some people might. And not just paella; other dishes that require large amounts of ingredients, or even just those that you have to cook for a large party. The Beko Indyflex 60cm cooktop (HII 64500FT to give it its full name) could be the answer to your dramas.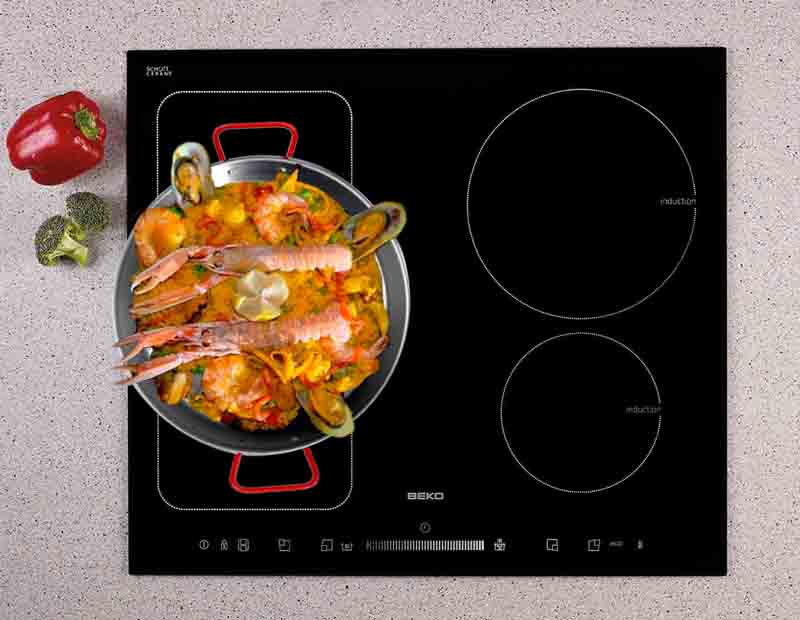 It could also be the answer if you wanted to cook a hell of a lot of bacon at once, which I do, often and continually. That would be one amazingly mighty bacon sandwich, all of which would be cooked perfectly at the same time. Living the dream, I am.
Anyway, I digress. The Beko Indyflex cooktop really is quite a cool looking device. The reason why it gives you the ability to cook larger meals with ease (so long as you have a big enough pan) is that you can link 2 of the cooking zones to create one larger one. It has 4 zones all up, 2 of which have the ability to be linked.
The zones are quite smart too, as they only directly heat to the area under the pans, meaning no wasted electricity . It uses induction technology. Touch and slide controls also allow you to control the heat precisely, with 19 levels of… hotness. That just means 19 levels on which I could burn myself, and I will, because I will play with the zones that link together.
The vitroceramic surface makes it easy to clean off the tips of my fingers though, when I do.
Interested? It will set you back $1,999 and you can get more info from Beko.com.au.