Designing or over-hauling your little ones' room? These days, there is no end to the cool, quirky and fun style parents can inject into their kids' rooms. Designer and DIY parents alike are keen to add magic to their little ones' special spaces and thesekey trends in kids decor, compiled with expert insight from Justine Wilson, Director and Principal Stylist at Vault Interiors, will give you plenty of food for thought.
7 key trends in kids decor
1. Pops of neon – Neon is back! We love the fun way in which neon accents can add zing to any kids' space. But beware! Use in moderation to avoid overpowering the room. Think a pop of colour rather than a huge block of overwhelming brightness.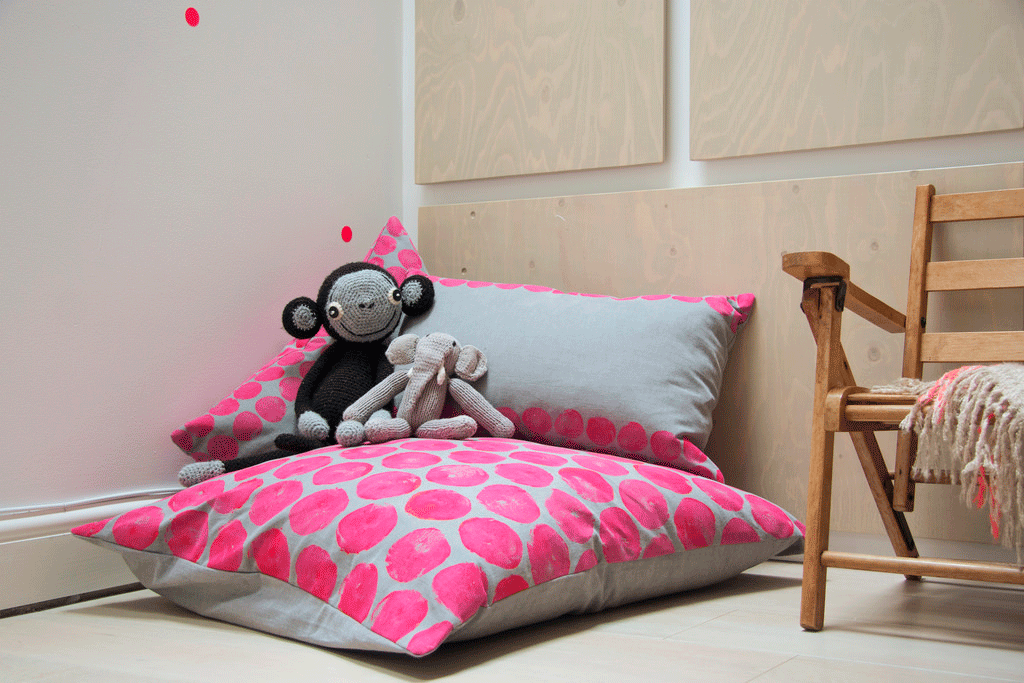 Image source: This is ladyland
2. Bunk buddies – Space is at a premium these days and whether you have decided your little ones should share for that reason, or merely for the fun that sharing with your sibling can offer, shared spaces don't have to be rigid in design. There are so many different ways you can make each child's area individual to them, but a cohesive space visually.
3. Quirky geo shapes – The geometric trend isn't going anywhere! We love how these bold graphic prints and patterns are becoming a classic look but also add a playful but ordered style to the space. They can easily be adapted to any gender and also suit-shared spaces. Removable wall decals or wall art is a great way to add some geometrics!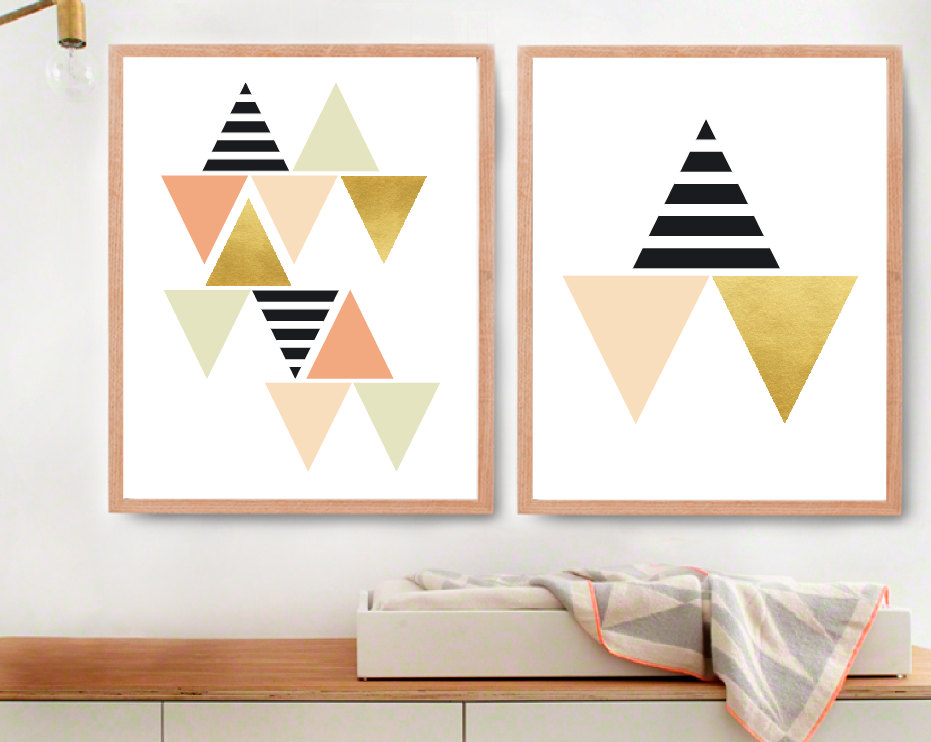 Image source: Etsy
4. Monochrome – Monochrome is the new neutral! This palette is cool and edgy while also remaining classic in style. Using bold prints, beloved icons, like our friend Miffy or Nordic/wilderness influences, make this trend perfect for nurseries to teen rooms. One of the best things about this palette is pops of colour can easily be added to it. This trend has to be the most versatile of them all!
6. Playhouse Beds – Forget dollhouses! We love playhouses and cubby beds almost as much as kids do! No matter if it's for sleeping or as a reading nook, playhouse beds are fun for any child. We love the DIY version of this teepee bed by blogger and mummy Sarah of Hello Bowsers.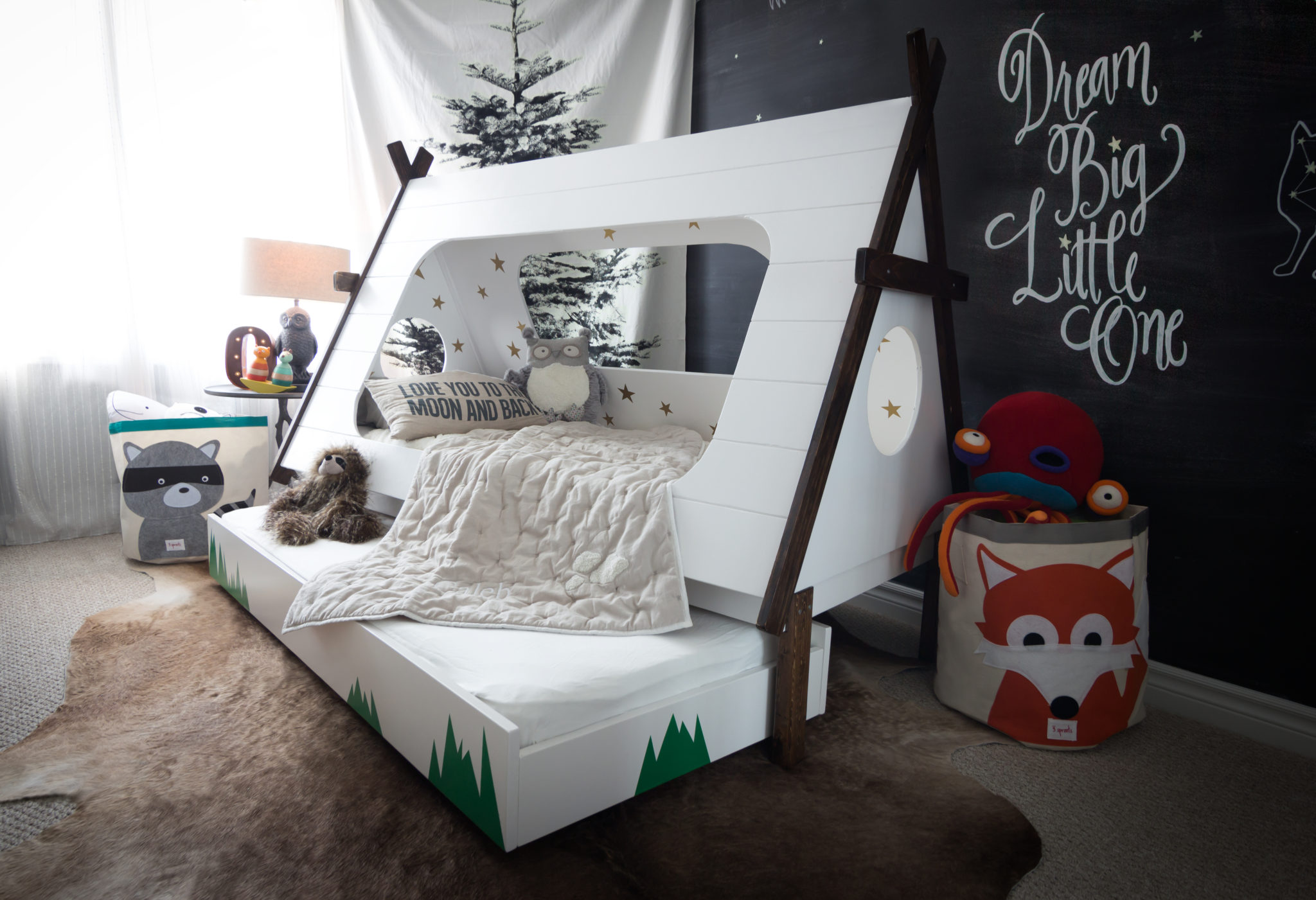 Image source: Hello Bowsers
5. Outside In – The spirit of adventure is strong for little people, so it is only natural they love spaces that reflect this. The use of versatile wallpapers makes it easy to create a magical space. Bold wallpapers can be limited to one wall so it doesn't overwhelm the room. For smaller prints, they can be used to cover all the walls for a seamless look. Layer with texture and quirky furniture solutions like tree stump side tables. We love the inclusion of the swing in these spaces.
7. Designer Furniture – When it comes to selecting furniture for any part of your home, well designed and functional is a must, so buying for your child's room is no exception. For a long time kids' bedroom furniture was limited to one or the other. Pioneers like Lilly and Lolly and Incy Interiors has changed that with beautifully designed, practical and functional pieces for big and little spaces (and people!)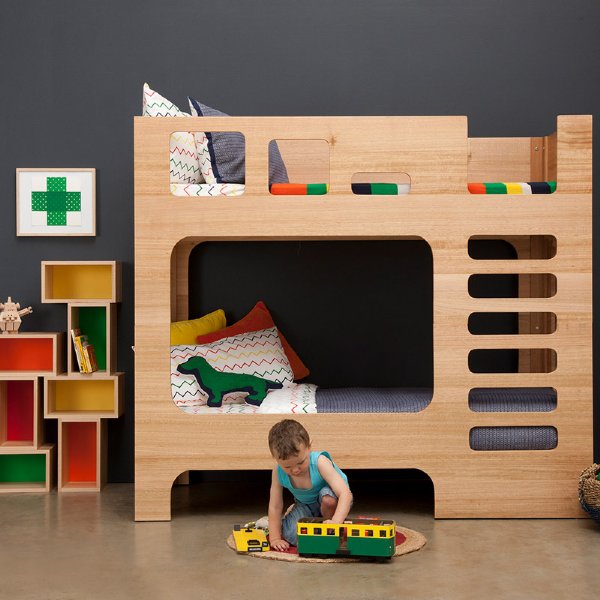 Image source: Lilly And Lolly