Sponsored by Trojan Tools
Even if you have zero experience in reupholstering, some planning, attention to detail, patience and most importantly, the right tools can change your tired old chair into a sparkling new focal point. And this could be the perfect time to tackle the project.
Refreshing a key piece can give your room that seasonal change you want, without having to reinvent the whole room, or spend big dollars. Same goes for an op shop find you love the shape of – the colour and fabric, not so much. Invest the time, and it will soon be the dream showpiece your room is crying out for.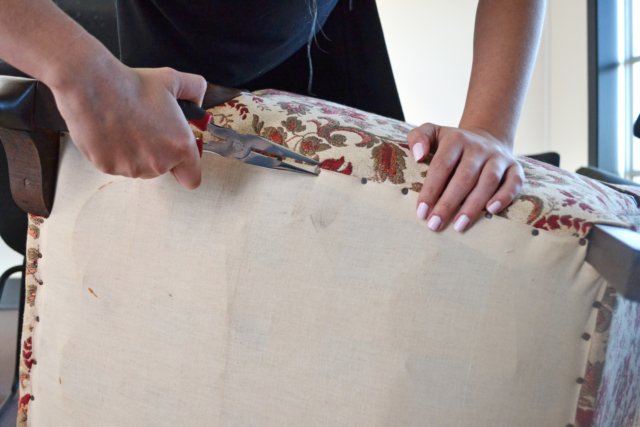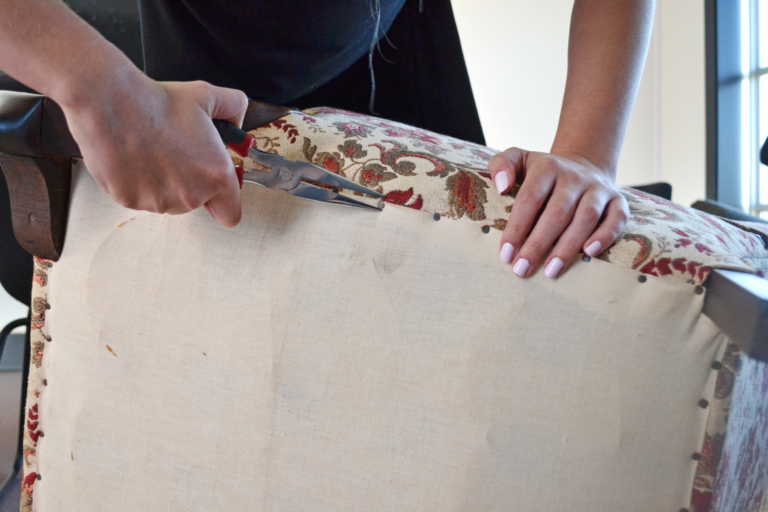 So throw open the windows to the warmer weather, turn on some inspirational music and get cracking. Make sure you've got a clear space that you're not going to need for something else while the project is on the go. You'll have piles of fabric and stuffing around and you want to keep things orderly.
The first step is removing the old fabric. Start underneath the chair. Turn it over and you'll see a square of hessian, light cotton, webbing or other plain material that encases the skeleton of the chair. It's your best access point to the rest of the upholstery. It will be stapled or nailed on.
Use a pair of Trojan Long Nose Plier to remove the fastenings, then peel off this covering. Throughout this and all stripping steps, use the Trojan Turbo Knife or screwdriver to leverage any staples or nails that are too tight to grip.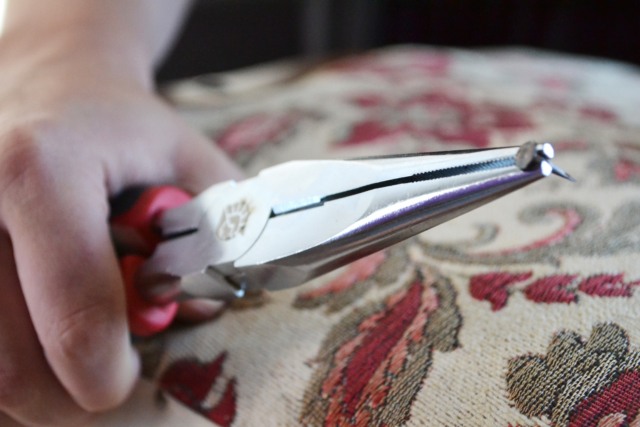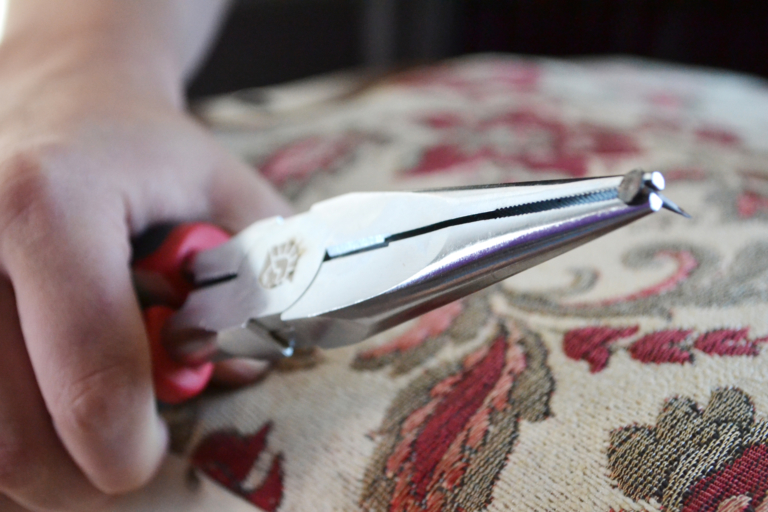 Keep peeling systematically until all fabric, tacking and piping is removed. While you're doing this, label each piece of fabric with where it came from on the chair, paying particular attention to mark which side the pieces come from. This will be important when cutting your new covering – you'll be using the old pieces as stencils. Mark up any symbols that might help you remember how the fabric goes into place. Also mark them with the order in which them came off as this dictates the way the new pieces go back on. Try and stack the old coverings together and in order to make life easier later.
Now to the old batting and stuffing. Decide whether you want to keep and recycle it or add all new replacements. If it's disintegrating and lacking any substance or spring, it may be best to start afresh. But if it's got life in it, it can be reused. Some of what you need to remove may have been glued in place. Use your Trojan Utility Knife to carefully slice it away, being mindful to not cut into the timber frame. Older chairs may have internal springs. These are complex to rebuild, so if you find them inside your chair, try and leave them undisturbed.
Once the chair's frame is bare, check it doesn't need repairs. If it's wobbly, try shifting the joints tighter together with a few taps from your Trojan Rubber Mallet. It's ideal for softer blows when hammering, so you don't damage the timber.
Onto the most exciting part, getting ready to re-upholster the top of the chair with a beautiful, new fabric of your choice. Beautiful chintzy florals are back in vogue, as are velvets in jewel hues. Or you could go a plain washed linen for something more classic. You'll need to unpick any bits of the old fabric that are sewn together. Before you do, take a photo of each constructed section so you have a visual record of how to put them back together.
Iron flat each panel. Pin each piece directly onto your new fabric and use a marker like tailor's chalk to outline each. Remember to pay attention to pattern matching. Cut out the new panels using a sharp pair of scissors. Using tailor's chalk, label each piece the same way you did the old version. You'll need to sew together any sections that were stitched together originally.
It's now time to start re-covering your chair! The Trojan Staple Gun is your best friend in this process. Now it's really a matter of working backwards: however your stuffing came off, put it back on in the reverse order. Some of it may have to be stapled in place, so get that staple gun going with evenly and closely spaced staples. Then comes the cloth. Again, however it came off, it goes back on in reverse order. Pull the fabric tight, fold down edges and staple in place onto the frame, smoothing and keeping tension as you go, again with evenly spaced close staples.
If the finishing features decorative tacks, use the Trojan Rubber Mallet to get them in. It won't damage the surface of the tack, or the fabric. Lastly, replace the protective panel at the bottom of the chair.
All done? Stand back and admire! And if you have any leftover fabric, consider making a cushion to place on your sofa and tie the room together. You'll be amazed at the facelift your revitalised piece gives your room.