The kitchen is the heart of the home, so every design element needs to be thought out. Lighting is a key component of smart design; it affects the way you use the space but also how it feels. When designing your kitchen, it's important to have a number of goals in mind. This will help you take a balanced approach that meets every need, instead of ending up with lights that are perfect in one area but let you down in others. The team behind Lighting Lighting Lighting share their top tips for lighting your kitchen.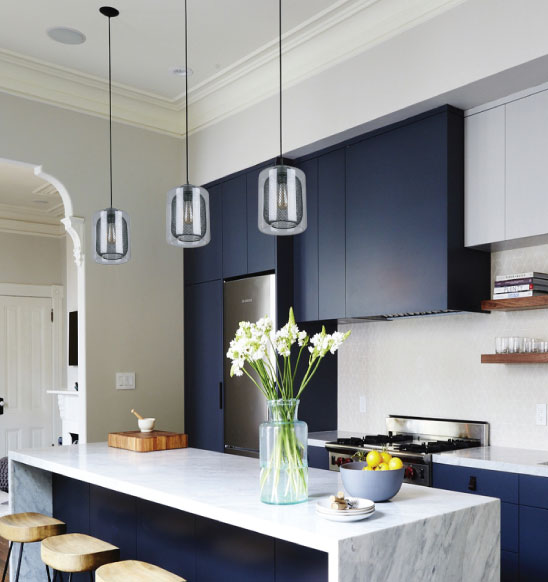 Goal 1: Accessorise with lighting
Lights need to look good during the day as well as at night. When choosing light fittings you want them to be both decorative and functional. Beautiful light fittings should be eye-catching even when they're not lit. Usually this is one of the easiest goals to achieve, if a light is ugly you're probably not even going to consider buying it. The trick is to make sure you can fulfill this goal without losing sight of others.
How to make it happen: Pendant lights are the jewellery of the home, drawing the eye in and adding style. Whether you want your kitchen to have a sleek, industrial feel or to be an inviting, vintage space, pendants are an effective way to achieve a particular look. Pendant lights also have the benefit of being very easy to change compared with built-in fittings, so you can keep up to date with your home styling.
Goal 2: Provide task lighting
Your kitchen is where a lot of important household tasks are accomplished: from chopping veggies and cooking dinner to signing permission slips and helping kids with their homework. The lighting in your room needs to facilitate all of that by providing clear, direct light right where you need it. You don't want to be working in your own shadow or struggling to read a label, but you also don't want to be squinting because of glare.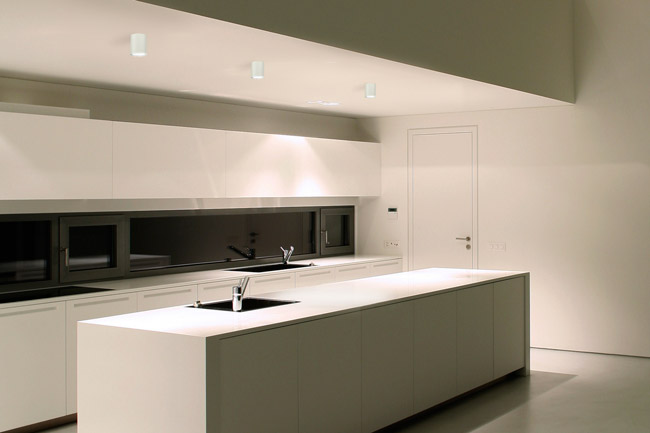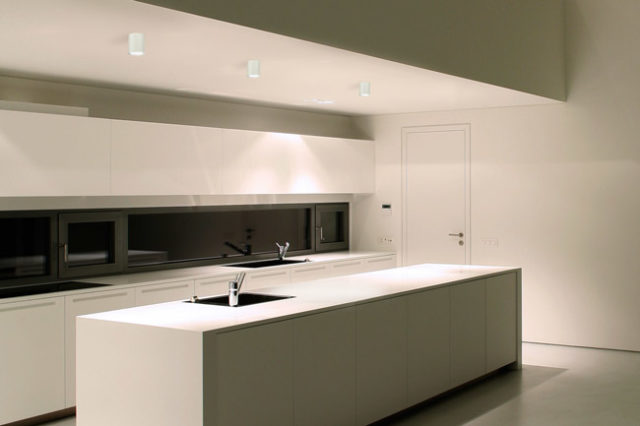 How to make it happen: Directional lighting navigates light downwards, creating intense light in one spot. This is perfect for task lighting, when you need the intensity to see things clearly. Pendant lights are a great way of adding directional light to your kitchen island, dropping the light low enough to prevent glare and shadows. In addition to pendants, you might use carefully positioned down lights for task lighting in the kitchen or a suspended LED profile. Whatever lighting solution you choose be careful to select bulbs that are bright enough to properly light the area but do not distort the colour with overly warm light.
Goal 3: Be spatially aware
Choosing the right lights for your kitchen requires you to be spatially aware, make sure you know the space and its dimensions so you can plan accordingly. This lets you decide how many lights you need in a space, what size and type and how you should arrange them. You should always consider the height of your ceiling and the dimensions of your room when choosing lights, especially a pendant.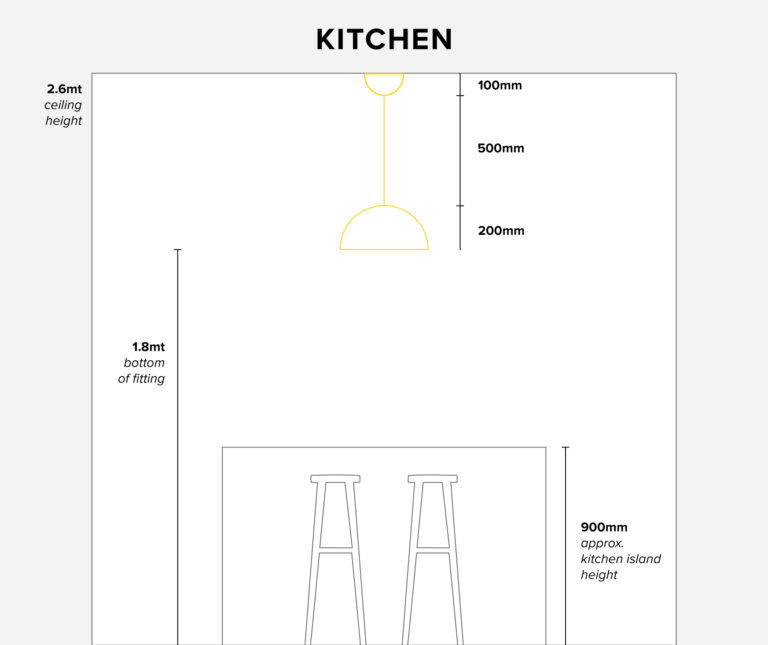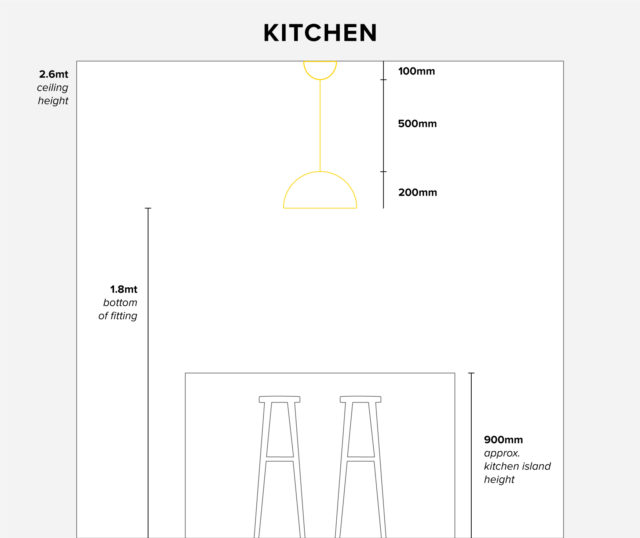 How to make it happen: The bottom of your pendant light should hang no lower than 1.8 metres from the floor, just above eye level. With the average ceiling height in Australia ranging from 2.5-to-2.7 metres, that doesn't leave a lot of room to play with. A huge feature pendant might look amazing online, but if there is not enough cord it can look silly. Mini pendants can be the best choice allowing for a longer cord so that everything is in proportion. In addition to the length of your pendants you should consider the configuration of your lights based on the length and width of your benchtop or island.
Goal 4: Keep the room practical
In addition to providing light and looking beautiful, lights need to be practical and make your life easy. It's a kitchen so that means they need to be resistant to smoke, resistant to moisture from steam and easy to clean. It's also a good idea to make sure lights in such a high use area are energy efficient.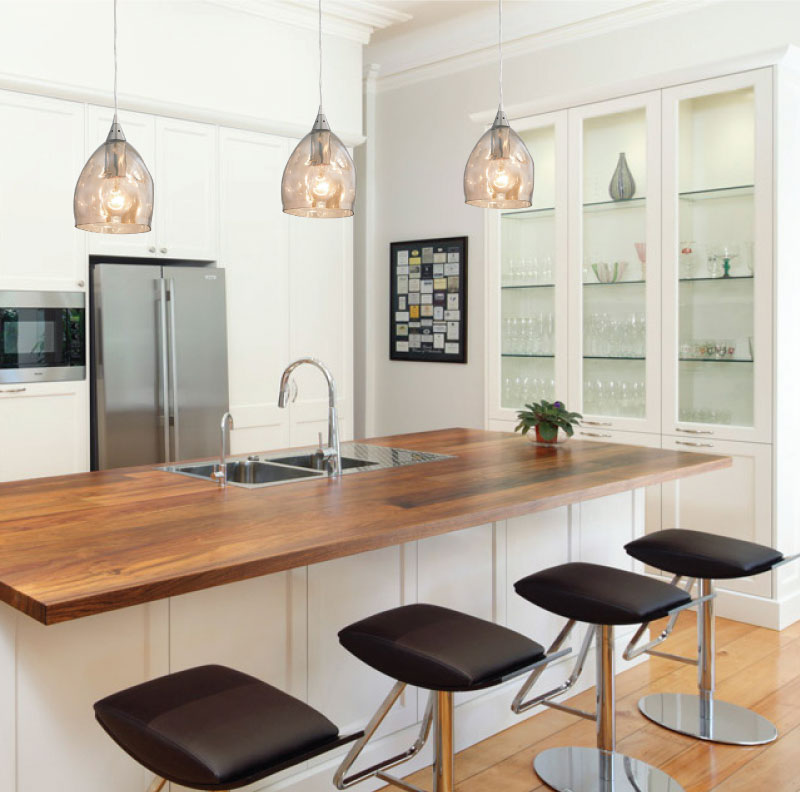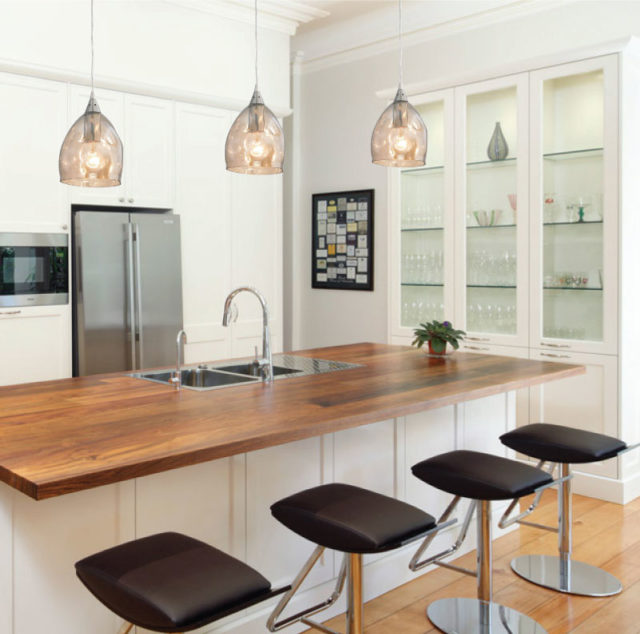 How to make it happen: When choosing kitchen pendant lights avoid using fabric as they will absorb smells and moisture and may be prone to mildew. It's best to stick to materials that are easy to clean such as metal and glass. The choice of bulb also impacts the practicality of a space, each type has a difference in light distribution and power consumption so be mindful of your choice.
By keeping these four goals in mind when planning lighting for your kitchen you set yourself up for success. With some thought ahead of time you can create a kitchen that is beautiful, functional and well lit.