Part Time
Malvern, Victoria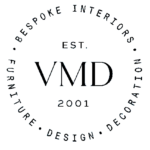 VMD Interiors
Boutique Design Studio creating timeless interiors.
We are looking for an experienced studio/admin co-ordinator who can multi-task with ease and be the ballast for this small, busy design studio.
Organisation and flexibility are key attributes for this position. Your main role is to support our designers by managing the ordering, deliveries & installations of our clients' furniture & furnishings projects.
(Please note it is not a design related role).
Daily tasks include:
· Manage the ordering all furnishings and materials.
· Liaise with suppliers and manufacturers regarding orders.
· Keep clients updated on the status of their orders.
· Manage deliveries for clients.
· Manage timelines and implementation of projects.
· Creating contingency plans for furniture delays.
· Purchasing and Procurement manager.
· Maintain and manage Studio space.
Skills & Experience:
· 3-5 years customer service or admin experience minimum.
· Experience with MYOB preferred.
· High Proficiency in Microsoft Suite.
· Must have experience with Mac OS systems.
· You must be comfortable working independently to ensure smooth project co-ordination, must be super organised and obsessive about detail.
· You will be based in our studio in Malvern but optional work from home days can be discussed.