Full Time
Malvern, Victoria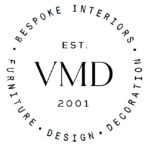 VMD Interiors
Boutique Design Studio creating timeless interiors.
We are looking for a qualified interior designer with 3-5 years experience and excellent technical skills who is looking to further their career and become a valued and essential member of our team.
Who we are…
VMD Interiors is an established, Boutique Design Studio in Malvern.
We create beautiful, timeless interiors for our clients with a focus on custom designed furniture, furnishings and joinery.
We work on a variety of projects from small refurbishments through to large scale renovations and provide our clients with the full range of design & decorating services.
Who you are…..
Daily Tasks Include:
You will….
Work closely with the Principal Designer in the design development of client projects from concept to completion.
Manage the projects to ensure they run to tight deadlines.
Develop conceptual sketches of floor plan layouts.
Produce a high level of documentation including fully detailed design drawings, concept boards, selections documents, etc.
Select and document furnishings, fixtures and equipment.
Manage delivery of client projects through to completion.
Liaise regularly with clients.
Coordinate with other professionals, such as contractors, architects, engineers and trades.
Skills & Experience:
High Proficiency in SketchUp & AutoCad is essential.
Ability to read & interpret construction drawings.
Experience and knowledge of Joinery Design will be highly regarded.
High Proficiency in Microsoft Suite.
Proficiency in Adobe software including Photoshop, InDesign or similar.
Must have experience with Mac OS systems.
Excellent communication and organisational skills.
Manage multiple projects and clients simultaneously.
Must be obsessive about attention to detail.
Must be a self-motivated team player.
Confident in meeting clients and attending site visits.
Must have full Australian drivers' licence and car.
This role would suit someone who is comfortable collaborating with the Principal Designer but can also step into an autonomous role without being overseen at every turn. You will be responsible for delivering projects to a very high standard and enjoy working to very tight deadlines.
We are a small business, and you will find yourself working across a huge range of design, styling and decorating projects so you'll need to be nimble and used to thinking on your feet.
This is a full-time position and will be based in our large Design Studio & Furniture Showroom in Malvern.
We are open to discussing some Work from home days.
Please send through a cover letter, CV and examples of your work to [email protected]
Please only apply if you meet the criteria listed. This is not a junior position; we do require proof of experience.